Tell us a little bit about yourself and what you do. I'm an introverted and shy person with a tendency towards melancholy who makes a fair amount of weirdly happy sounding pop music.
Top 3 favorite or most visited websites and why?
bandcamp.com : because I love listening to music on it
youtube.com : because I love listening and finding new music on there
wikipedia.org : because it contains the answers to the questions we seek
How has growing up and living in Seattle, WA affected your music? And could you talk a little about your decision to record your latest album in Reykjavík? I think the Pacific Northwest definitely has a distinct sound that many musicians who grew up here could testify that they would fit into that niche. I can't explain for certain what it is, but a definite sort of kinship, either to the way of life here or the mountains or water or something.
I didn't record my latest album in Reykjavik, that was my previous album. And I went there for the last album because I was invited by a very nice person who is now my good friend. My latest album was recorded in Brooklyn, NY with some musicians from the band Small Black.
How long have you lived in the Pacific Northwest and what brought you there? I was born in 1989 in Seattle, WA. My mom brought me into this world.
What kinds of things are influencing your music right now? Isolating myself from reality, dwelling on existentialism. Minimal techno, top 40s pop, Ableton Live. My friends, my sister, my cat. Thinking about kissing. Skinny dipping.
What are some recent, upcoming or current projects you are working on? My new album, Call it Love is coming out August 4th on Jagjaguwar. I recently guested some vocals on an album by the band Hoop, called Super Genuine, that came out earlier this year, they are good friends of mine from Seattle. I am working on ambient music and the opposite which is more pop songs at the moment while I wait for my new album to come out. I just got to film a music video recently for a song on the new album, Farthest Shore, but it is still being edited currently.
How did your interest in music begin? I was always drawn to sound. I have very good hearing. My mom put me into a singing group for children when I was 3 or 4 called Sunshine Generation, and we sang pop songs from the 50s and 60s and and I loved it so much. There are all these cute photographs of me wearing ridiculous outfits holding a microphone at like 5 or 6 years old singing solos. I started writing songs in middle school because I became haunted by melodies that wouldn't leave me alone. Still to this day it is the primary way I write songs, melodies will come into my head that stay with me until I record and write them down.
What other musicians are you interested in right now? This Mortal Coil, Aphex Twin, Laurel Halo, Kaitlyn Aurelia Smith, Kelly Lee Owens, Jenny Hval, Wizard Apprentice, Carla dal Forno
Who would you ideally like to collaborate with? My friends, or people who are interested in becoming friends who have similar tastes in sound flavors, but also in a dream world I would love to collaborate with someone like Grimes or Bjork, someone who seems like they'd be really fun and excitable in the studio. I love getting really stoked on ideas when recording and taking things too far and then reeling them back.
What do you want a listener to walk away with after hearing your music? It depends on the song they have heard I guess, but mostly I'd like them to be uplifted somehow, or just to make a connection.
What's your absolute favorite place in the city/the world to be? By the shore of the ocean, I would like to experience different places to be by waves crashing on the shore. It is very meditative for me. I love the pacific ocean as I know it best, but have loved experiencing different shores and different waves as I have travelled more. Surround sound waves washing over my senses.
What was your last or most recent memorable live show you were able to attend or perform? I just played in Olympia recently with local bands 100 Watt Horse and the Washboard Abs, and there were just so many nice people and friends there, and I was playing a bunch of new songs, and just having people be so supportive and sweet really made me feel excited to be putting out this new album. Friends exclaiming how they are excited to see my songwriting evolve and excited to see where it goes next, just feels good to feel like I'm moving forward and not backwards. Also because my friend Freddy and his video crew TVMTN were doing live projections at the show with vhs video feedback and it looked amazing!
What excites you outside of the music industry? Traveling, learning, reading, roller skating, cooking and eating delicious food, kissing.
Most embarrassing moment on stage? One time when I forgot to connect my midi controller cable to my computer and I couldn't understand why it wasn't working for too long…. So embarrassing even though maybe no one could really tell that things were so awry.
What were you like in high school? Painfully shy, smart but apathetic, daydreaming a lot, and obsessed with Elliott Smith.
Can you share one of the best or worst reactions you have gotten as a result of your music? In high school I remember during my senior year, I played an EP I recorded of 4 songs, that I wrote during that time as my senior project, for my classmates and everyone was shocked that my music sounded the way it did. Many people who had never even heard me speak before were all of a sudden hearing my voice and I remember people asking me if that was really my voice, or if I really wrote the songs I was playing. I was embarrassed but also flattered because it felt like a sort of approval I hadn't received before from my peers.
Lets see what else… someone recently told me they thought my music sounded like Imogen Heap on LSD which I think may have been intended as a compliment, another strange reaction was someone telling me a song I played sounded like it would be perfect in a car commercial… I wasn't crazy about that feedback but also I'll take what I can get I suppose.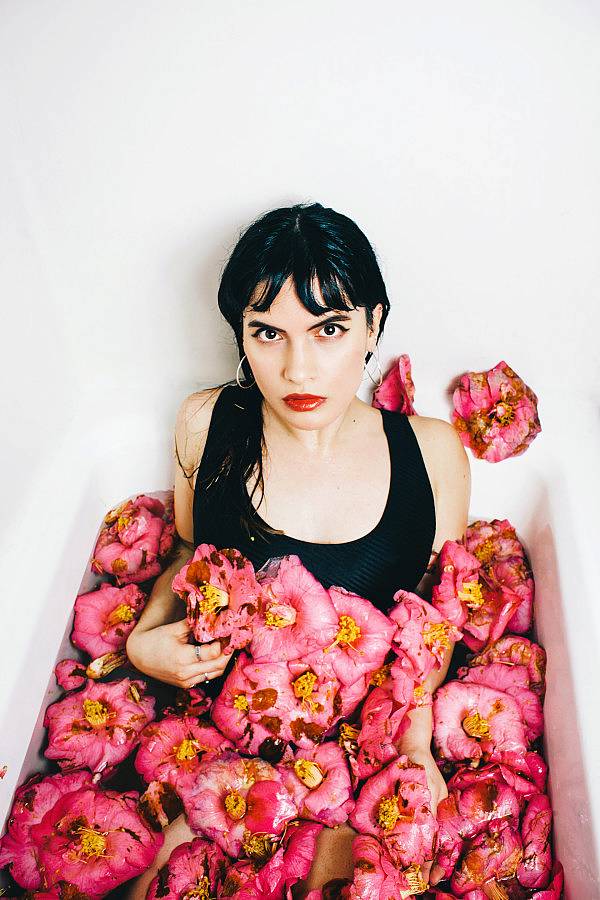 Can you tell us about your upcoming album, and where you see this music moving your practice? I think every time I create something it is such a release, getting something out of my system, and I learn so much from the experience. I made something that in the moment I enjoyed and got a lot out of, but then I long and yearn to create something else, something different. This new album, Call it Love, is me pushing myself to make some fun pop songs, play with filters and textures, and write more with beats in a pop structure. I also got to bring in my bandmates Joel Skavdahl and Natalie Day to play on the album with me, and it marks the first time that I have really had someone else singing on my recorded songs that isn't me. It was really fun to make this album, it felt really healing and there are some beautiful ambient moments like a transition between two songs I think of as being a pair, "I'm Sorry" and "He Knows." I'd like to push myself to make something darker and weirder, manipulate my voice more, create more space and minimalism, and to obscure my lyrical presence more on a subsequent album.