Tell us a bit about yourself and what you do.
I'm going to try to introduce myself in a way I normally don't…
I am an Aquarius sun, Cancer moon, Gemini rising daughter of a Nigerian immigrant and a Southern rooted South Side Chicago native. I come from a long line of domestic workers and people who were in service to their communities. I am a contemplative humanitarian, an artist and an arts leader. My art practice is a study of my interests in textures, forms, color and sound. I have a fixation to material that require process—one of them being clay. Out of this fixation, and more, I create sculpture, compositions, installations and imagery out of lived and imagined experiences.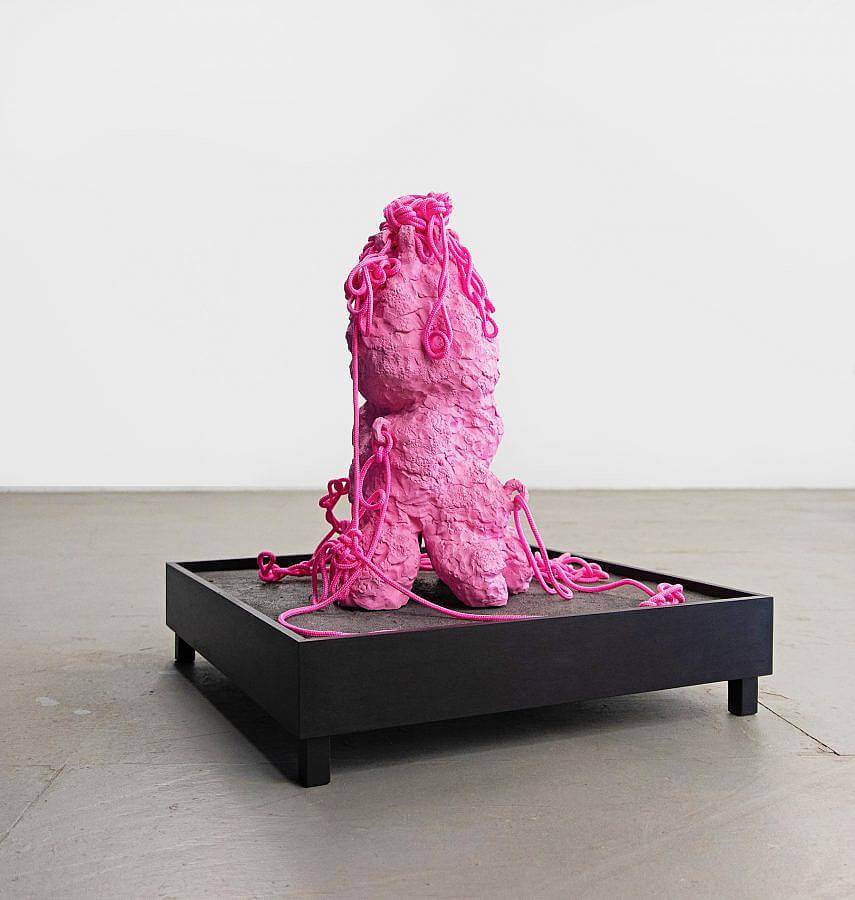 What was it like preparing for your recent show, Hues of Black and Blue?
I think it's always exhilarating to see an idea come into fruition, especially through exhibition designing. Since my practice had been mainly object based, I wanted to focus on environment building through installation. I explored ideas surrounding the collective emotional conscious and how it navigates in digital spaces, as well as, critique of how we relate to the nostalgia of objects. I think this exhibition in particular has given me an idea of how I'd like to approach future installations and how to really imagine immersive experiences from a viewer's perspective.
Has your practice always been multidisciplinary? How has it evolved over time?
I would say my practice has gradually become more interdisciplinary. I think it has definitely evolved over time. When you give yourself space to explore and experiment with new endeavors, there's things you awaken within yourself that causes you to think differently about the World. I believe my self exploration has made me aware of my relationship with sound and enjoying it through a composer vantage point. It also made me aware of my relationship to objects— the fluidity and sentimental value I have to objects and how I'd like them to live in space. All of this is what contributed to the growth of my practice and it making its way to interdisciplinary territories.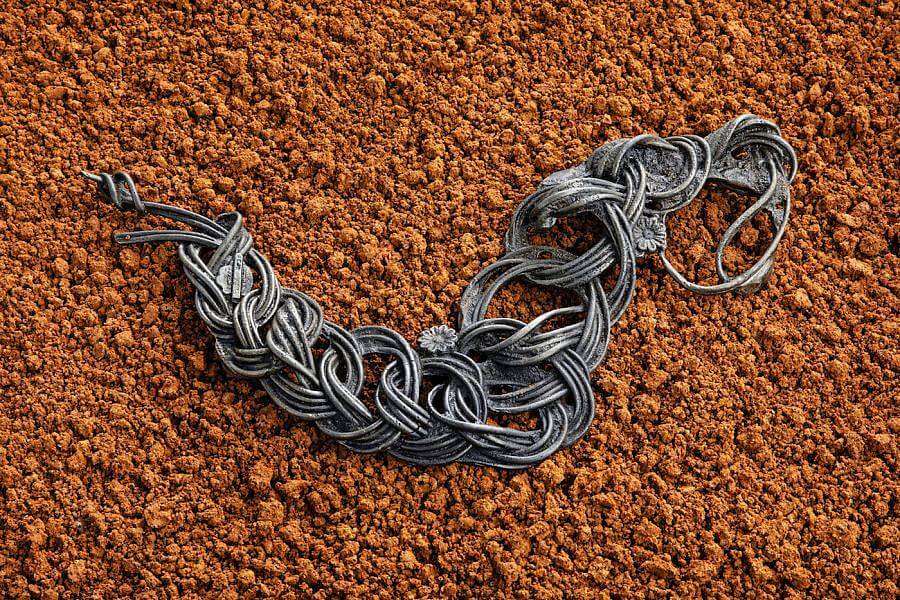 Do you listen to music while you work? If so, what have you been listening to?
I do! I find myself lost in my studio for hours on end so I love a good mix of my favorite genres. Right now I've been listening to a playlist curated by my partner which is heavily inspired by my exhibition at HPAC, Hues of Black and Blue. It features a lot of monologue, jazz blues music, and soulful compositions. We have began collaborating on it so there has been edits made but it's a pretty moody-eclectic playlist.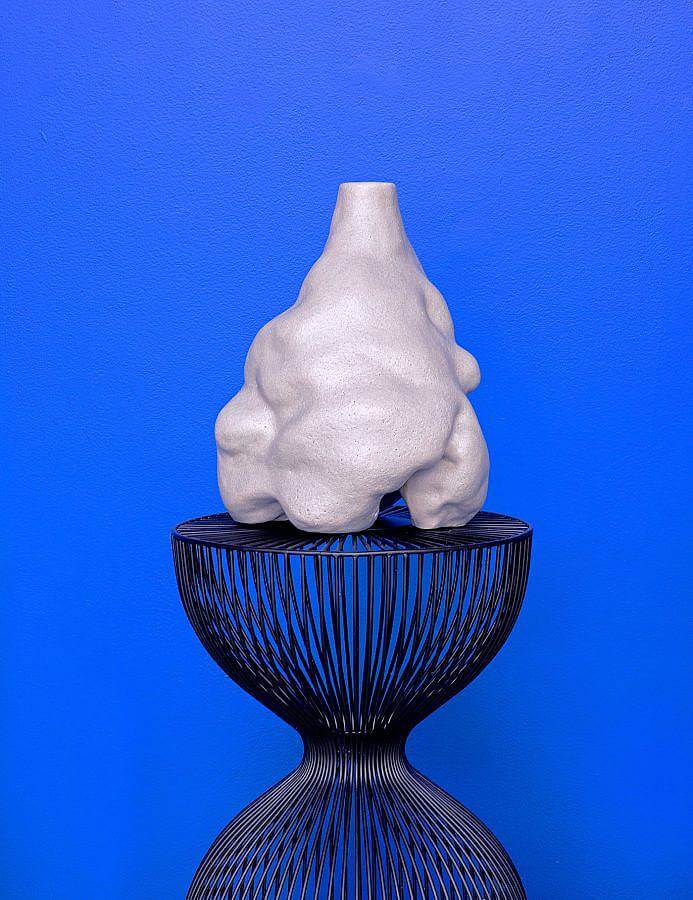 Who are some of your artistic influences?
Wangechi Mutu and Arlene Shechet are a few of my favorite artists. I'm also intrigued by Sondra Perry, Woody De Othello, Betty Woodman, Frida Orupabo, Jessica Jackson Hutchinson, Nathaniel Mary Quinn and Abigail Lucien. I think each of these artists are finding ways to "freak" their choice of medium(s) and that is very intriguing to me.
Tell us about your process for making your sculptural assemblages.
I approach my process with intention to experiment. I'm always looking to unfold or complicate the form further. I use clay, which has its depth. Within this depth, there's many directions in which you can take it—so much room to explore. Because of this, I still feel so very fresh to this material so everything becomes an experiment. I think that is why many of my forms look so different but familial at the same time.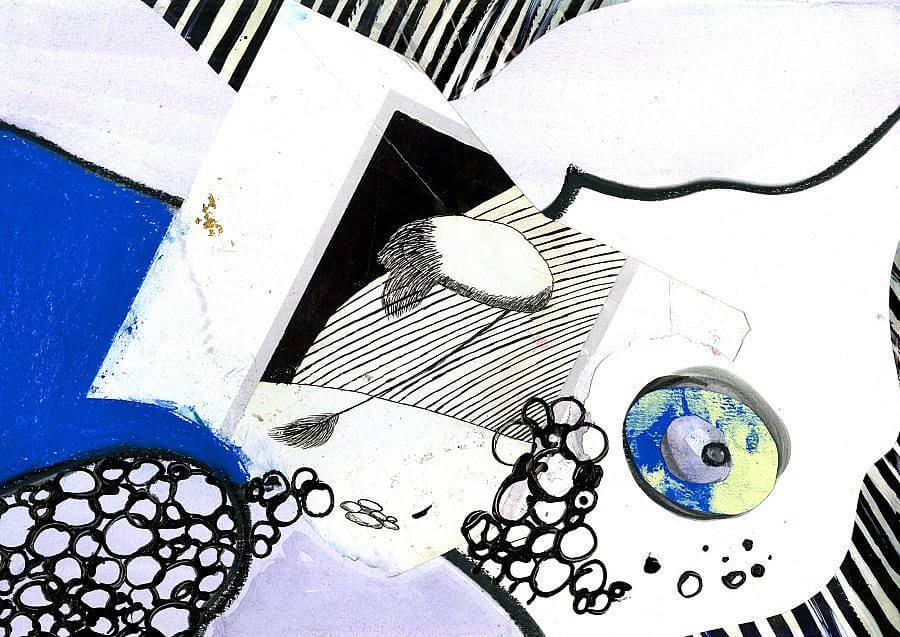 What's your favorite meme?
Any one featuring Nene Leakes.
This summer you curated "…of the land: acts of refusal and ratification" at South Side Community Art Center. How did this show come about? What was your experience like curating it?
Well, I became the Exhibitions Manager for SSCAC earlier this year. I'm very proud to be there but anyone who has worked for a small non-profit organization knows that you wear many hats. There was a 3 month slot opened in our exhibitions calendar for the year so I offered to curate a show. As a sculptor myself, sculpture is something I do not see too often in art spaces on the South Side of Chicago, especially within arts organizations. I wanted to change that—I wanted to focus on a new direction for the Center, which was contemporary sculpture. Now, normally I wouldn't curate myself into an exhibition—I actually don't normally curate exhibitions—but I was compelled by my boss and a few co-workers to do so. So then comes this idea of a 3-person exhibition exploring self-imaging, histories of labor through post-colonial conceptualism, and peculiar processing of material. I had known two exceptional artists that I wanted to work with—Ajmal Millar and Reggie
Treshawn Williamson—who became co-exhibitors. It was an invigorating experience because I hadn't curated an exhibition in eons and it came together quite beautifully. For those who don't know, the SSCAC is an old Brownstone home built in the 1880's—beautiful bones. It was such an extraordinary experience to get to curate a space with rich history and
character.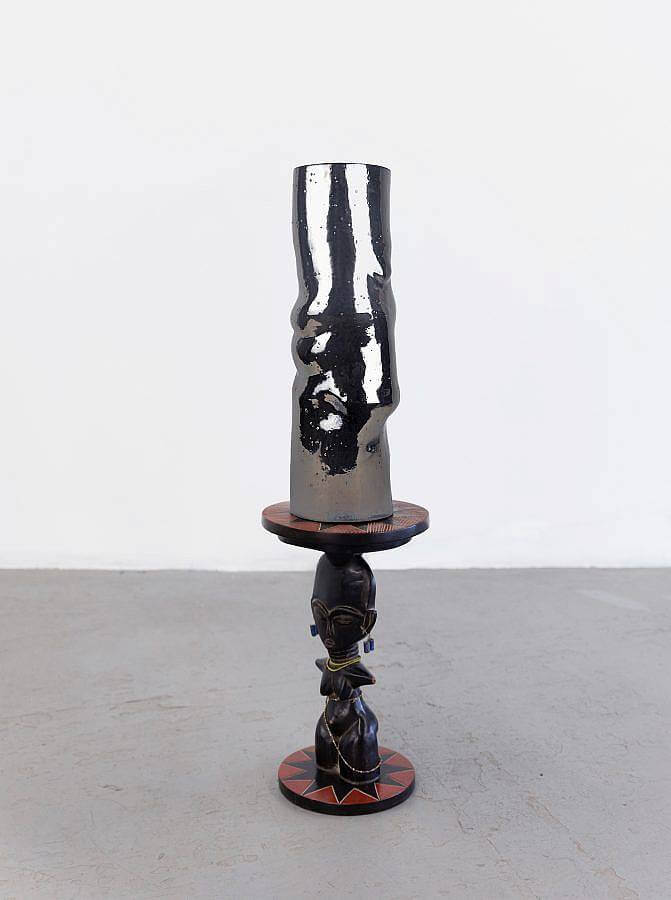 What have you been reading lately?
Poetry. Particularly, MAAFA by Harmony Holiday. It was given to me as a gift (I love being gifted books, btw). Of course it's very poetic and I've been really into it. Both a captivating and catastrophic piece of literature.
Have you seen any good movies recently?
I've seen quite a few films this year but the one I keep coming back to is, Everything Everywhere All at Once. Such a strange and compelling film—but nothing like I'd ever seen.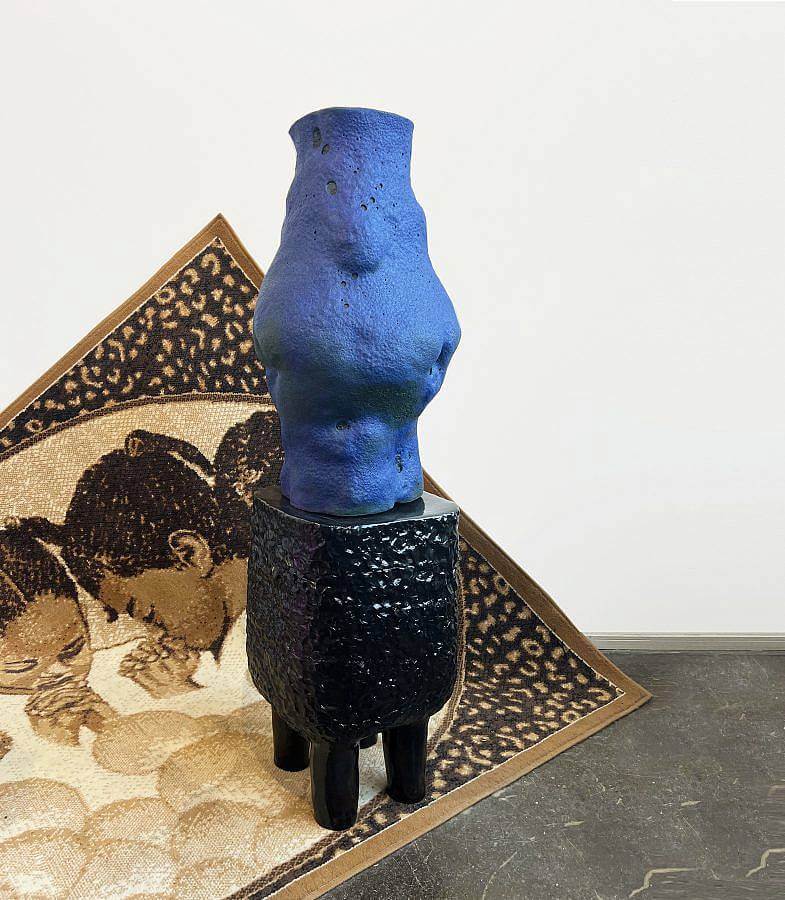 Your practice "explores the multifaceted implications and ramifications of being in regards to the Black experience." Have your modes of exploration changed at all over time? If so, how?
I think this mode of exploration will always remain a constant in my practice as long as I'm seeing this World through my own eyes. I foresee other facets as means of interrogation and reflection becoming part of the discourse but I'm not quite sure I'm there yet—I still have so much to say about the implications and ramification of Black being through texture, form, color and sound as there is still so much to be told.
Any upcoming projects you're excited about?
I have a solo show coming up that I am excited about. I'm also just excited to get back in the studio because I took quite a lengthy hiatus so I'm ready for experimentation again.
Interview conducted by Lee Schulder and drafted by Milo Christie