Tell us a bit about yourself and what you do
My name is Abigail Lucien. I'm an artist, educator, writer, auntie, sister, lover, and friend. I move fluidly between sculpture, poetry, video, and print media. My work has autoethnographic roots and is concerned with systems of care, labor, and ritual through material metaphor. I currently live and work in Baltimore where I split my time between my studio and teaching in the Interdisciplinary Sculpture department at MICA.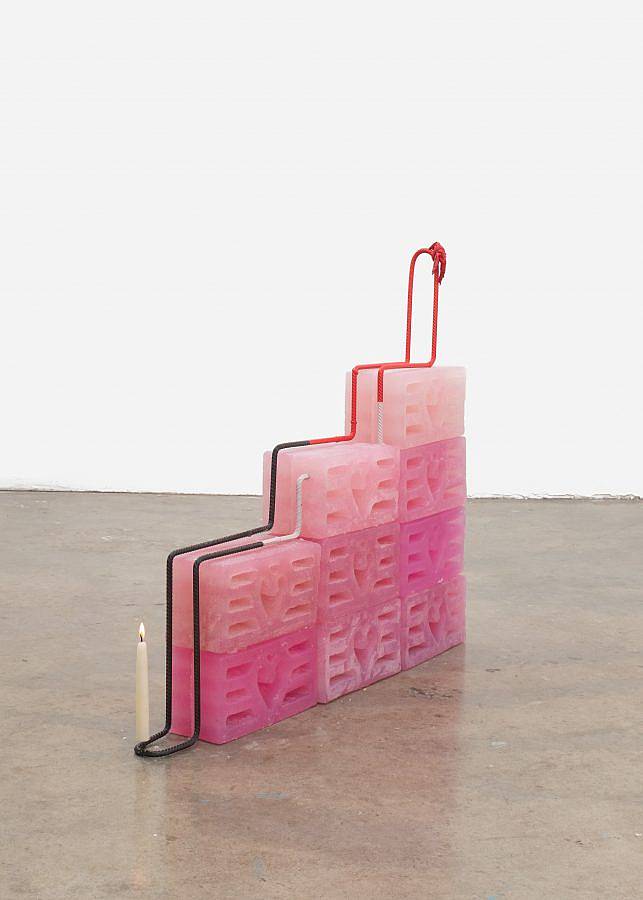 Many of your cast objects reference common building materials while also alluding to specific settings. Can you share more about this?
The real and imagined site of the Caribbean is an anthropomorphic character in my work. I've inherited an architectural vernacular from the Caribbean that I often use in the forms of my work. Sometimes the objects are casted through found forms, other times they're created from scratch. In 'A Song of Ascents' (2020) the breeze blocks are inspired by my grandfather's building in Pignon, Haiti that was once a church, now a school, and forever a community haven. The work is made of 90lbs of soap cast into heart-shaped cinderblock molds that are stacked in shades of transparent pink. Steel rebar traces the steps formed by the blocks, balancing a lit white candle at its lowest step and at its highest point a crimson painted chicken foot. Nodding to protection and healing motifs, the work pays homage to my father and grandfather who were both lost to the coronavirus in the summer of 2020.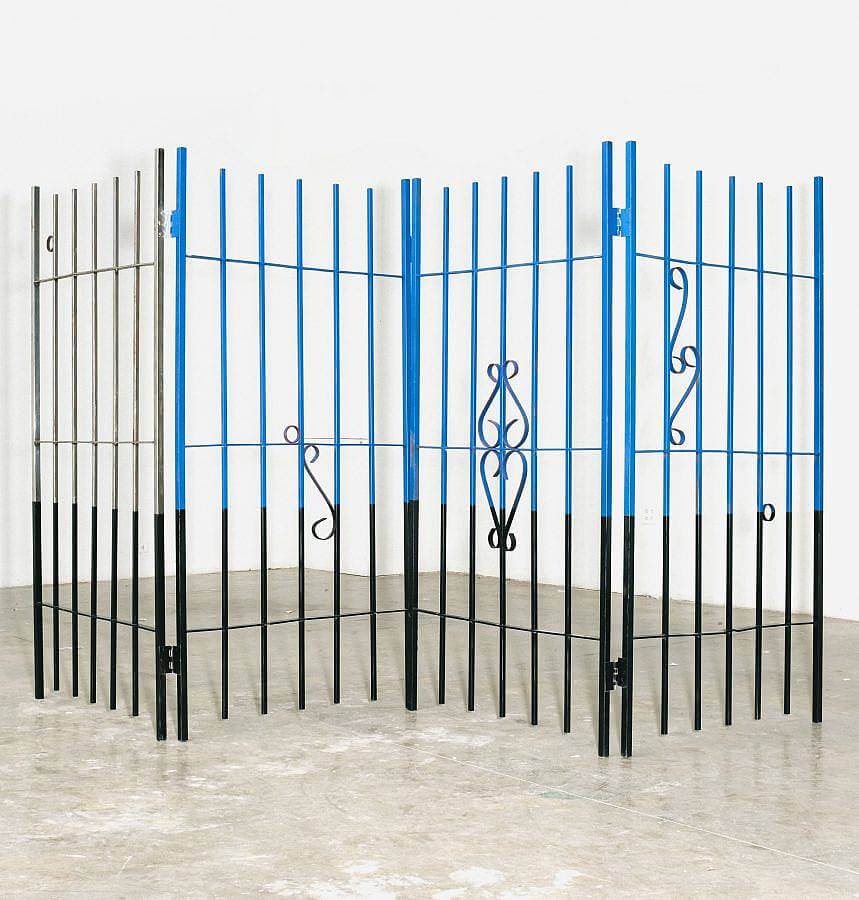 Your piece, Half Full and Knee Deep, appears to hint at a subliminal language through the use of various symbols common in wrought iron fencing. Was this your intention and if not, how do you interpret the fencing in your work?
My works often mimic forms found in architectural spaces – ac units, gates, awnings – to call attention to both visible and invisible structures, while also tapping into the material complexities of iron as an element in both the earth and our bodies. Using metal as a drawing tool and as a way to address unseen systems at play in our day to day lives, the significance of iron and bronze in my work centers around gestures of recording as memory-tools and sites of recollection.
I'm fascinated with the history/lore around ironworkers from the African diaspora embedding symbols into their work as a means to communicate or send word to loved ones or kin afar. The Sankofa, meaning "go back and get it" in Twi and meant to symbolize a swan-like bird grasping for an egg that it holds on its back, reoccurs in many of the works including Half Full and Knee Deep (2018). The motif can also be interpreted as a simplified vèvè or read simply as an inverted heart.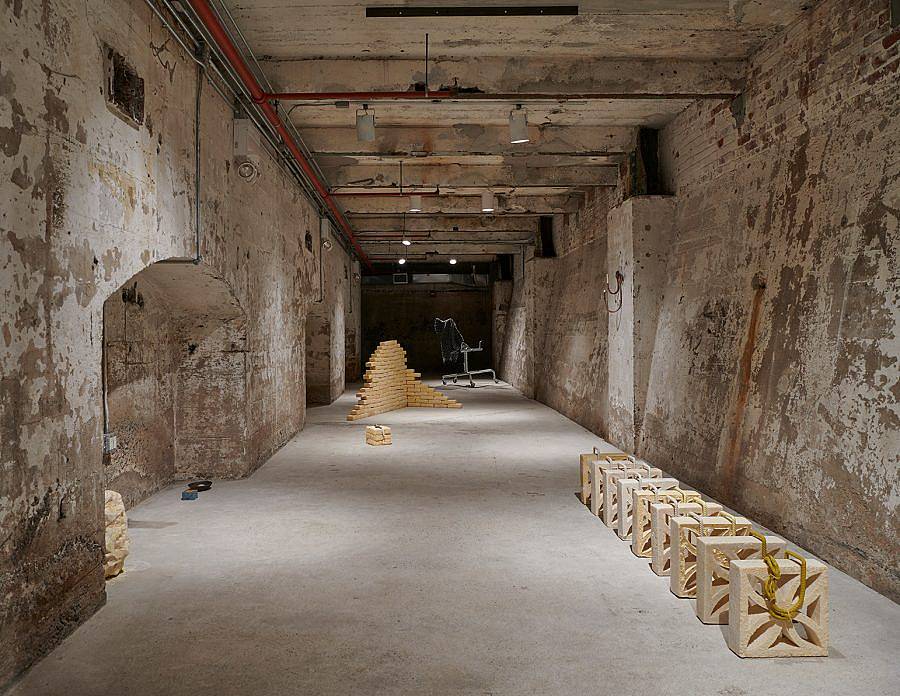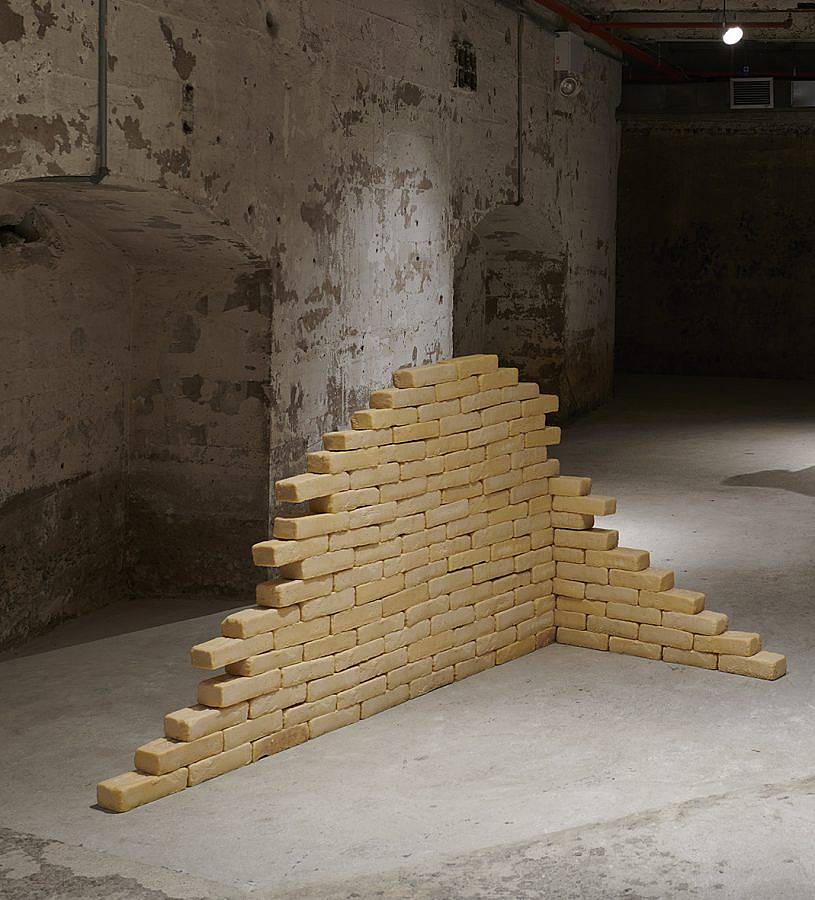 How does ritual and self care function in your more recent work?
"Holding Your Name Like Butter in Your Palm" (2021) is an installation that pays homage and prospers healing for the personal and collective trauma caused by deaths from COVID-19 and killings by the hands of police in the first year of the coronavirus pandemic. I wanted to find a way through my practice to speak on a compounding of loss and grief, as well as to an unending process of healing.
The central material in the installation is approximately 360 pounds of cocoa butter – a solid edible fat extracted from cocoa beans, rich in antioxidants and renowned for its healing properties. For me, cocoa butter carries a material metaphor of healing and labor, and in particular the ritualistic labor of self-care. At an early age I was introduced to cocoa butter as a material for healing- taught to rub it into my skin to replenish the skin and disappear scars.
The bricks in the exhibition 'In Practice: You may go, but this will bring you back', are cast directly from SculptureCenter's original foundation. I've been thinking about the gesture of dedicating a brick. As the foundation of a space in memoriam or to commemorate as a method of prayer and remembrance, I carved the initials belonging to a Black life lost by the hands of police in America in the first year of the pandemic. The act of hand carving a name is a way of meditation on loss. The gesture is symbolic of a prayer one might cast for care or protection over a loved one. The installation's essence is to be reflective and restorative, making a statement of the importance of valuing Black life within and outside of the context of an art institution.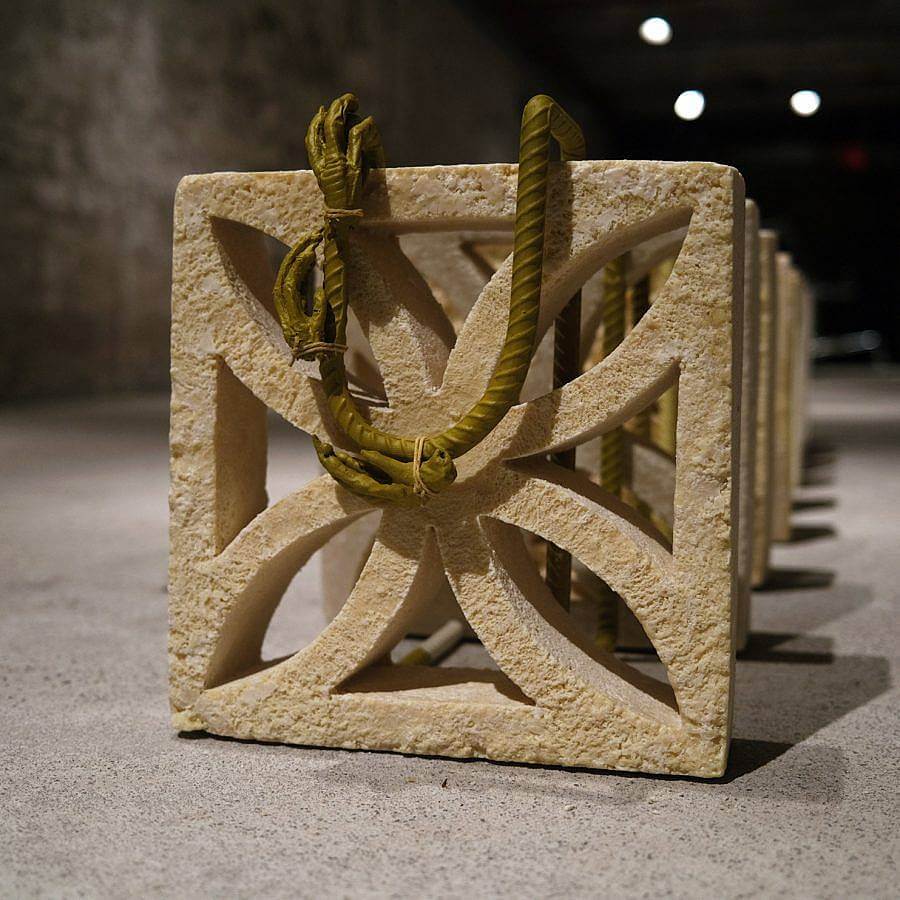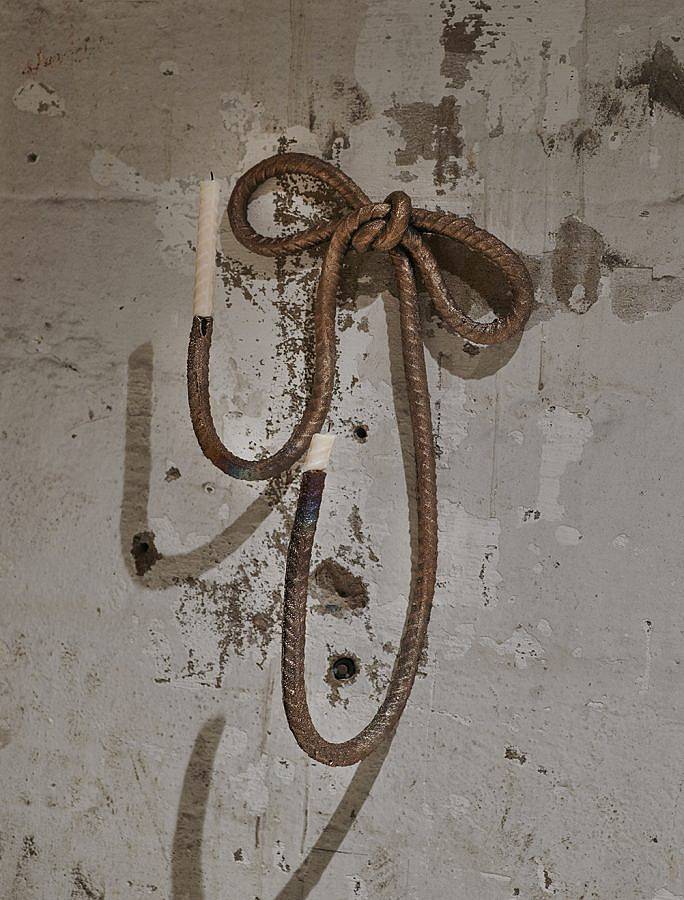 In the Fall of 2020, you became a full-time faculty member at the Maryland Institute College of Art. As a newer professor, how do you view your responsibility to younger artists? 
Oof. I feel like any question about teaching feels loaded after a full year and a half of teaching sculpture online. But in general, my biggest responsibility to my students is to be honest with them and to treat them as artists first. Only then can nurture, challenge, discovery, and growth follow.
How does your relationship to family and lineage influence your practice?
Anyone who knows me knows how core family is to me. I'm the type of auntie who would have one of those plastic accordion wallets that flips out with dozens of pictures of my nieces and nephews if I knew where to get one. More than anything these days, I feel the rarity of having the type of love I share with my family and how irreplaceable our limited time together is on this earth.
I grew up in a bicultural family environment and belong to a BIG, soulful Haitian family, many of them spiritual leaders and teachers. Being raised in proximity to spirituality through a familial lineage of priests has toned my life within and outside (though this distinction feels fuzzy nowadays) of my artistic practice. My work continues to foreground my Haitian-American heritage, addressing the nuances that accompany existing as a bicultural, queer, Black woman in a contemporary American context.
What role does writing play in your practice?
I treat language as a material. Writing holds equal weight as casting or metalwork in my practice. I write each time I enter the studio as both meditation and direction. It leads the work at times and supports at other moments. Sometimes it illuminates and other times it complicates the work.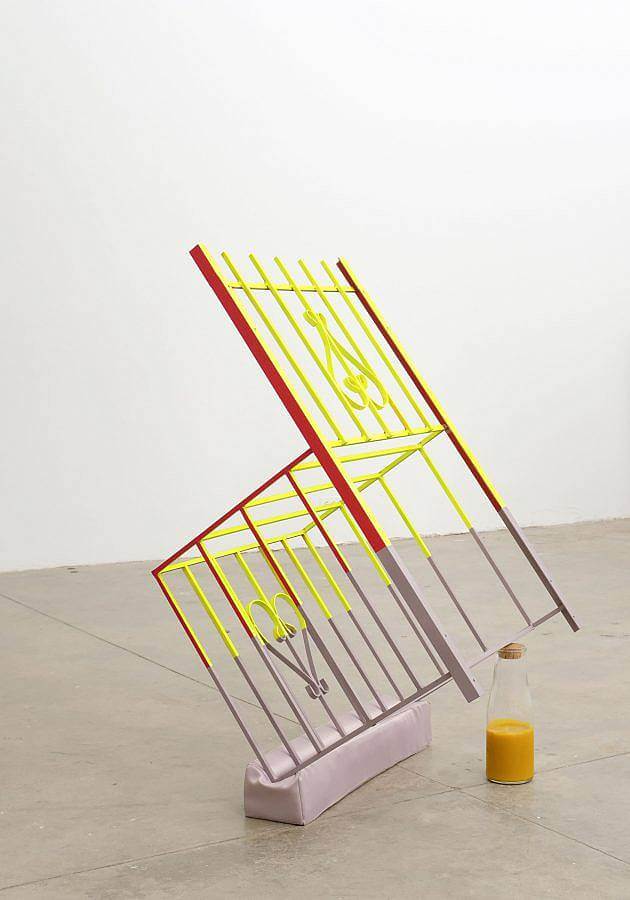 What about casting objects interests you most? How do you consider permanence or ephemerality when casting in different materials?
Authenticity, originality, repetition, and the copy are concepts rooted in my printmaking background. Moving from repeating images to repeating forms was a natural progression for me. Through the material translation of architectural forms, I am asking for a deeper understanding of our ongoing relationship to colonialism and land occupation while implicating the body's relationship to material and place. 
 I'm drawn to materials that have a ritualistic closeness to our bodies. Putting on lotion to moisturize your skin, lathering up with soap to cleanse, using coconut oil in your hair, in your teeth, in your food. Merging my practices' architectural vernacular with my interest in highlighting the tenderness, labor, and ritual of self-care, I've been pouring pounds of soap and cocoa butter into self-fabricated molds. There is an implied ephemerality with these materials that is fixed in its exchange with the body. After all, I don't know many folks who buy a bar of soap with the intent to use it for the rest of their lifetime
What are some of your essentials in the studio?
 A vice. A hot burner. Something to play music through. Spatulas. Drill. Angle and/or die grinder. A plant to remind we are in constant growth. Many surge protectors. Butcher paper. Things I can stir things with that are not actually things to stir with. A pail opener. Shears. Yummy ass snacks. A place to disco nap. 
Any upcoming projects?
If you find yourself on the East coast this summer, you can catch my work in New York at SculptureCenter and HOUSING.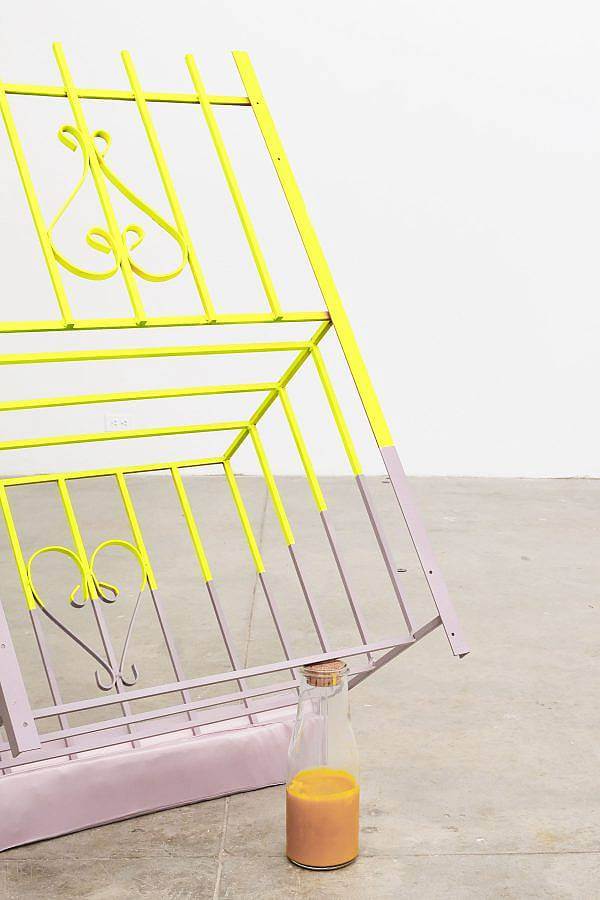 Interview composed and edited by Ruby Jeune Tresch