Tell us a bit about yourself and what you do.
I am an artist who paints satirically with absurd notions of identity, subjectivity, and consumption. I live in Zurich, Switzerland, but I am American and from DC. I also lived in NYC for college and Berlin, Germany when I decided that I couldn't afford to live in NYC anymore. Then I moved to Switzerland for my MFA… and now I teach in the Bachelor's program at Zurich University for the Arts…. So I am stuck here for the next 3 years. This is how I made it to Zurich. Random, yes I know. 
Your recent pieces balance maximalist pop imagery with subtle and more painterly gestures. Can you talk about how these elements work with & against one another within your works?
I am thinking about the subject matter as a puzzle piece of different sets of poetic relationships. These iconographies are used as an entry point to figure out my language of painting and discuss what relationships of different iconographies conflict with one another. I use the way that the paint is pushed, the color, and the thickness of the paint as grammar in a poem. I think of my paintings as visual poetry. For instance, a thickly painted blue laugh against the barely-there ghost of a figure or a huge Sunday church hat painted in messy thick brush strokes. 
I think a lot about space in my paintings because space is super political. How to complicate space. How to take up space. In many of my paintings, space is disrupted by other elements or subject matters that I intentionally paint differently than its surroundings to act as a glitch. For instance, in She IS The Moment, the skewed portrait of Lisa Rinna enters the side of the painting which disrupts the figure behind her. Her hair becomes blades of grass for an animal in heels which is also disrupted by purply blue blotches.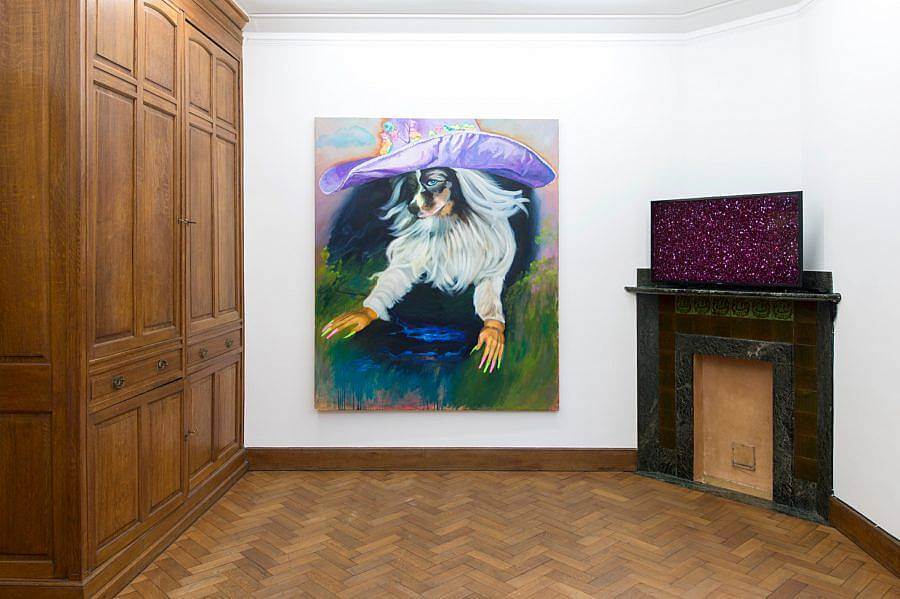 Many of your paintings focus on a central figure transforming. How does setting up this contextual relationship allow you to explore Black, feminist, and queer perspectives? 
Although a lot of my work deals with camp and things that come up in gay culture, I do not identify myself as queer. I believe gender is a huge spectrum and so is the definition of what it means to be femme and masc. All I know is heteronormativity is horrible, boring, and linked to the same disease as white supremacy. I still don't think it's correct for me to take up space within this perspective. I will say that a lot of black female identity is celebrated within the gay queer community and this is what I identify with (Donna Summer, Shirley Bassey, Tina Turner, Patti Labelle…). Patti Labelle is nothing but pure ridiculous camp and reminds me of so many of the DC black moms/powerful women that I grew up with. It's about taking up space in a place where the majority wants to get rid of your existence because of your identity. 
In terms of transformation, you are correct. I think our society is going through some rough changes and sometimes, to make it easier as humans, we often like to push the things that we need to do under a rug because actual change causes discomfort and it's inconvenient. There is something uncomfortably creepy happening in my paintings but the colors give the illusion of somewhat joyful…. Maybe Lisa frank-esque.   
How do you feel about clowns?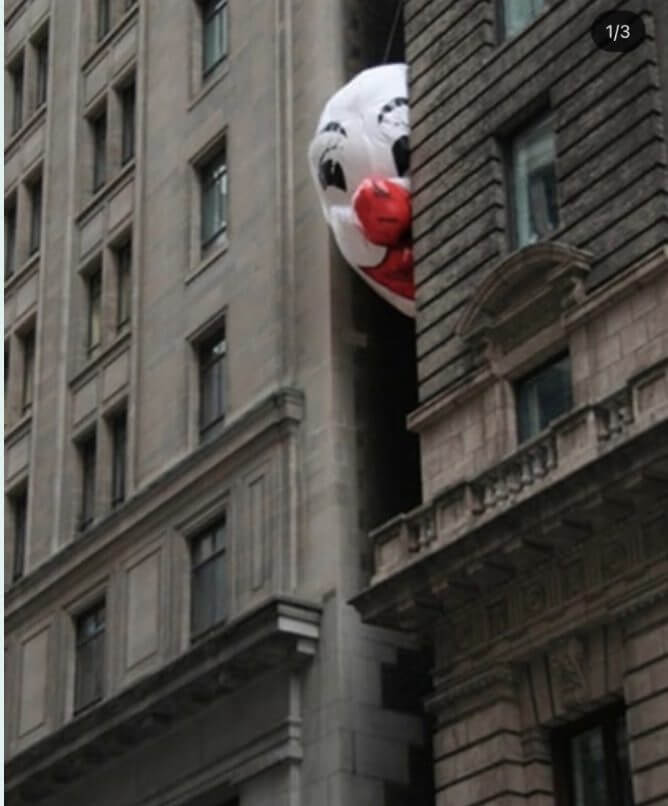 This.
Can you tell us a bit about your potentially Tiffany Pollard-inspired, 2020 work, "HBIC 💅🏾" and the layered imagery used in its composition? 
This is a painting that I could probably write a 20-page paper on because everything from the choice of color to the composition was heavily considered. The painting was a critique of many things. One of them being the superficial way we share information through these IG stories. Especially last summer, it seemed like everyone had these lists that had to do with some kind of plan of how not to be an asshole. These lists were these open superficial consumable facts that disappeared with the momentum to apply these facts to everyday life. But they were up for just enough time for people to categorize you as a "good" person. After the 24 hours was over, a new set of 15 seconds worth of facts or "ways to be a "woke", non-gaslighting, and well-informed person" appeared. The lack of time for self-reflection to absorb some of these facts represented another way to avoid confronting actual issues within our society. IG stories became like McDonald's News. Cheap and instant. Just another way to sweep the things that we aren't ready to confront under a rug. 
The painting is broken up into 2 parts. The image or window behind the person and the actual person with the open-ended list of facts. While painting the image/window I thought a lot about the Post-Modern photography question of whether or not photography is a window or a mirror. I want to say I read this in Susan Sontag's book On Photography, but I am not 100 percent sure because it's been a while. It's a question that has traveled with me since my SVA BFA photo days, and I think about it a lot even while painting. Painting has always been a way to reflect on the past or oneself through ways of mark-making. It also has the potential to reflect some kind of reality, even when it's abstract. Maybe it's how a painting is painted or maybe it's the image that it reflects. As a painter, you are confronted with your mistakes and failures… somehow, you have to make them work. The window or image in the painting represents something that has yet to be confronted. The irony is that the person in the painting stares at the viewer, head to head, with a blank list of facts.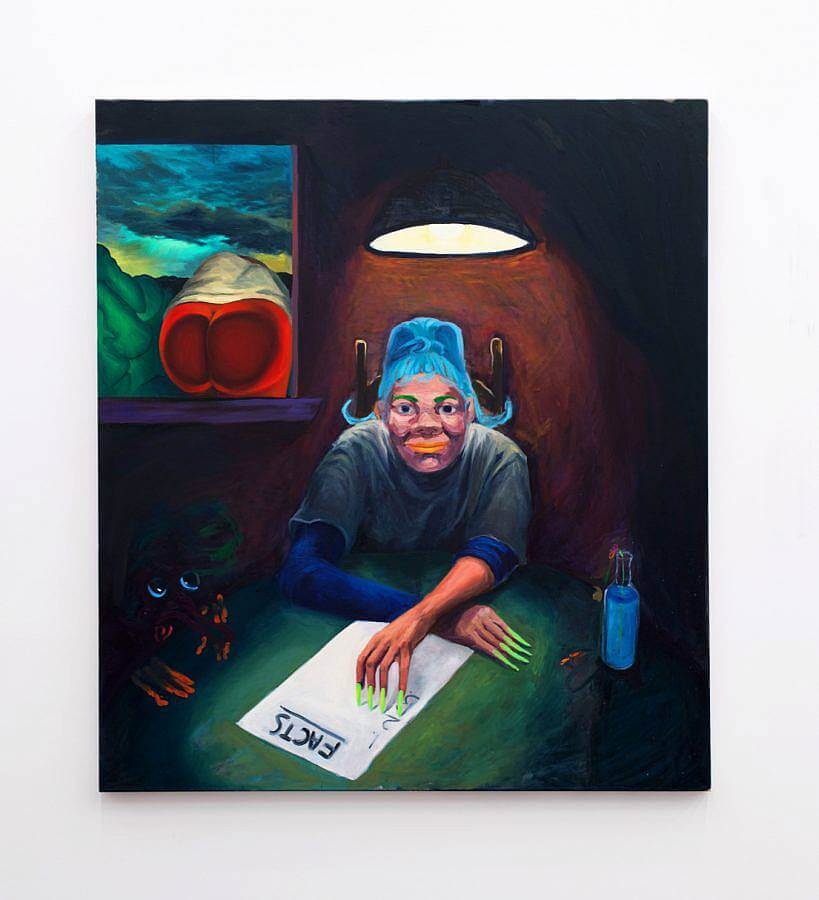 Can you tell us a bit about your work "Hot Gas" 2020? 
To me, it's pretty much self-explanatory. It relates to brain farts and beauty. 
What are you reading right now? 
I am in between books… but my recent gems are Faux Pas by Amy Sillman and Glitch Feminism by Legacy Russell. I have been waiting to read Notes from the Woodshed by Jack Whitten but I can't find a place that will deliver to Switzerland.
Your paintings convey complex moods, words that come to mind include, saccharine, dreadful, humorous, and abject, all words associated with the very excess of performing in the material world. How do you mean to incorporate drag and/or performance within your work?
From being a part of the art world to the actual act of making work, art is one big performance. Art is performative. These lumps and bumps that we call sculpture, as well as paint on a canvas are exactly that. Nothing more. Nothing less. If you think about it, painters slap on these layers of paint. Expensive colors. We try to make it work in the same way a drag queen applies their makeup. Somehow we add value to these things. Perhaps someone buys one to launder their money. Perhaps some academics with a Ph.D. uses it to support their theory. If we are lucky, then someone discovers us and puts us in a couple of shows. If we are really lucky we will have a couple of institutional shows and maybe teach at some art school. We become mid-career and our career falls. We get old and someone gives us a retrospective and maybe some gallery collects our estate before we die. We all are a part of this crazy dance.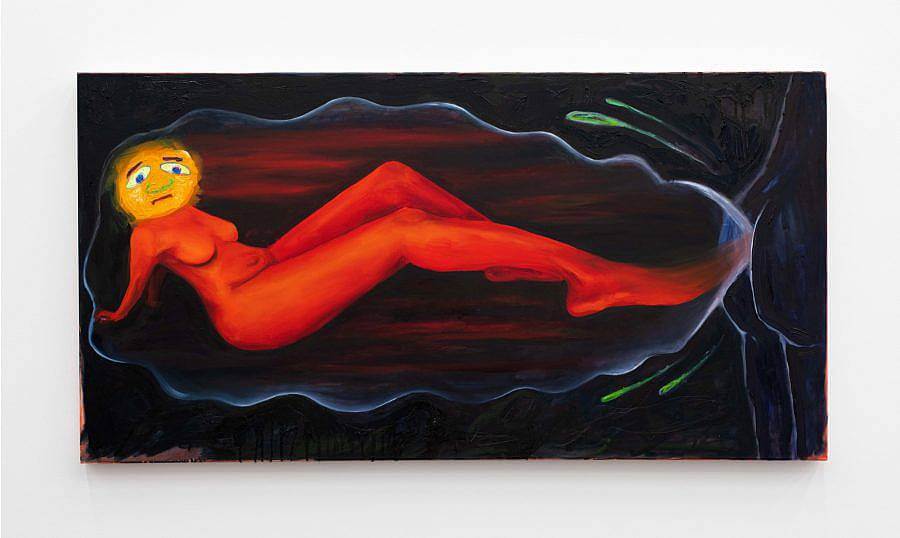 What artists or creators have influenced your practice?
Amelie von Wullfen, Jana Euler, every ridiculous pop star in the 90s, Patti Labelle, John Waters, Jack Whitten, and Sam Gilliam  
Can you talk about your depiction of celebrity Lucy Lucy Apple Juice? How does your depiction of dogs subvert "traditional, cis-white visual symbolic orders"? 
The title "Loosy Lucy Apple Juice" comes from the Real Housewives of Beverly Hills saga involving a shelter dog named Lucy Lucy Apple Juice. Two housewives got into a heated argument when one of the housewives handed her dog over to the pound after purchasing Lucy Lucy from the other housewife. The argument at hand had nothing to do with the safety of this dog but the defamation of character of the housewives who ran a dog shelter. After last summer's black square episode, I was interested in how the idea of the black square as a performative act is nothing more than a superficial way of showing support to a crucial cause. I was also thinking about Ad Reinhardt's black square. The dog is in a trance state by all of these black squares. The dog is a dog. Backward it's god. 
Any aorta of presenting a non-centralized position in unexpected ways is a glitch to white supremacy, heteronormativity, and the patriarchy. I'm not thinking of the dogs as a way to subvert the cis-white-visual-order. The first thing you see in any stock image of a white family is a golden retriever or a lab. I love labs. I also have 2 labs at my parent's house. I'm thinking about historically what it means to be a black female painter. Where do I fit in the history of painting? What am I supposed to paint as a black female? Academicism and amateurism. Ugly painting vs painting that represents any sort of beauty and/ or "the ideal" according to western art history. Some would say a lot of portraits of black people painted in ways to show that we, too, are human and are to be a part of the same art history. I am not interested in that. I don't want to display the fact that I am a "good example" of my identity in my paintings, so that centralized positions who have denied humanity to not only myself but also to those who identify as black or female or both, as also human, and therefore worthy to exist. 
My paintings are anything but graceful. A good ole ugly and clumsy painting interests me way more than a painting that checks the boxes to call itself a "beautiful" painting. I paint sloppy and my edges are rarely straight. I don't tape the sides of my paintings to make them completely clean. My paintings have flies, hair, studio dirt stuck in the paint. It's just as important as the brush strokes. I will say that I love the dogs in my paintings, especially "Call Me Ms. Bitch Because I Don't Miss, Bitch", because it's so obnoxious and takes up a lot of space, in the best way.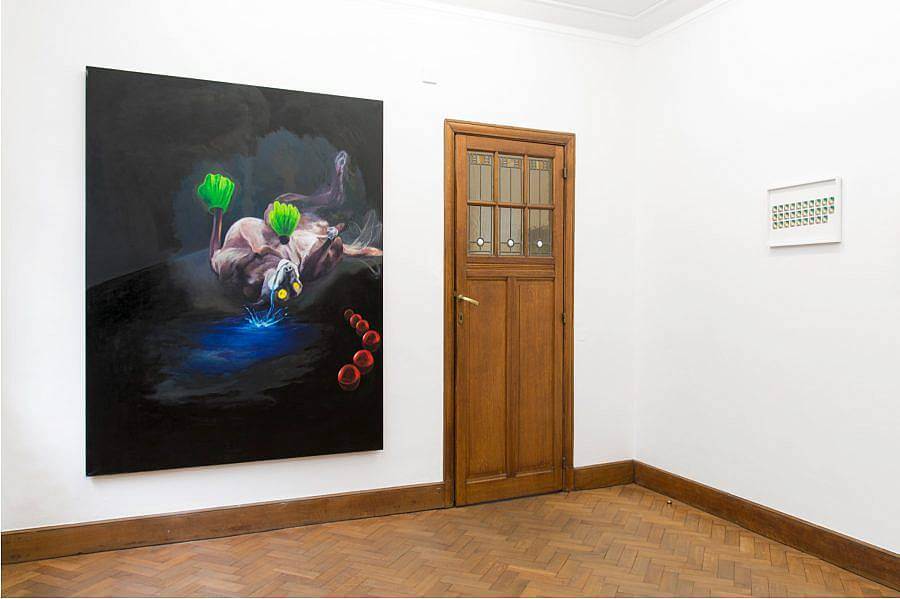 Can you talk a bit about the dialogue between yourself and Wooldridge both in the show "Home Improvements" and beyond?
We discovered that we are born on the same day, but in different years. We spent most of the summer swimming every day together as Zurich has a turquoise blue river that flows along through the city which is swimmable. During our swims, we talked about our work and our experiences creating showstoppers. Ian is into video and queer literature which is a different conversation than painting, however, most of our conversations were spent learning from each other in terms of the different media we use plus finding a common ground thematically.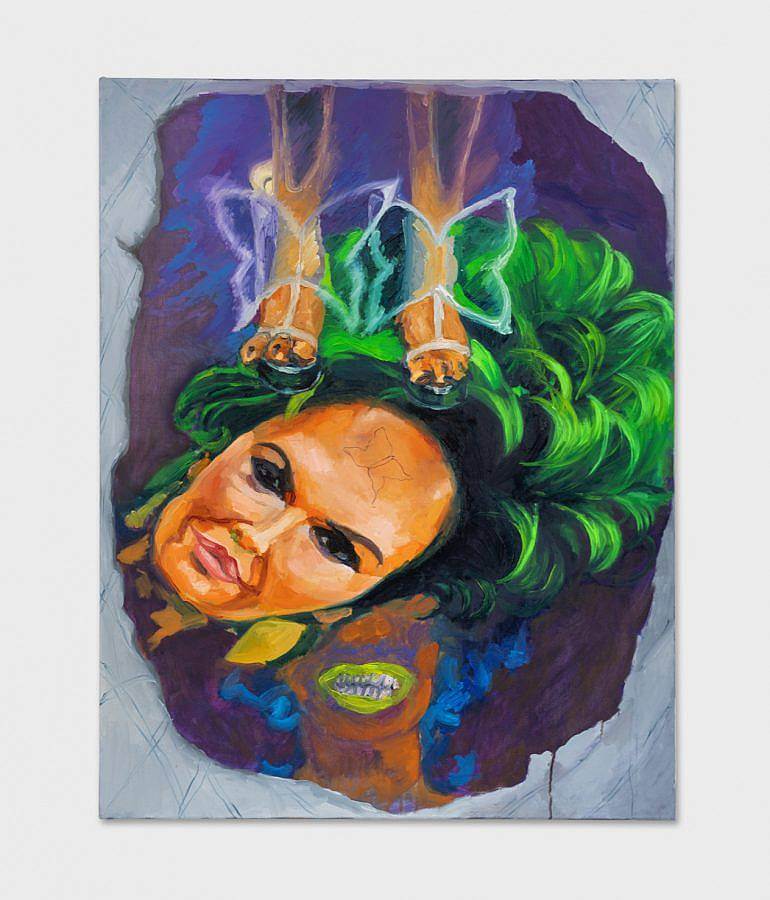 Any upcoming projects?
I am nominated for The City of Zurich Kunstpreis which will be in July. I will also be in a group show at Cordova in Barcelona with James Bantone and Sitara Abuzar Ghaznawi and another group show called Fotoromanza at Le Commun, Geneva Switzerland this month as well.
What are you watching lately?
Real Housewives of NY….. It's literally my version of Days of Our Lives. I'm like an 80-year-old who can't wait to her "stories"
Interview composed & edited by Joan Roach.