Can you tell us a little bit about who you are and what you do?
I'm an Egyptian-American artist, a jeweler, and a chronically-online IG-addicted millennial. I'm also annoying and won't shut up. This manifests in everything I create, from jewelry to memes, public speaking, and to my writing which you are about to see.
What does it mean to be a "meme jeweler"?  
OMGGGG no bs I love that y'all pulled my random off-hand remark (that I am positive I said) out of the depths of my digital footprint. My IRL work is definitely in conversation with my online presence. The phrases that I use on my pendants are coming from the same voice I channel while making digital content. They're often cliched terms or expressions, of cultural and generational signaling, drawn from a kind of public consciousness. So, the work is 'memetic' in the purest sense of the word. Elements of language are transmitted, spread, and evolve. Like memes, you sometimes have to be "in on it" to fully appreciate it.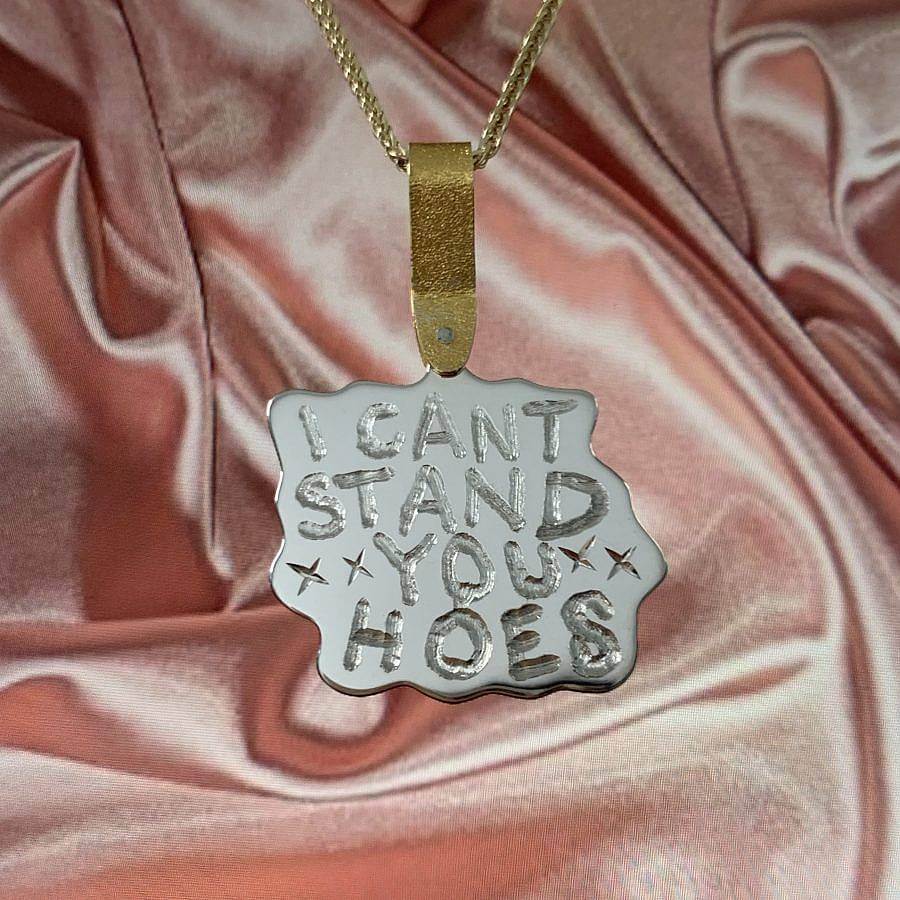 Your digital presence, and riveting meme content, are a massive part of your design and art practice. How does creating digital content influence other parts of your art practice, and vise versa?  
Making online content is a form of therapy. I'm able to remain anonymous and release anger, insecurity, and out-of-hand narcissistic internal monologue. It's basically just willful public humiliation. Initially, I resisted bringing my jewelry (what I always hoped would become my livelihood) into the same realm as my memes for so long, but eventually, I realized I was bored and wanted to find a way to pretend that my endless hours of scrolling were part of my career/art practice/income. Even after the shift of my IRL work, I still knew that I was holding back a lot, partially because I was afraid that my online presence would prevent me from getting jobs, or would embarrass me in front of these middle-aged white gallerists and curators. As time has gone on, I realized igdaf about those gallerists, that's not who my work is for. So a few weeks ago I threw caution to the wind and decided to channel the same reckless energy to the presentation of my jewelry work that I do on my formerly-anonymous meme page. It feels like full self-actualization, I love it here.
How do you see your brand of art jewelry building on and/or influencing the narrative—one fraught with historical appropriations of jewelry from marginalized communities—that surrounds ideas of jewelry in the US?
Peep his article I wrote for Current Obsession. In part, it discusses a cultural staple— the nameplate necklace, and their value to some black and brown creatives. The piece also reflects on how POC style is often exploited by those in power (including the Sex and The City nameplate thing, and a personal favorite, the Dapper Dan phenomenon). It's especially gross because these people and companies often don't respect the culture, and look at these style elements as "ironic" or "tacky", co-opting for that bizarre purpose.
As these concepts relate to my work: there's the style, the slang, the sayings, the tropes, all forms of cultural signaling or referencing, and I aspire for the jewelry I create to embody a sense of belonging for the people it speaks to and for the people it's intended for. The flipside of that is that if you don't get it, it's not for you. If it's for you, come thru. If it's not for you, I am happy to tell you you're excluded; cuz real ones only, bye bish. I've had a big company bootleg my pendant style and techniques for a couple of their pieces and it was so so corny. I hope anything I create has authentic, unapologetic energy that cannot be easily faked.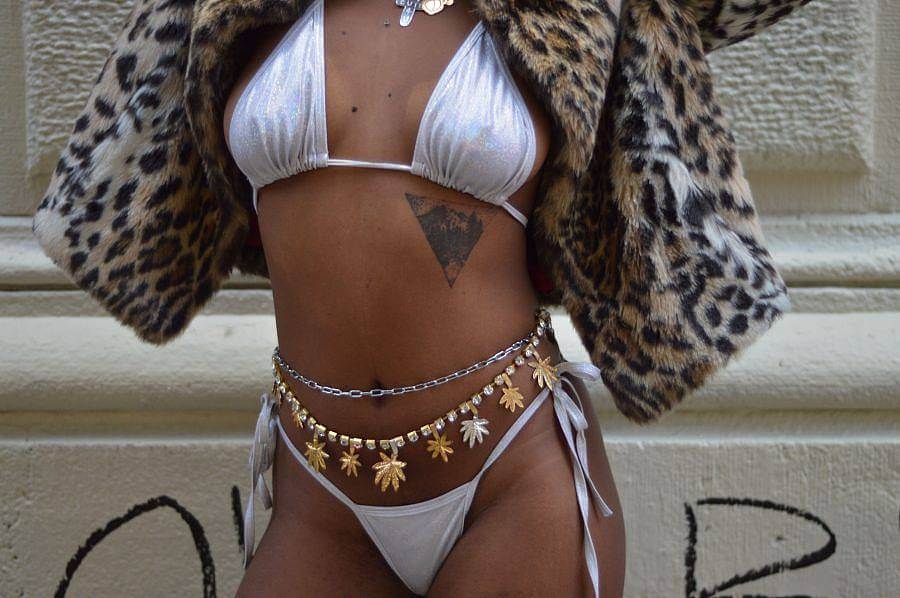 As a jeweler, you're creating art to wear, art for people to express themselves. What's your perspective on the intersection between identity and fashion?
You can clock so much about someone by what they're wearing. Signaling allows a sense of belonging to different elements of culture, and I mentioned the sense of signaling that's prevalent in a lot of my work. What we wear both dictates an outward sense of belonging, but also allows us to internally feel whole. For an example of this, I've had a few different POC customers mention to me that they feel like they're able to retain a big part of themselves by wearing a pendant that says like "YERRRR" or "I CAN'T STAND YOU HOES" or something when they go into work at a predominantly white institution. We often have to code-switch or set some of our core self aside to assimilate at our jobs, so for me, it feels powerful that I'm able to help others feel like they don't need to lose themselves completely in those kinds of spaces.
 How does living and working in NYC influence your practice?
Since childhood, NYC has been a source of unearthing my identity and forming my tastes. I spent a lot of time in NYC growing-up and was wildly influenced by my love of the cityscape, the people I met, the experiences I had, the music, the bullshit I got into, and the pure, unparalleled regional style. This city was my first love. It's influenced every aspect of my life.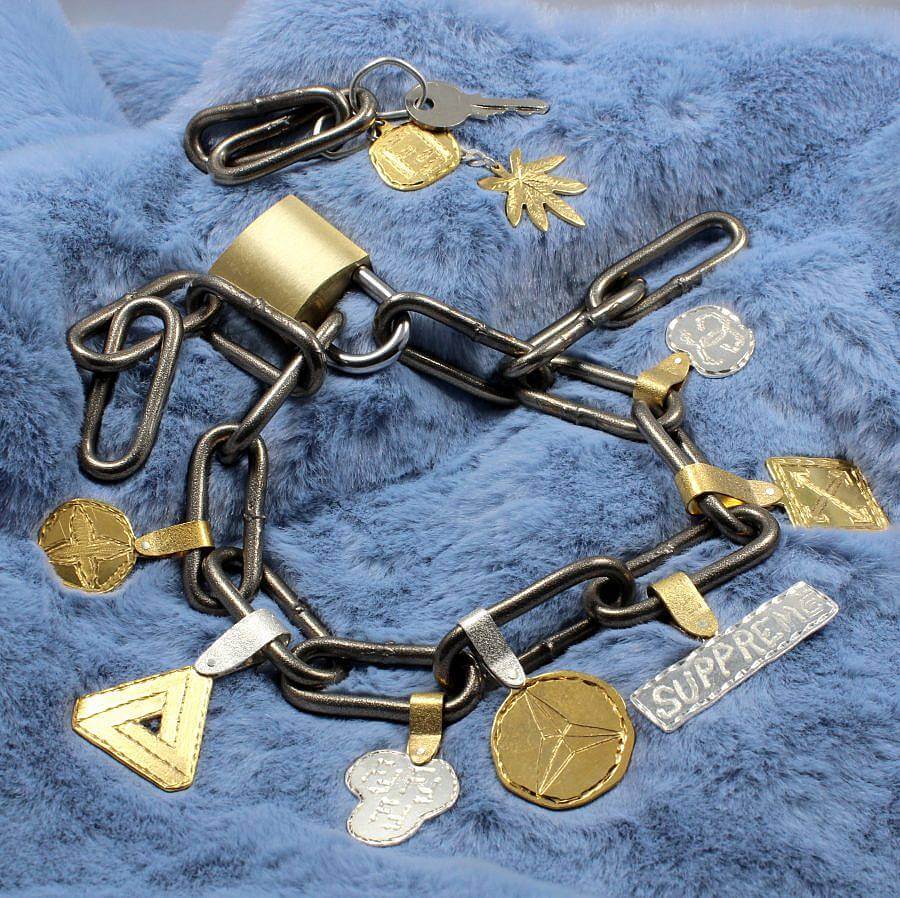 What is your self-described alternative engraving process?
The primary process draws from techniques used in graffiti. Before I was a jeweler doing metalwork, I allegedly used to vandalize things a bit. One of the techniques for writing names on things that people use is creating "scratchies" (scratchitti), using a scribe, or a diamond-tipped bur (you've seen these carvings on mirrors at the bar or subways, etc). At the time of this alleged behavior, I didn't really know what the actual purpose of the tool was. When I began metalworking, I discovered that this type of bur is often used in jewelry for things like stone setting. 
The thing about graffiti is that you can just keep producing, it's pretty quick, and often writers will add dumb phrases on the sides of their pieces. The production is rapid, and in doing so the goal is to go "all city" or whatever, to "get up". So in a lot of ways, it's like making memes— you just continuously write dumb jokes and get them off quickly, and then move on to the next in hopes of them being seen. It's the sense of immediacy that draws me to this graffiti technique. I began utilizing it within my jewelry for those reasons.
I also use a fly-wheel bur, which is the tool used to create diamond cuts on nameplate necklaces, a type of jewelry that has deep implications with regards to the politics of taste and can be seen as a sociopolitical signifier in terms of class and race.
 Favorite collaborations you've worked on?
One of my favorite jewelers, Georgina Treviño, approached me for her COVID Collab series. We had been talking about working together for a while, and I was hype because this finally gave us a chance to try it out on one-of-a-kind pieces. I sent her some stuff that I had laying around, stuff that I had intended to use for pendants, but I felt like they were missing something. She did her thing and added more shapes of metal, rhinestones, piercings. It resulted in 6 individual out-of-control earrings sold as pairs. She styled a shoot for Office magazine that included the earrings and I'm obsessed with the photos.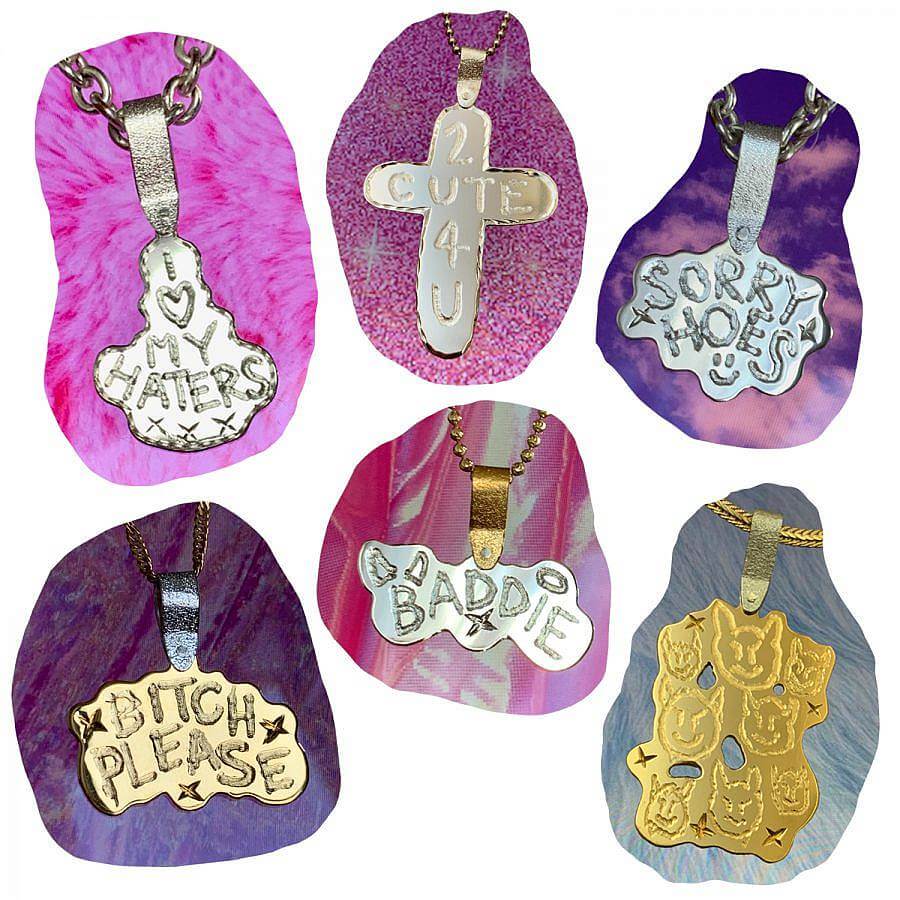 What are some of your favorite designers, artists, and/or jewelers?
I don't like art, I only like rap and sneakers. My one true source of inspiration is Young Thug. Between his work ethic, fearlessness of being experimental and being unapologetically himself, consistency of putting his homies on, and being drippy, he's everything I aspire to be.
Favorite memes? 
I always have to disclose upfront that I hate talking about meme trends in writing because, by the time anyone reads it, the trend will be over. BUT! Right now, I'm primarily interested in tweets or Facebook memes where people cross out words and rewrite on top of them hundreds of times as they get passed around. I don't post traditional meme format memes on my page anymore because I fell into a niche from which I cannot escape, but I enjoy the lack of authorship, creativity within constraints, evolution, and chaos that type of shitshow content allows. I've been dabbling in the FB ones a lil bit, posting on my meme page stories and my jewelry grid.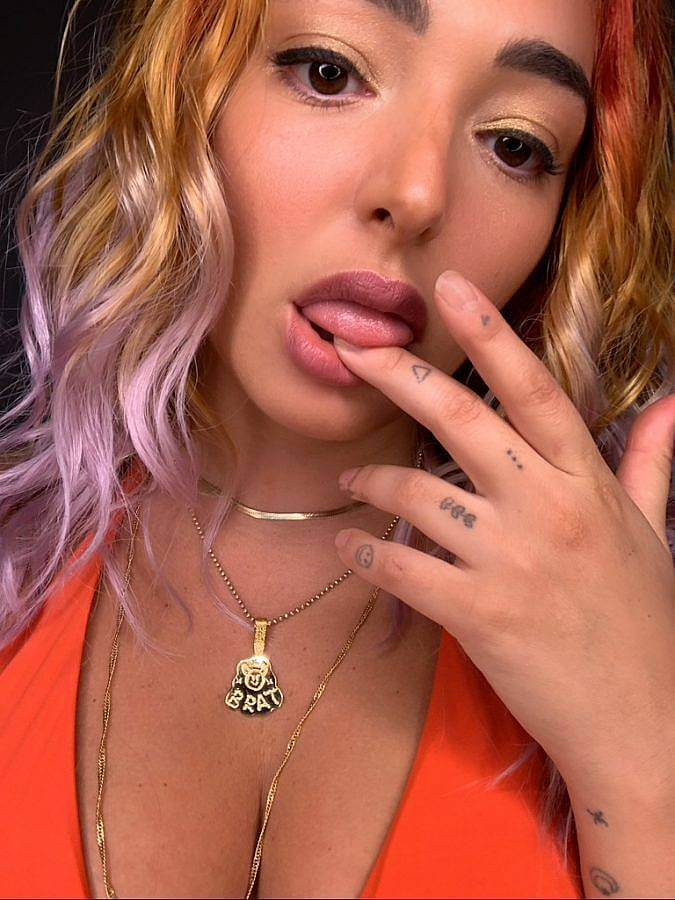 What is your current studio/workspace like? 
I work in a shared studio space that I've been working out of off and on for 8 or 9 years. It's called Brooklyn Metal Works. Everyone there has incredibly distinct practices, and it's really beautiful. We all learn from each other, and the sense of community is incredibly important to me.
Do you have any recent or upcoming projects?
Right now I'm just vibing with transitioning my jewelry page into a vision beyond my wildest dreams: a combination of pure unadulterated shitposting, thirst traps, "mood boards" of found out-of-pocket memes, and the drip that I create. I'm overcoming the fear of my pure reckless energy being attached to my government name, and through trial and error, navigating how to do that in a way that makes sense for my brand. It feels way more honest for me to be a messy bitch than to be some refined, boring jewelry company.
Interview composed by Amanda Roach.