Tell us a little bit about yourself and what you do. I'm a woodworker and I make tabletop goods from salvaged and reclaimed wood. I also make slingshots. My company name is my own, BROOKE WADE.
How did your interest in your work begin? I've always been an artist. My first medium was dance. I trained in classical ballet since childhood and danced professionally with Cincinnati Ballet. In college I studied literature and writing was my artistic expression. After university I tried a few different jobs but lacked a driving passion for my work, something which I've always found to be mandatory for me to be successful. I became very curious about construction and fabrication around this time, and wanted to know how the objects in my life were made. On a whim, I built a lamp for my apartment from repurposed materials, and fell in love with the experimentation, discovery, and satisfaction of creating an object. It made me think that perhaps I could make money by making things.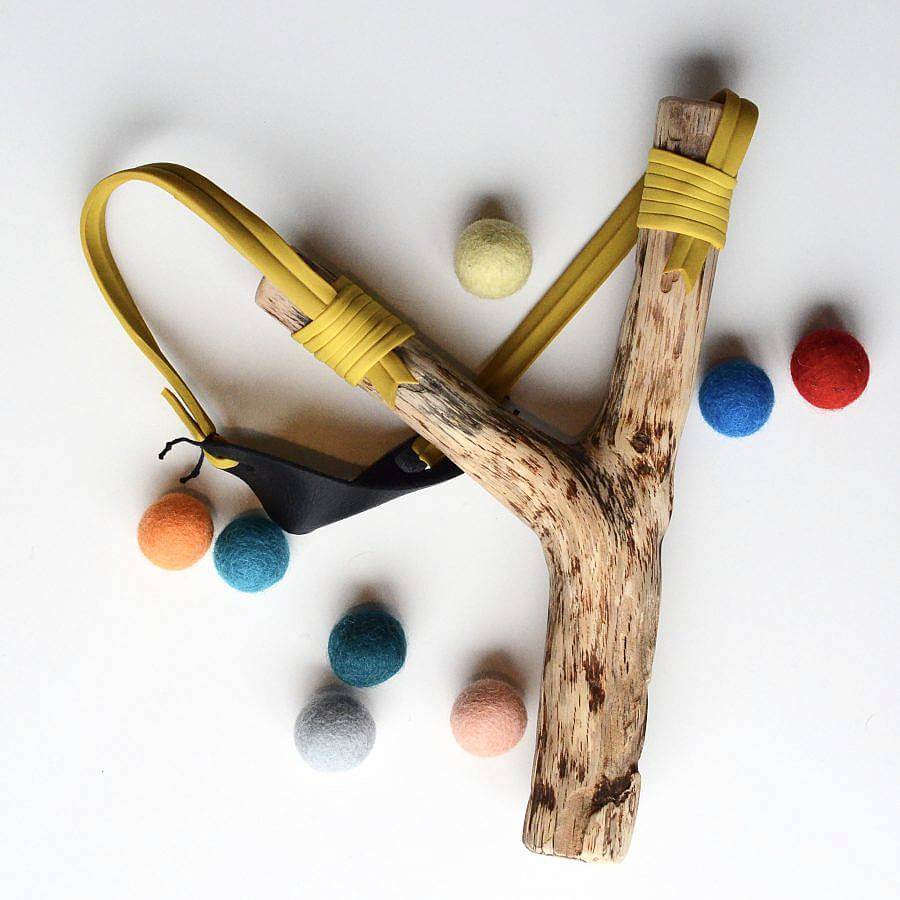 Where did the idea for making slingshots come from? When I was brainstorming for the branding of my homewares company, I wanted to incorporate the outdoors and adventure in some way. An early tagline was something like, "Tools for the table and trail." I knew I was creating a line of domestic goods, but didn't want the work to feel too tame. I wanted to evoke the coziness of home, like coming home to a hot meal after a long day of hiking. I had a pine branch, rope, and a slingshot on a list of objects that I liked and wanted to possibly incorporate into my branding. My friend Tessa Allen is an illustrator and helped me with my logo. She came back with the perfect drawing of a slingshot, and I decided to take a crack at making one. I went down an internet rabbit hole of slingshot research and started prototyping. I loved making them; they're such classic, nostalgic, beautiful objects! And so it stuck. I am very proud of my current product. Nailing down the right band attachment method was a big thing (I use the "Over the Fork" method), and the bands I use are my secret sauce. I make the slingshots from fallen branches that I collect in parks and public housing projects around Brooklyn. I love how they evoke trees and the outdoors. Full circle.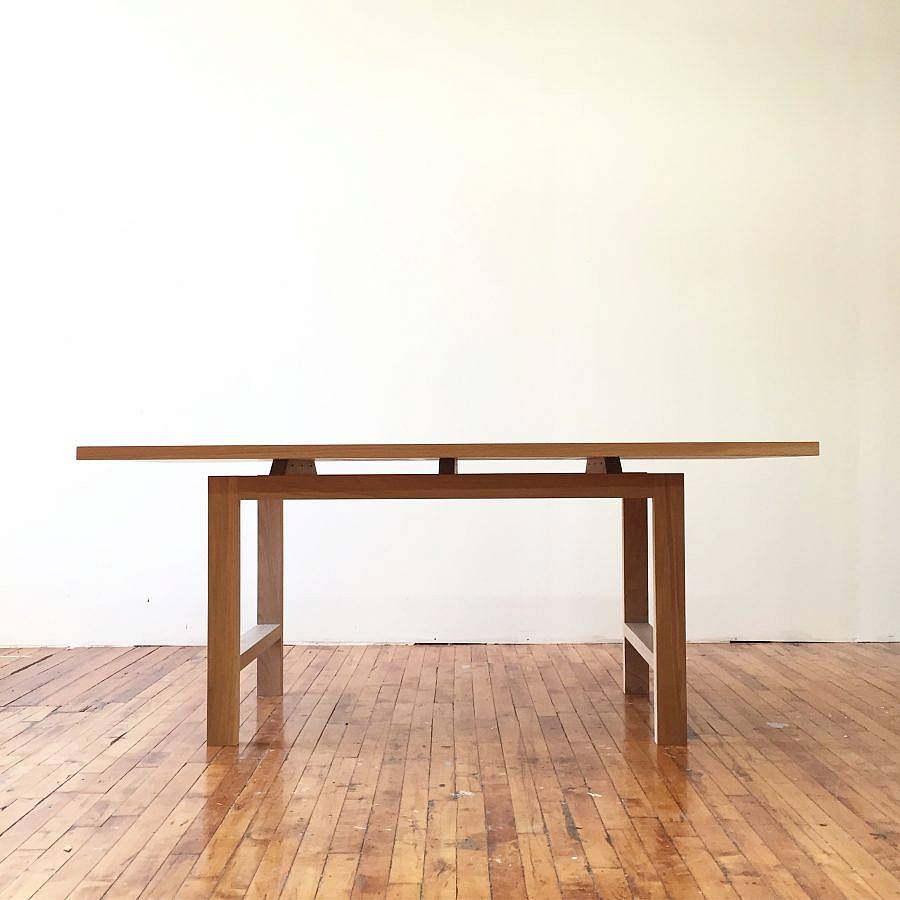 What materials do you use in your work and what is your process like? I use exclusively salvaged or reclaimed wood for my work, so I spend some more time than most woodworkers sourcing materials and getting wood into useable forms. I like to get wood on trips–I once brought back some apple wood from a friend's orchard in Michigan, and received reclaimed teak from a boat builder in Maine. But mostly I pick things out from two different reclaimed and urban salvage millers in Brooklyn, or use cutoff wood from other woodshops I work at that would be otherwise be pitched. For my collection, I stick to species that I can get reliably from these channels, like American oak, maple, and walnut.
What kinds of things are influencing your work right now? I have family in Woodstock, NY and I like to travel there on weekends from time to time. It's the birthplace of the arts and crafts movement, and I've been thinking a lot about that period in time (late 1800s) as I have fallen clearly into the contemporary iteration, the "maker movement." The impetus of these movements, then industrialization, now digitalization and globalization, have changed the concept of labor drastically, then as now. I think both of these movements made people aware of the value of the physical knowledge of building and making, as well as the value of handcrafted things. What I'm interested in is the way in which the maker movement might broaden to bring in those whose current way of earning a living is at stake.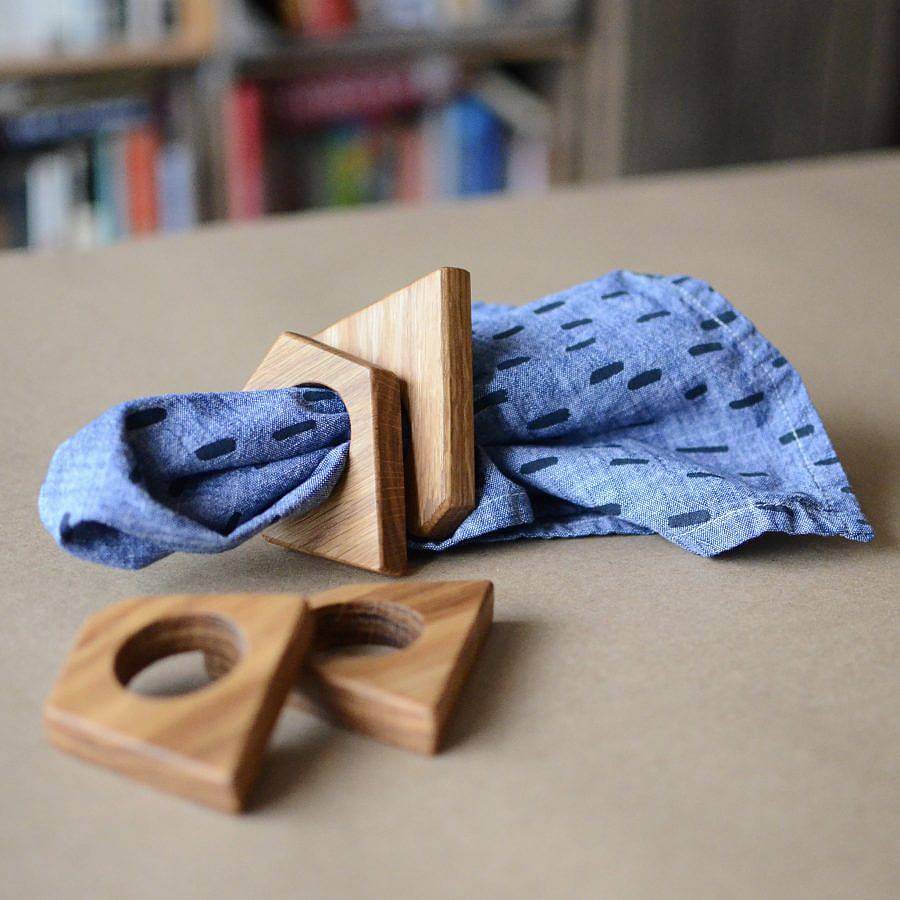 What is it like living and working in Brooklyn? I have lived in New York for 9 years now, and Brooklyn for 7 of those. I find it perpetually inspiring. I love the people, the architecture, the art, the delis, the character of each neighborhood. I live in Greenpoint and work in Gowanus and relish my daily bike rides to and from. There is a great artist community in the building where I work. A lot of the tenants have had studios there for ten to fifteen years, and the building managers have all worked there for decades. People support each other, go to each other's shows, collaborate or share work opportunities–it's very special. The big news is, I am actually moving to Portland, Oregon in just a few months. People joke that I'm moving to the Brooklyn of the west coast, but it is going to be a big change! Like Brooklyn, it's a very creative city, so I'm looking forward to meeting some new friends and collaborators. I'd like to design spaces, and am going to start focusing on that a bit more when I move.
What are some recent, upcoming, or current projects you are working on? I recently finished fabricating another Anne & Valentin eyeglasses store with Aardvark Interiors, a furniture and design|build firm I work for frequently. I've been helping friend and bridal designer Samantha Sleeper with some pieces for her new showroom in Soho, and I have a number of custom furniture projects on the horizon as well. It's been fun to be working on some larger pieces.
What is your absolute favorite place in the world to be? I went to Japan in 2016, and was mesmerized by it. The design culture there is incredible, and everything is made well! I was eating an onigiri that I bought at the 7/11 and started getting frustrated while taking off the plastic wrapper. Just as I was about to exclaim how stupid it was, I realized that I was the stupid one. The wrapper was geniusly designed so that the rice ball wouldn't touch the nori until you opened it, so it wouldn't get soggy! Everything was like that. It was wonderful to be in a place where craftsmanship is highly valued in every field. I learned the word "shokunin," which loosely means artist, or master craftsman, from the movie Hiro Dreams of Sushi, and saw that in so many ways there. People take great pride in what they do, and the result is the best and freshest food, fantastic clothing and style, beautiful objects and architecture. I had the best brioche I'd ever had in my life in a small city called Kanazawa, and I have lived in Paris. A man in a Matsumoto bar spent 15 minutes hand carving an ice cube into a perfect gem for my fiancé's negroni. I'm itching to go back.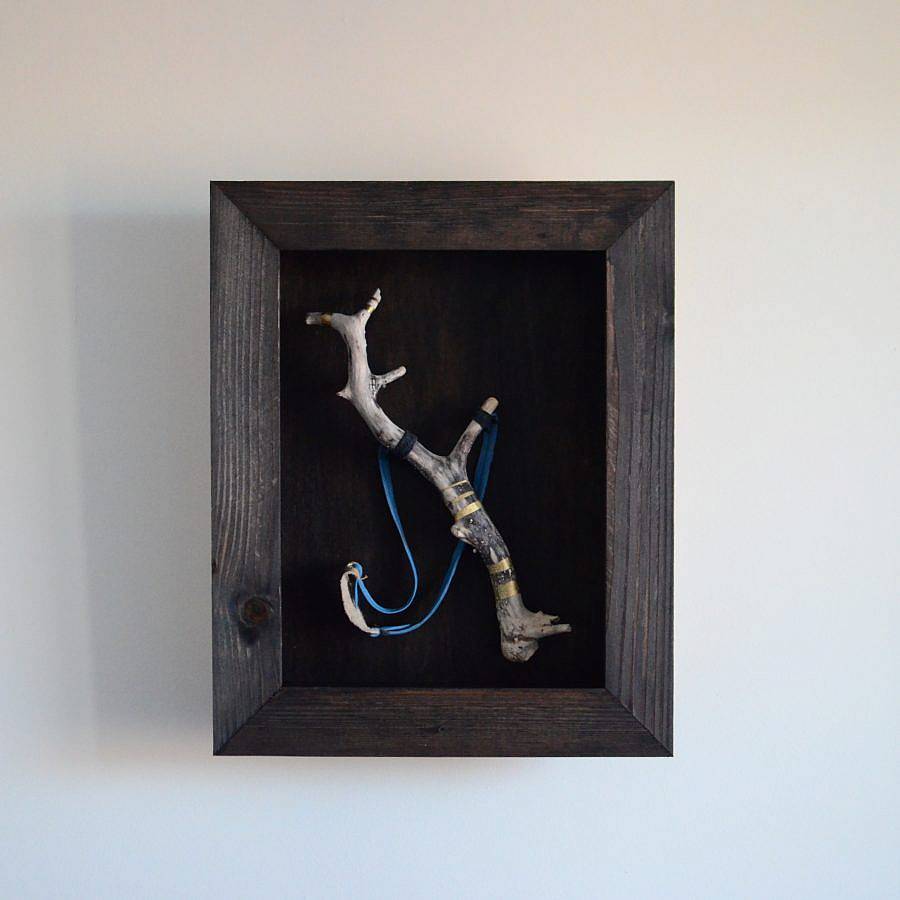 Who would you ideally like to collaborate with? I'd love to do a collaboration with the ceramics artist Michele Quan.
What artists or designers are you interested in right now? I visited the Noguchi Museum in Queens recently which was a transformative experience for me. Isamu Noguchi's work is beautiful, and I was inspired and fascinated by his vision of turning his studio into a museum to house his own work. The museum was also hosting a Gonzalo Fonseca retrospective at the time, who I was unfamiliar with before. His work captures the spirit of play and curiosity, and he had an exceptional vision for world-creation. I enjoy that same sort of vision in the work of Dustin Yellin, currently. In terms of spaces, I've been loving the work of Studio Tack, Home Studios, and Elizabeth Roberts Architecture lately.