Katie Kirk (b. 1988 San Jose, CA) is an artist living and working in Los Angeles, CA.  She received her BA in Film and Television Production at Loyola Marymount University in Los Angeles and her MFA in Painting and Drawing the School of the Art Institute of Chicago.  Her work is a celebration of material, the body, and difference.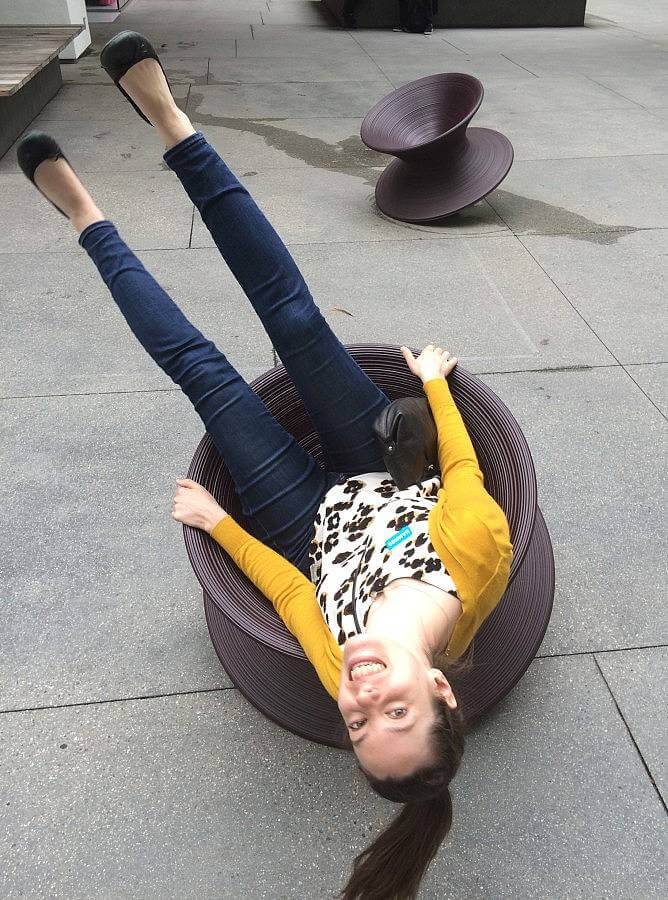 Tell us a little bit about yourself and what you do. I was born and raised in California.  I began focusing on painting while working as a scenic artist in the film industry.  I did everything from painting faux finishes on set walls to creating the paintings needed for a gallery scene.  This exposed me to a variety of materials and processes. Recently, I earned my MFA in Painting & Drawing at the School of the Art Institute of Chicago.
My paintings and ceramics are a celebration of the body, difference, and materiality.  There is a reoccurring relationship in my work between the parts and the whole that often resolves itself in a teetering form of balance.  The paintings are artifacts of my body's movements and emphasize the materiality of the paint.  The ceramic sculptures are performative in character and while they are often painted, propped atop a painting, or on the floor in proximity to the paintings, they demand the viewer's phenomenal scrutiny to be understood.  In my work and life, I posit ideas about pleasure and the role of pleasure in art and life.
Top 3 favorite or most visited websites and why? Contemporary Art Daily and Curate L.A. are both sites that I like because they help me to stay up to date with current exhibitions.  I also really like The Skimm, which is an email newsletter that provides you with daily worldwide news; it's written in a really clever, funny way so it's fun to read in the morning.
How has living in Chicago affected your art practice? Having access to the Art Institute of Chicago's amazing collection was such a treat.  I felt so lucky being able to walk through the museum everyday.  Chicago exposed me to many more artists that I hadn't known that much about before like the Chicago Imagists.  I was able to see many works of art in person for the first time as well, for example, Rosemarie Trockel's Grater ceramics at the AIC.  I also think Chicago has so many public art pieces and independent exhibition spaces; the environment is really encouraging for an emerging artist.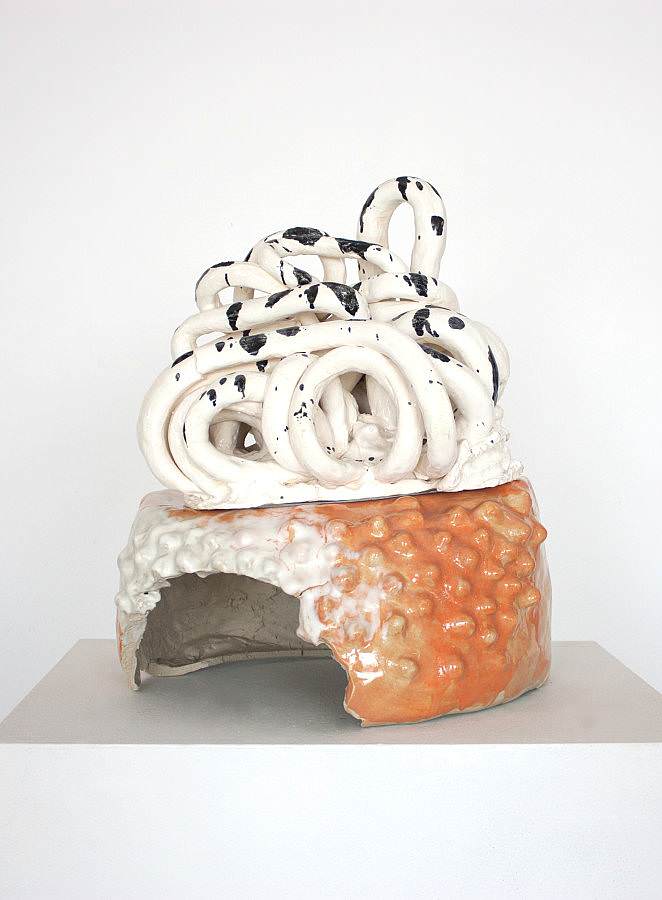 What kinds of things are influencing your work right now? I've been thinking a lot about Richard Serra's early verb list and I also recently saw his molten lead pieces at SFMOMA.  I'm starting to see my process more in terms of gravity, movement, and material.  This has been an important change for me in thinking about how I construct a painting.  With my ceramics, finger impressions, texture, and cracks emphasize the physicality and carnal presence of the work.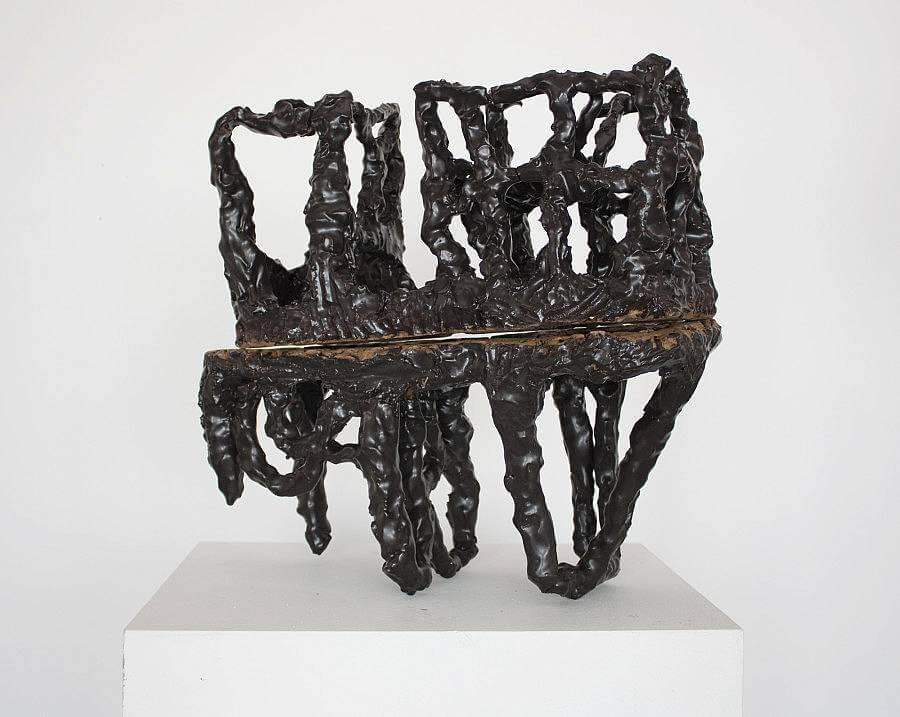 What are some recent, upcoming or current projects you are working on? I have a painting in a group show at the Woskob Family Gallery at Penn State that just opened.  The show is called Deal With It and was curated by Maake Magazine Editor Emily Burns.  I'm also looking forward to having a ceramic piece in the SAIC booth at Expo Chicago this September as part of their Special Exhibitions programing.  Edra Soto curated this year's booth and I'm exited to be in the company of so many great artists.
If you were a drink what drink would you be? Iced coffee because I drink way too much of it anyway.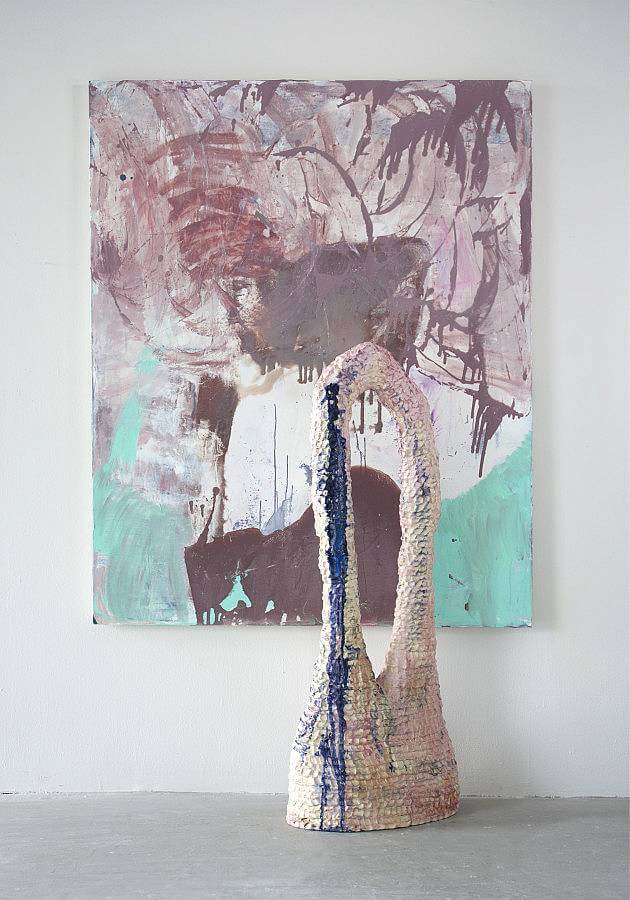 What artists are you interested in right now? I enjoy art that relates to the body, has a feeling of directness, uses bright colors, or plays with materials.  In no particular order- Eva Koťátková, Joan Mitchell, Takuro Kuwata, Zemer Peled, Katy Cowan, Richard Serra, Mary Weatherford, Bill Jensen, Tal R, Robert Morris felt pieces, Morris Louis, Rosemarie Trockel.  The recent Abstract Sculpture by Women show at Hauser Wirth & Schimmel in Los Angeles had some great Louise Bourgeois, Lee Bontecou, Sonia Gomes, and Rachel Khedoori pieces.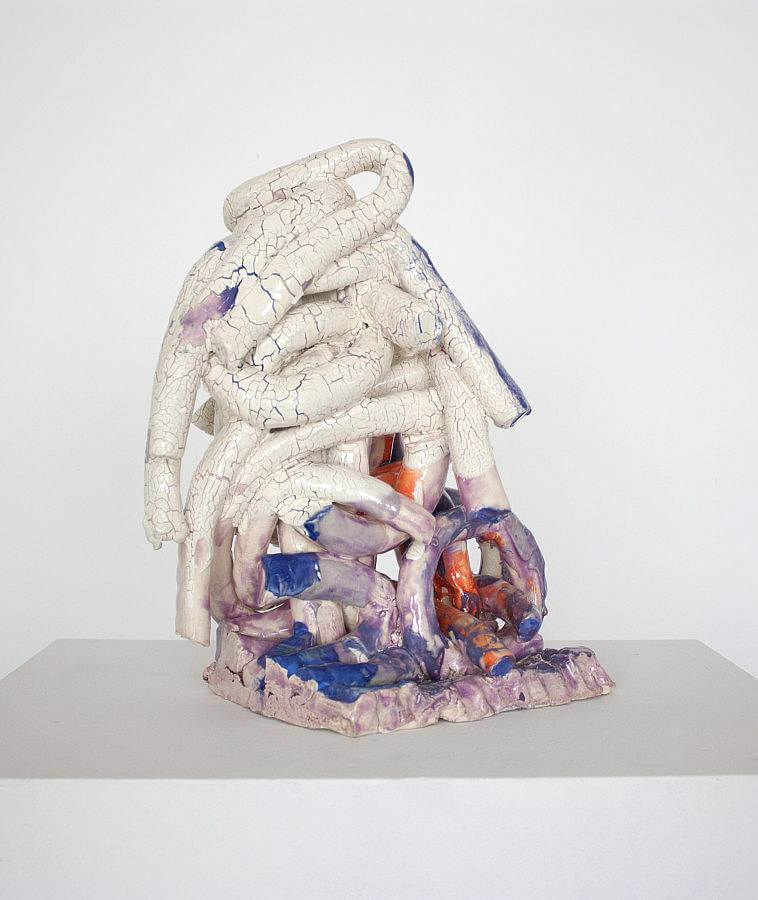 Tell us about your work process and how it develops. I work really intuitively, moving between making paintings and ceramics.  The paintings usually develop quickly.  I push, pour, scrape, and carve paint, pastel, and mica onto the surface.  The surface is continuously obliterated and reworked up until the moment when the tension between the picture and object resolves itself in a precarious balance.

Incorporating ceramics has been a fairly new process for me. It has been really interesting working with clay and glazes because I've had to learn to slow way down.  Especially when building large-scale, you have to be so patient so the parts will dry evenly.  It's become a balance between rule setting and improvisation.

My large ceramics tend to be more planned out, while my smaller ones are more spontaneous.  The speed of working often dictates the end results.  The most important part of my process begins when I get all my ceramic pieces and paintings back in the same room. Their ultimate relationship to each other is intuited, but necessary.  The experience of my work is sometimes confounding, but I strive for it to also be gratifying, providing a physical, psychological, and optical whole that is perceived as more than the sum of its parts.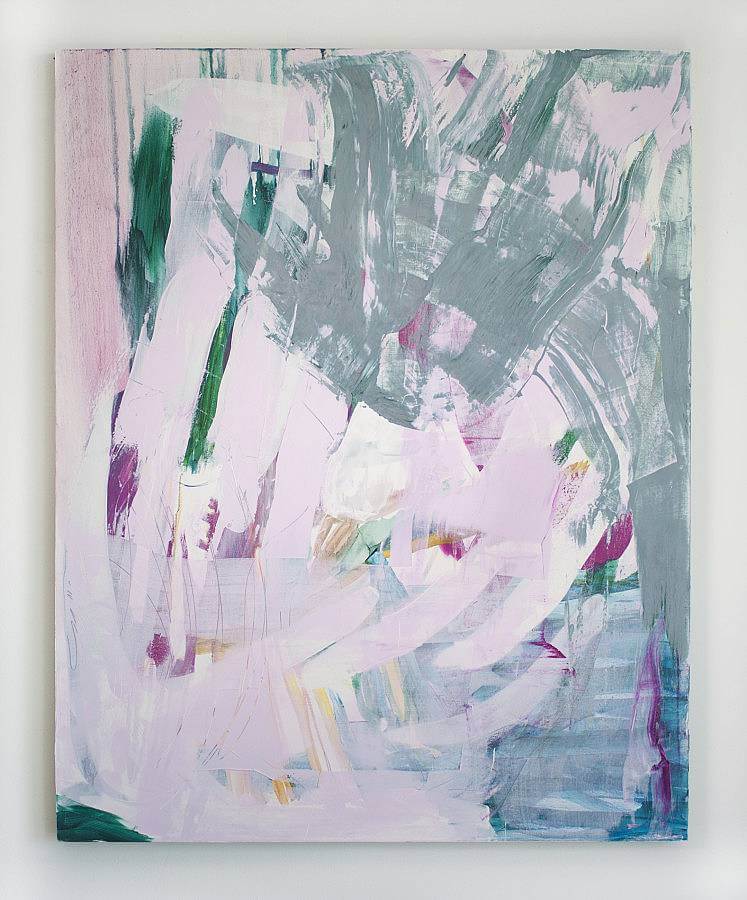 How long have you lived in Chicago and what brought you there? I lived in Chicago for 2 years.  I originally moved there for graduate school.  I'm currently based in Los Angeles, but will be back often in the next few months for a few projects.
What do you want a viewer to walk away with after seeing your work? I want the experience of my work to be a pleasurable, phenomenal experience.  I also want people to be able to feel a sense of immediacy and directness in the work.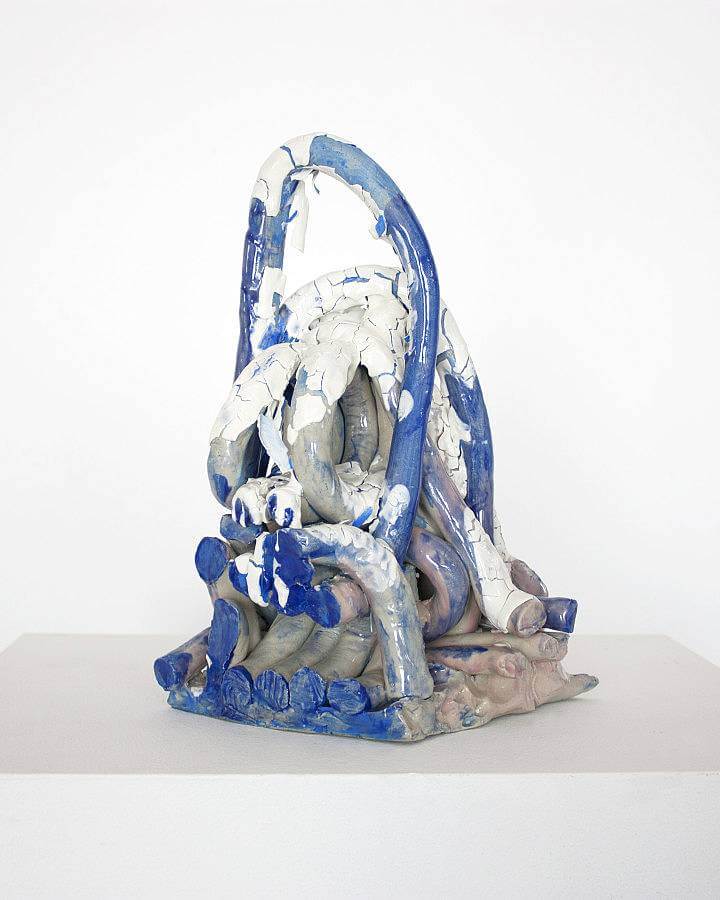 What's your absolute favorite place in the city/the world to be? The Garfield Park Conservatory is without a doubt my favorite place in Chicago.  Its actually one of the biggest conservatories in the U.S. and has several different themed rooms.  I could go there everyday.  It is so beautiful and I always like looking at the different patterns and colors on the plants.
Describe your current studio or workspace. I'm currently still getting settled in Los Angeles, so I'm mostly working out of my apartment right now and using a kiln in Glendale to fire my ceramics.  I am looking for studio spaces in downtown Los Angeles with a few friends from graduate school.   We are hoping to find a space where we can create a community and have an exhibition space.
What were you like in high school? I don't think I've changed that much in terms of my interests, personality, or values.  I was a perfectionist, got straight A's, played volleyball and made art.  School was always fairly easy for me, which is one reason I think I was so drawn to art.  There are no right answers and an infinite number of paths you can take as an artist.  I like the open-ended, non-linear process of making of art.  
Can you share one of the best or worst reactions you have gotten as a result of your work? One time I had a studio visit with a group of people and one woman wasn't paying attention to anything that anyone was saying.  Instead, she was looking really closely at one of my large ceramic pieces and stroking it with her hand. I loved that she was totally distracted by the physicality and presence of the work.  That is completely the point of the work.
What are you reading right now? I really enjoy the Documents of Contemporary Art series.  Each book focuses on a different topic in art such as chance, time, or systems, for example.  I first read the one that Terry Myers edited a few years ago, called Painting.  I appreciate how these books feature a variety of sources—interviews, exhibition reviews, philosophical texts, and artists' statements—on a given topic.   Recently, I started reading the one on materiality.