Tell us a bit about yourself and what you do.
 I am an artist from Pittsburgh working in drawing, painting and printmaking. I actually just  relocated to New York to start my graduate degree at Purchase in the fall. I have a  background in printmaking from RISD which sort of cemented my obsession with drawing  and its limitless potential. 
How did you get started as an artist?
I always had an interest in art from childhood, specifically in rendering animals or non-human  subjects. I remember my grandmother used to hang my animal drawings on the wall down  her basement staircase. Pittsburgh had a lot of great art resources for kids and I definitely  spent many summers taking courses at the Pittsburgh Center for the Arts or the Carnegie Museum of Art. Later on I would go to the free figure drawing classes at Carnegie Mellon on Sunday evenings. The models were all different shapes and sizes, with varying  musculature and everything. I got sort of bored drawing the human figure so I started to put  different animal heads on the figure instead. Eventually I gave them extra appendages,  such as tails or wings. This felt like an early but defining moment in my artistic journey.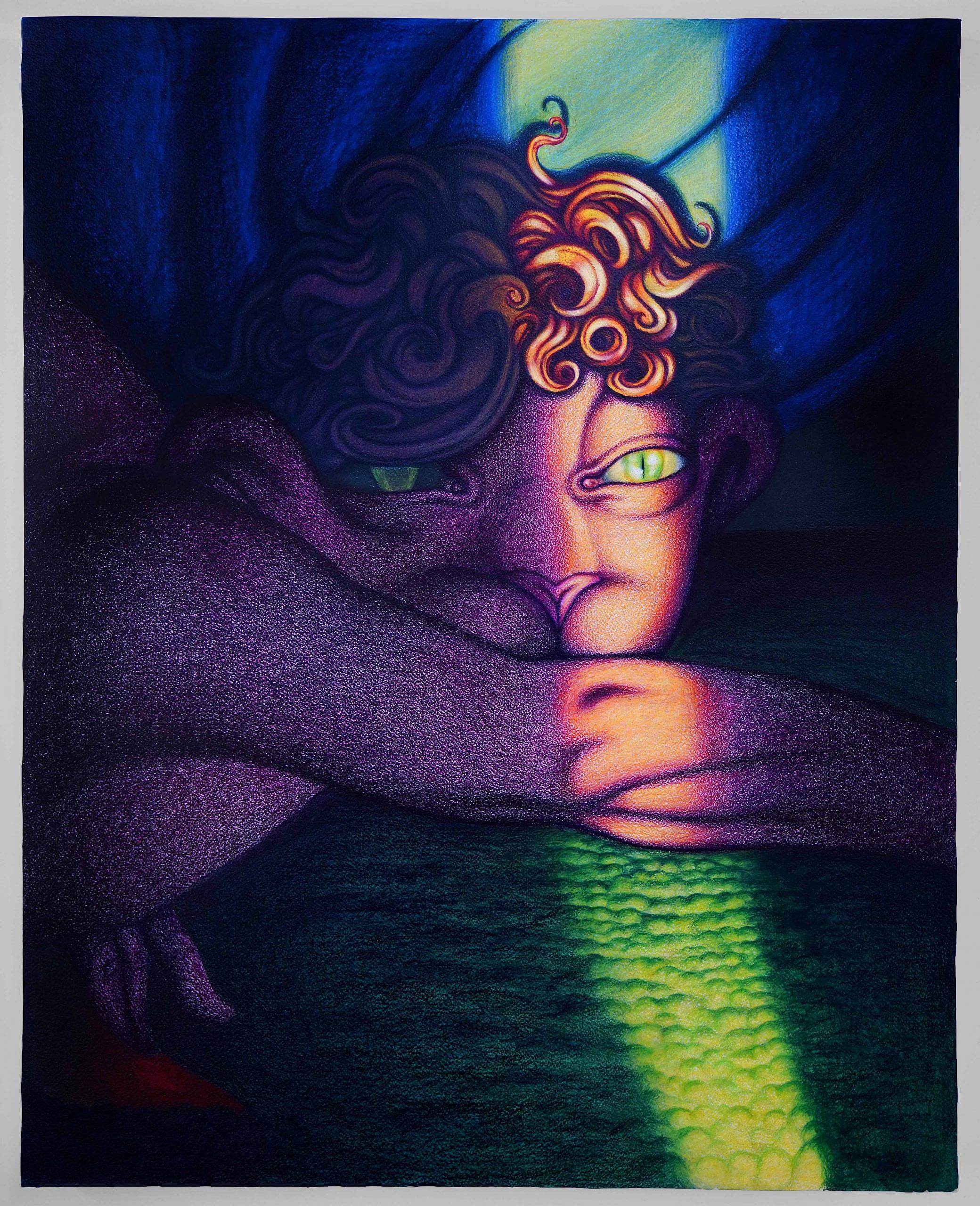 What gravitated you towards colored pencil and pastel?
Colored pencils and pastels felt like a natural transition from printmaking, but also a  progression of the material usage of the medium. Some printmaking processes, like  lithography or monotype, involved using a greasy or oily material to create an image. I  found myself really attracted to the process of drawing with a wax crayon on the surface of  sandstone (for lithography) or mylar (for photolithography or screen printing). I eventually  found myself becoming more interested in the drawing process before the print, so I  decided to incorporate these types of crayons and pencils in my finished work. The way the  waxy pigment of colored pencil layers can be both fuzzy or precise, which is a relationship I  try to explore in every new piece.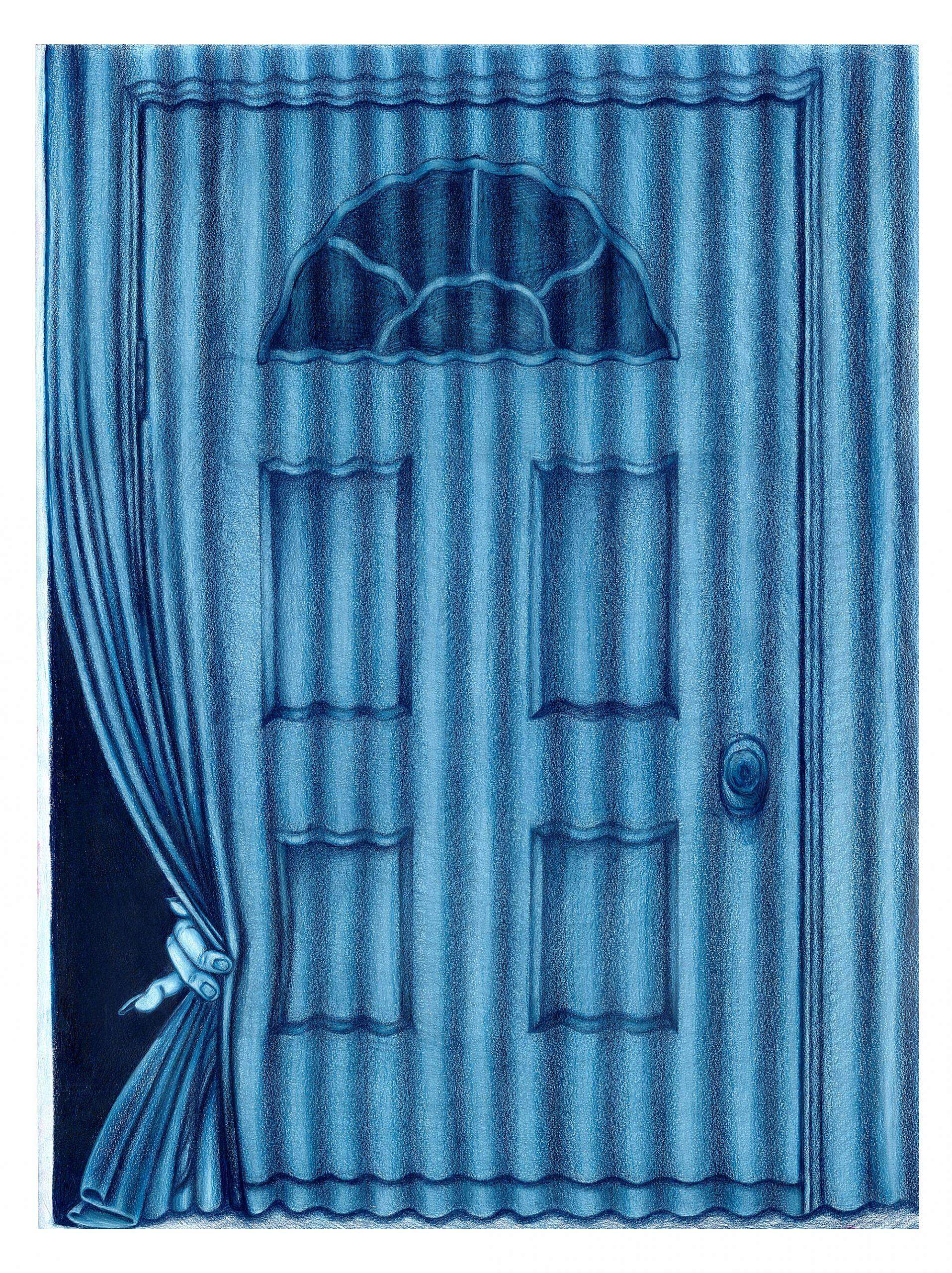 How did you begin developing the anthropomorphized figures in your work and what do they represent to you?
I started primarily depicting the pussycat character a few years ago. This particular anthropomorphic figure is an avatar through which I represent facets of myself and my  specific journey of queer discovery. I found I could achieve a seductive quality in rendering  parts of this figure, at times abstracting the image into compositions featuring merely  shapes, textures and colors. The pussycat also blurs many lines between species, genders  and realities. As I continued working with the pussycat figure, I naturally started to invent  other characters in this world each possessing their own symbolism within the context of  each piece. Lately I have started to think of curtains as a figure in their own right. They are veils that highlight as opposed to conceal. Sort of like these ineffective measures we take  at masking our unsavory habits which in turn only accentuate the truth.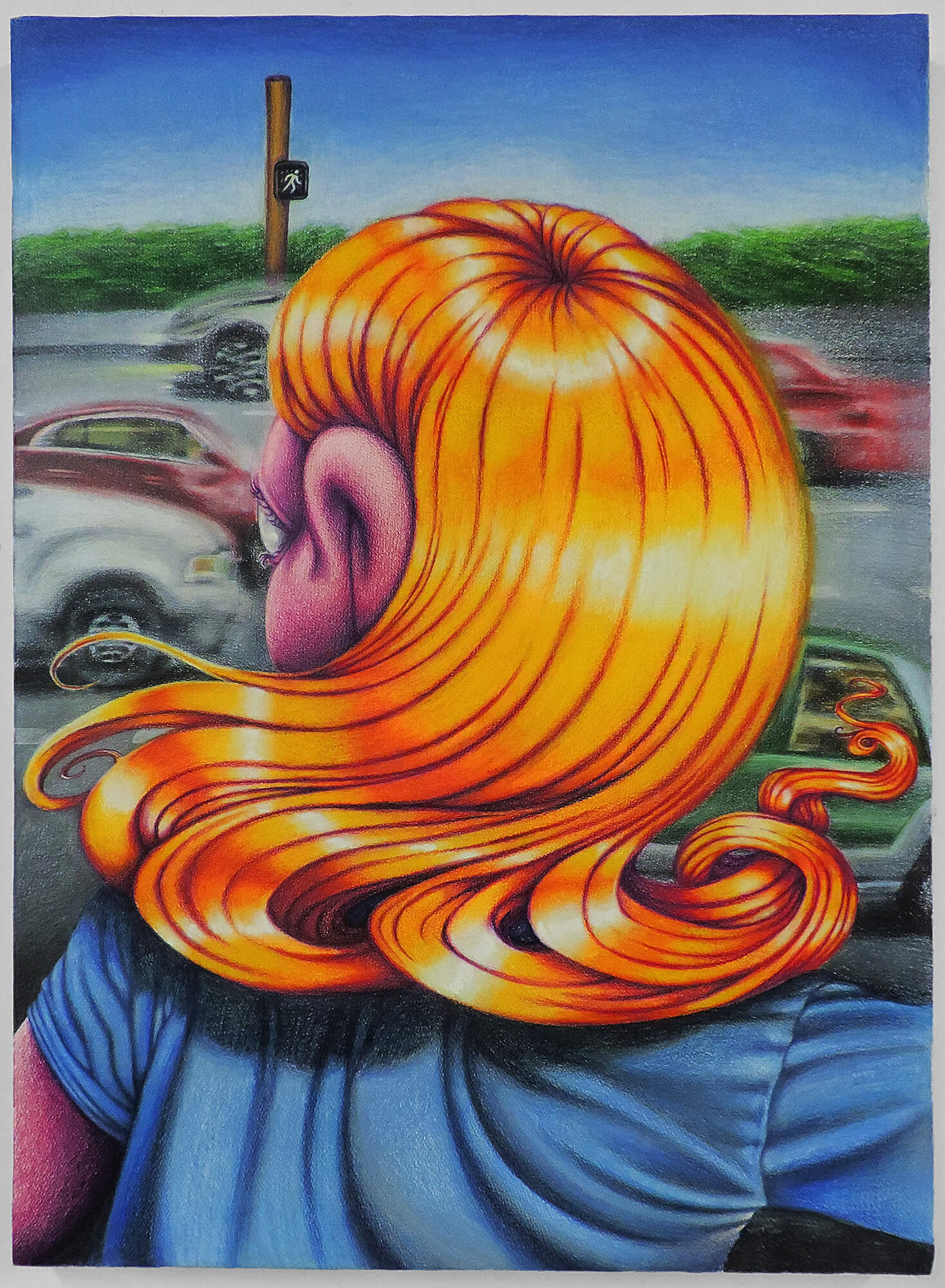 What role, if any, does personal experience play in your work? Would you consider any of your pieces semi-autobiographical?
The pieces depict a lot of internal dialogue surrounding sexuality and truth; but are externalized in this surreal, anthropomorphized world. The sentiments themselves feel autobiographical in the sense that I was grappling with my identity throughout my youth, and still continue to do so to this day. How I express myself is partially through my drawings, so it serves as a visual representation of my mental workings grappling with self expression as well as perceptions of what it means to be human. There was a sort of looming fear of being "outed" when I was younger that no longer exists, but remnants of this self censorship cling to my core to this day. In this way, the work is cathartic – in the sense that it brings me  resolution within to create this unfolding world that denies conventional truths.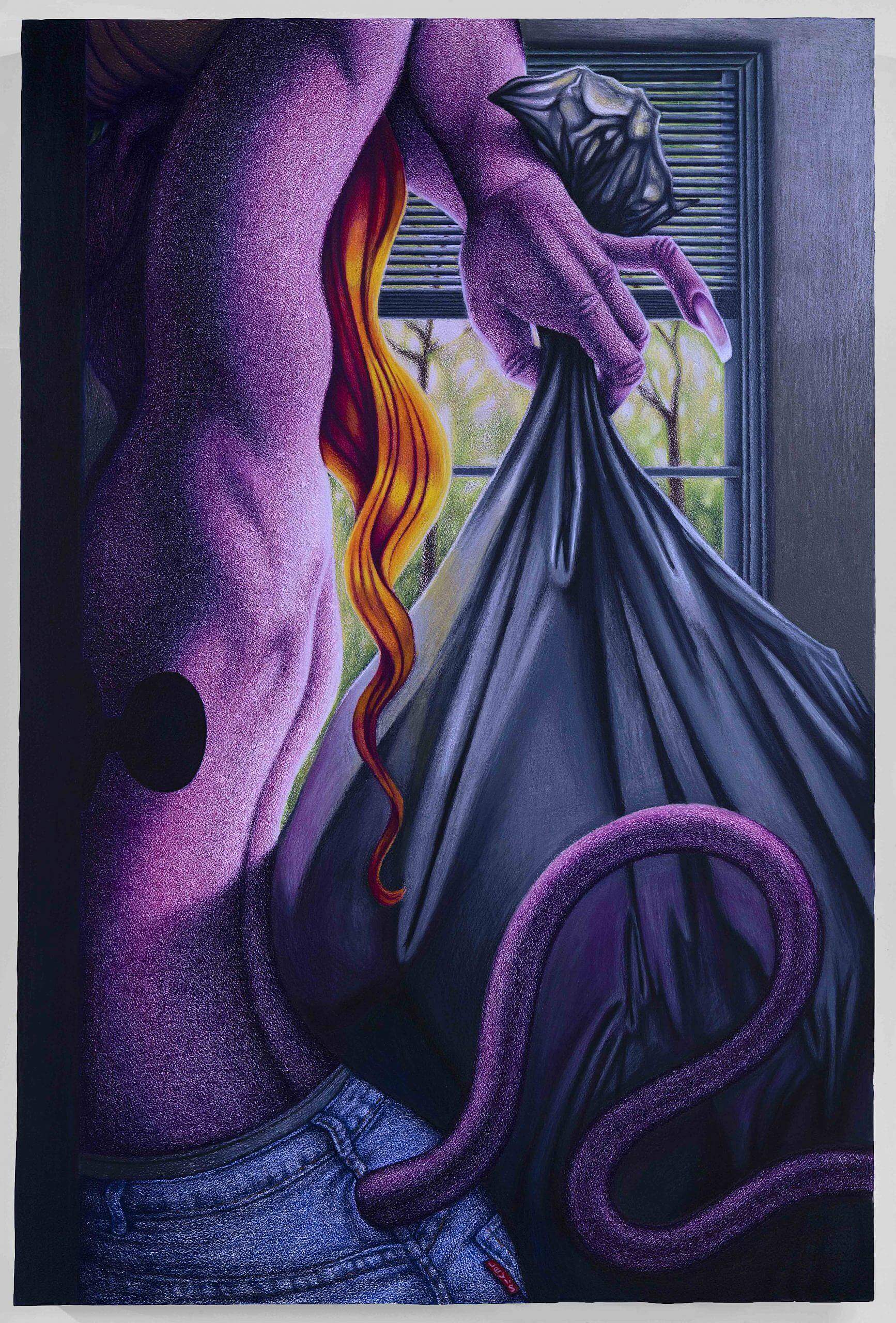 I am intrigued by the element of "sinister humor" found in your work. What is your perspective balancing humor and sincerity in art?
 I definitely like to have fun making the pieces, so I want the viewer to feel intrigue, but also a sense of whimsy in the work. I often giggle when making the looser sketches for the  works, which lets me know I am onto something good. The titles also tend to deepen a  sense of understanding, while alluding to a mysterious sense of humor. However, the works actually feel very sincere. I think a lot about every work and what each element represents. The compositions are also super important, because I want the pieces to flow and connect with a sense of rhythm.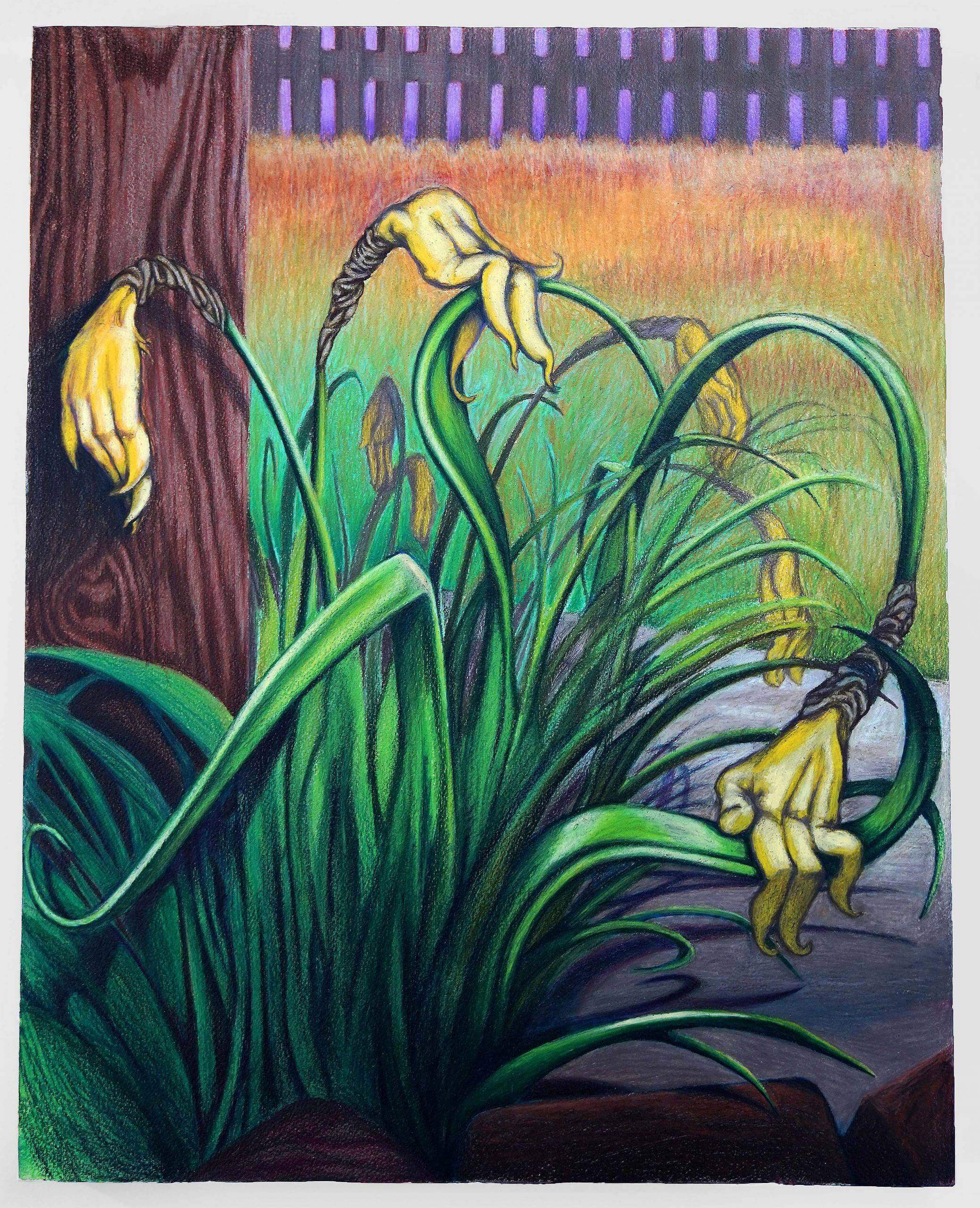 What is your studio setup / workspace like?
I am currently working out of my apartment until school starts at the end of the month. I will then get an actual studio on campus with close proximity to the print shop and other  facilities which is exciting. I work on my drawings on a drafting table so I can go back and  forth between drawing at an angle or situating the panel perpendicular to the floor if I am  painting into it. I have recently been adding watercolor to my drawings for more depth and  textural variation. They are on watercolor paper mounted to panel so the paper is great for textural static as well as suitable for wet media.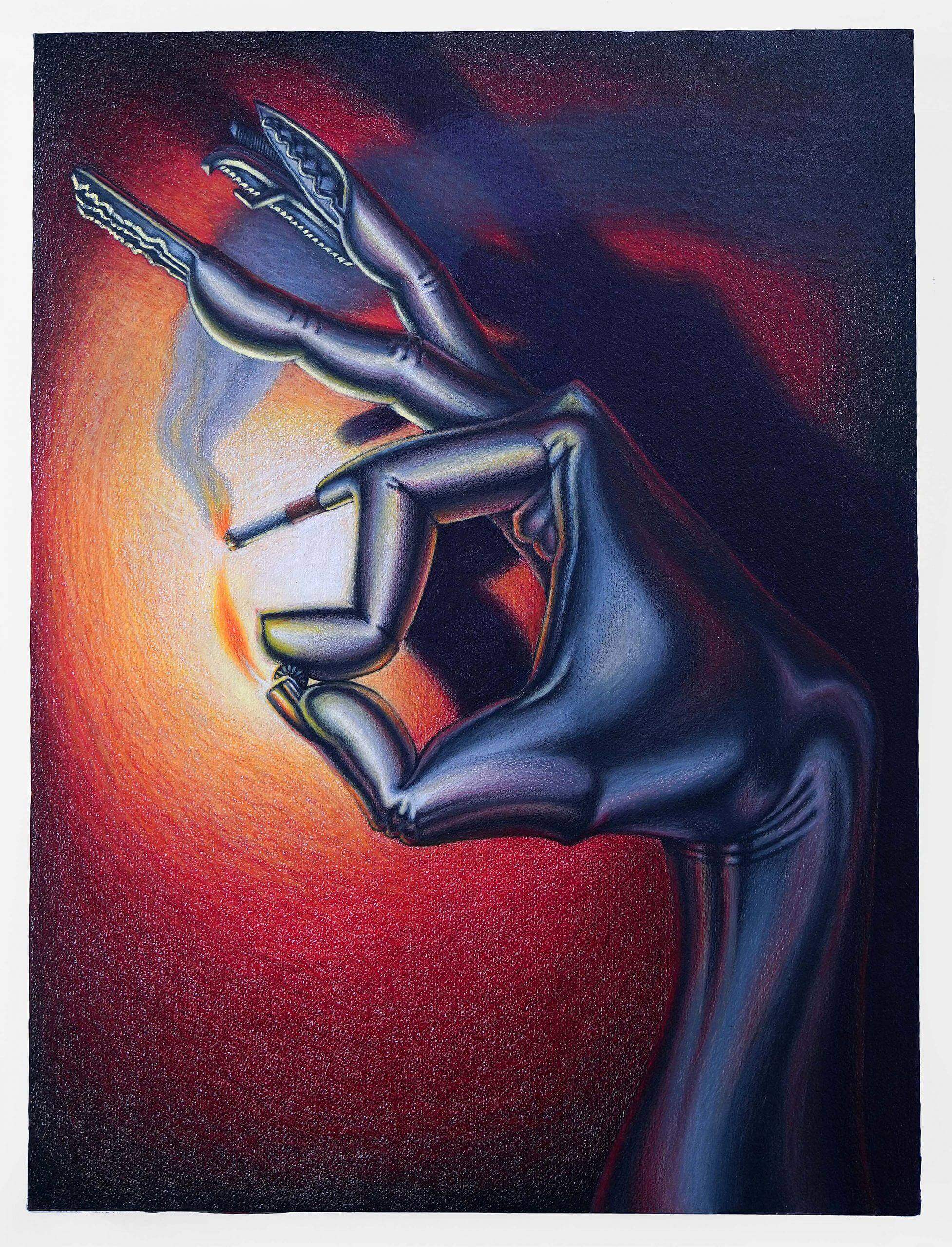 Any guilty pleasures?
Poppers and Cheesecake Factory. Not to be done together.
What are you currently listening to?
In terms of music I've been listening to a lot of the new Megan Thee Stallion and Beyoncé  albums as well as the Hard Candy Madonna album and some Regina Spektor. I've also been  listening a lot to the sounds of the Metro North as it passes by my apartment all day long. It  has become a sort of soothing consistent presence since I started living in Mount Vernon.
Any upcoming projects you are excited about?
Yes, I have some shows coming up I am excited about. I will be in a two person show with  Payton McGowan at Martha's Contemporary in Austin, TX at the end of September.  Additionally, I will have a piece in a group show with the Prior Collection in Berlin earlier that  month. Then I will be working towards my solo show at Steve Turner LA in Los Angeles, CA  which opens up at the beginning of the new year.
Interview conducted and edited by Ben Herbert