Tell us a bit about yourself and what you do
My name is Phoenix Brown, and I am an interdisciplinary artist originally from Cincinnati, Ohio. I came to Milwaukee, Wisconsin, in 2015 to study at the Milwaukee Institute of Art & Design and have been living and working here ever since. Using painting, drawing, and printmaking techniques, I explore my personal narrative and psyche by portraying my inner power as a supernatural phenomenon that I can wield and self-heal my body and mind.
I am a Aquarius sun, Cancer moon, Capricorn rising.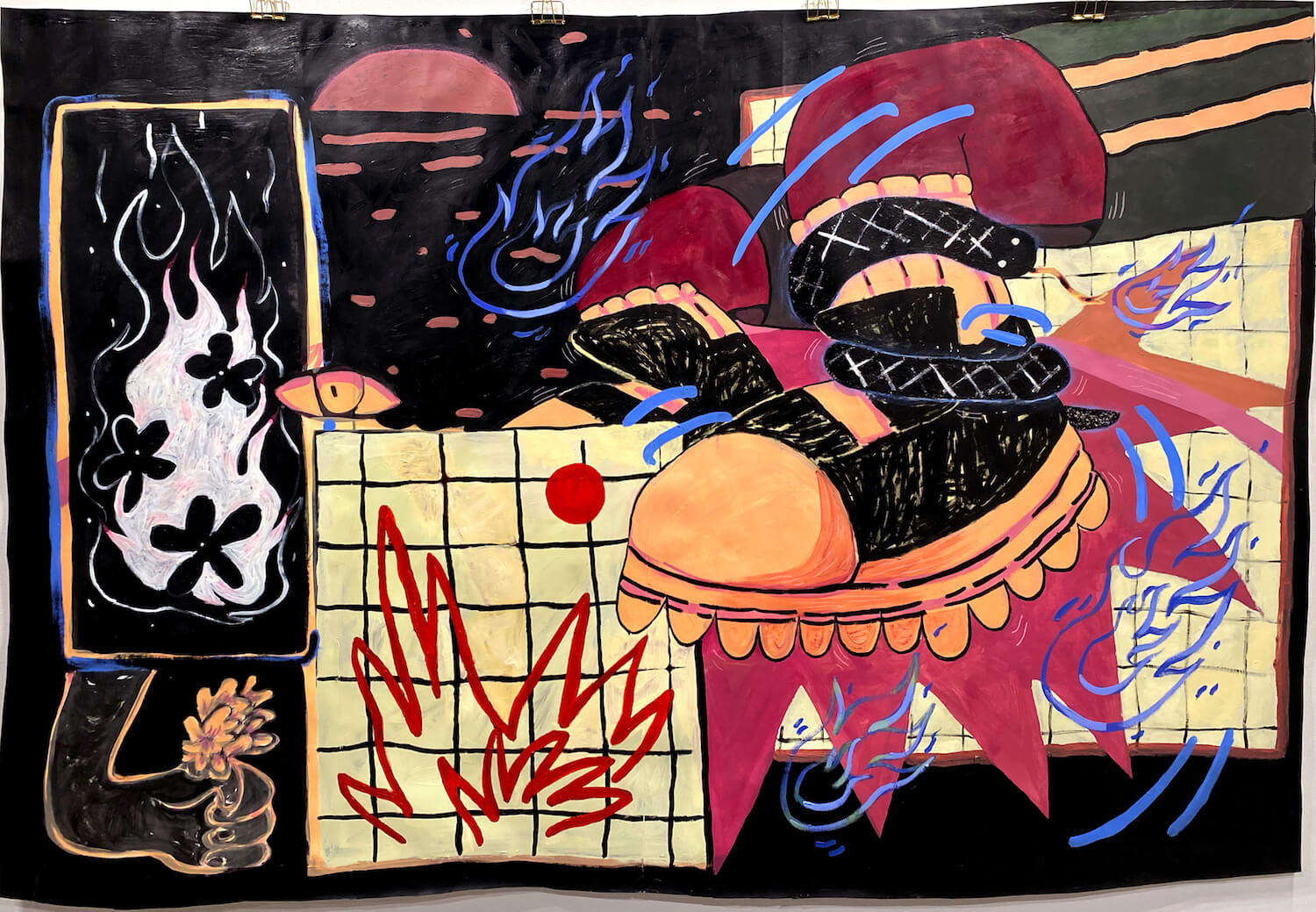 In your statement, you mention the 'one-way window of fantasy' inherent in the western painting canon; Could you talk a bit about that and how your work may subvert that?
The "one-way window of fantasy" in my statement refers to my disdain for the western painting canon's fetishization of women who are portrayed as objects of desire and not as humans with agency over their bodies. My frustration originates, specifically, from the work of Paul Gauguin. His paintings are so beautiful, but I refuse to overlook his disgusting practice of molesting underage girls and sharing barbaric painted fantasies of religious practices on the island of Tahiti. When I first started employing the resistance of the "fantasy window" in my work, I made sure all my figures made eye contact with the viewer and were always in control of how their bodies were perceived in my paintings. I learned a lot about how figures, specifically women, should be respected in a painting by studying Kerry James Marshall's work (ironically, another man).
As a curator, I spent a lot of time researching and writing about Marshall's work over the years. He taught me that women could be in control of their leisure and pleasure by flaunting their presence and allowing them to take up ALL the space in a painting, just as men have (for centuries!) in western painting.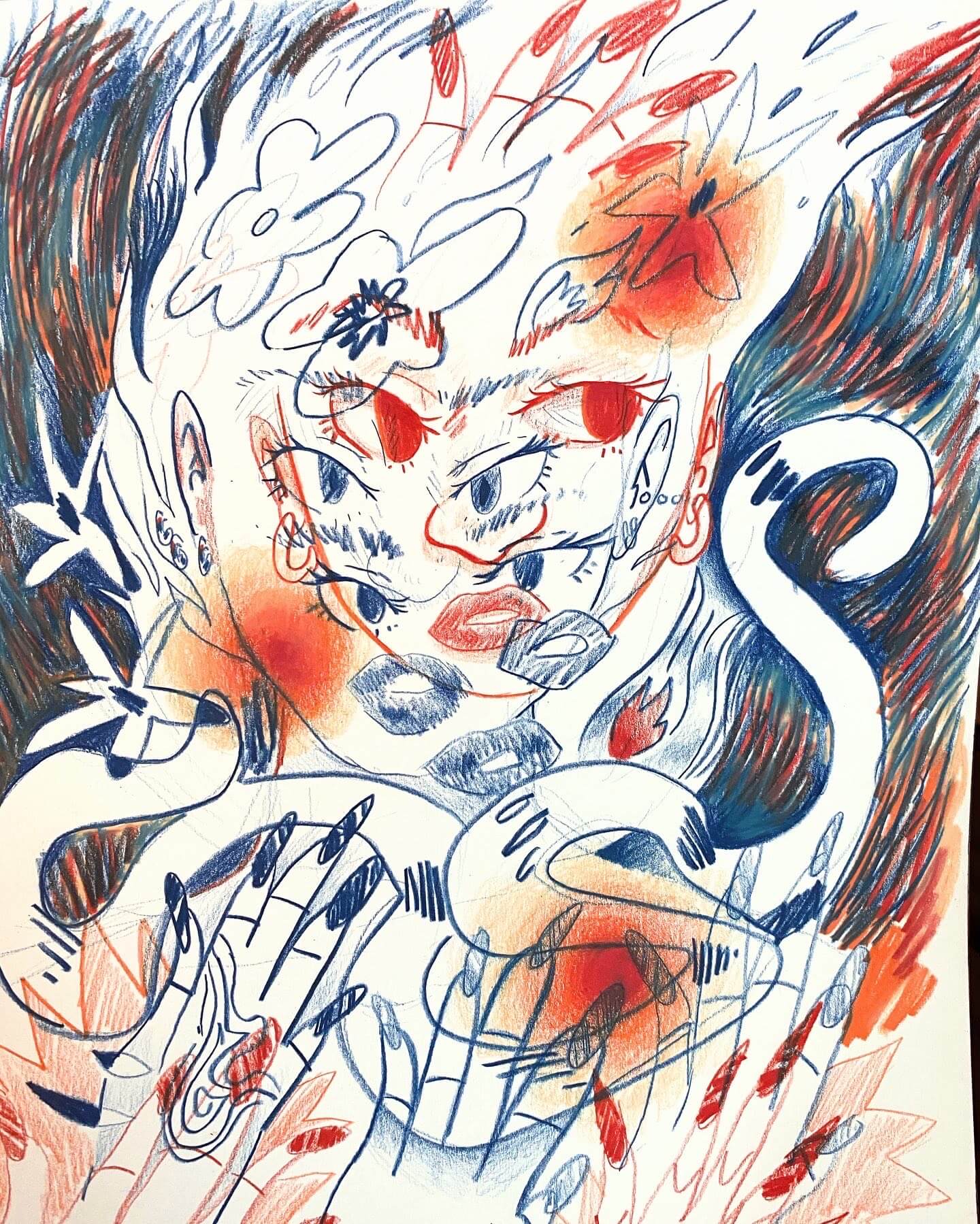 How did you get into making art?
I got into making art by watching too much TV as a kid. I used to copy the characters and objects I saw on screen and apply my newly learned "techniques" to my drawings on printer paper. The Powerpuff Girls were my favorite to draw.
What does your studio look like? 
I recently moved into a new studio in the Bay View neighborhood in Milwaukee. I enjoy having a window as my previous studio didn't have one; I have yet to make a big mess.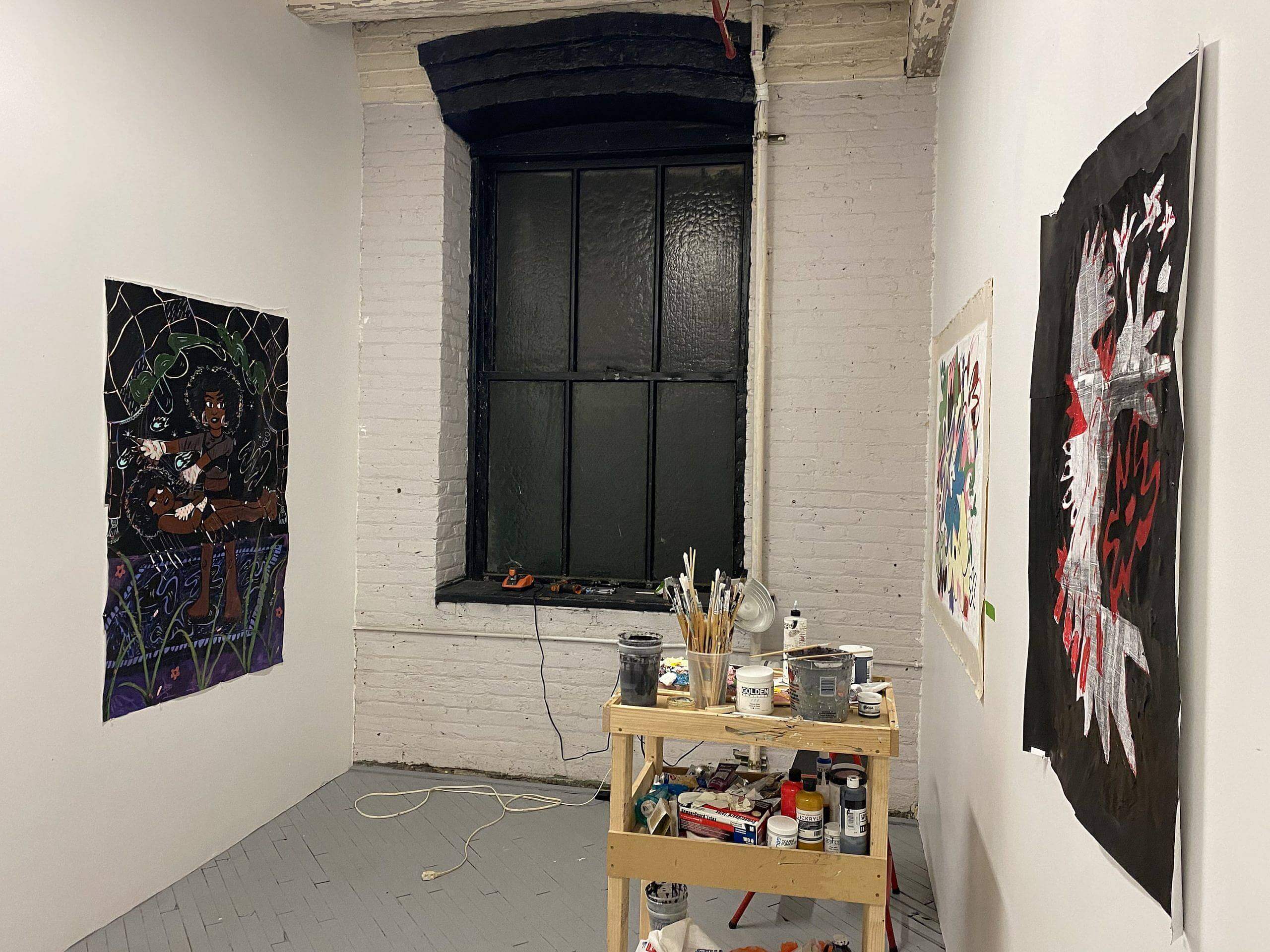 What have you been listening to in and outside the studio?
I've been listening to a lot of HAIM and Solange lately. I hope to be as cool and flirty as them when I hit my 30s. I guess they're my unofficial role models for enjoying a creative life? Alice in Chains has been in the mix lately as well.
You're also the senior curator at the Charles Allis Art Museum – What are your main priorities as curator, and how do you mediate your two practices (Artist and curator)?
My main priority as senior curator at the Charles Allis and Villa Terrace Art Museums in Milwaukee is to steward the historic houses and accentuate their unique architectures with dynamic exhibition programming. When I write for the museums, I often find myself connecting the environmental landscape, current socio-political themes, and the history of the institutions to new exhibitions, creating a more holistic narrative of the museums housing contemporary art in the twenty-first century.
I used to keep my curatorial and studio practice separate, but I now recognize that it's impossible. Enjoying the process of writing and deep thinking bridges my practices together. I research for the museum, and inherently my studio, at work (they go hand-in-hand). When I get to the studio, I arrive with a clear head because all of my research thoughts have already been investigated and are on paper somewhere else. Getting that part of the process out of my system before I get to the studio has been very rewarding.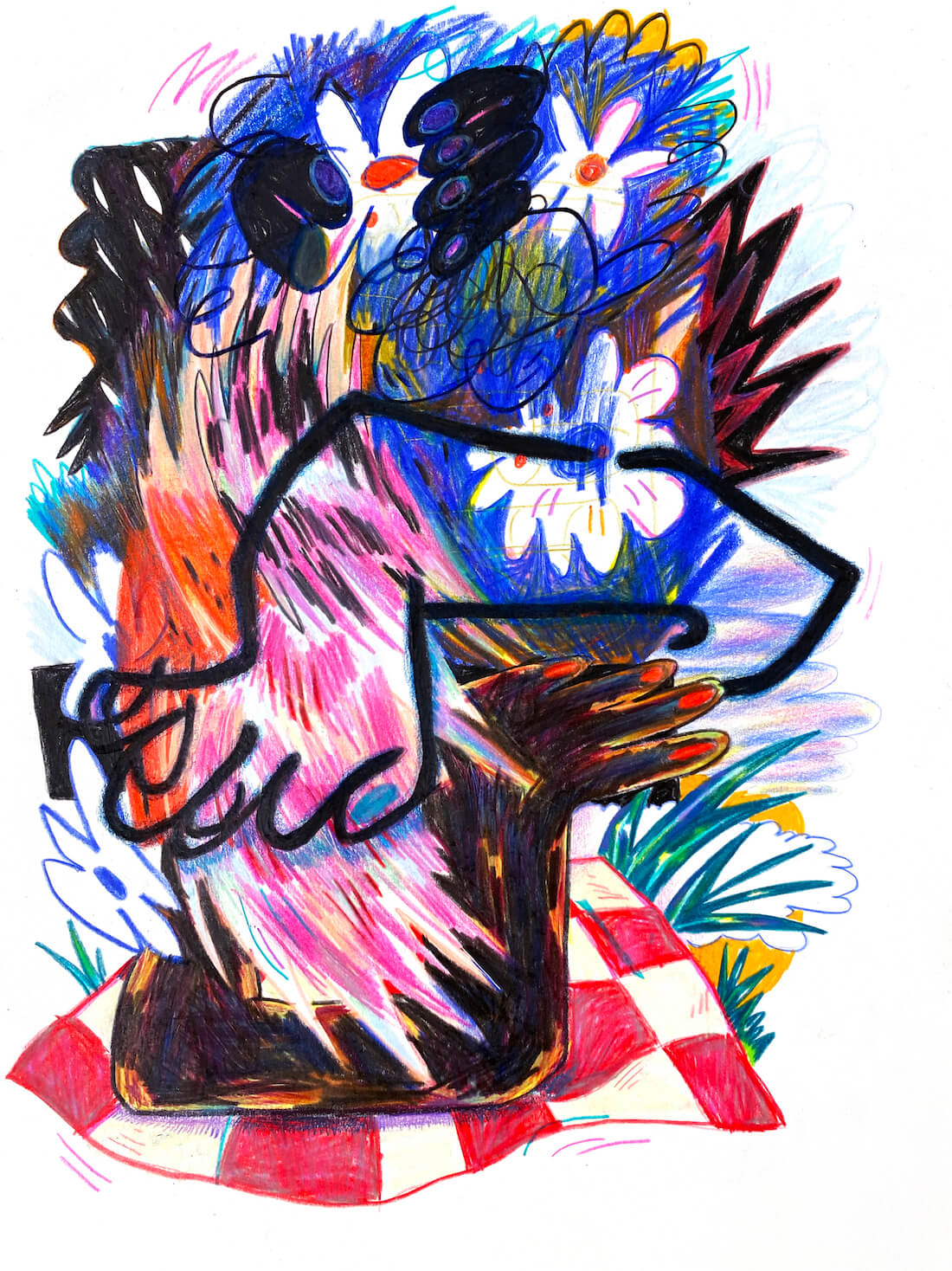 What were some standout shows you've seen recently?
Present Generations: Creating the Scantland Collection of the Columbus Museum of Art was an excellent show I saw back in March while I was in Columbus, Ohio, picking up work after one of my exhibitions closed. It was the first time I saw a Jamie Holmes and a Jonathan Lyndon Chase painting in person. The highlight was experiencing Derek Fordjour's installation STOCKROOM.
What does the term 'graphic' mean to you and would you describe your paintings as such?
"Graphic" to me is imagery that isn't reliant on realism to be understood or validated. I think my work is pretty graphic as it's abstract. My experiences painting murals in Cincinnati on the sides of three-four-story buildings influences how I treat my subject matters today; I use enough detail and visual information for the viewer to understand what they're looking at while standing far away. In my brain, if my work looks good from a distance, it's successful.
What does your painting workflow look like?
I usually begin with a small thumbnail drawing on a post-it note or in the margins of a piece of paper (ideas usually hit me while I'm at work or doing something mundane). I then take the drawing to my studio and snap a photo of it with my iPad. Scaling it up, I create a color story/sketch in digital drawing software on top of the captured image to give myself some guardrails for the composition. Once color has been decided, I use an art projector to draw the small post-it note sketch onto my canvas with watered-down acrylic paint. From there, it's primarily paint-by-number with much problem-solving until the painting is complete.
Do you have any upcoming projects, either artistic or curatorial, that you can share with us? 
I'm currently finishing a commission for a couple in New York and wrapping up making new work for a solo exhibition in Milwaukee opening in September. I was in three other shows this year in Toledo, Columbus, Ohio, and Beloit, Wisconsin, so my 2022 "season" is finally coming to an end. I'm excited to spend the winter making work for myself in my new studio.
I can't share too much curatorial-wise, but I can say Milwaukee should be prepared for more contemporary art exhibitions and programming in the region ;-).
Interview conducted by Milo Christie