How did Whim Golf start? 
Colin Heaberg & Will Gisel: Whim Golf started in 2003. Will and I met at a summer camp that was focused on Hiking, Sports and the Arts. We took a screen printing course together and began to understand that process, spending extra hours outside of class to make additional designs and bribing our counselors to special order crewnecks and socks so we could have different garments than the t-shirts they provided. But it wasn't until 2018 that we landed on Golf as our focus. For us it was authentic and the polarization of the game created an ideal atmosphere for our message. We struggled initially because we really did not want to create a brand "about nothing". The framework of golf freed us to think more creatively and to let our concept take the lead. Structure creates flexibility
What are some recent, upcoming or current projects you're working on?
C: NoPattern (Chuck Anderson) just re-launched his brand in November 2019 and we were supporting him, helping him to form the message, product offering, and designing and developing a website for NoPattern. We achieve fulfillment out of expressing our own ideas but also enjoy the role of helping others in their own execution. Seeing Chuck bring his work to the public was a special moment for not only him but also for WHIM. Looking ahead, we are working on our most advanced collection to date with Whim Golf, as we produce brand new products for SS and FW. Our output goals are ambitious – additionally, Whim Golf is collaborating with fellow Chicago companies such as 1733 and Oak Street Bootmakers in the near future which is new territory for us.
W: Over the summer we built two month-long experiential retail pop up stores for WHIM GOLF, one in the West Loop in June and one in Manhattan's Lower East Side in September. Both pop up stores prioritized a wall-to-wall putting green floor and invited anyone and everyone to practice putting in our store and shop if they wanted. These experiences have been integral to our growth over the last year and will continue to be a priority for us as we change the context around golf.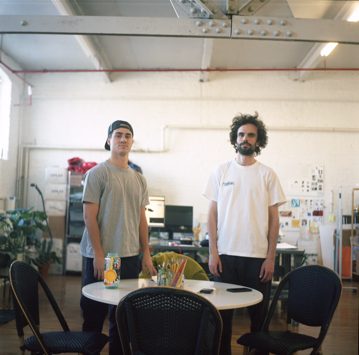 What's it like for you to be living and working in Chicago? 
C&W: Chicago is a terrific environment to do the things that we set out to do as a business. First and foremost, Will and I run a design studio – we serve businesses large and small, from corporations such as All State to artists such as Chuck Anderson (NoPattern) and Ben Gott (Benjamin Edgar). This dichotomy and balance in work energizes us. Furthermore, Chicago's creative community is shallow yet warm, like a spring puddle. Socially this provides a perfect petrie dish for us to move amongst as we can easily connect with individuals and groups for which we want to work with. Another benefit has been our ability to travel. We are aggressive about traveling and although we are Chicago-based, we view ourselves as a global company (WHIM WORLD).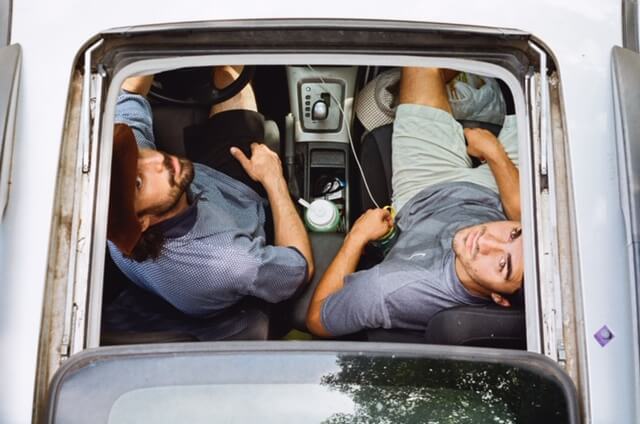 Your brand is interested in the "intersection between art and sport." What does that mean to you? 
C: For WHIM sport and art are the same thing. Will and I found art through sport, so the two are forever intertwined. Our lives are this balance – to this day we enjoy art and expressing ideas as well as sport and competition.
W: The intersection of art and sport means highlighting a beautiful overlap between two worlds people often view as being totally separate – showing how two things that appear different at a quick glance may actually share a lot in common.
What aspects of golf culture interest you and why?
C: Golf is an absurd ask. You have to dedicate a lot of time, buy equipment, and you will more than likely suck. Yet despite this, there is not many better feelings than walking down a fairway with your close friends on a beautiful day, with your phone tucked away in your bag, focused only on the present and the next shot at hand. WHIM understands the perception of golf, and seek to include and introduce the game to those who don't feel that the game is "for them". WHIM finds that ludicrous. This is a game for everyone and its lessons will serve players in many aspects of life; patience and persistence, focus and concentration, and dealing with failure. 
W: While you can compete against other players in golf, it ultimately is a game against yourself and can be played alone. The more anyone plays and practices the more it becomes easy to see how lessons you learn on the golf course apply to real life challenges or situations that you may face. It's just an incredible environment to learn, have fun, and play throughout your entire life.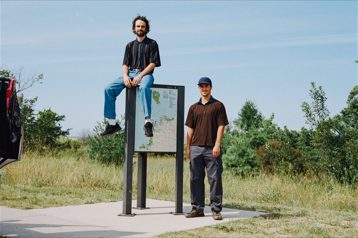 .
Who are some of your favorite artists or designers? 
C: Marc Newson, Roland Dahl, Oliver Jeffers, Ralph Lauren, Luke Meier, Katherine Bernhardt, children.
W: Manet, David Hockney, Evan Kinori, Archy Marshall, Karlssonwilker, Paul Rand, Bill Evans.
How do you think Instagram and the internet have changed the way fashion and brands exist and operate?
C&W: We aren't far enough from the dawn of the internet for anyone to properly understand the depth of its impact on humanity. In short, Instagram and the internet have done nothing short of transformed the way fashion and brands exist. It's fun to look at Instagram as a design project. The idea was to help more people become/feel like better photographers through filters. The result is a massive revenue driver that created entirely new business models and has become a main center for commerce at large.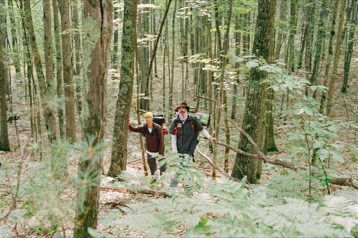 What are you really into right now?
C: Warm colors – reds, oranges, yellows, tans.
W: The phrase to "pay attention" and roots of words in general. Like how the word "passion" derives from the Latin word for "suffering", or that the word "inspiration" comes from the Latin word to "breathe into"?
Have you seen any recent collections or shows that stood out to you and why? 
C: Will and I are admittedly not followers of Fashion. I felt that the 50th Ralph Lauren Show was special. You felt the celebratory nature of the event.
W: Fashion is hard for me to follow. Adsum's most recent collection impressed us especially from a growth standpoint – their quality continues to improve. In general, Kiko Kostadinov impresses me with how his team presents every collection, garment and idea. While I may not personally "like" all the clothes or whatever, I appreciate the presentation and direction around it all. Big ups to our teammate at Whim Golf, Bryce Sissac, for putting us onto Kiko and keeping us up to date on some fashion stuff.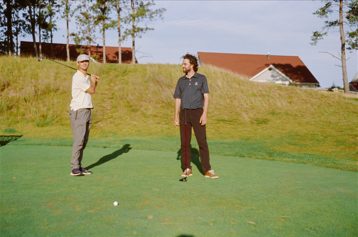 What's your process when doing editorial shoots? 
C&W: We strive to work with artists that want autonomy in their work and to not micromanage. It's more fun to present a photographer with some ideas and let them interpret the idea in their own way to produce work unique to their individual style. Beyond that, research is a natural part of all of our processes. We continuously explore readings and imagery. Typically we work pretty far out – developing concepts through mood boards and conversation. Editorial is a strong channel for the communication of our brand and how we see ourselves. In the end we still tend to embrace our amateur nature and wing it once we're out there. 
Who would be your dream collaborator? 
C: Illinois State Lottery!
W: For Whim Golf, Augusta National. 
What kinds of materials do you use in your designs? 
C&W: We are drawn to things that last. Classic materials, those that have been in our closets and lives for a long time – corduroy, wool, canvas, donegal, tweed, duck cloth, moleskin. As well as more technical options – goretex, schoeller, nylon. The process can vary, and the starting point can be different, sometimes it is color or shape, other times a fabric will draw us in and only later we will find its application for a design.