How did you get started as a designer? 
During the Summer (my favorite season) when I was 17, I had a plan for a trip to a valley and I wanted a dress for the trip that I didn't have in my closet. So I ended up making it my own. Then I started to make a bag/t-shirt etc…I naturally developed as a full-time designer.
How has living and working out of Milan impacted your work?
A good question!! I started my line during my graduation thesis at University in Milan. The Villain character developed throughout my school year and bloomed over several years of freelancing in Milan. It has been pretty much my identity that worked through surviving/enjoying Milan. Working out of Milan didn't loosen my ideas, but I often had to adjust my design to a much softer interpretation in Asia. I consider this softening a form of self-development as well. But I don't aim primarily for the market in Asia in terms of aesthetic taste. I am trying to tune my aesthetic to fall somewhere in between the American/English market so it continues to have a European taste while still being a bit more commercial so it also fits within the Asian market!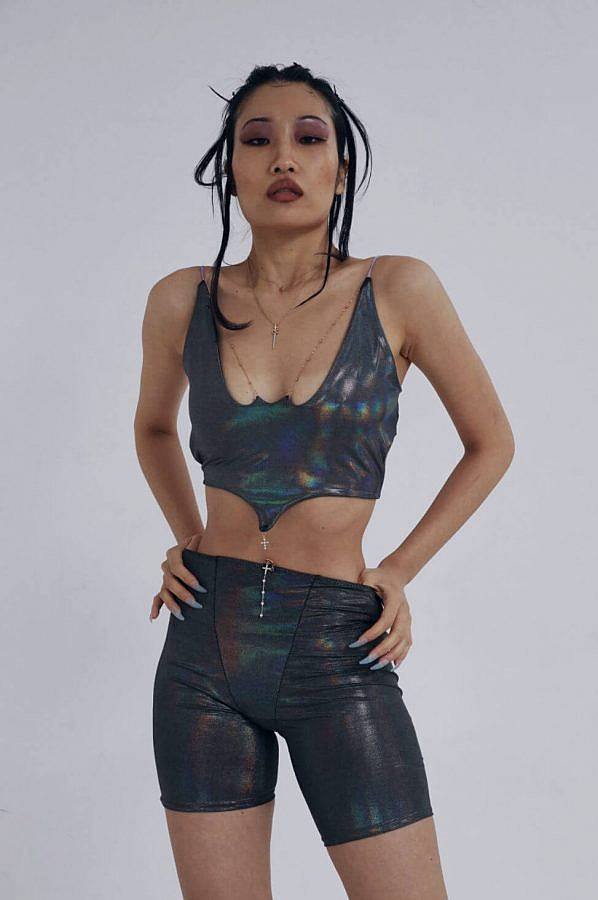 Can you talk about your recent collaboration with Lia Kim? 
I got an email from a Korean stylist team "ibaekilho" that they wanted to dress up Lia Kim with my clothes.
The project was shot on the new 3D virtual reality filming program that, as I know, was developed with SK telecom which is one of the biggest Korean phone wire agencies. Lia Kim was my muse for a long time, starting from the moment I started learning fashion design in Milan.  I loved how sleek/futuristic/charismatic her movements were! It was a dream come true! Plus I heard from ibaekilho, whom I'm now sharing my office with, that Lia Kim liked HORNIE SUIT a lot and that she was firm on wearing it during the opening scene of her music video! She read the vibe I'd say!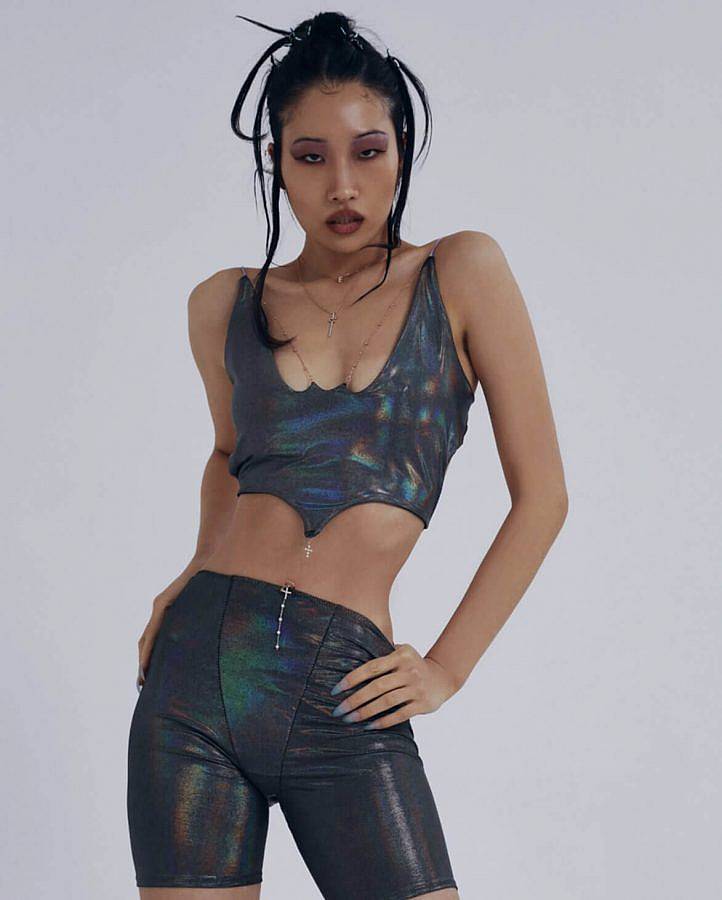 What does the bat symbolize for you? 
It's a sort of my rebellion against when people imagine a picture-perfect day with butterflies in the air. I reply saying that I'd rather play with bats at night sleeping in a coffin hahaha. Yes, it does sound a bit emo but I find it much more funny, edgy & powerful to go with a bat. Also, it's a symbol of my rage I feel toward the bad days….everyone has bad days no? It's also my rebellion against the good old stereotype of how a woman should act and look …….why can't a woman who is charismatic, sleek, and strong be considered pretty? Why can't a bat look more charming than a butterfly? 
Can you talk about the process you went through to write your Vampire Survival Kit? 
I wanted to make a book similar to a book that would be published in the medieval era when they actually believed vampires. It was a device to immerse people into that witchy environment.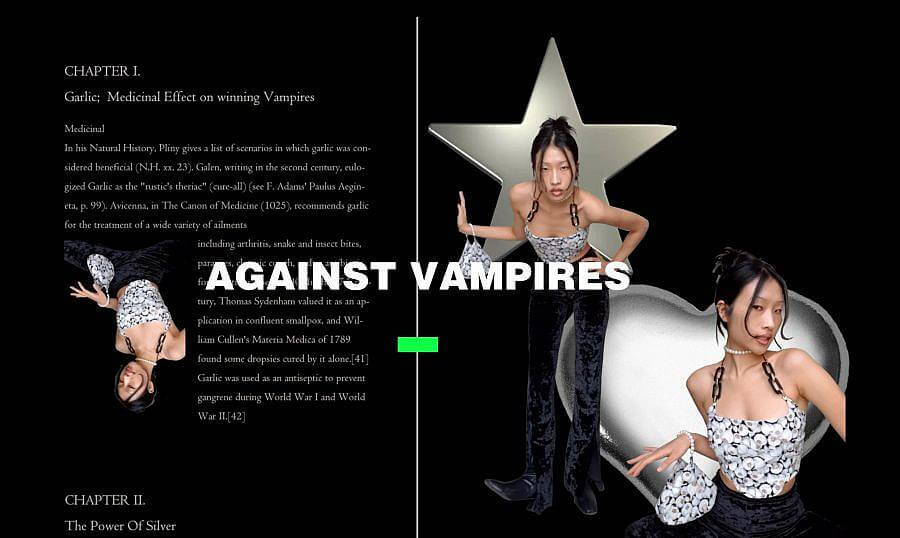 Does the GARLICIOUS outfit offer protection? 
Our GARLICIOUS top is made out of fabric that has an allover garlic patterned print! It doesn't smell like garlic to humans but does to Vampires. Only by seeing the garlic patterned print, they wouldn't dare touch you! Hihi..!
Can you talk about the signature silhouette of your jackets? Specifically the batkim line? 
The batkim jacket's got two sparky horns on each side of the sleeve hem, to cause the wearer to look like a batman/woman and they're fit with a thumb hole that sits the horns in the right position. It's also got a wide width of shoulder and torso to emphasize how mad you are at someone 😉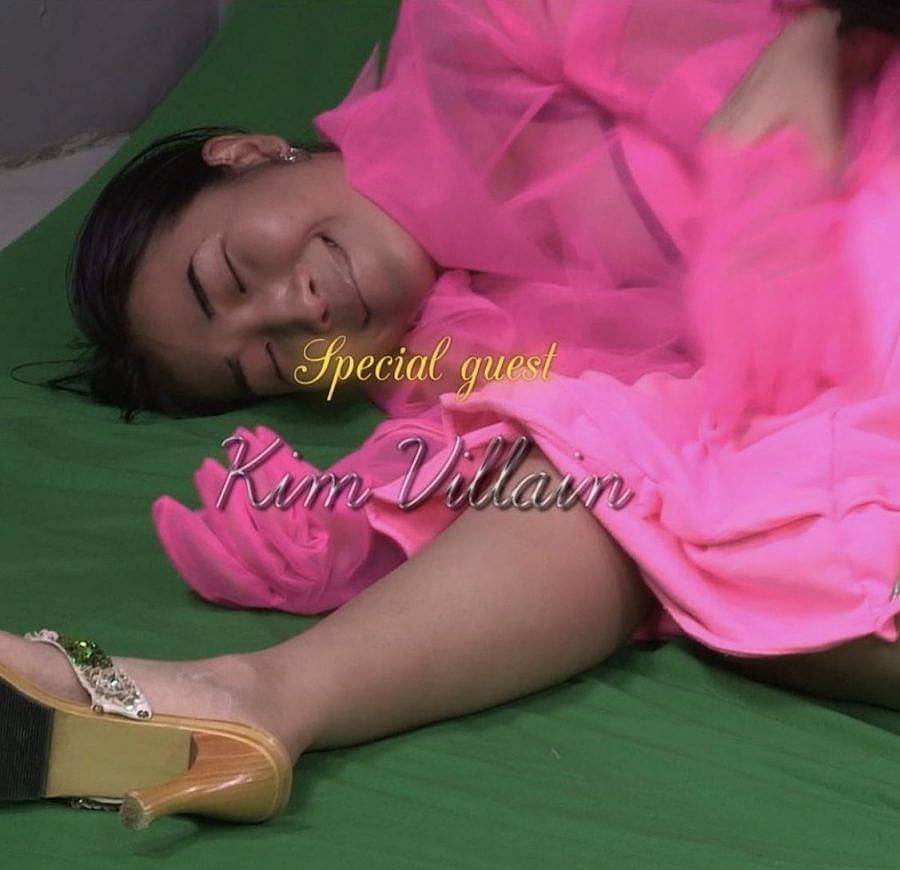 You appeared as a guest on SMBCIAO's talk show. Can you talk about that experience? 
It was her first episode!
I got to know her at a wine party. We didn't even talk to each other, but I guess we recognized each other's coolness xo. She DMed me after the party saying she had a project that she is planning and that I would fit for her talk show interview project!
We met later in a cafe and she just interviewed me asking many questions about what this brand means to me and how I am living in Milan. We talked a lot, finding many commonalities. Fun fact: we talked too loud that an old Italian lady shouted at me that we shouldn't talk that loud in the cafe! Haha, they weren't nice but hey it was outside seats!
We didn't plan much actually! She kept many of her plans secret to see my raw reaction. But it was very hard to improvise on many levels!  It wasn't perfectly prepared, but overall I guess that's a necessary risk for a creative trendsetter project.
The outcome was great! Our sense of humor matched and there was a born synergy that made the scene so edgy and fashionable! I enjoyed the process a lot as well! It was really fun because I could blabber whatever came to my head and thankfully the shooting team liked it& understood it! I couldn't see the team's faces because of strong lighting toward the set so I was nervous that they might not like what I was doing/saying! I was relieved when the time to time I would hear some laughs. The edit was so neatly done on the video perfectly highlighting both my and Sasha's characters!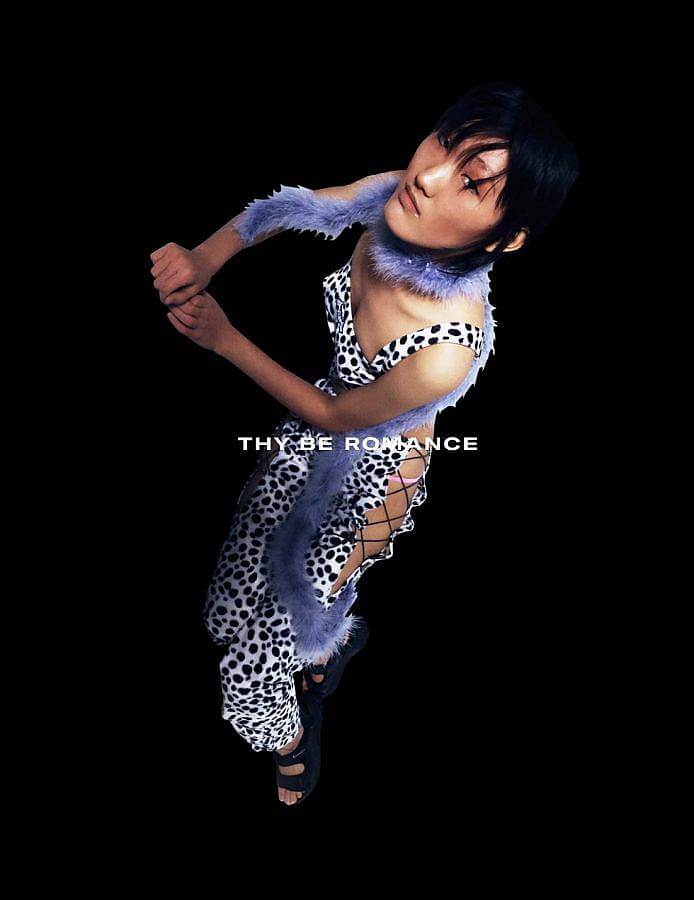 Are your clothes meant to empower the wearer? 
Yes, about 70%! (20% to express themselves 10% to seduce others). My clothes are like armor to the wearer, though it is the character itself that protects and empowers their strands.
Your design practice slips into this performance of villainy. What roles do performance and expression play in VILLAIN WEBSITE? 
Villains in VILLAINWEBSITE  are charismatic, icy but hilarious too. They are the ones that know how to surf life. They don't stay reluctant pretending to be the 'good" heroines. I mean to create a "stage" set for my wearers so they can perform their "villains". That's why I present my clothes through performance.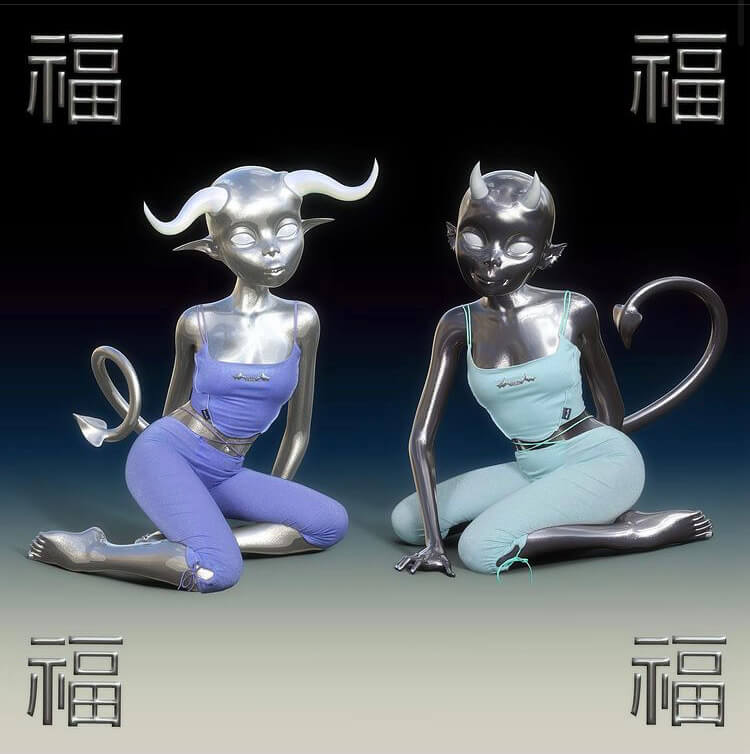 If you have time, I'd love to hear about your recent collaboration with Nicolas Keays that was featured on Chrome Type! 
As much as our technology is improving nowadays, I figured it was important to adopt a graphic element into my brand.  Plus as a cartoonish fashion-label, I found it pretty relatable to connect my brand with graphic art.
I got to know Nicolas through a mutual friend.  I brought up this idea of having his graphic work as a virtual mannequin dressed in my clothes. He instantly said yes, saying thats what he was thinking when he saw VillainWebsite. As much as it was a remote collaboration, the important thing was giving each other faith throughout time…Over time I updated him with what I was working on and what abstract ideas I had about our collaboration.
I may have bothered him by constantly updating him with my current work that had nothing to do with him, but he always kindly replied & complimented the material/ design. He might not know, but his words motivated me to keep going. 
Last month I finally figured out where to fit his work amongst all the clothes and asked him to collaborate not very far from the deadline!  I'm thankful for his patience after a long time of uncertainties before such a quick turnaround!! 
He understood the trait of these clothes, "Silver Sparkly" yoga wear, as having a sparkly texture with a silvery touch on the fabric and set his graphic creature's skin as a silvery glitter! I found it so clever, and that connection is something that's very core in a collaboration between two different genres!
Interview composed and edited by Amanda Roach.