Tell us a bit about yourself and what you do.
I am an NYC native, Brooklyn based practicing artist making sculptural garments. I began making garments while getting my BFA at Cooper Union and continued after I graduated in 2018. I am well known for my clothing that incorporates miniature-windows out of clear PVC vinyl, adorned with little curtains and flowers down to the very last detail. Just like changing in front of a window, my work creates a very revealing experience. The tiny windows are typically located over the left or right chest area on sweaters or replace the back pockets on a pair of pants. 
My window pieces accomplish what I look to explore and extract out of my work— an experience with clothing that addresses clothing as structure, and the power in femininity concerning domesticity. I try to offer an opportunity for someone wearing my work to take a moment and reflect on the changes in emotion and awareness of the body that can occur through the act of dress.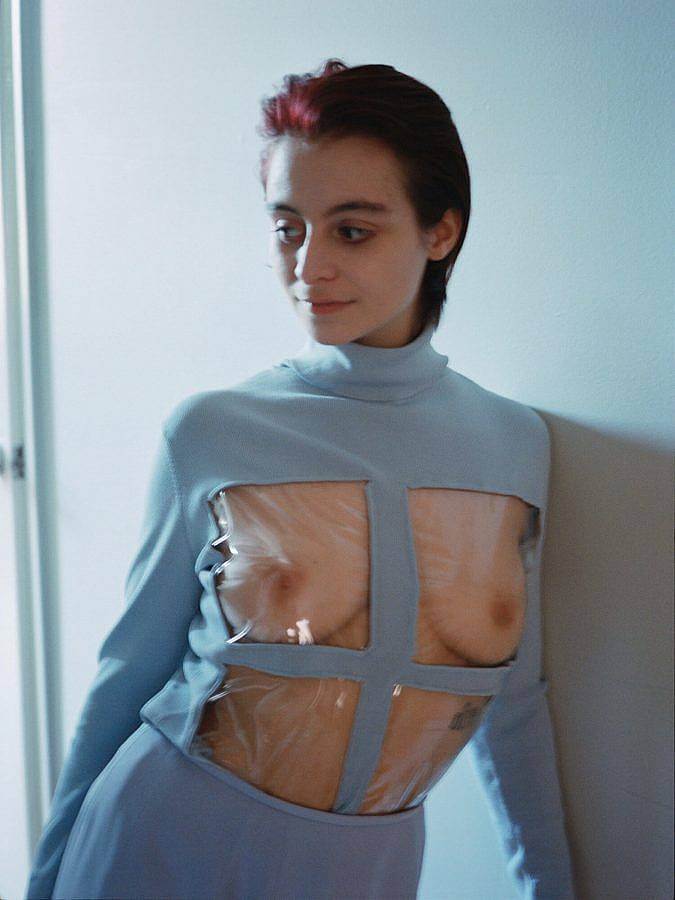 What designers and artists have influenced you?
Discovering Alexander McQueen's work was life-changing for me. He reshaped my understanding of fashion, especially through the exclusion of the commercial & retail side that, for me, had been a learned understanding of what the runway represented. Ironically, I remember he did a line for Target in middle school, and I dragged my parents to buy me a piece as soon as it was out. McQueen changed my understanding of what clothing could be and take on,. I took it to heart. Soon, after lots of bleaching, tying, and cutting I was going into school with items precariously pinned to clothes and fabric draped around me. It sounds much cooler than it looked…
Fast-forward to today, where my time as an art student helped me explore the works of contemporary, as well as 20th century, artists that spoke to me. I am influenced by artwork that confronts the functionality of clothing, the intimacy of dress, and the many subtle changes in power and vulnerability that inevitably came with inhabiting a femme body. I'm influenced by Louise Bourgeois, VALIE EXPORT, Rebecca Horn, Venessa Beecroft, and Juliana Huxtable, just to name a few.
How has the art movement surrealism impacted your designs?
Surrealism, and the fashion that came out of it, has been a vital component & defining reference to the clothing I've designed! Surrealism and fashion are so deeply intertwined and so much of the work that emerged from the era of Surrealism has been a source of visual inspiration for me and definitely would make up a large part of my imaginary dream closet. The collaborations of Dali and Elsa Schiaparelli, the sculptures of Meret Oppenheim, and the garments that followed in their footsteps during the second half of the 20th century are all personal sources of inspiration. 
In terms of the surrealist movement itself, the femme body— or even just the femme torso— played just as prominent a role as the clothing did. Male artists such as Man Ray, Magritte, and Andre Breton seemed to operate in their hyper-masculine world of the surrealist movement. Their work felt very aggressive towards the female body and even violent at times. For example, Man Ray's Untitled, 1929 depicts the close up torso of a femme body wrapped in plastic. The body is suffocated in plastic, and the removal of her head and arms gives her no brain to think, and no hands to write with. 
Work by artist Meret Oppenheim addressed these struggles, but also rejected them by showing the empowerment that is possible through femininity. She often used clothing items and textiles/furs to do this. I have tried to achieve this duality in my work as well, and hopefully in doing so created a similar sense of reclamation of the femme torso and body. My clothing can empower the wearer, but can also make them feel very vulnerable. A woman wearing a window top taking a selfie from the comfort of her room could give her a sense of empowerment when posting it for her followers to see. Yet to expose oneself that way on a public train or street can have the complete opposite effect.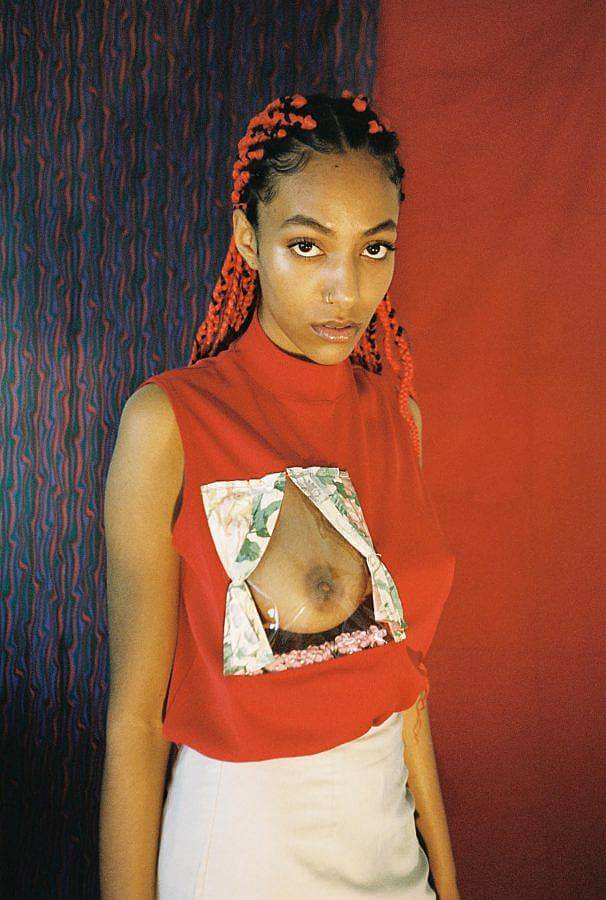 What aspects of voyeurism do mean to examine?
This may not be true for everyone, but there is something about changing in front of a window that feels kind of exciting; I might romanticize it in my head, but there are plenty of moments in film that share my viewpoint. Whether you like it or not, voyeurs and flashers are a part of our world. I love considering the power play that's constantly in flux between voyeur and flasher— mere eye contact can change everything in a matter of milliseconds! I also consider it as having a very strong relationship with the cult of mid-century domesticity & nuclear family, which is an overarching theme in my work. The idea of the "peeping tom" and housewife sort of relationship is what comes to mind. The word voyeurism first emerged in the states around 1920, and by 1940 it began to increase exponentially up through the second half of the decade. For me, John Waters, (aka the flasher in the opening scene of Hairspray c. 2007) and his body of work, completely embody this statistic!
What does the 'clinging man' symbolize throughout your work?
I think this ties back into what I was discussing before in terms of attempting to establish some sort of reclamation or reassertion of the femme body through surrealist imagery. The clinging men evoke in me both the feeling of exasperation that comes with being clung to, but also the comfort and empowerment that comes with feeling needed. They feel closely tied to surrealist imagery when I think back to the paintings of repetitious tiny men donning suits in a Magritte painting or playing with the size and proportions of the body when looking at the landscape drawings of Dali.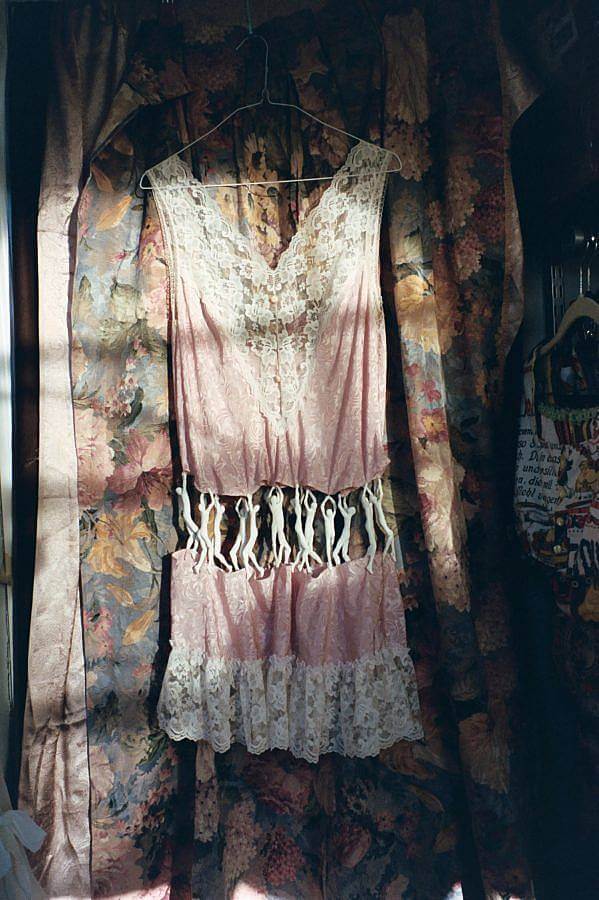 You often use up-cycled clothing and recycled PVC. How important is sustainability to you?
Incredibly important! I can not emphasize enough the kind of creative impact the thrift store had on me for the entirety of my teenage years. Having such an economically accessible place to discover fabrics you didn't know you were looking for, platform shoes under 20$, and special pieces made all the more special through the arm workout required in finding them. Sorry if this sounds like a bit of a carry, but the relationship I had with the thrift stores I frequented regularly became something nearing that of a sacred one.
All that being said, It felt almost natural to turn back to up-cycled materials when I wanted to begin making my clothing. Of course, It also took a couple of trips to Mood and realizing that buying yardage of fabric for sewing was something way out of my budget. So when I need fabric, I buy old bedsheets; and when I need PVC plastic, I recycle the plastic bags that the bedsheets come in. When someone looks at fashion and design through the lens of what is commonly practiced and the business models that are in place, it's difficult to imagine the possibilities of how a world of fashion can be one that isn't incredibly wasteful. I never had the traditional training and when learning more about the business of fashion, it felt like operating on something I didn't know and wasn't comfortable with. Thankfully, more mainstream labels are also starting to break away from these traditional waste-incorporating business models; designers such as Marine Serre, Chapova Lowena, and Collina Strada all put up-cycling at the forefront of production. Vivienne Westwood, Stella McCartney, and Mara Hoffman have also been helping shape this field.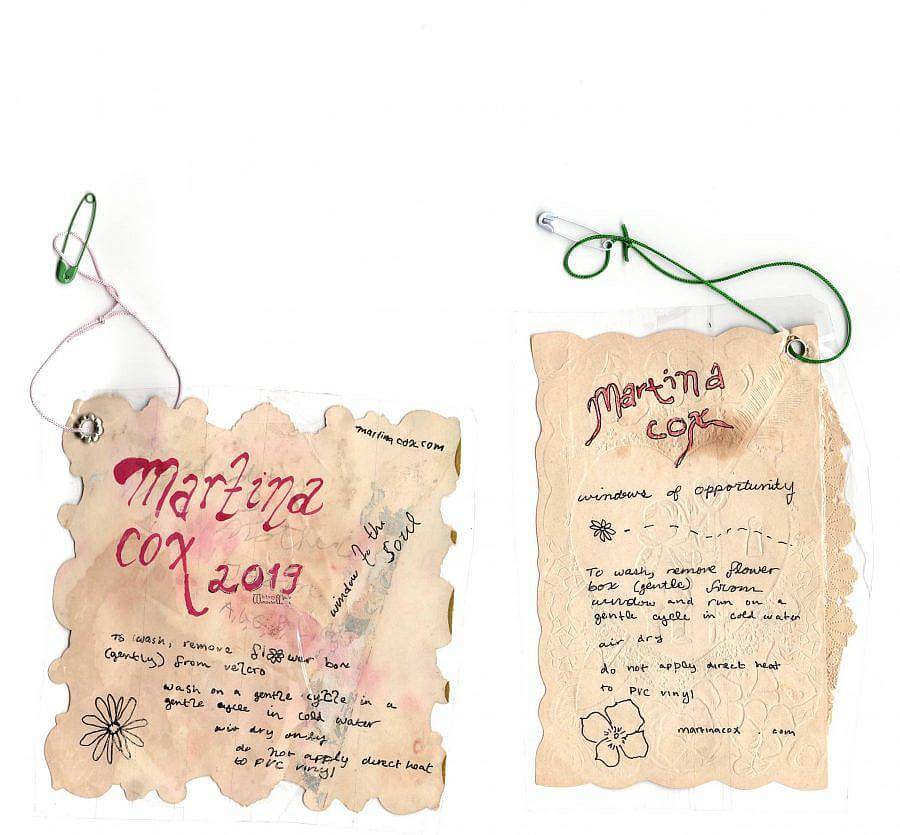 What does the window mean to you?
Like many of the dualities I have been discussing, the window parallels the divides that clothing asserts both literally and figuratively "Clothing is the principal means by which we negotiate between private and public realms" discussed in Infra Apparel. What else could this be more true for than the window? Also relevant in terms of my work the window serves as a divide between the private and the public that was recreated and built up through strict social values and gender roles set in place after World War II in the United States. Windows serve as portals into so many different worlds- ones that exist and ones that are totally up to the imagination. What could be chicer than that?
Your windows, strings, and openings, accentuate breasts, pelvic regions, and butts, the parts of bodies we're sometimes asked to hide. What parts and types of bodies do you consider when you're creating your pieces?
In Body Packaging, Julian Robinson discusses the history and common practice of people throughout the centuries using clothing to highlight genital regions. Body adornment has a history of being used to compensate for our lack of colored feathers, shiny scales, or other adornments animals flaunt when attracting a mate. I like the idea of seeing my work as stemming from an instinct to want to highlight my genitals, especially because my work also feels so fixated on the aesthetics of the prudent housewife– and I love that juxtaposition. Then, of course, there is also the history of concealment in relationship to sensuality… The fact that covering can also be used as a form of arousal (for example with lingerie) and send signals far stronger than something on the body being uncovered. Experimenting with what covering vs. uncovering certain parts of the body can do for a viewer and a wearer is something I definitely use my window garments to explore.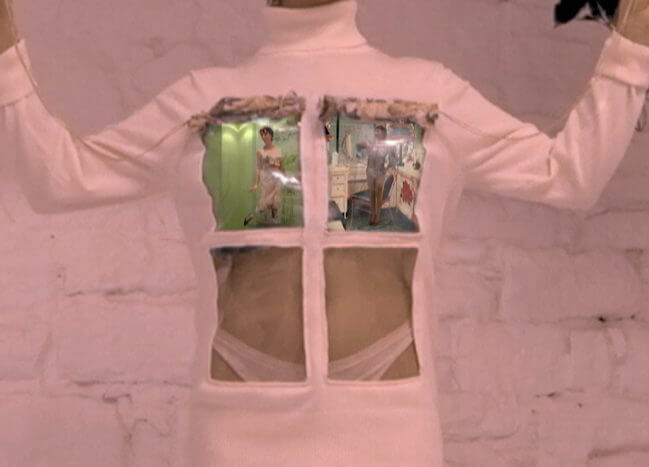 Do you have any upcoming projects?

There are many directions I still wish to go in with my future work! Something that is very daunting to me but seems like a very natural progression is incorporating movement into my work through both performance, film, and hopefully even puppetry. I did dip my toes in this a little bit last year when I filmed a 30-second 'ad campaign' with videographer Lindsay Eskind, and it is still one of my favorite pieces to date. I had also been planning a performance piece just before the pandemic, and I am looking forward to picking up on it where I left off (also while considering the large changes that have shaped our world these past months). There is a level of movement and performativity in my clothing that is lost through a social media post, and this is something I would like to work with and highlight more of in my future practice.
Interview composed and edited by Amanda Roach.