Can you tell us a little bit about who you are and what you do?
My name is Marissa, I am a 24 year old vegan pisces with moon and rising in libra. I am 3rd generation Italian and Mexican, born and raised in Chicago. I design and produce clothing, paint murals, create performances, objects and illustrations. I paint apartments and install wallpaper on the side which I really love. I manage a studio space in Humboldt park called Corner Studio. I love learning about the world. Right now I'm really into evolution but I like almost all history, biology and natural science.
What's it like to live and work in Chicago?
Chicago is a city where people work hard. Growing up I worked a lot with my dad who was a janitor. I began to enjoy physical labor and have come to really love the attire that comes with it. I also spent a lot of time working with bikes when I was a teenager. Now I paint apartments and install wallpaper, and I love it. I like to use my body ya know? I'm not afraid of getting dirty but I never wanted to sacrifice this element of fantasy when it came to my wardrobe. I started altering my clothes to have specific pockets of biking or working. Or I would get a pair of overalls for painting and make them really special by dyeing them and adding patches or charms. Eventually my work clothes were cooler than my regular clothes. 
Though there is so much beauty to be found in the neighborhoods of Chicago, it can be a very gloomy place. For me it's really important to hold on to moments of beauty and passion here for my own sanity. I use fashion as a form of escapism, and as a survival mechanism. I try to bring some element of play into everything I do as I navigate my life not just for me but for those around me.
Can you talk about your involvement in the collaborative online exhibition 19 in 2021: A Drone's Eye View at Chuquimarca Projects?
Back in 2014 when I first met Nat Pyper in Milwaukee we talked about collaborating on a comic that they were writing. The story was about the lives of four queer latinX teens that don't speak their mother tongue, growing up in a socialist dystopia. They reject social media in a world where "your IP is your ID" so they are essentially living off the grid. I was really into the idea because my family didn't speak spanish to me or around me so I grew up kind of feeling like an outsider even within my own culture, caring with me this sense that I didn't really belong anywhere.
When Nat hit me up to collaborate this year, I was really excited to revisit the idea. The project is a collaborative exhibition with Nat Pyper's writing as the driving force. I made wearables in response to the books, Julio Córdova making soundscapes, and Bárbara Baron creating videos, with the goal of bringing the world created in the series to life.
Early on, I knew I wanted to make a t-shirt for the book. I was doing research on the novel Orlando and found this cool T-shirt. It inspired me to create some alternative book covers and put them on shirts or make patches. Kind of as a merch thing but also to instigate a fandom to develop around the series. I made a turtleneck because I wanted the design to be utilitarian in some way. I ended up making two long sleeve turtleneck shirts and a jacket.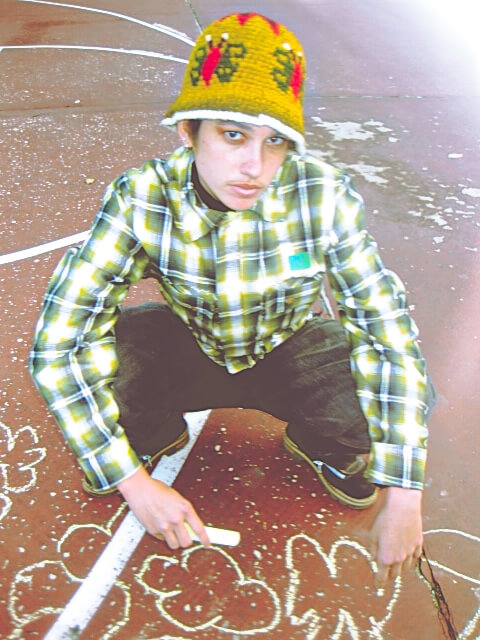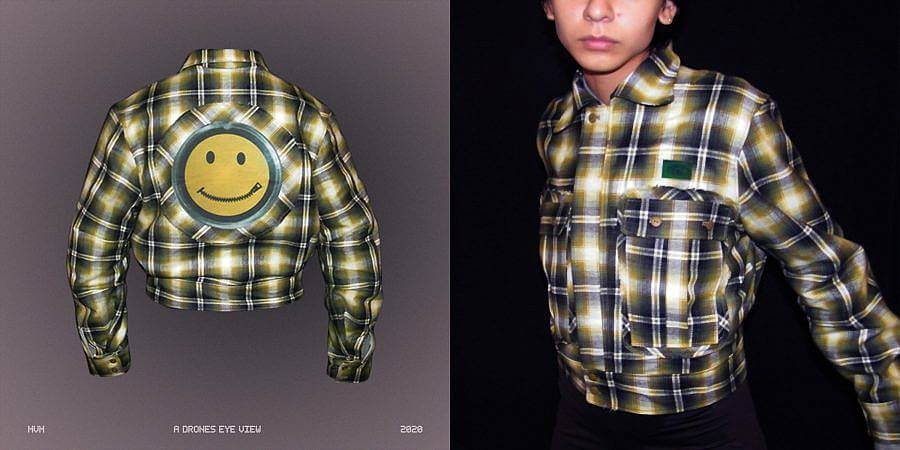 If you could collaborate with anyone in the world who would it be?
Joffrey Ballet because I'm obsessed with ballet.
Or
North Face because I want to design a tent.
What's the significance of the term "petrichor" to your design practice?
Spring is my favorite time of year. I love all the seasons but spring is incredibly potent. Maybe because in the winter time our sense of taste and smell become a little subdued and when spring finally rolls around it's like this really intoxicating eruption of energy. 
My friend Olivia Rehm and I were working on putting together a fashion show in 2019. One of my ideas for the runway was to collect all the flowers that had fallen from a group of catalpa trees near my house and bring them to the runway. I wanted to somehow capture that smell and that feeling of spring time in my neighborhood of a billion tiny little flowers collected in the cracks in the sidewalk tacked down by rain. 
At the time I was also working at the library and was talking about this idea with my co-worker who's a librarian. I was struggling to describe this feeling I wanted to capture in my work. As I was talking, he typed the word petrichor into google search and pulled up the definition — "a pleasant smell that frequently accompanies the first rain after a long period of warm, dry weather."  It was exactly what I was trying to get at. 
Something about the petrichor has always just heightened my senses, made me very alert and very present. I want my clothes to access that in someway. I also like the word because it sounds like a genre, like hardcore, grindcore, petrichor. This is also why I work with waterproof materials, I am currently trying to perfect these rain pants made of waterproof nylon.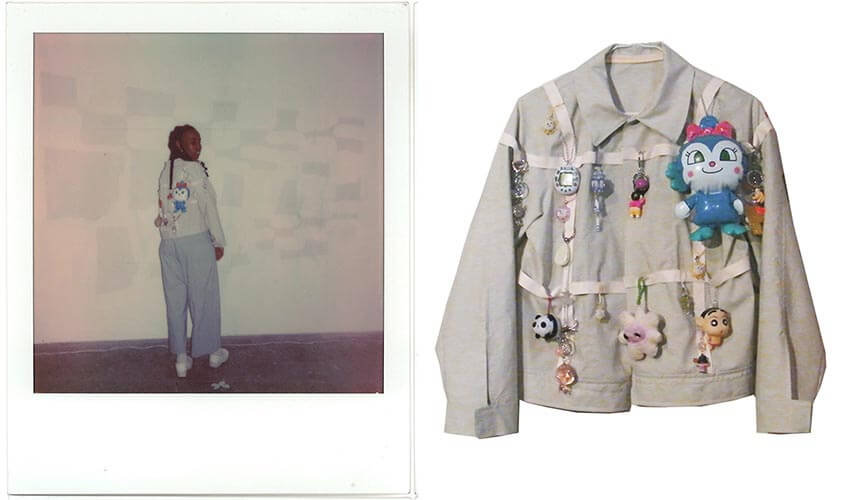 Is there a certain sensibility or mindset you employ when designing clothing? 
There is always this narrative element going on in the background. For a long time I was making clothing as a character studies. I would create these alter egos for various projects and performances, and then create the clothes around the identity of that persona. I started doing this with my friend Andrew Moreley, we were hosting this party in Milwaukee called Earth Angel which was run by Jad K-S and Julio Cardova. We went by Fandango and Uno, I was Uno and we got really into creating looks for those characters.
I was inspired to write about Uno after reading this book I read called The Sacred Book of The Werewolf by Victor Pelevin. She is a vampire born in 1846 in the Americas and taken from her family as a child. She was placed in a Catholic missionary school, where she was forced to assimilate. She eventually escaped to live most of her life on the run. She was never rich but manages to amass a small collection of treasures. Somewhat of a thief. Her wardrobe at this point pulls from a lot of different eras because she's like 173 years old. She is somewhat nomadic, she is pragmatic, she is meticulous and indulgent. Fleshing out her identity gave me direction and inspiration for the fashion. I have expanded my approach over the last year but I think on some level her energy is the soul of my work for Petrichor. 
How would you describe the visual language you've created with your recent lines of graphic tanks and shirts?
I am a very sentimental person. I use objects that I have a connection to, and kind of build meaning through that. The graphics are mostly digital collages of scanned or photographed items that I can't stop thinking about, or find to possess magical properties. I call them charms, because I believe they possess certain valuable energy and when I create clothing with those images I am transferring that energy into the garment.
One of my shirts from 19 in 2021: A Drones Eye View a lot of those objects came from a specific camping trip in Kentucky. There was this long road that cut through the lake. While I was driving on this road butterflies kept hitting my windshield (which is sad because you are basically speeding through swarms of butterflies). So on the side of the road was all of these dead butterflies. I saved one and took it home and later used it in the shirt called Kentucky roadkill. I think about that shirt as protection spell, good luck charm, and a meditation on chance.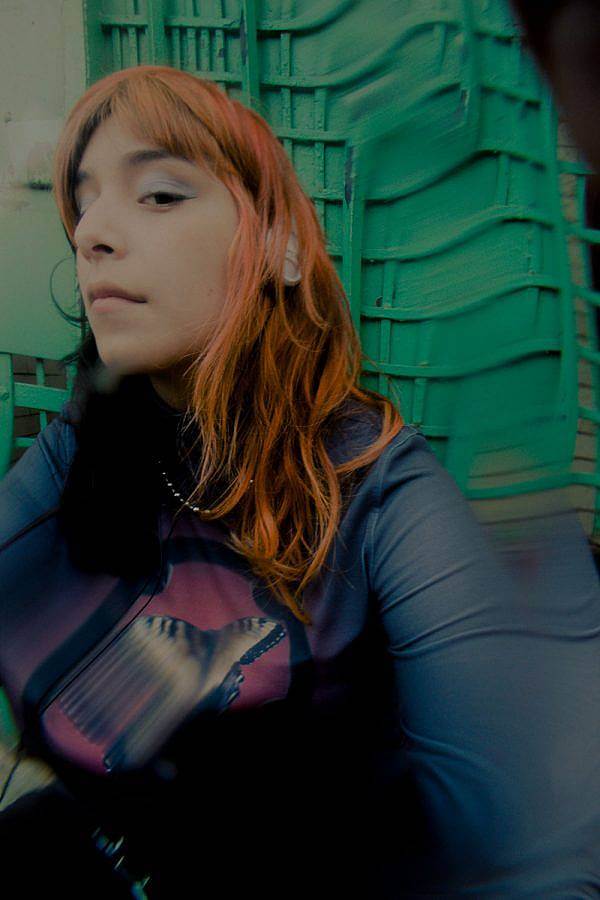 What are your favorite bugs and why?
I have a favorite bug. It's just one bug, I named her Diana. She was a female walnut sphinx moth that I "saved" from a parking lot. I made her a cool little setup in my house. I wanted to keep her but then I started to feel guilty. So I kept her for a day, drew, and observed her and then set her free in Humboldt park.
What are you reading right now?
Wild seed by Octavia Butler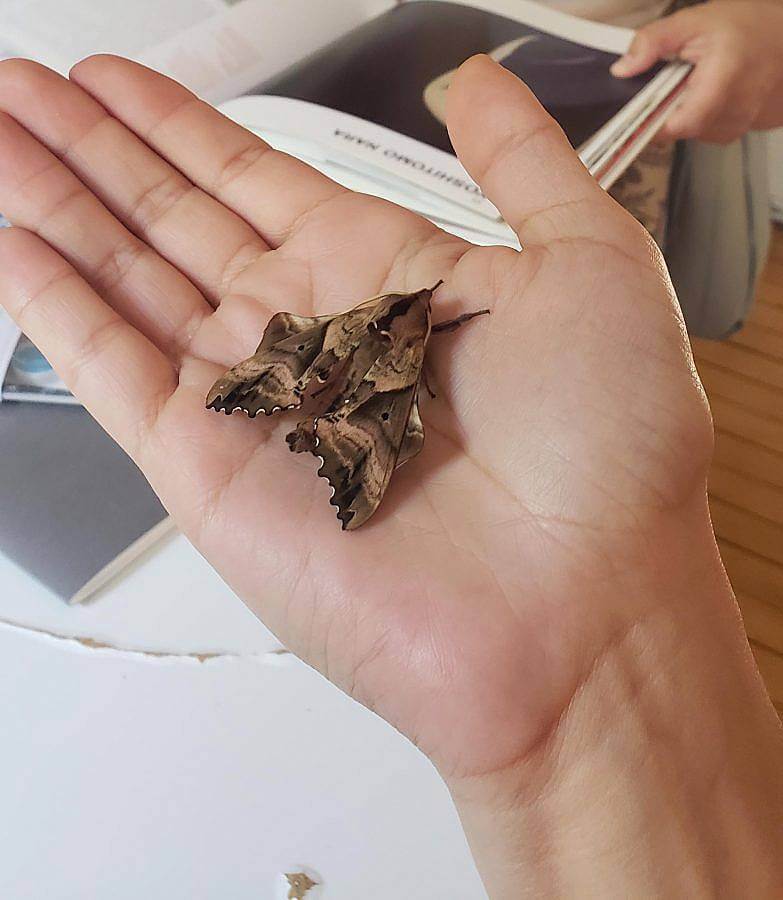 Interview composed by Madeline Olson and Amanda Roach