How has living in Chicago affected your music? ABBY: It's where I was birthed into arms of mother Lala. It made playing music and connecting with artists super accessible.
LILLIE: The Chicago music scene is pretty insane. I've never been somewhere with so many DIY spaces and incredible bands. All my favorite bands are local. Everyone is so encouraging and open and accessible and it's made me a more prolific and generally better musician. Chicago forever.
KARLA: I was introduced to a lot of stuff I'd never heard before. Very neat.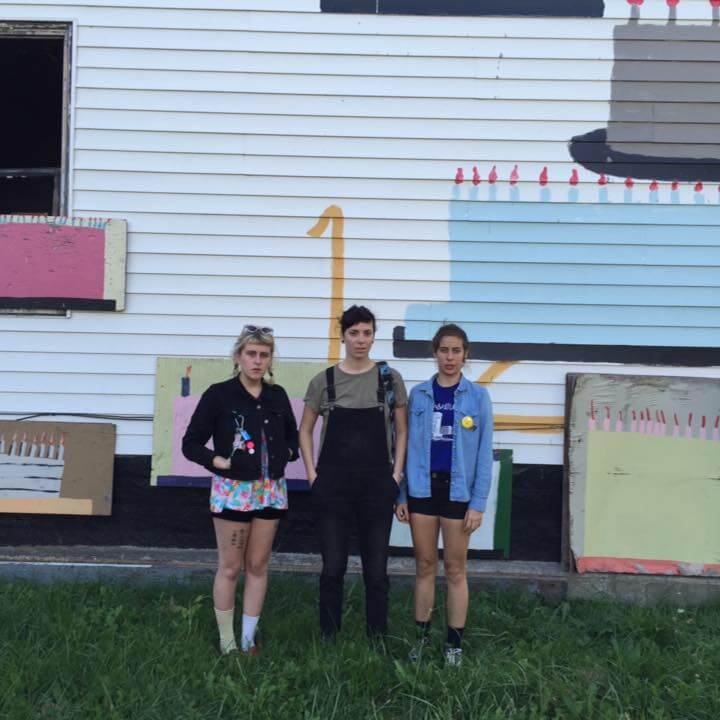 How long have you lived in Chicago and what brought you there? ABBY: Two years. Music and love.
LILLIE: I moved here to go to SAIC three years ago, dropped out to tour and never went back.
KARLA: I've lived in Chicago for six years now and I came here for the hotdogs with pickles on them.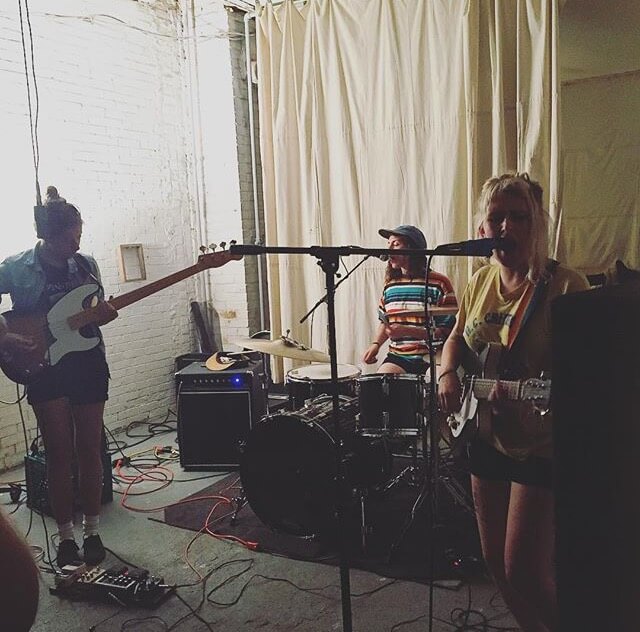 What kinds of things are influencing your music right now? ABBY: Self betterment and the love of myyyy liiiiiiiifffeeeee.
LILLIE: Seasonal depression and being in love with everyone I know… and beer… and colors.
KARLA: Jamarcus' Pokemon Soundtrack rendition. I listen to it when I play fire red even though it's from some newer games. I like it with fire red.
Where do you plan to travel next? ABBY: Hopefully to Germany and not jail.
LILLIE: I've been trying to go to Finland forever!! I want to go to the Moomin island.
KARLA: Six flags??
How did your interest in music begin? ABBY: I can't quite recall back to the ripe young age of six, but I'm assuming the pots and pans I was banging on weren't quite cutting it. Dad had guitars and oh boy, they sure looked cool.
LILLIE: My parents got me playing classical piano when I was pretty young but I don't think I started actually caring until I heard Violent Femmes first album. I was so into the bass parts and was obsessed with learning them all perfectly.
KARLA: I remember listening to Led Zeppelin and Black Sabbath with my dad. I wanted to be a part of that shred.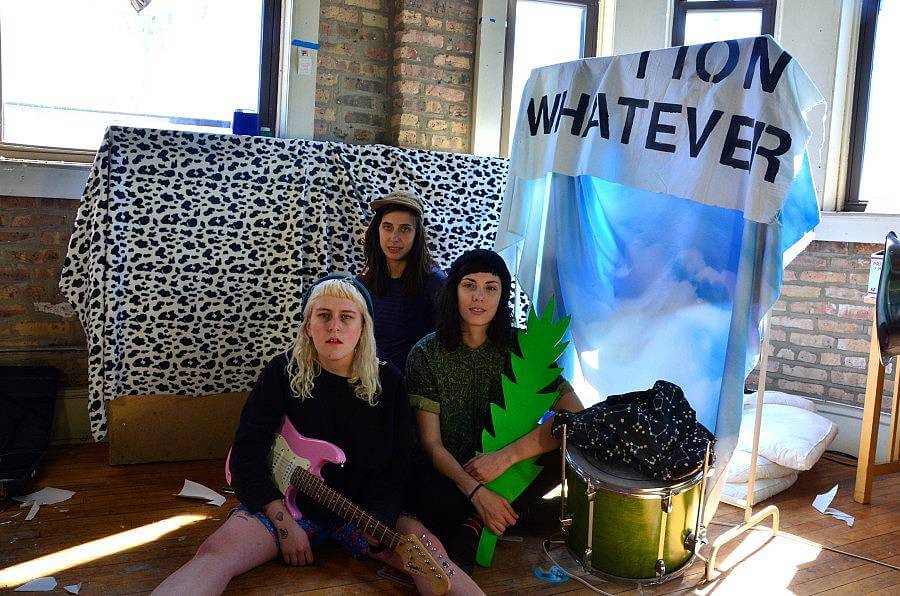 What other musicians are you interested in right now? ABBY: Palm. Cate Le Bon. Stella Mozgawa. Karla Bernasconi.
LILLIE: I've been listening to the new Yoni & Geti album over and over. I'm also pretty obsessed with The Hecks, they have an album coming out September and I can't can't can't wait. They're my favorite band ever? Also, DEHD and Deeper and Stef Chura and Fee Lion. Melkbelly :).
KARLA: Palm and Pile babes.
Who would you ideally like to collaborate with? ABBY: Lillie and Karla or Miranda from Melkbelly. Hi Miranda :).
LILLIE: My friends used to be in this band Jamaican Queens, they made such amazing stuff that I have no idea how to make so I would want to collab with them because I really don't know how they did it and it scares me. Also the Funs!!!!!!!!!!! Jesse and Phillip!!!!!!
KARLA: Greg Salad, Gargantua Kardashian, Abby, Lillie, Sadie from Speedy Ortiz, Miranda from Melkbelly. Hi guys hmu.
Do you have any guilty pleasures? Tell us about one. ABBY: Everything makes me feel guilty — cannot simultaneously experience pleasure.
LILLIE: There's this candle from Walmart that is scented "Classic Denim". It's so disgusting. I love it so much.
KARLA: I tried to make Adele my guilty pleasure by listening to a song on the Megabus one time, but it didn't stick.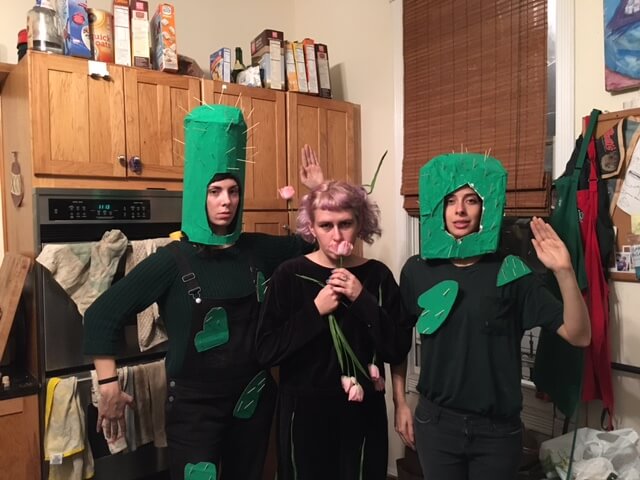 What's your absolute favorite place in the city/the world to be? ABBY: I just ordered a 1lb travel hammock so wherever I am in the world in that hammock everything gon' be alright! I'll probably take it to Palmer Square first.
LILLIE: underwater.
KARLA: My abuela's house and The Crumbosphere.
Most embarrassing moment on stage? ABBY: If something was embarrassing enough to affect me on stage I would play it off so cool that no one would ever know.
LILLIE: I used to have a really bad habit of yelling "fuck" every time I messed up.
KARLA: Sometimes I fart and think the sound will cover up the smell, which is consistently embarrassing I guess.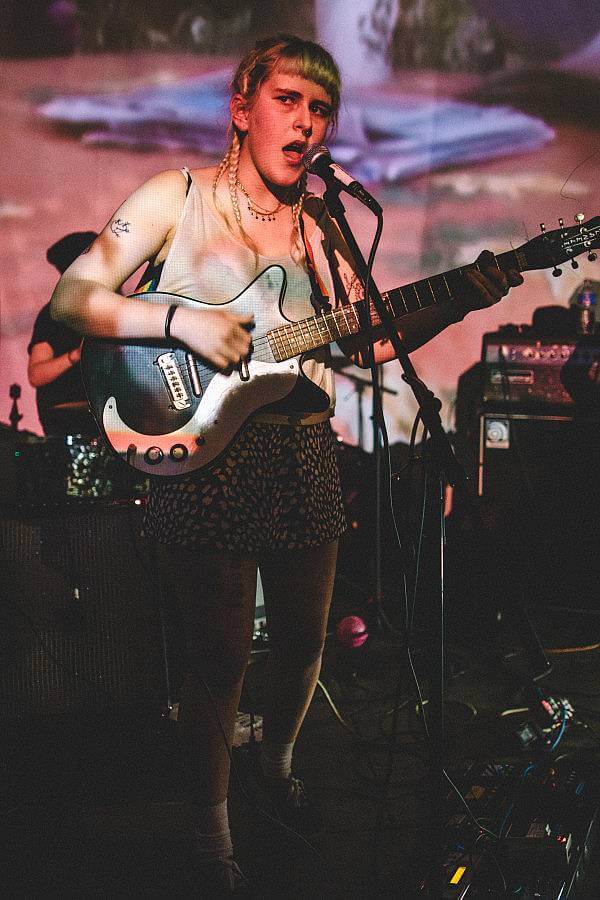 Can you share one of the best or worst reactions you have gotten as a result of your music? LILLIE: I can't think of anything specific but it has definitely made it possible to connect with other musicians that I admire, which is super cool. Also, bros sometimes recognize me in the street, for some reasons bros are really into Lala and it makes me very very stoked.
KARLA: I got hit with a bottle on my arm. It was a really bad song though.