Tell us a little bit about yourself and what you do.
Chicago native. Artist. DJ. Scorpio with an Aquarius rising. My practice is heavily informed by my visual and performing arts background and curatorial experience. I also dabble in sorcery.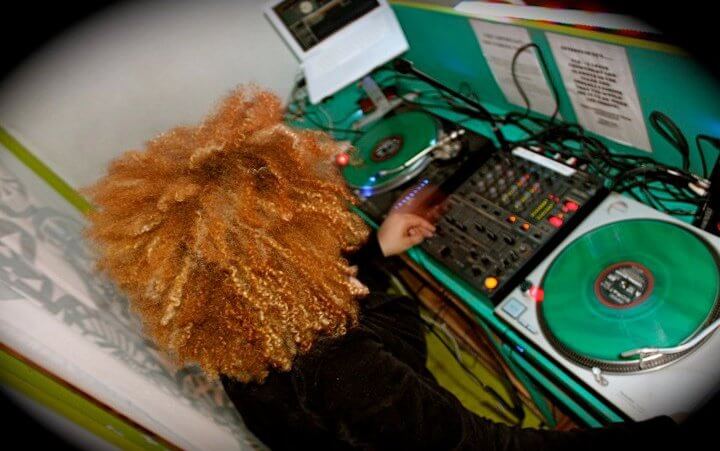 What are some recent, upcoming or current projects you are working on?
I'm currently working on a new body of work for a solo show opening the first week of November at Connect Gallery in Hyde Park. This work is an exploration of cultural memory and personal currents through music, featuring sound sculptures and visual art works.
How did your interest in music begin?
I am a product of two Leo parents who were both practicing percussionists when I was a child. Being brought up in a musical household, it was my most immediate form of expression. I learned to sing before I learned how to talk. Music has always been a part of my everyday life.
How does your work as an artist influence your performances as a dj?
I don't see a separation. The strength in the work is the integration of all practices and the ability to experiment and play. A large part of my work is based in research. With dj performances, sets are contextualized by history, social movements, and cultural memory. The audience is also a deciding factor in how the work is presented and what music is played or performed.
How has living in Chicago affected your music?
Being born and raised in Chicago has deeply informed my knowledge and taste in music. It is an amazing place for musicians to develop and has an extensive history with every genre of music from classical to jazz to disco to house to hip hop to r&b…from salsa to merengue to cumbias to freestyle to reggaeton… I listen to everything and spend a lot of time with my library of music. I collect all genres of music but am very particular with what I keep in my library for DJ sets. I also love hellafied DJ blends, a very Chicago thing.
If you had to explain your music to a stranger, what would you say?
I play good music.  I play what resonates with me.
You can't deny a primal beat, bass, and melody.
What kinds of music/what musicians are influencing your work right now?
A lot of my focus is on Afro and Latin music, from folk to jazz to house to global bass – diasporic narratives and rhythms.
What is one of the bigger challenges you and/or other musicians are struggling with these days and how do you see it developing?
I think the biggest challenge – pretty much all the time – is having the opportunity to play and be heard. With a challenge like this, the best solution is to find your tribe and create your own opportunities through available resources. If you have a vision, honor it and take the steps necessary to make it a reality. This is especially true for any musician/dj who is making original material and working outside of commercial formats.
From Music Box Series
What was the last show or exhibition you went to that stuck out to you?
The Hoodoisie – live stream show. If you want to snatch every bitch's wig off, you should take them to this show.
What are you currently watching?
I don't have cable or own a TV – by choice. I occasionally do movies or a TV show binge with friends. The last TV Show I did catch was Pose. I'm a fan.
What are you listening to right now?
Afro Latin and Caribbean rhythms – 120 BPM+
What do you want a viewer or listener to walk away with after experiencing your work?
The ultimate goal is to resonate with the mind and hearts of the viewer/listeners. That work comes from being authentic in the approach to my work and honoring my voice and/or the voice of collaborators in the work. My interests in the research and work I have done throughout my career hasn't changed but has matured. A lived experience is the strongest point of connection between the artist and the viewer.
What do you do when you're not working on music?
When I'm not working on music, I like to go out to listen to other DJs and see concerts of musicians I'm inspired by to keep my ears fresh and nurture my love for the art. I also love to meet up with my friends to eat and veg out. With age, I have less FOMO and prioritize time for restoration.
What are you really excited about right now?
Chicago's festival season. There's nothing like Chicago in the summertime.
If you hadn't pursued music and sound, what do you think you'd be doing?
Engineering or design work. I love electronics and building objects.
With all of the work you've done within the community, can you share some of the results you've seen from your music?
Music has been a vehicle for storytelling and cultural preservation. It has been a tool to share and create histories. It is a work that lasts a lifetime.