Tell us a little bit about yourself and what you do!
I'm an interdisciplinary artist and professor whose scholarly and creative research is within the field of contemporary art and human-animal studies (also called animal studies). The work I make/facilitate/collaborate on is socially-engaged, sometimes video, sculpture, installation, and sound. I work with real animals and engage in long term relationships with them and their caretakers. The animal and human caretakers influence the processes and outcomes in my practice.
Animals aren't a phase of my career or life and they're not something I've come to without past experience. I'm an equestrian and I've been working with horses for the majority of my life. What I do is very much the extension of a lifelong multispecies education, a honed practice of listening and sensitivity towards a nonhuman other. Important to the work is maintaining adaptability and flexibility – two traits we find in domesticated species. I don't shy away from labor (animal shit is really heavy) and the continued participation in farm work is crucial to maintain what I understand as practices of care. Since 2016, I've worked with Firesign Family Farm under the mentorship of Ruth Ehman.
You went to ACRE last summer, which is a partner residency with LVL3. How was it? Did you begin or complete any projects?
ACRE was magical. I appreciated the slowness of the residency, the emphasis on connecting with others, and the generosity of all the staff, particularly the kitchen, in sharing their knowledge, recipes, and enthusiasm for being present. I found out that the best way to make friends is to be stung by a wasp on the eyebrow on like, the third day. As a person who spends a lot of time outside, I wasn't that bothered by it but staff and residents were so kind and accommodating.
I did complete a project, yes. I made an edible sculpture for some of the Dudenbostels (the family who leases some land from Rosa and Bob) beef heifers and cows. As with much of my work, there was a failure involved in the first iteration. One thing I've learned about working with animals is that there are rarely predictable outcomes and when there are, they come out of very close and trusting relationships. I had the pleasure of working with Emory Hall, an artist, food-stylist extraordinaire, on the sculpture.
What have you been working on since then?
One of my collaborators, Dulcee Boehm  and I did a collaborative installation in Akron shortly after I returned from ACRE. The exhibition "In Heaven, Love Comes First" looked at the way human and nonhuman bodies (specifically farm animals) are presented in competitions, from fairs to horse shows. Dulcee is my "art wife" and one of the people whose work about the rural is deeply rooted in lived experience. An iteration of the show will be at Vox Populi in Philadelphia in early fall.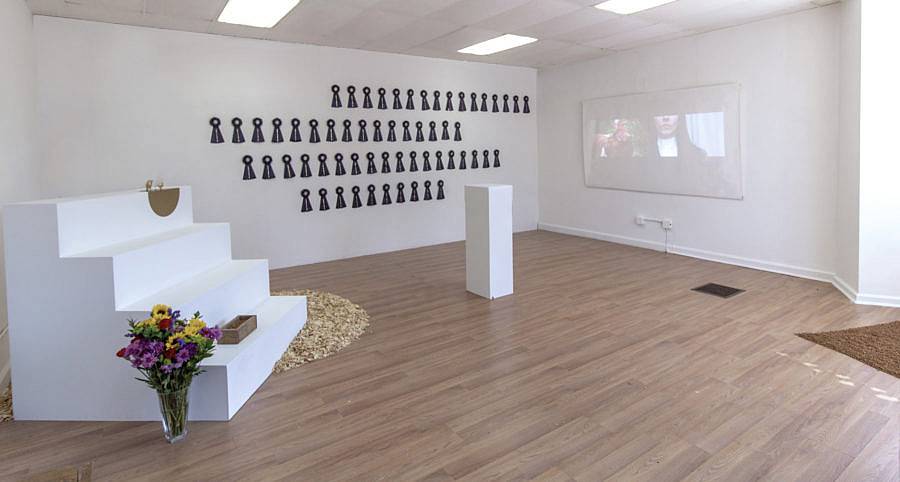 Can you tell us about your upcoming solo show in Cleveland?
I'm excited to show at H-Space, in conjunction with The Muted Horn gallery. H-Space is an open and airy gallery so I'm flirting with the opportunity to bring in some larger items that I haven't been able to physically fit in other galleries. The installation will utilize materials such as baling twine and recycled plastic round-baling wrap. I don't want to say too much but there will be some video work that'll come out of the beginnings of my next research project. And of course, some smelly materials!
How does agriculture integrate into art spaces?
I guess I have to ask a question in response: what is an art space? Is it anywhere artists work? Is it anywhere art can or could happen? Where art is shown? Experienced? I think of Deke Weaver's The Unreliable Bestiary, in which performances happen in county parks and agricultural pavilions. Or in Ann Carlson's Doggie Hamlet, that happens out in a pasture. What defines an art space?
In the context of gallery/exhibition spaces, ag is often incorporated in ways far removed from the actual stress, labor, and stakes agriculture has in the real world. This could be due to the sterilized nature of the white-cube art space. I know I've encountered this as an artist, where my vision for a project fails, or refuses and that failure/refusal just becomes part of the work. It's all enveloped. But because my work never has, nor likely will be, how I financially support myself, the repercussions of failure don't mean that I won't eat, be able to pay my bills, or continue to pay monthly rent/mortgage/utilities. As artists, we come to ag in art spaces from a place of extreme privilege. I am highly selective about the residencies I apply to since summer and early fall are the most productive and labor-intensive times on the farms I spend time at (it's also horse show season.) While it might be better for my art career to go all over the country and do residencies, it's better for the work that I maintain, nourish, and sustain the relationships that are truly important to the work.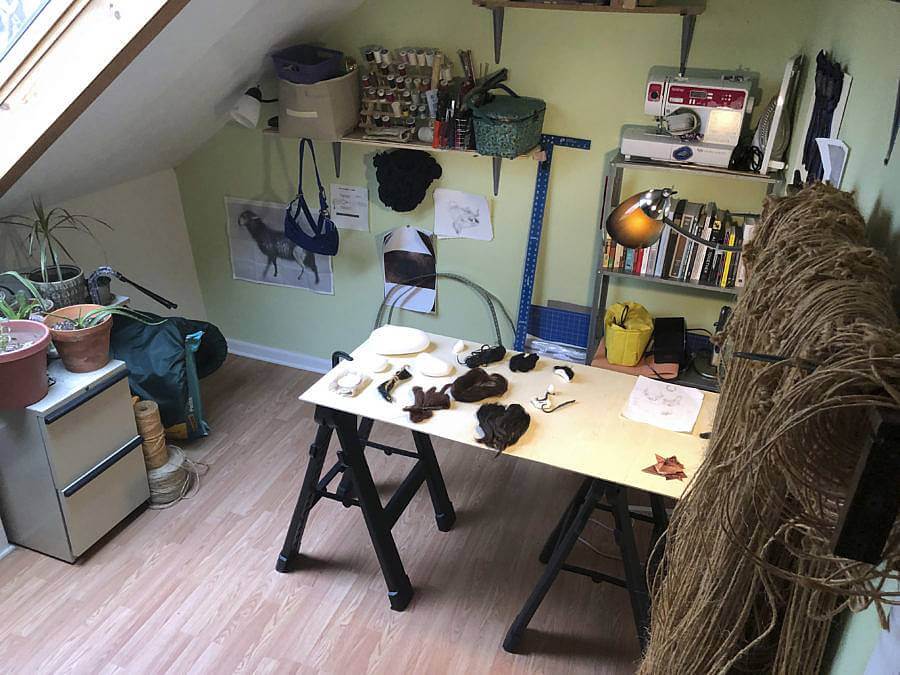 Tell us about your animal collaborators. Who are they?
This is the best question. My newest collaborator is Fuerst Rendition (Renn is his barn name), he's a 14 year old Hanoverian horse and he's a handful. Super sweet on the ground but a rocket ship in the arena. He's very enthusiastic about doing work. We've been working together since October 2019 and he'll be my teammate in competition this summer.
Jiggy and Charlotte (Charlie) are the main dairy cows at Firesign. They've both produced a couple of calves (Jeremiah and Ava) since I've known them, I was particularly close with little Ava. She is now a family dairy cow at a farm down the street from Firesign, she's in very good hands. There are also a handful of goats, whom I haven't directly made work with, but work alongside. These ladies are Gemma, Inky, Heidi, Hummus, Maddie…and we'll welcome a whole batch of kids (baby goats) in the next few weeks!
An inevitable part of loving animals is losing them; domesticated species simply don't live as long as we do. ShyAnne, the heifer pictured in the older work Trough, passed away in a tragic accident about six weeks after performing together, which was devastating. Griffin, my equine collaborator in Epona just passed away from old age at the start of this year. He was a really special horse.
Tell us about the social practice part of your work.
The social practice is the work. The work exists because of the real relationships I have with animals and their human caretakers. Sometimes the aesthetics and participation lean heavily towards fine art aesthetics or I'm a creative agent more so than a facilitator, but all of the work relies on social relationships, inter/intra, in order to exist.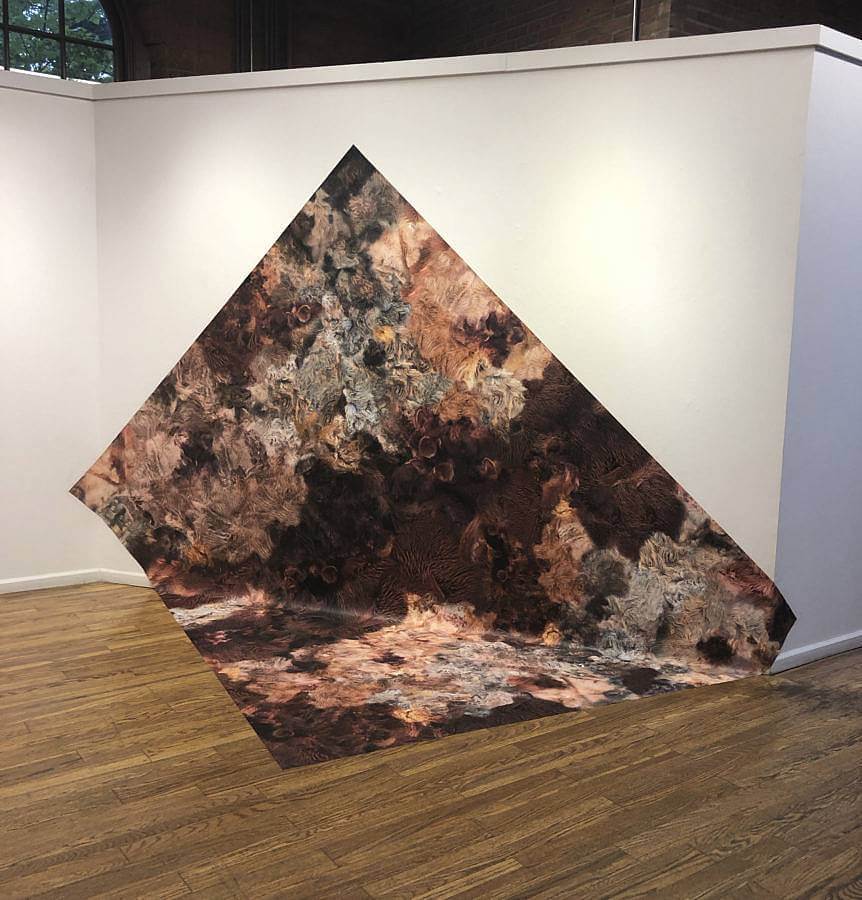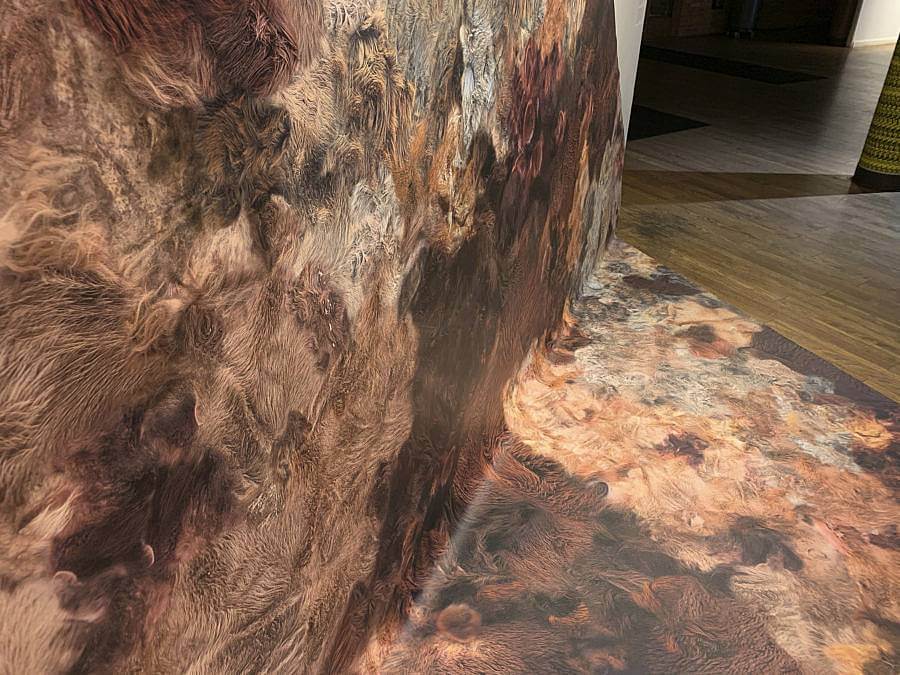 You site various theorists in relation to your interests- what are some texts or written works that have been fundamental to your work?
Almost all of Donna Haraway's oeuvre, particularly her Companion Species Manifesto, and When Species Meet. Traci Warkentin's article "Interspecies Etiquette", Jocelyne Porcher's book The Ethics of Animal Labor: A Collaborative Utopia, Lori Gruen's book Entanged Empathy, Stephen Budiansky's book Covenant of the Wild: Why Animals Chose Domestication, Susan Leigh Foster's Choreographing Empathy, Nicolas Bourriaud's Relational Aesthetics.
What are you reading right now?
In preparation for my next research project, I'm reading Horse-Powered Farming for the 21st Century (Chelsea Green Publishing, 2015) by Stephen Leslie, and Draft Horses and Mules: Harnessing Equine Power for Farm & Show (Storey Publishing, 2008) by Gail Damerow and Aline Rice.
How are developments in the digital world impacting farm life, for humans and animals?
This is an entire paper's worth of a question. In short, I side with Dr. Henry Buller, who writes about the effects of removing the interspecies number in his article "Individuation: The Mass and Farm Animals"*, Buller discusses the danger of desingularization: "the animals within [the farm] share conspecific and self-defining properties (Okrent, 2007:89) becoming, in our eyes, desingularized imitations of their prescribed species or breed time…In their massivity, these herds and flocks [of farm animals] become metaphoric and, as such, killable. It is not only numbers that help us to stop thinking but also the hubris of our selective anthropomorphic conceit" (156). It's certainly a positive step forward that automated milking systems allow cows to choose when they'd like to be milked, it seems that puts us at great risk of furthering our disembodied connection with agriculture and with the animals who provide something for us. Without that physical labor and closeness, how can we listen to the nonhuman other? Data can only communicate so much nuance.
* Buller, Henry. "Individuation, the Mass and Farm Animals." Theory, Culture & Society 30, no. 7-8 (2013): 155-75. doi:10.1177/0263276413501205.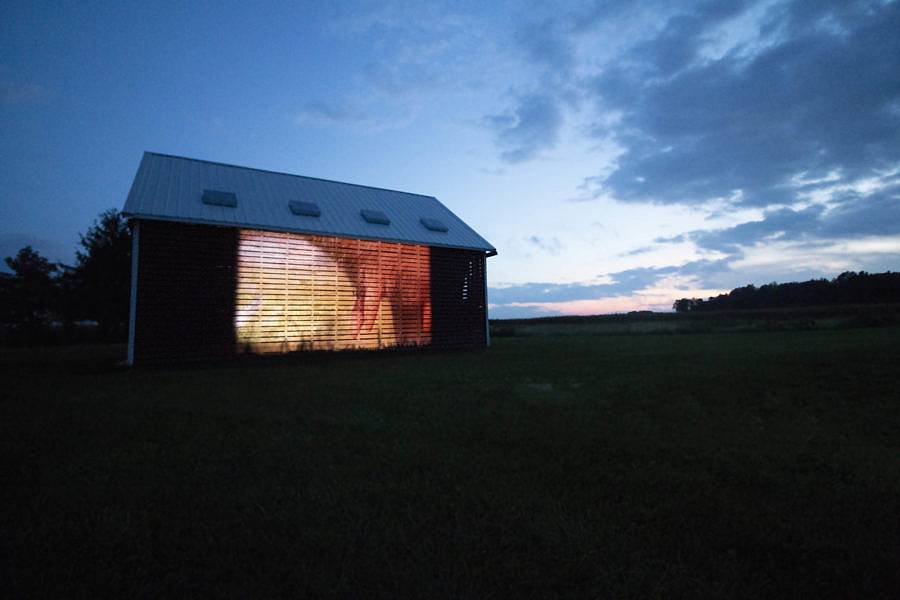 How has your upbringing influenced your current art practice?
I've been a "horse girl" as long as I can remember but my riding career started when I was 10. I was very lucky to spend my formative years riding at the Lorimer Family camps. Robyn Lorimer and Judy Lorimer taught me to ride and how to be a confident and tough rider. I spent long summers and multiple weekdays at the barn, doing labor, learning to care for a nonhuman other. Some of my most wonderful memories are taking the horses swimming, camping, and spending hours in the barn. Many equestrian environments are highly female-centric, the barn communities I was part of were no exception, riding is a sport where all genders compete together. Between my fierce common pleas court judge mother, a handful of really smart and compassionate sisters, bold horse trainers, and riding friends, I knew what it meant to be a feminist before I knew what feminism was. The riding world is fraught with class and race issues, but by sheer luck, I ended up in a family that could financially support these passions. And those planted the seeds for my artistic practice.
What was the last exhibition you saw that stuck out to you?
Since we talked about ACRE earlier in the conversation…I had the pleasure of co-curating a show with Liz Bayan of the Neon Heater this past December. Titled "Heav'n Rescued Land", the show featured Jezabeth Roca Gonzalez, Stephanie Mei Huang, and Arturo Herrera. I met Stephanie and Jez at ACRE and was moved by their work and how they approach, celebrate, and protect identity. Arturo did a fantastic performance in which he read the entire application for citizenship to the U.S. It was really beautiful. That show wouldn't have come together without ACRE.