Tell us a little bit about yourself and what you do.
I am a fiber artist currently living and working in Chicago, IL. I am originally from Southern California and have lived in Chicago for four and a half years. I create fiber work as a way to personify feelings and create entities that can exist to tell a story. I bead, weave, and find various other ways to manipulate or create fabric to combine materials to represent a feeling. These various fragments will transform with each new space they encounter as well as the people they will interact with. I find my work as a way to create portraits, drawing and painting is where my practice began and it has been a nice transition to see my work exist in a 3-dimensional form.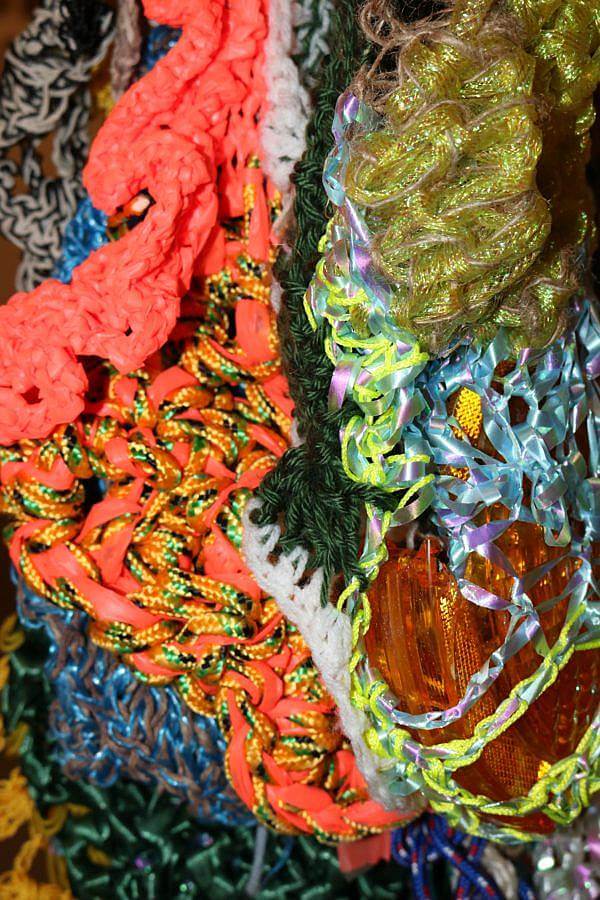 How did your interest in fibers begin?
My interest began in my early childhood, I would spend a lot of time with my grandmother who was a seamstress. She would work from home in her "sewing room" and make most of the clothes for her children and would even have me work with her to make outfits for myself. At first she really would emphasize on making things that could be useful. My artistic interest in fibers did not begin until college when I started to manipulate and consider knit and crochet in a different realm more related to storytelling in relation to body or character rather than utility.
How do you source your materials?
I source my materials by shopping secondhand, hardware, and various other stores to find ways to repurpose material. I am also a collector and collect bottle tabs, hardware washers, screws, and other found items. Some pieces are dictated by certain qualities so some work can only have certain types of colors or textures. I save items and certain created fragments until I have a piece they will fit with, the materials I use have intention and perform as characteristics for ways my pieces function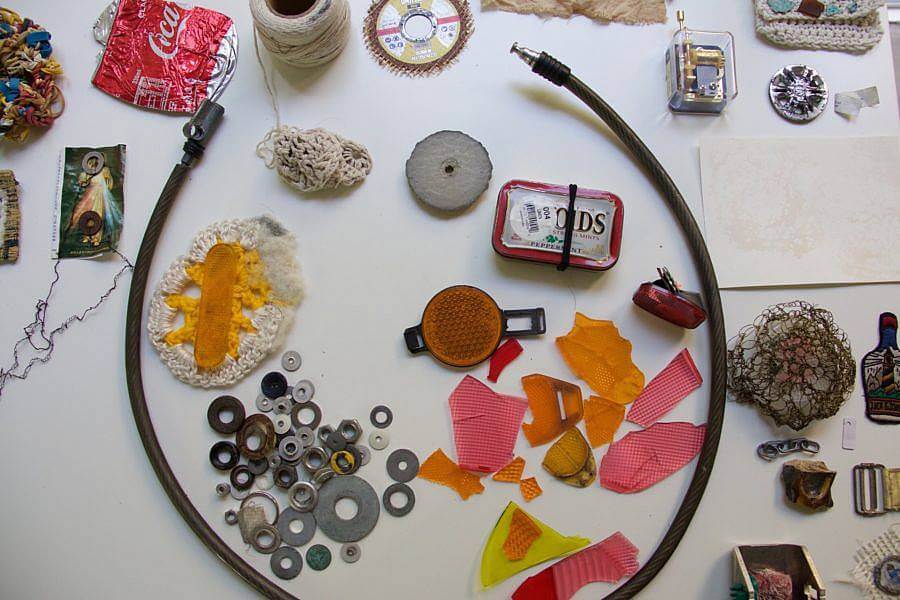 How do you consider the body when approaching new work?
The consideration is quite literal at times. I usually think of my body and how it takes up space and how in some ways it also does not, feels guilty, or feels not allowed to. Another portion of consideration comes from how much weight does each work need to take on, sometimes some emotions are more dense. It can be all about the body or simply about a way of existing. The body is also considered when approaching installation, each piece takes on a new way of showing itself in a new space. I want this to be a reflection on feelings I have about appearance and control in relation to being on display.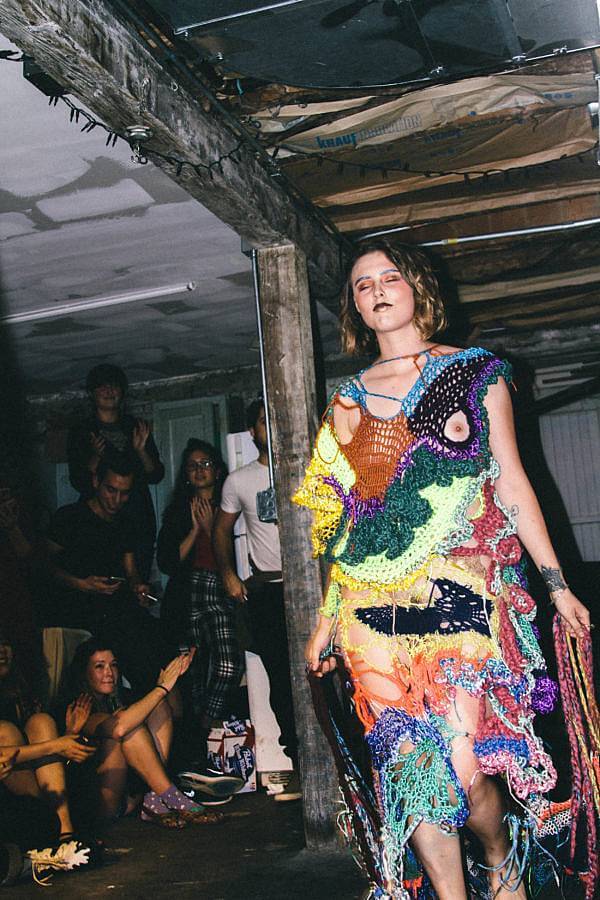 What is your connection to knit/crochet why is this process most primary?
Currently it feels like the best way to convey what I want my work to say. I want it to evoke a visceral interest through various techniques and properties. It started as a way to abstract portraiture, painting stopped giving me what I needed and was too literal. I found it as a medium that easily could transform material into a manifested fragment of a feeling. Crochet is very delicate but also can take on a lot of stress. I find it to be a beautiful way to abstract thoughts.
What's your studio space like?
My studio has taken many forms but the most important is that it can be flexible and mobile. I need to be able to work where I live so my apartment doubles as my studio. I like my work to be transient, in a sense to reflect how I feel most of the time. I want my work to be able to be created whenever and is often used as a way to keep my hands moving, crochet has become a way to process emotional thoughts through mindless stitching. I find I constantly have at least 3 different size crochet hooks on me at all times.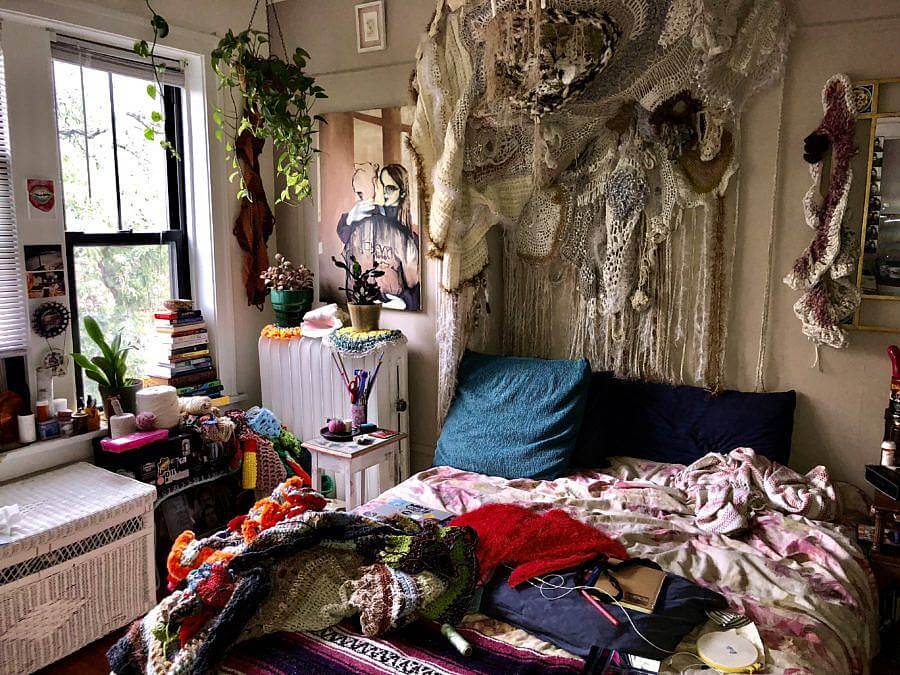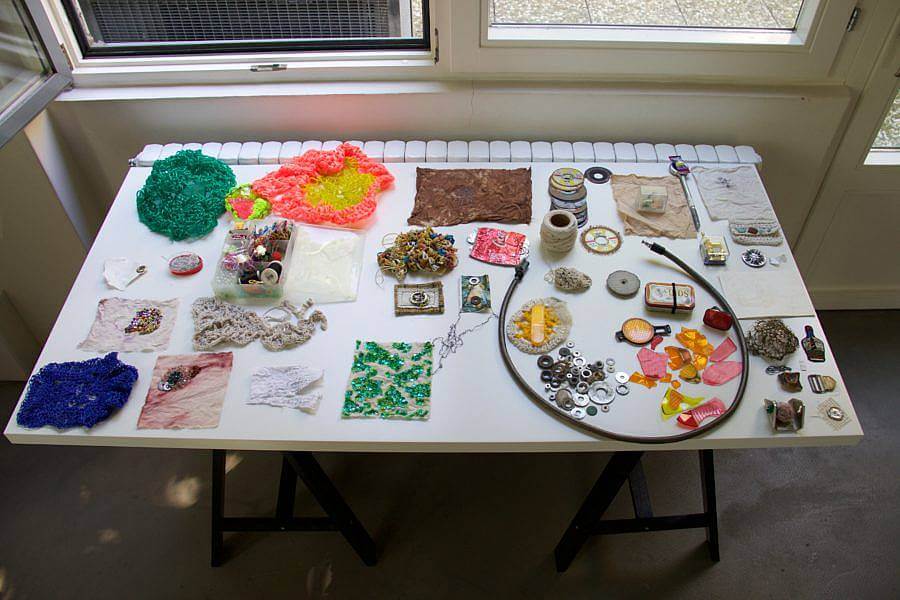 What are you most looking forward to in 2020?
I will be spending a month at the Mauser Ecohouse in Costa Rica this upcoming March 2020. It will be a designated time to assess my work and explore more recent themes of wearables that I want to continue with. I want to explore more concepts related to my body with form and function in relation to utility, camouflage, desire, and rejection. I see my work as transformative and want to continue to push boundaries with the knit and crochet designs I create.
What role does color play in your work?
Color plays a major part if not the most important part of my practice. I associate numbers and letters with color and personalities, in a way to personify them to tell a story. Color also comes into consideration when sourcing my materials, it completely creates the tone of a piece and usually dictates what I use as material. Many memories I source from have color stories attached to them, most times this is lead for inspiration on creating my work.                       
How do you think about installing your work?
I usually think about how it will take up space and how others will be forced to see it. I do not let myself think about specifics until I get into the space, I want the initial installation to be about feeling the space and letting the piece flow through that already existing energy. I want balance with an eccentric view to reveal more about each piece as it encounters new spaces and audiences.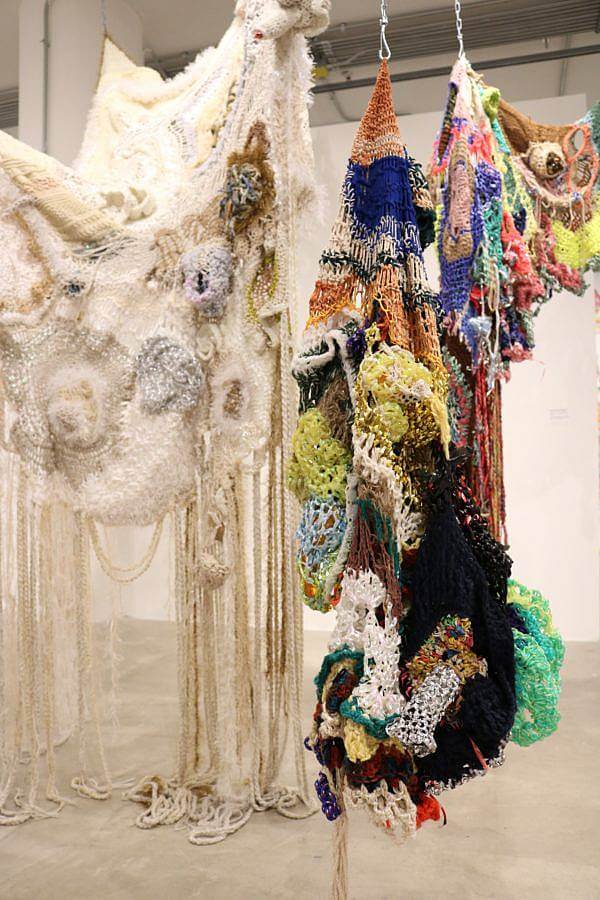 Who would you ideally love to collaborate with and why?
Ideally I love collaborating with my peers and close friends who are also artists. I like being able to bounce ideas and have ongoing conversations that keep the dialogue open on current work and points of inspiration. My peers also work within a fiber realm and consider installation in a similar way to myself. I find it to be ideal because we have similar ways of thinking and manipulating, I feel like I'm learning or seeing something new everyday. There is comfort in having an open dialogue relating to a practice that always feels in flux.