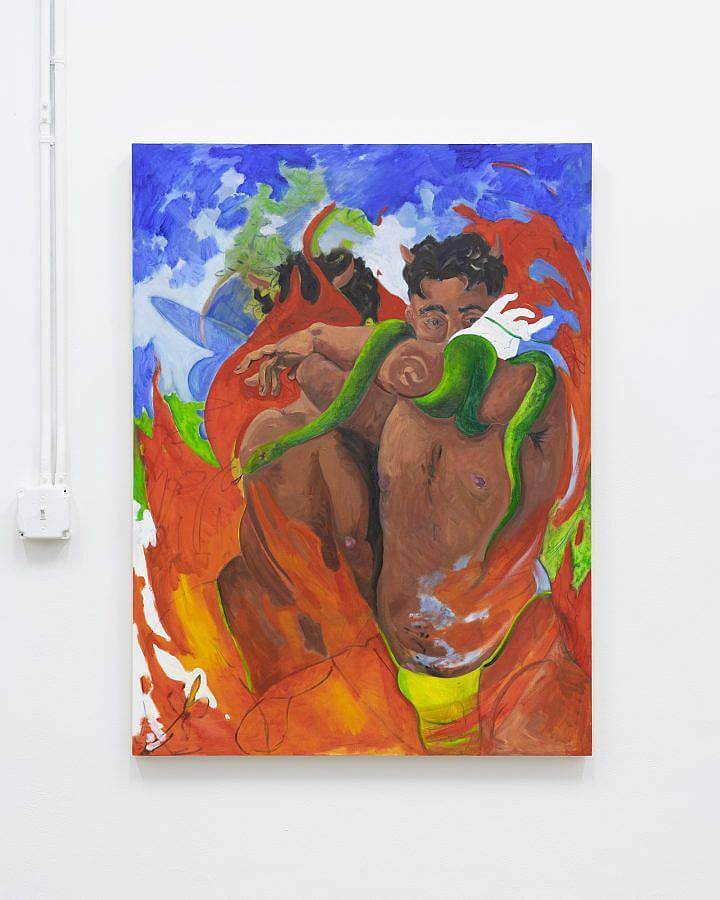 Spit Fire In The World So Cold,  2020,  48" x 36", oil on wooden panel | Photo by Bun Stout.
Tell us a little bit about yourself and what you do.
I'm a painter and hellraiser living and working in Chicago. I recently graduated from SAIC's MFA Painting and Drawing program–so you've probably seen me chugging White Claw outside Monique Meloche or spiraling at Danny's Bar with the dolls. 
I paint saucy mythological avatars that embody power and desire. Through combining neoclassical representations of Greek mythology and running them through a homoerotic filter, I create fantasy surrogacies of seduction. In my work, the subject matter morphs and changes, but what always remains consistent is its reference to the Fag Fatale, the idea of an effeminate man bringing the world down to its knees. Much like me but in 2D ;p
How did your interest in art begin?
At the beginning of undergrad, I took a class with Texas-based ceramicist Chris Leonard. I had no prior art training besides drawing on my liner in high school. Can you tell I was gay ?? Anyway… Chris instilled the idea of being an artist in my head, and I believed it! Soon after, I began making my own work at home, and before I knew it, I fell in love with painting.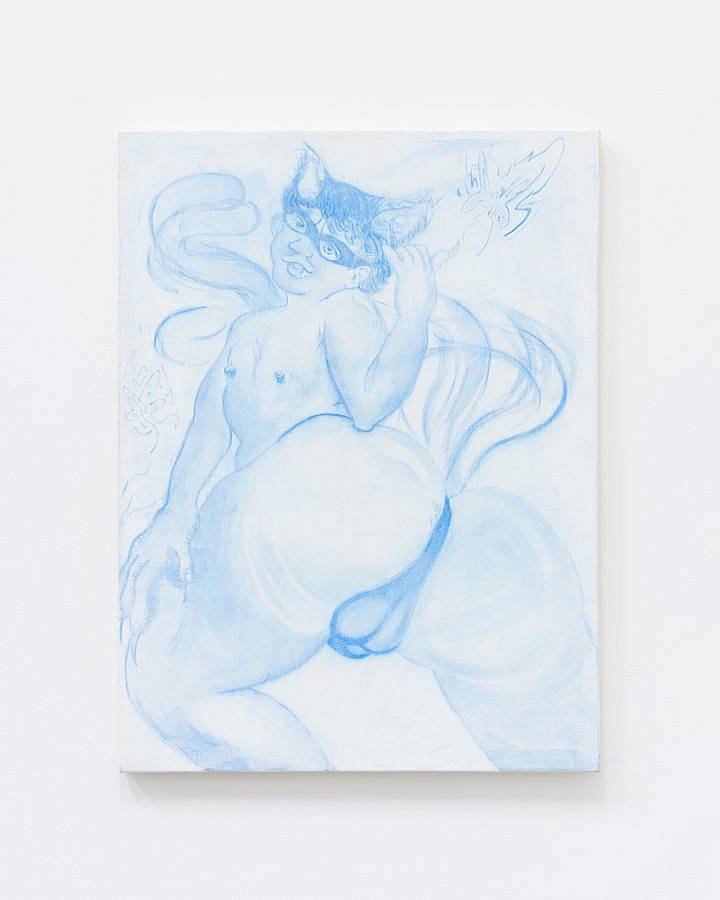 How did your upbringing in the borderlands of Texas influence your work?
Growing up visibly queer in the Rio Grande Valley was rough, thankfully, I've had tough skin and a sharp tongue for as long as I can remember. Making art always felt like an escape. My friends and I would put together studio visits in our small apartments and organize pop-up art shows at queer punk shows the Dolls from San Antonio would bring down. Sometimes we would sell a print or two to the locals and buy a sack with it. We were rowdy and broke, but we were happy.
What materials do you use in your work and what is your process like?
I work with oil paint on a primed wooden panel or stretched canvas. The work usually begins with a list of things I want it to feel like, this could be a scene from a movie, words from a song, or even something as simple as touching my skin or the scent of a stranger. After I have an idea of what I want the work to feel like I begin to pull a sketch from the blank canvas. I use a terp rag with paint to block in shapes and colors. Most of the time the initial paint sketch ends up looking nothing like the final product, but I like that. Making decisions as I go allows me to make a series of marks that are informed by the previous ones. I continue to cook a painting until it gets to the point where it has enough information to communicate an image but is still loose enough to remain what it is, messy ass material on a surface. I hate, hate, hateeeeeeee… an overcooked painting.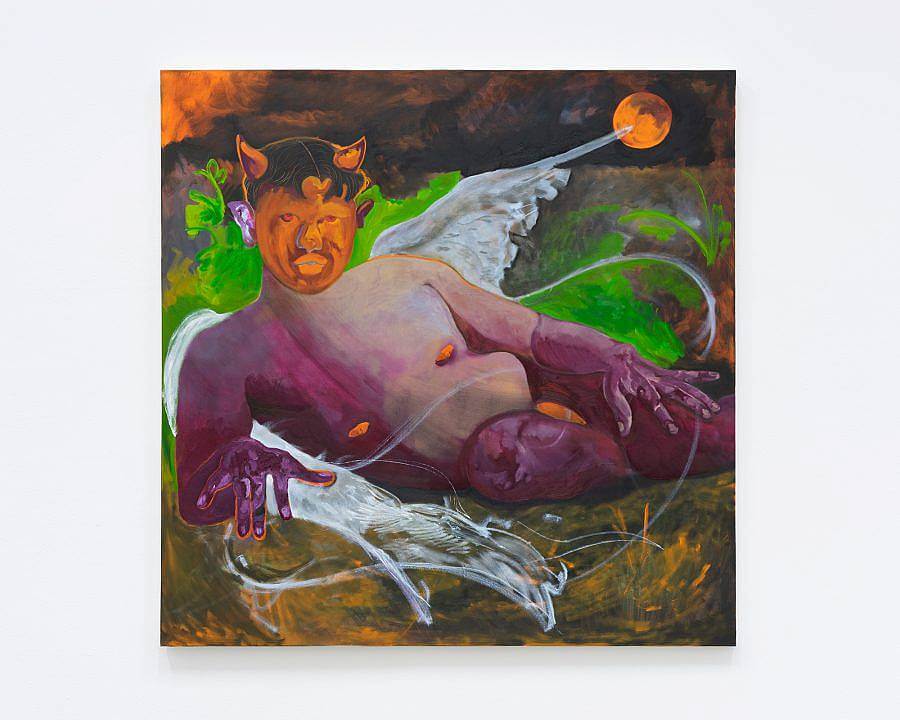 Can you talk about the recurring cherub and devil imagery within your paintings and what these contrasting characters symbolize for you?
The angel devil motif is about duality, it's about being both a bad boy and an honest one. In a way, the contrasting characters symbolize my own duality and the way I straddle masculinity and femininity in my everyday life, encompassing both to ensure my safety when navigating heteronormative spaces, but still being able to fag out with the dolls in a safe space is truly a gift. 
What draws you to the "figura serpentinata" style of painting?
I first came across the term when reading Carol Ockman's 1995 text, Ingres's Eroticized Bodies: Retracing the Serpentine Line, where Ockman elaborates on how drawing the hero with a "Venus-like" quality of line creates an "other" in gendered visual language. 
This topic sparked a fire inside me and lead me to create my current body of work. This new focus was not too far off from what I was already doing, I just didn't know what to call it. I like how dynamic a figure can look as it twists and swerves in space, giving it the energy reminiscent of a feline ready to pounce or a serpent's come-hither call.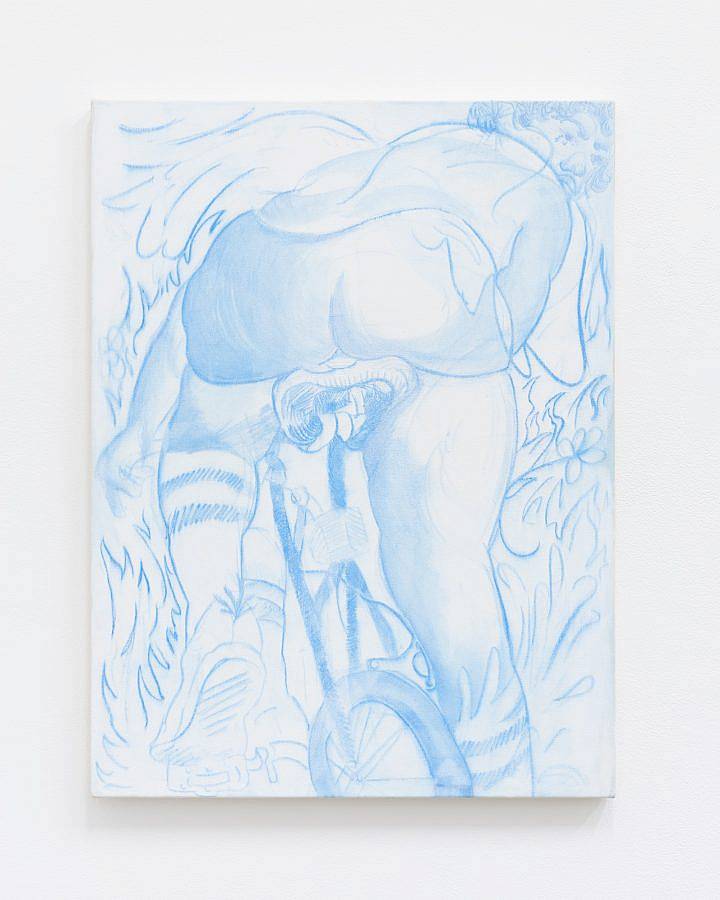 The gaze of the figures in your work seems to break the fourth wall or imply a connection with other figures within the painting. Can you tell us about the significance of their gaze?
Yea, definitely. The gaze is my way of creating a push and pull from the audience. I like to think of them as bossy fags that leer at you but yet love to be looked at. Creating that push and pull with the allure of color and menace of the subject matter allows tension to build in the air. 
With figurative painting on the rise, how important do you believe it is to contribute to or insert your work into the canon?
Since the beginning, my practice has consisted of creating a body of work that includes unconventional ideas of gender and sexuality as part of its value system. I create power structures that dismantle and infiltrate Western ideas of gender and desire. I'm not saying that painting arched backed images of my hole will save the world naa… But I do hope that one day someone who often feels othered can see the work and feel seen. I do it for the girls and the gays that's it.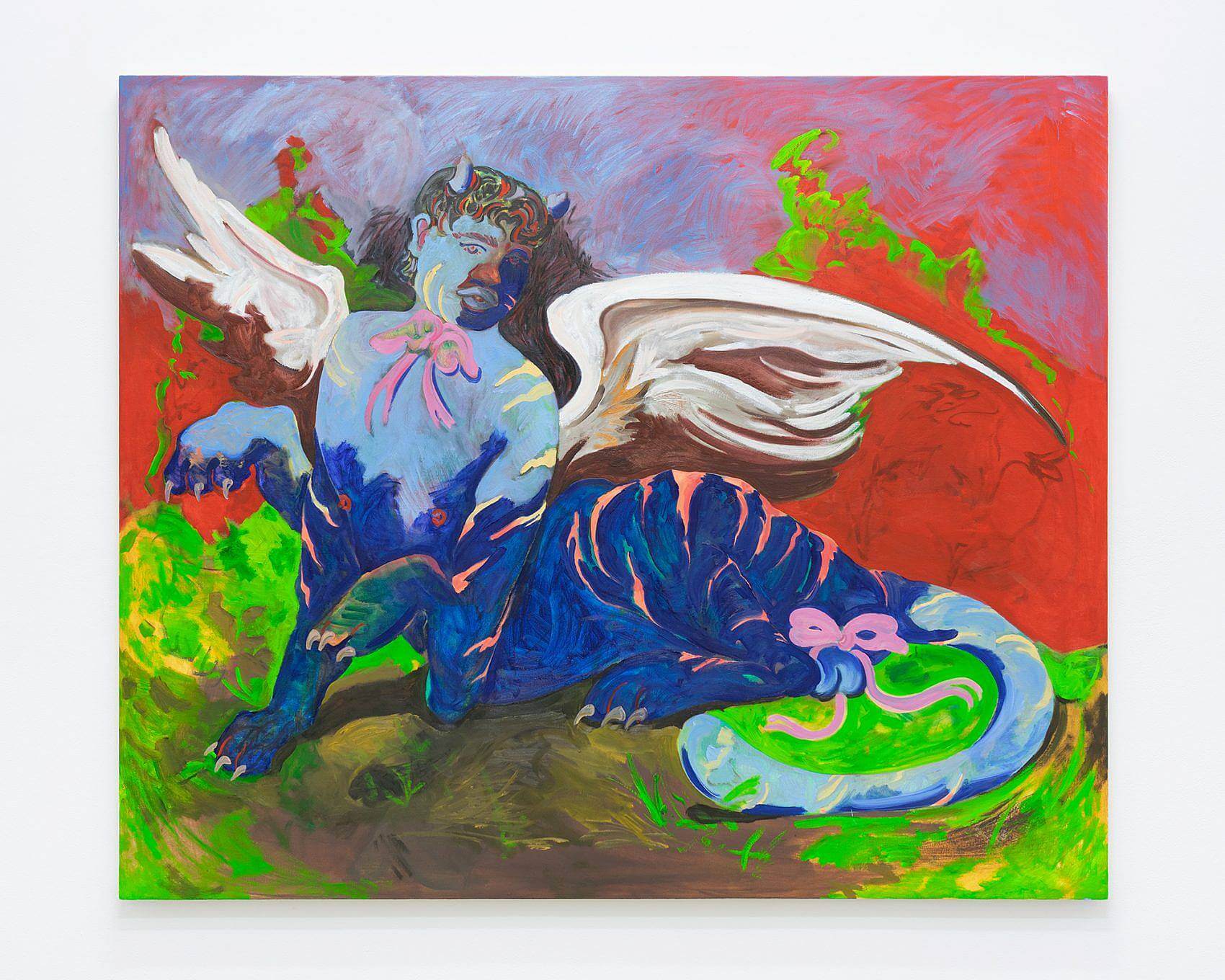 You recently moved into a new studio, what is your new space like? 
True. Earlier this summer after the covid shut down, I was working at a space over on Fulton Market with my friend WooJin Shin. I ended up getting a new bigger space in Bridgeport and working from home. I feel very blessed to have a roommate who is ok with paint smells and flo milli on 3peat.
Can you tell us about your recent show at Julius Caesar?
The name of the show is Final Fantasy and it is my horniest work yet- no, really I'm obsessed lol. The body of work is attributed to Ockman's  Ingres's Eroticized Bodies as a means of synthesizing layers of symbols and inspiration into paintings. The show features an ensemble of six new works accompanied by a filter I made in collaboration with VR superstar Bun Stout, and Yae Jee Min, who also had a concurrent solo show happening at JC. The show ran from September 12 through October 11. You can find the filter on Julius Caesar's Instagram (on the middle happy face icon ☺).