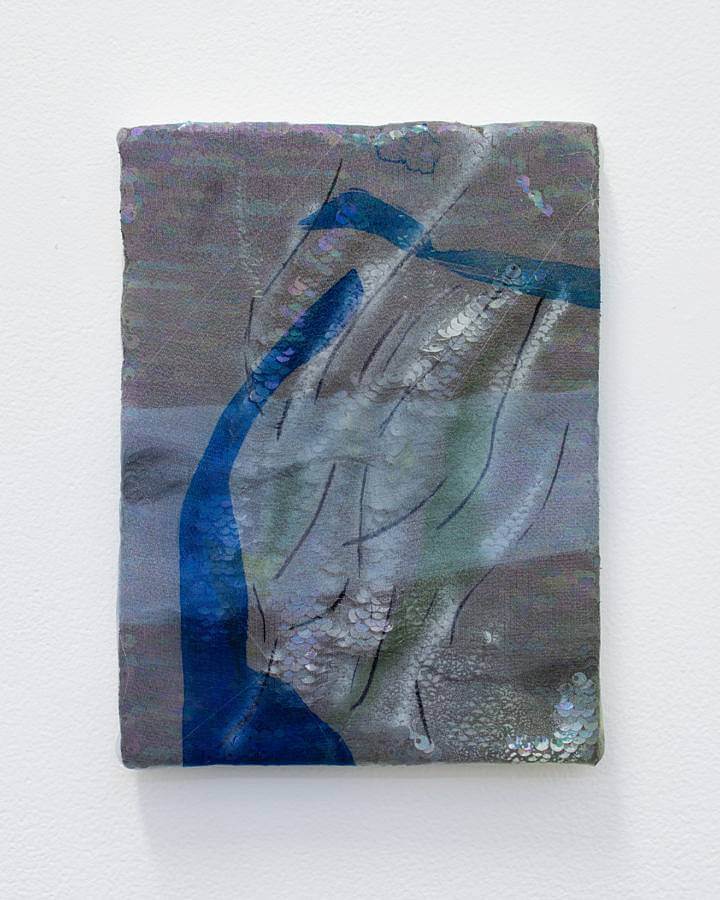 Can you tell us a little bit about who you are and what you do?
My name is Yae Jee Min. I was born in Jinju, South Korea, and immigrated to the U.S. when I was 7. I grew up in Torrance, California. It was an interestingly lovely place to grow up. There is a rich Asian American history in my hometown and a heavy Asian presence overall. I never felt like a minority growing up. Not to say I never felt displaced, but I was able to grow with my culture. I also went to South Korea frequently due to my father's work. Most of my summer breaks were spent in Seoul, where I remember having sticky fingers due to ice cream from the convenience store and cicadas screaming throughout the day.  
Growing up on both coasts of the Pacific really shaped who I am. I grew up with access to both Korean and American cultures, especially in tune with this Asian American hybridity. And like a lot of other 1.5 generation kids, I felt kind of alienated from both sides of my identity. It might have a stereotypical SoCal vibe, but I went to the beach a lot. It's like Seoul in many ways because trends come and go very quickly. Hiking is a must in LA county, along with cakes at Little Tokyo, ICA, rooftop bars in DTLA, Salvation Mountain, getting acupuncture, etc. 
I practice as an interdisciplinary artist using print, stitch, glue, and paint to create imagery that is a manifestation of personal thoughts, memories, and imagination that intermix. 
How has working in Chicago influenced your practice?
It made me question a lot of things. I started art in my twenties, so honestly, there was so much confusion and learning. I still remember my first day at art school feeling an overwhelming sense of "oh no did I make the wrong choice?". But I am happy I kept going. Chicago broadens my understanding of art and making. I was so fortunate to find a school with a fibers department. I really want to create large sculptures that are perfunctory in weight. So it was a natural transition. The Fibers and Material department allowed me the fluidity to explore and experiment with materiality. I like to think my work is essentially marks made through materiality. A haptic form of making.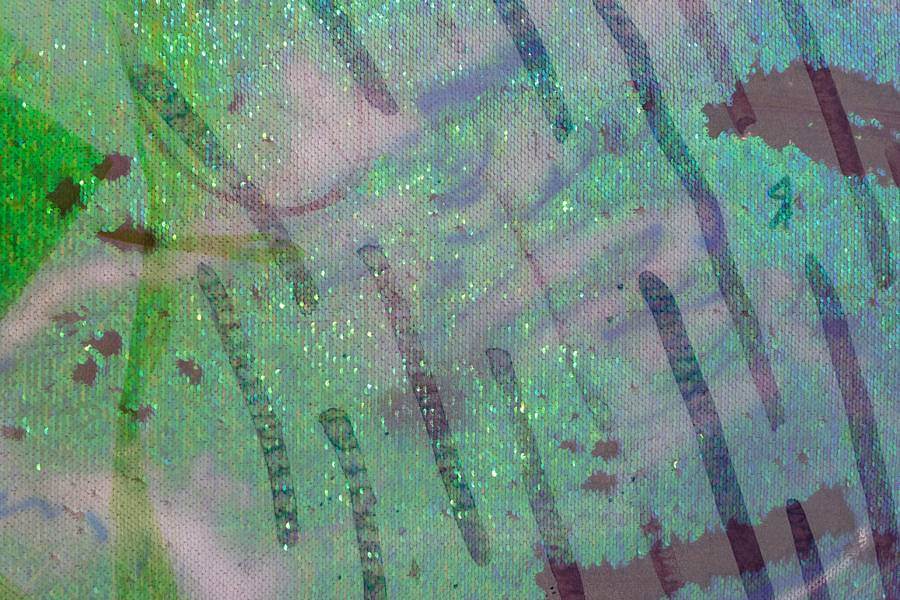 How are disorientation and comfort reflected in your works?
In many ways, disorientation and comfort are synonymous for me. They exist conjointly as a massive blob growing and shrinking together. Sometimes this manifests in a visual overload, like my sequin paintings, where different shapes and lines intermingle to create a whole. Amongst the abstract strokes, mass, skylines, faces, and insects reside in a blurry haze.
Water as an image is big for me. Visually, something can be both stark and murky in water. I grew up swimming, so being surrounded by water is a huge comfort to me. Oddly, I am currently terrified by the ocean to the point I rarely fully immerse myself outside of dipping my toes. But I think this fear will fade sooner or later. 
Do you find that any colors specifically reflect certain moods, or emotions when investigating memory?
Color is always present, but the appearance and consistency of the surface is more important to me. It makes me consider fabric choices and the interplay between them. More specifically, I think of texture when I'm recreating the vibe surrounding the fantasy and memory. 
Do I use paint with a clear, glazey look? Or nail polish with chunky glitter? Should there be a thread sandwiched between? My work is a mood ring smashed together.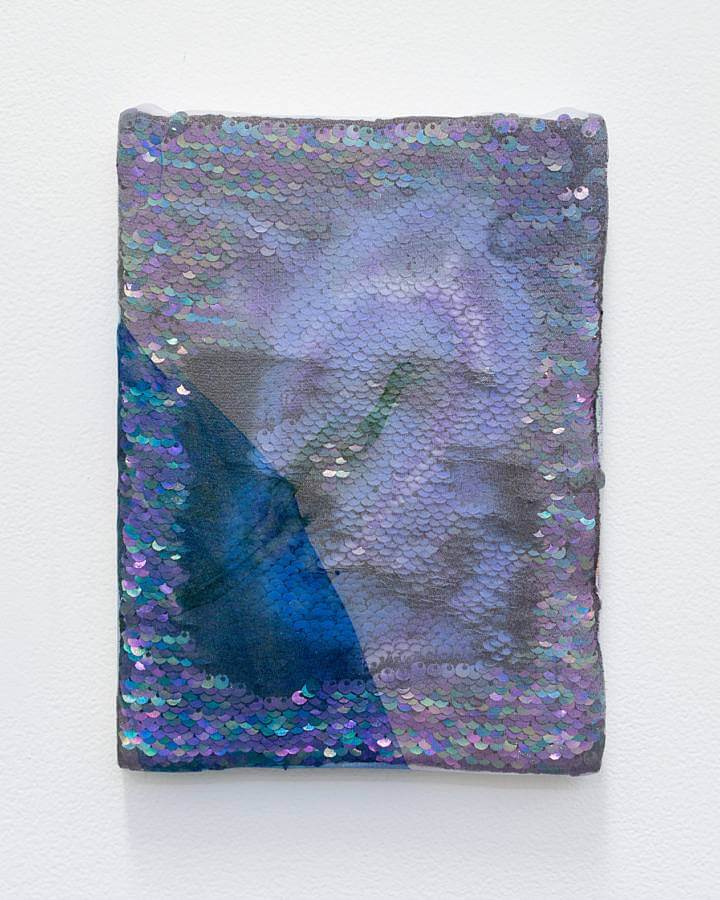 Did you draw often as a child and if so have any aspects of your childhood creations carried into your present work? 
I didn't do much art outside of school projects or the occasional craft days with my mom. But my mother always doodled when she was on phone calls, that is one of my favorite memories that consists. From childhood, I read. That was my main and favorite activity. To be pulled into different stories and stay in imagination. I also daydreamed a lot. Honestly, I was a pretty quiet kid, but that was the one thing I would get in trouble for: daydreaming during class. Both storytelling and daydreaming activate my practice. 
What advantages does abstraction offer you when navigating memory and identity?
When I was learning how to paint, I met an artist that specializes in Korean calligraphy painting. I spent a couple of days in his studio learning different strokes and movements. He told me how he saw similar movements in my work (which was more representational at the time) that carried through in ink paintings. That really stayed with me. How general strokes that look ambiguous can have form and meaning. Memory is a fraud anyway. It shifts and changes. To show something that doesn't have exact form requires ambiguity. People also see different things in the same image, so why not confuse or loosen that further?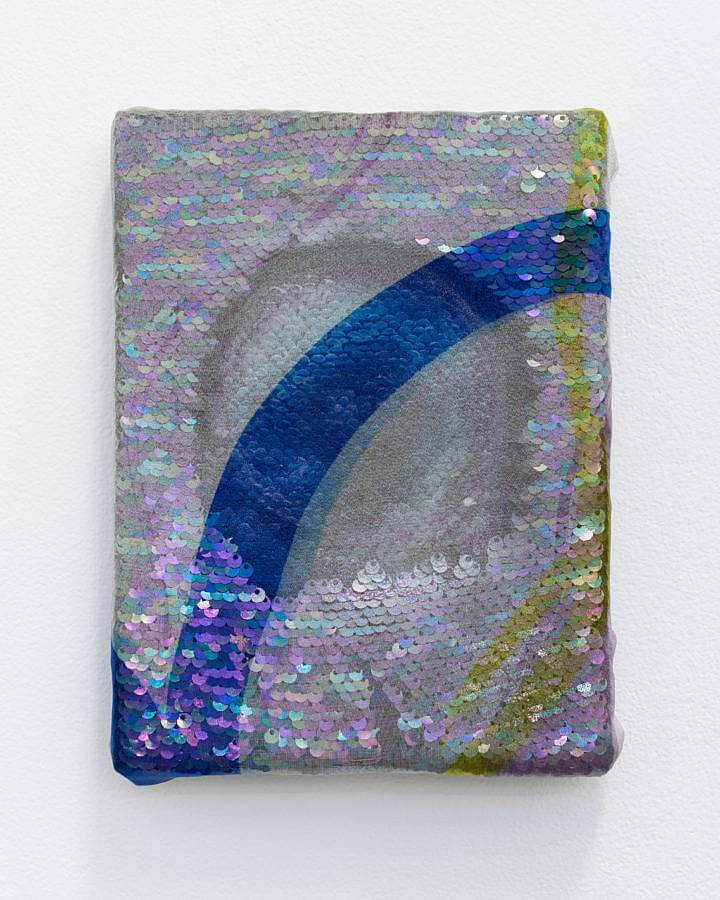 Can you tell us a bit about your current show, "Sweet Rain that Fell: Through a Kaleidoscope," at Julius Caesar?
It's a show I have been working on since December 2019. Due to the pandemic, it got pushed back several times. I was reading Ocean Vuong's poetry and one line stuck out to me. It really captured how I think about certain events and how they are portrayed. This in part inspired the show's title.
It is my first solo show in Chicago and I am ecstatic to be showing next to a good friend, Ricardo Partida. We also collaborated on an Instagram filter where viewers are able to digitally experience our work wherever (and forever). With restriction and safety on the line, I'm glad there is a way to experience the work. I was really grateful to everyone who came out despite the thunderstorm forecast. The gallery only allowed four people at a time, so it was an intimate setting. The show will also be online on the Julius Caesar website, as well as in viewing rooms at Expo Chicago and NADA online.
What do you want a viewer to walk away with after seeing your work?
To be curious? This will sound so cheesy, but I want them to fall into the fantasy. The story doesn't have to be clear or open, but the viewer can still take part in it and be present. I want them to stay in the allure. Wade through it, or just float on top. Maybe even have a straggling sequin attach onto their shoes.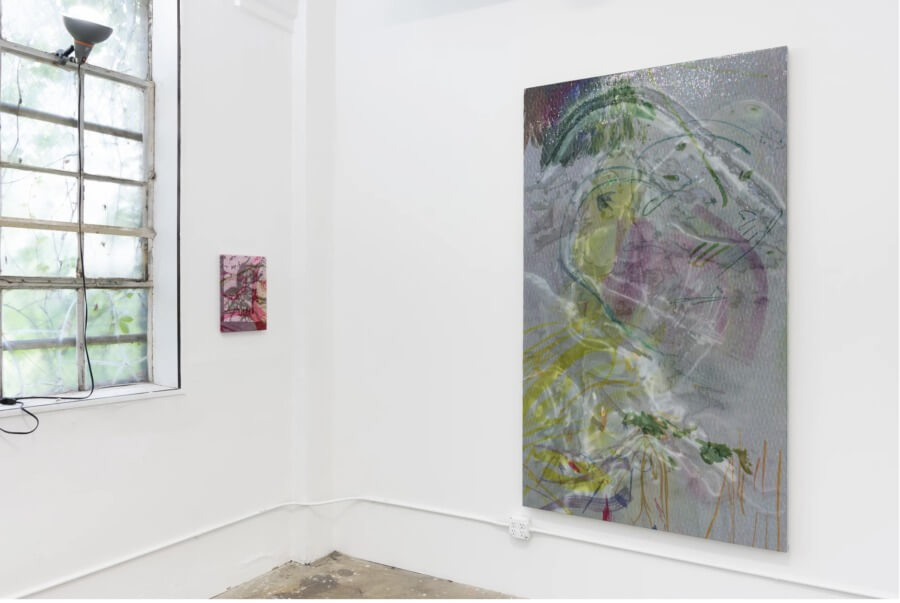 What have you been listening to lately?
So many good songs! I usually have a rotation that I listen to obsessively. I've been really into Rina Sawayama, Kali Uchis, Bloo, Peggy Guo, death's dynamic shroud, and 90's Kpop. 
What is your current studio/workspace like? 
I just moved to Irving Park into an artist's run community space called Color Club. I have my studio set up in my apartment. I really do enjoy working from home. With my studio all fresh and clean from the move, I am excited to turn into a shrine of fabric and sequins. My tarps and mini vacuum are ready for action.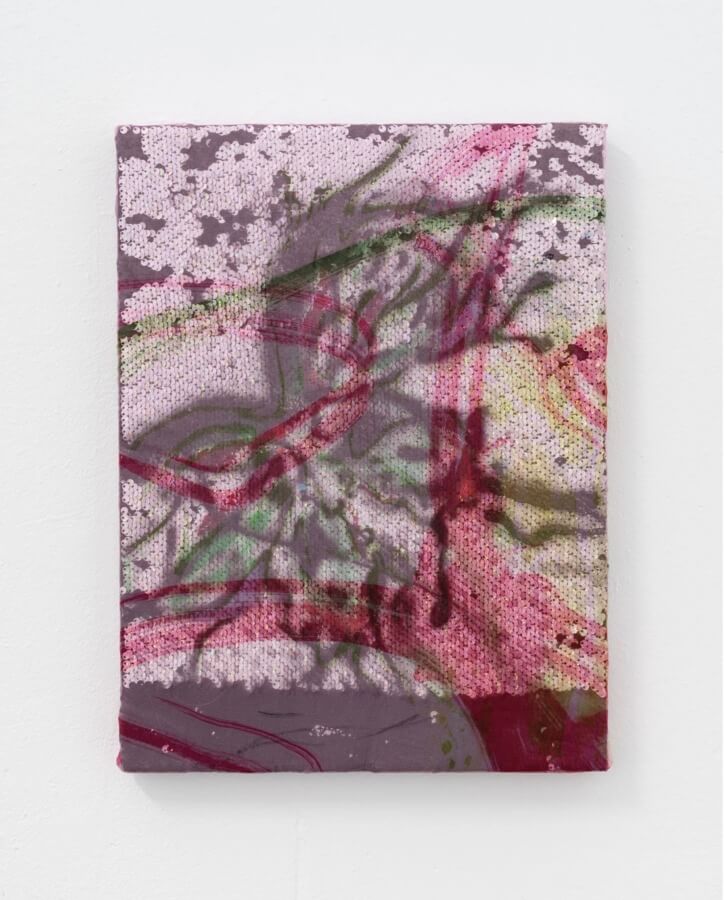 Interview composed by Amanda Roach.