Can you tell us a little bit about who you are and what you do?
I grew up in Greensboro, North Carolina then moved to Kansas City, MO for my undergrad and immediately fell in love with living in the midwest. After graduating, I worked as both an event planner and an arts administrator, most notably as Co-Director of Front/Space where I organized four years of exhibitions, performances, and happenings. I'm currently in Chicago, and due to the pandemic, I am still finishing up my MFA at the University of Chicago. I also work as an art handler at the Smart Museum, a student publicity assistant at the University of Chicago Press, and a studio assistant for local artist Nicole Mauser. When I'm not in the studio or working, you can catch me browsing thrift shops, bird watching in Humboldt Park, or swimming down at The Point. 
How did your interest in art begin?
My dad is a sculptor, and my mom is a biologist, so I grew up in a very creative household. Going to museums, gallery openings, and working around other artists was completely intertwined with my daily life. In high school, I started hanging out at the Weatherspoon Art Museum and getting involved at Elsewhere. I also worked at my dad's studio and visited the shops of blacksmiths and sculptors like Vollis Simpson around North Carolina. My dad mostly works on public art projects and I would help him with everything from putting together proposals, fabrication, and physical installation. I learned from an early age that it was possible to make art a career and I am very fortunate to have parents that have supported me and provided these opportunities.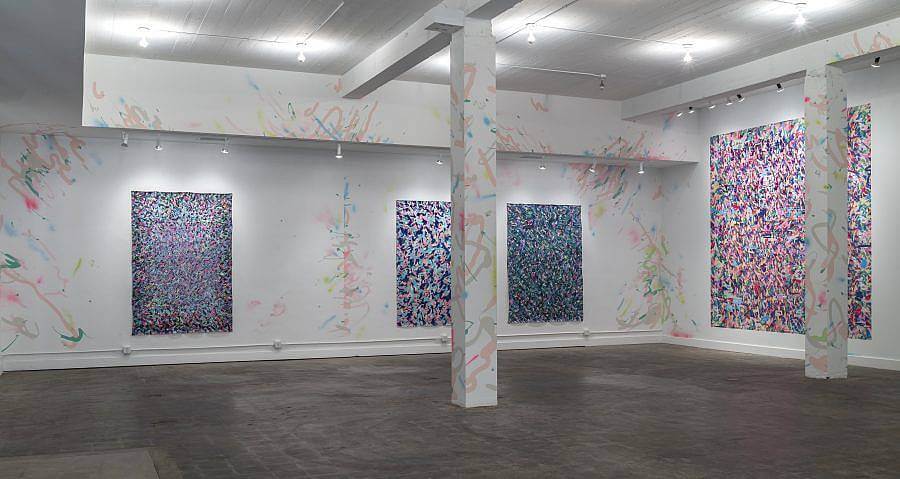 What prompted you to start your project RADAR?
After I left my position at Front/Space, I was asked to curate an exhibition with the Charlotte Street Foundation in Kansas City. I created RADAR to make a distinction between my two practices as an artist and curator, allow the project to feel like a collective voice, and leave room for potential collaborations. I was drawn to the word because I liked the associations of something being "under your radar," which felt appropriate in highlighting artists working in the midwest. Currently, the project is taking shape as an Instagram, where most of the focus is on documentation of exhibitions happening around Chicago, but once I'm out of graduate school I am scheming ways it can exist IRL. 
How has working in Chicago impacted your work?
I've become attuned to moments of density and sparsity around the city. I'm attracted to its surface, the way things accumulate, and the rhythm of it all. My environment constantly influences me, everything from the sound of the L on a cold night, the reflections in storefront windows, to the scratches on the bus stop glass. I am deeply impacted by Lake Michigan and the way the city constantly feels on the edge of something. I love the grit of the people here and the ways artists constantly carve out communities and space.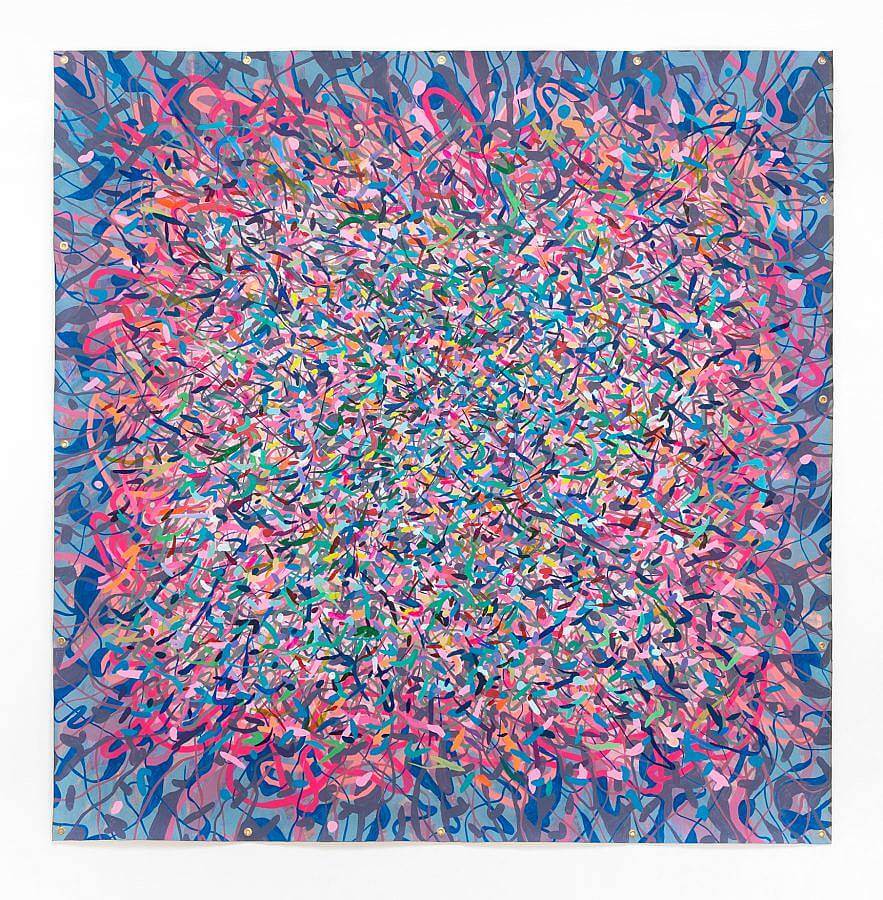 What role do saturated colors play in your paintings and sculptures?
Color has always been an important formal element in my work, and I use these saturated moments to provoke excitement and emotional responses. I am inspired by melodrama films in this way, specifically those directed by Douglas Sirk, who uses color to speak to the psychological transformations happening in his female characters. The fluorescent pinks are especially potent in how they vibrate next to more neutral colors such as grays. I see these as hot points of attraction, simultaneously sexy or a sign of warning, and use them as a device to move through an installation, sculpture, or painting. 
Can you describe your recent shift from your larger abstract paintings and sculptures to smaller more representative paintings?
My previous paintings were heavily influenced by camouflage patterning and the way it switches between utility and decoration in masculine and feminine spaces. Now, I am examining some of the nuances between those binaries. How are we performing every day? How do we affirm ourselves amid our anxieties? This has resulted in a wider variety of installation strategies and a more intimate scale in my paintings. Going from pure abstract to representational imagery is newer to me, but I believe the distinction between those two categories feels blurred. When depicting graffiti or residue in my mirror paintings, I see the collection of marks more as noise or atmosphere more than individual words or a specific language.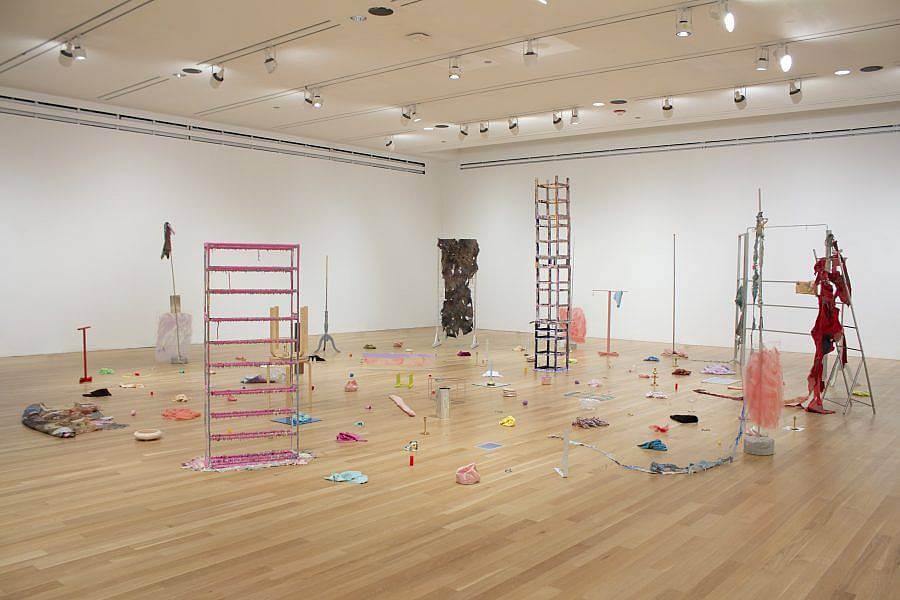 How does your recent use of mirrors and screens continue your research into the performativity of gender?
 Both screens and mirrors guide us through private and public perceptions of ourselves. I see mirrors as affirmation devices and illusions of space, but interested in what happens to our relationship to the object when our reflection is not there. Screens are self-monitoring systems and feedback loops. With video conferencing, we are experiencing "shoulders up" self-examination where our living spaces become backgrounds for scrutiny. I am fascinated by the setting in Zoom that allows me to "touch up my appearance," which will subsequently apply a filter to blur the imperfections in my skin. All of this feeds my continued research into gender performativity, self-reflexivity, and interest in beauty culture.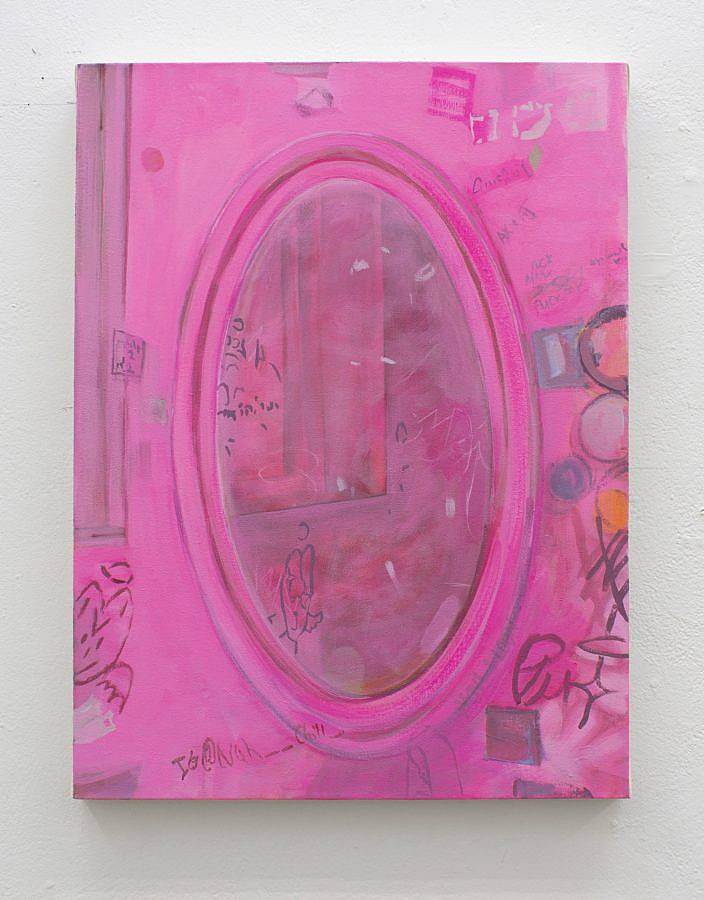 How do you feel the recent emphasis on virtual screens has impacted your work and the art world at large?
During quarantine, I started a series of paintings based on screenshots that I collected of myself in Zoom. They served as a direct response to feelings of isolation and a newly heightened awareness of my body. The action of painting became cathartic and a huge release after spending so much time on my computer and I started more fully examining myself as a subject. In regards to the art world, I do admire the new level of accessibility in being able to view an exhibition, talk, or event from the comfort of my living room. However, the second it was safe to go to a gallery, I was completely relieved to view artwork in person. There's just something much more stimulating and spontaneous in contending with an object in physical space.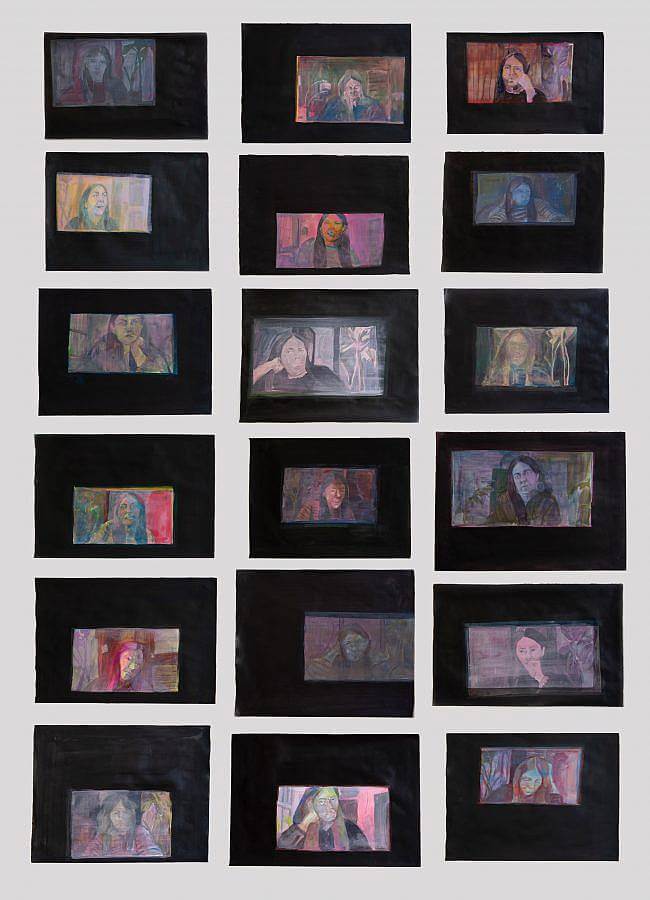 Speaking of screens, what have been your favorite websites lately?
Some of my favorite Instagram pages right now are @back_of_a_truck and @abondonedpaintings. I'm really into makeup accounts like @makeupbrutalism @sweetmutals @kikopaint and @madroni_redclock.  Also a big fan of Britney Spears' Instagram presence (and conspiracy!) and visit the comments section often. 
What visual artists have influenced your work?
So many! Joan Mitchell, Camile Henrot, Rachel Harrison, Liz Magor, Agnes Martin, Karla Black, Sophie Thun, Sylvia Sleigh, Josephine Halvorson, Isa Genzken, Jennifer Packer, Brenna Murphy, Amanda Ross-Ho, Lesley Jackson, Martine Gutierrez, Anne Vieux, Janine Antoni…. Also a huge shout out to my friends constantly inspiring me and influencing my work.
Interview composed by Amanda Roach.