Tell us a little bit about yourself and what you do.
Hi! I'm Rachel. I'm an artist working in St. Louis, MO and I graduated from Washington University in St. Louis with my BFA in 2017. For my practice, I venture into the suburbs, rescuing artificial plants, speaker cabinets, and electric massagers from suburban limbo. I source materials and objects from home décor stores and hours of online secondhand shopping on Craigslist and Facebook Marketplace. In the studio, these objects are transformed into kinetic pieces that are often times clumsy, erotic, and absurd, playing with the relationship between manufactured goods and spirituality.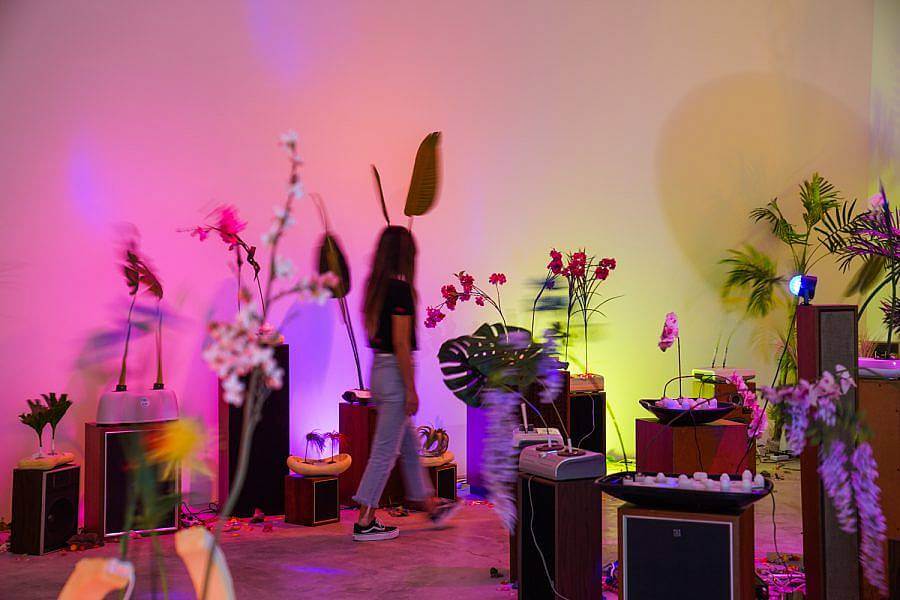 You have a wonderful show up at CAM in St Louis- what were the challenges of preparing for that show and have there been any surprising outcomes since? 
Thank you! "Gather" at CAM is by far the most ambitious installation I've ever created. Most of my work has come out rather spontaneously, but with this show, I had a whole year to prepare which really allowed the work to evolve over time. I knew I wanted to create a pathway of the kinetic massager+plant pieces the museum visitors would walk through. By default I imagined some sort of typical white cube installation, but over time the work definitely demanded to become something totally new. Halfway through the year my partner was playing guitar in the studio while I was letting my plant pieces move. The movement and the music worked together so perfectly that I finally decided the show needed a sound component. This led me to work with local St. Louis band GodsBod to create a dance track to accompany the show. Of course, the natural next step was to buy a disco ball and colorful lights! At first I felt like the show really got out of hand and I was nervous about deviating from the standard white cube presentation of work, but then I thought, hey, this work really isn't that typical or precious the way a lot of fine art is anyway, so here we are! I couldn't be happier with how the show turned out and it's been amazing watching people have a full-on experience and leave with a sense of joy.
How was the body of work for the CAM show conceptualized? It feels like a direct response to the state of isolation we are indefinitely in right now. 
It's wild how much more meaningful the work became post-shutdown. I didn't change any significant details about the show in response to COVID-19, but I did decide to title the show "Gather" which felt like a soft suggestion yet a total contradiction to what we're supposed to be doing. Viewers have a much more solitary experience of the work now. A few people have reached out and told me they loved that the show made them feel like they were on a dance floor, especially to those who yearned to return to queer dance scenes. I'm glad people can experience a feeling of congregation and liberation without actually being around people and thus the threat of the virus. 
You have stated that you source material for your sculptures from craigslist and Facebook marketplace. What about these websites interest you? For you, is the object embedded with its history of being resold online?
Absolutely—I find it endearing that massagers, appliances meant to sooth and warm the body and replicate an intimate touch, are being resold after failing to achieve that goal. I like to think that I'm liberating these massagers from their intended function and instead letting them dance wildly and awkwardly. Purchasing these objects secondhand also incidentally allowed me to explore the greater St. Louis region that I would normally never see. I drove 30–40 minute stretches into the suburbs and some rural parts of the area. Many sellers were friendly and would strike up a conversation. I like to think that these personal interactions imbued more meaning and history into the work, much more than if I had bought everything new straight from the manufacturers. I did come across a lot of dust bunnies and hair when taking apart the massagers, though! I've reached back out to the sellers on Facebook and extended an invitation to visit the museum and see their old massager in a new context, and many have responded that they're excited to see the show!
Does humor play an active role in your work?
Definitely, however I try not to make the work some sort of punchline but rather let the humor and awkwardness emerge from the movement. A lot of these kinetic works really develop their own personalities. Some plants intertwine and sway gently, others are super sloppy and bash into themselves and other pieces. I love the idea of people being able to identify with inanimate objects and I definitely see myself mirrored in many of my works. 
Can you talk about your Terrain Biennial piece from 2019? Did you enjoy making work intended for the outdoors?
For the Oak Park Terrain Biennial, fellow artist and friend Marina Peng and I created a set of folding screens printed with non-native plants that are popular for their aesthetics and color. We were poking fun at the ways in which people go through great lengths to obtain and grow "exotic" plants in their midwestern homes (something I am totally guilty of). I enjoyed that the work had a totally different audience than it normally would in a gallery space, although truthfully I have not mastered making work to withstand the elements quite yet. It was a great challenge and it's always amazing to work with Marina.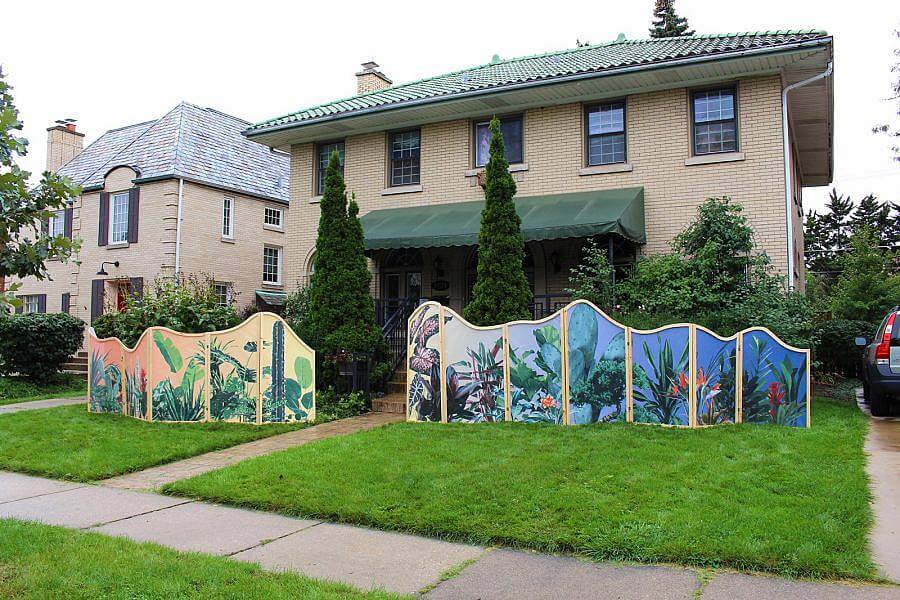 Are you working towards any new projects or shows right now?
I have a residency and show I'm working towards in 2021, but for now I'm enjoying a break in my typical studio practice. I'm hoping to take this time to dabble in projects that I wouldn't get to normally. I'm playing with motors used for yard displays like dancing inflatables or halloween animatronics. Through the work at CAM, I'm also exploring the world of floral arrangements—maybe I'll get to create slow-moving designs with actual flowers! My partner and I have also been drawing and watercoloring together while watching movies and I have to say it's been nice rediscovering the techniques that got me into art in the first place as a kid.
What is your current studio or workspace like?
I'm fortunate to have a studio space at The Bermuda Project, an artist-run studio and gallery space in Ferguson, MO. In addition to my personal studio and woodshop, we also have a 1500 square foot gallery we program exhibitions in. When there isn't a show up, we have a huge space to make work in and document pieces. The gallery was so critical in mocking up my CAM show in real space.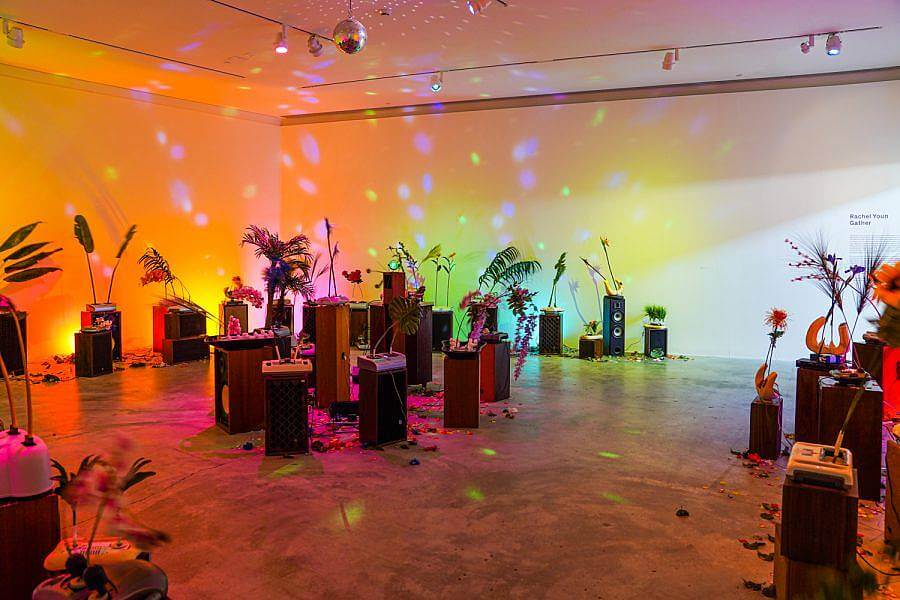 When creating an installation or placing your work for an exhibition, what kinds of things do you pay attention to? How would you go about filling up a space?
I think of how the viewer's initial impression and approach to the work. The animated nature of my work always beckons to the viewer even from afar and it's fun to see people get close and really take a look at how the mechanics work. The CAM show was the first time I created an immersive space of these kinetic pieces. I love the way visitors can hear the mechanics and the music even when they first open the doors to the museum. They round a corner and bam! It's a crazy color disco frenzy! I created clear pathways for the viewer so that they didn't feel the installation was too haphazard to explore. It's great seeing different reactions to the work—some people are completely overwhelmed and approach the work cautiously, others are thrilled by the environment and immediately jump in.
Who would be your ideal collaborator?
I'm a HUGE fan of Sophie Parker aka @wifenyc. She has such a fresh approach to floral decor as a sculptural medium and she gives such new personalities and quirks to her plants. I also love that her work appeals to a wide audience and is appreciated by so many different people. Her work is absolutely to die for!
Interview composed and edited by Kaitlyn Albrecht.