Can you tell us a little bit about who you are and what you do?
My name is Sarah C. Blanchette, and I am a photo-based fiber artist creating work that explores coming of age in a digital world and my journey towards autonomy as a woman. I employ repetitive hand/machine sewing acts as a meditation by manipulating my digital self-portrait in the physical realm. These soft sculptures and tapestries manifest as distortions of my self–portrait, intending to heal feelings of dysmorphia. By dissecting and reassembling my image into a likeness that feels more accurate, I am mending the fragmented woman. 
Can you discuss your use of serialization and repetition? 
The works that I create always begin from an archive. Whether that is a quick 5-minute photoshoot with myself and my iPhone, with a face covered in sparkly highlighter, or a trip to my family film archive, I always start with a series of images and work to exhaust it entirely before moving on. Having the power to control what imagery is implemented in the work is the closest feeling that I can find to managing my image. In the digital world of the internet, we sacrifice all aspects of control. I have the most power in my world–that is, of course, until the work is on view to an audience. That is where the high peaks. 
Quilting is often viewed as a feminine craft that happens in a group setting. Women use this time together to sort through life's problems and trade secrets. In an effort to look inward, I have stripped the community from the reference of quilting in my work. This means that all acts are taken on entirely by me, which often results in extensive time dedicated to repeating hand/body motions as the form that I have somewhat planned takes shape. 
The core of these elements is resourcefulness. I do not have to rely on anyone but myself to create the work. That is power.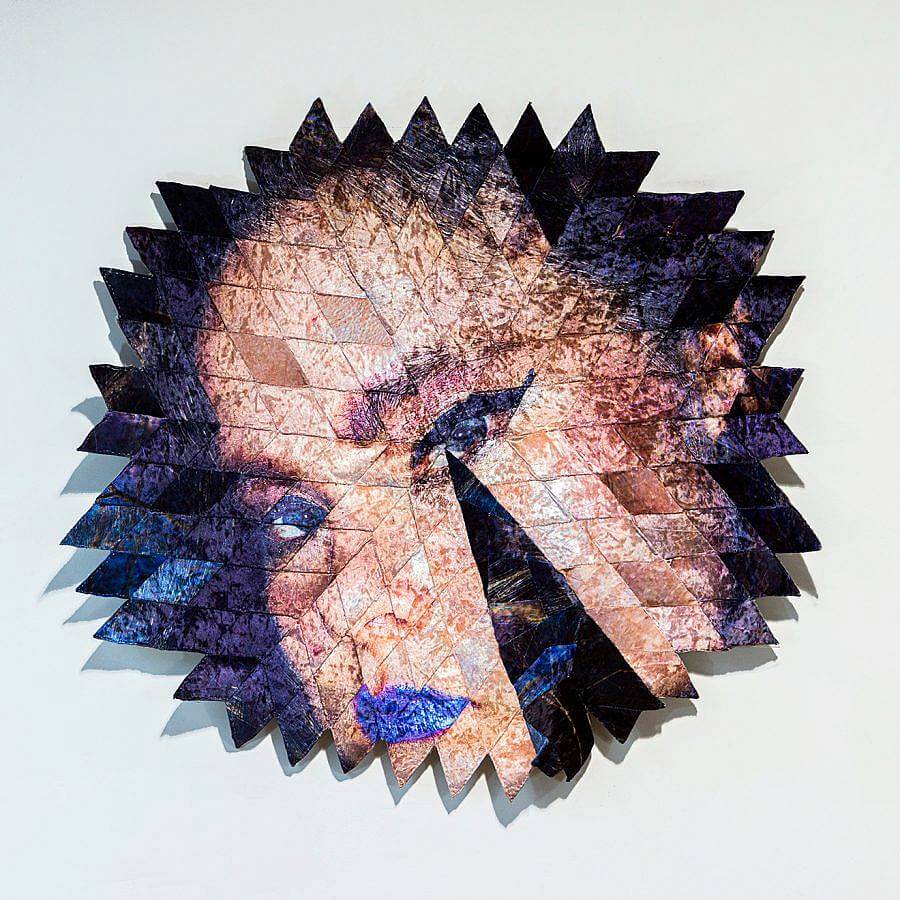 How does abstracting, stretching, and obscuring the body, help you to address ideas of bodiliness and societal expectations of women's bodies? 
Processing trauma is difficult. Having your hands on fabric that is plush and vibrant while meditating through emotions is calming. There are moments in this act that leave space for reconfiguring misconceptions about the self that forms in response to trauma. This appears literally in the cutting of the fabric and the joining of those pieces. My reforming occurs naturally and at its own pace, which is how healing often flows. 
I hope that the process exhibited in the work communicates a healthy method that women can use when working to overcome the challenges they face. As a sort of journaling, it feels good to get the anger out while on the journey towards mending. 
What is the fragmented woman? 
As a pre-teen, I formed my IRL identity alongside my online persona. For a while, these two girls grew parallel to one another. When the IRL girl started changing physically and becoming unhappy with her body, the online persona was able to hold on to the youthful body and image that she started with. It was then that the fragmented woman started to form. 
The work that I create is a repeated exercise of trying to bring these two women together to establish new common ground. Thus far, that task has been immense. I expect that these women will someday collide again, but for now, the closest they get to each other is within the work.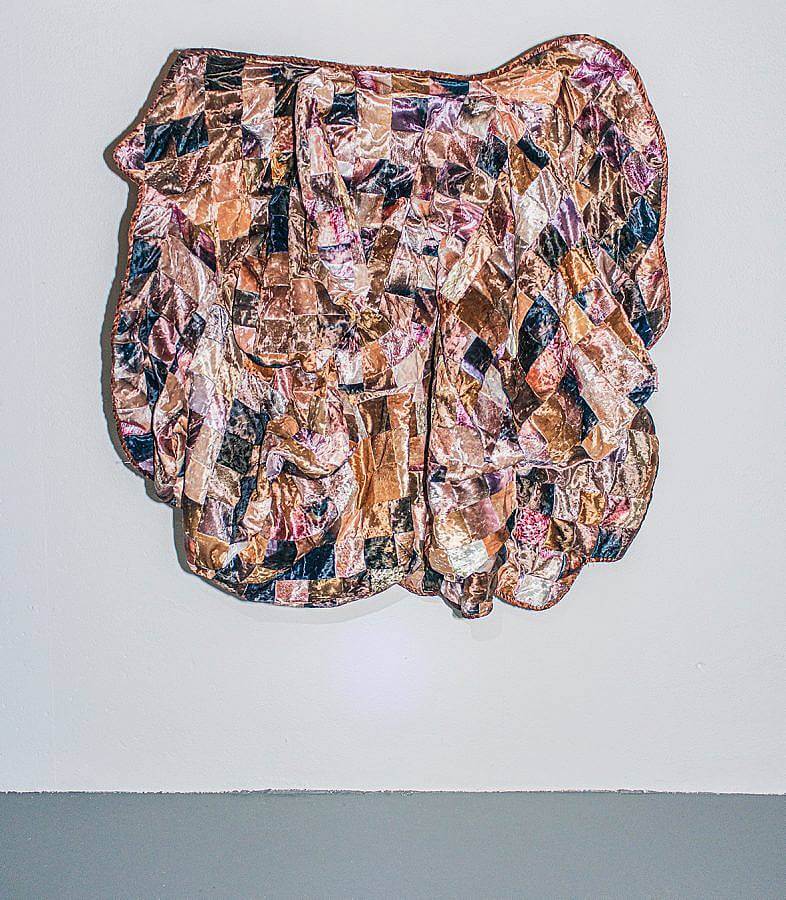 When looking at "You're too good looking to be this size," I wonder, is it soft or tough, heavy, or light? Like many of your works, it offers multiple potential sensorial experiences. What process did you go through to make this piece and what was your intention behind its composition? 
Like all of my work, this piece is an exhausted lament born of anger and frustration with the men who feel entitled to define my body. I spent the better part of 7 months sewing these selfie squares together into a large panel, just to cut them apart once again in a matter of minutes. Forcing those pieces back together by hand was a huge gamble because I had no idea what this piece that I spent so long on and reimagined so many times would end up like. The result was a heavy and somewhat hollow form that almost dripped off of the wall. It is a personification of fatigue and frustration. 
The challenge to keep moving while creating a piece that's ending is signified when the fabric runs out can be daunting. There is no immediate satisfaction and it is within the creator to keep the motivation going. This was abundantly apparent while forming "You're too good looking to be this size." 
Each work that I create is meant to take up physical space. Being unclear about weight and materiality is a divisive tactic meant to maintain control over my body in the eyes of men.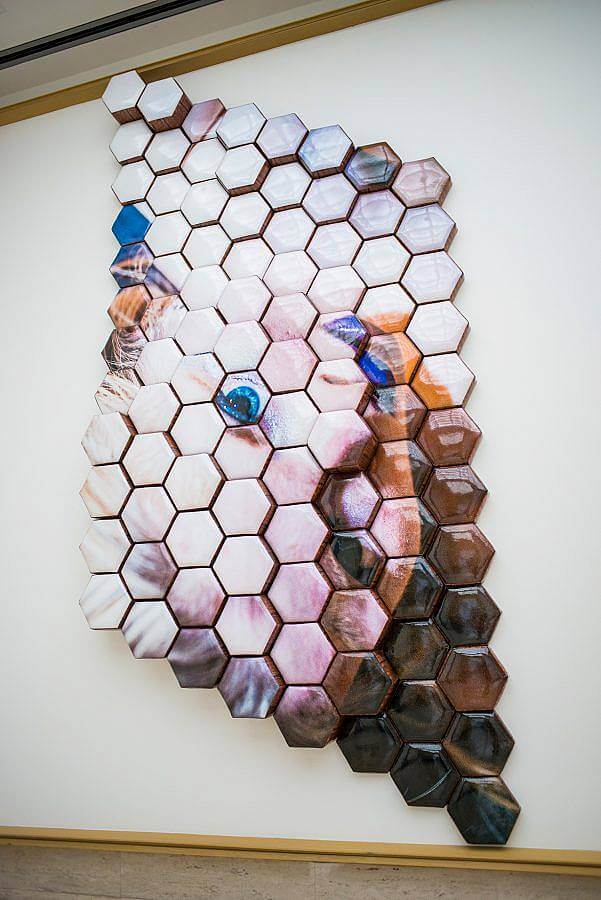 Whether it fabric performing as wood paneling or you performing as the subject, what role does performance play in your art practice? 
These performances are based firmly in moments of nostalgia. Wood wall paneling appears regularly as a metaphor for the childhood basement as a sacred space. In both homes that I grew up in, I depended on the secrecy and freedom the basement offered me. The wood paneling patterns ground my work in that sacred space–giving me the confidence needed to create this work. 
Images performing as silk and velvet feel good in the hands. They have the power to transform disgust into tactile bliss. Transforming my blemished skin into beautiful, sparkly fabric prints is exhilarating. Relying only on myself in this equation ensures that the responsibility of the work stays only with me.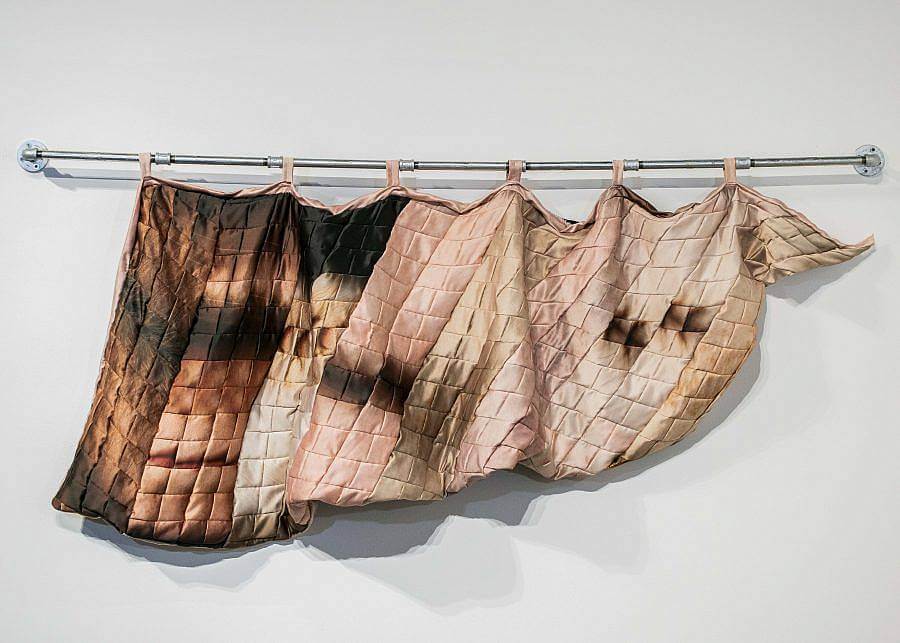 What is your process when selecting the patterns, materials, and forms your photographic sculptures take? 
When conceptualizing a new piece, I often start with a shape or 'vibe' that is rooted in something familiar, such as a quilt pattern, a deer antler, or a piece of furniture. I then pull as much imagery as I can out of self-portrait archives and the immense family film archive I recently inherited. The parameter for materials revolves strictly around 'skin-like' fabric. Right now, that includes velvet, silk, and oilcloth. The piece's shape and size depends on the visual weight it requires as a response to a harmful experience that I have had. That always starts as one perception and then transforms as the piece is created. 
With many pieces, specifically, "You didn't look 16 maybe 18 depending on the hair," in addition to addressing ideas of womanhood in the digital age, you are addressing the sexualization of young women–minors–online. Can you discuss this piece and how your other works reflect on the reality of young women growing up online today? 
Every title that I use comes from personal experience. Some of those titles come from things that men had said to me online growing up, or in-person as an adult. 
Social media and chat-based apps are platforms that serve as not so hidden places for predatory people to prey on minors. My work specifically blasts these interactions with men to the masses, with hopes that parents begin to understand how they can arm their children with the tools to protect themselves online. 
This is a reality that I anticipate we will be living with permanently. We have the power to set our children up with healthy online habits and I hope that the work reiterates that.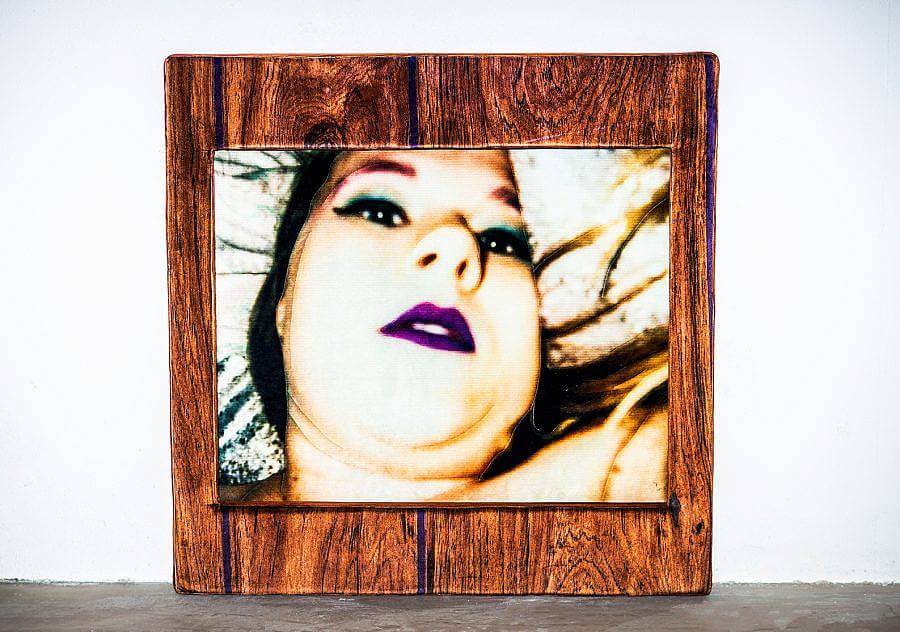 What inspires your desire to pull the digital into the physical? 
It is so easy to 'swipe away' negativity on our screens, except for the fact that it isn't. We may feel like deleting a mean text, photo or meme will be enough to control the situation. However, lasting IRL pain is undeniable. 
Pulling the digital into the physical is so important in my work because asserting my power is the only solution for putting these men on blast. When a sculpture with bodily features inhabits a room, people cannot deny it. Its weight, both physically and visually, cannot be altered. These men cannot escape their words. 
Do you have any upcoming projects or shows? 
For awhile, my main focus was preparing for a group exhibition at KINK Contemporary in Cleveland, OH. The show is called Women in 3D and was on view from late November through December. I am also working on an installation based solo exhibition for 934 Gallery in Columbus, OH. The show is called Basement Babe and will be up from June through July next year. 
Besides exhibitions, I am digging into digitizing my new film archive and creating small thermal print collages to be enlarged and turned into sewn tapestries.
Interview composed and edited by Amanda Roach.