Can you tell us a little bit about who you are and what you do?
I'm originally from California. I turned 40 this year. Gemini Virgo Virgo. INFJ. She/they. My life over the past seven years has been defined by the nomadic-n(m)ess of moving around for various teaching jobs. This consistent tick-tacking has significantly informed the way that I move through projects and adapt and respond to site/place. I've been able to make a lot of what I do super portable and not reliant on specialized equipment or access to a studio. I'm now living in Fayetteville, AR, and run the print media area with my wonderful colleague Sean Morrissey at the University of Arkansas. Also, I love road trips, snacks, SPRTS, Groundhog Day, bird watching and identification, the post office, and making zines and things happen with neighbors, strangers, students, and my buds.
Jen Delos Reyes was a recent visitor in a seminar I'm teaching at school. She led us through a timed bio-writing exercise in her workshop Small is All, Less is Enough, and Other Forms of Radical Reduction: Minimizing professional practice, and making room for artistic approaches on a human level. Here's mine. The bios were limited to a 25-word count, then 12, then 3, then 1.
I am from a lot of different places and want to see and smell and laugh and move through many more. Do you wanna come? 
I want to see and smell and laugh and move together, yes? 
All together now. 
Together. 
How did your interest in art, text, and printmaking begin?
I've always felt like a late bloomer in a lot of ways. I was a PK (preacher's kid). My family of origin is extremely conservative and my father was a baptist minister/youth pastor who taught a class called "The Dangers of Rock Music." I had to hide my records, listen to my Discman under the covers at night, etc. My earliest art memory is making shrinky dinks and painting ceramic snails with my great grandmother NeNe. In high school it was skateboarding magazines, working on the newspaper staff, studying typography on album covers, and discovering artists like Margaret Kilgallen. I found printmaking in college and its flexibility has always been a way for me to naturally combine my interests in graphic design, installation, sculpture, collaboration, communication, publishing, the high, the low, all of the things. The way I use text/language as material, form, and content has always felt very intuitive. The combination of being introverted and growing up in a repressive environment meant that I escaped into books and magazines, anything else I could find. I had a secret/forbidden subscription to Sassy in high school. Eventually, I found or invented ways of communicating my observations, what I want to call attention to, to celebrate, memorialize, critique, etc.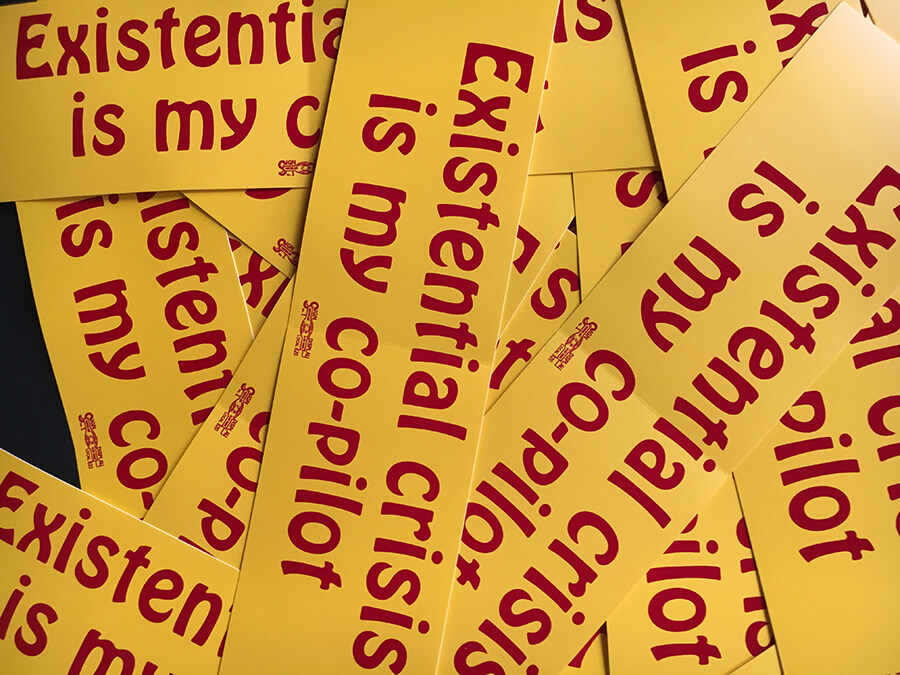 In your work, "F. T. F. S. (Fuck This Fucking Shit)," a stone lithograph with a rubber-stamped matrix, you feature a small succinct message amidst a massage background of white. Can you talk about the composition of the piece and your decision to create a lithograph versus another printing media? 
Not gonna lie, I'm a litho n00b and this could have easily been screen printed or riso-printed. It happens to be a lithograph because Kristina Paabus and Danny Miller were teaching a class at <3 Ox-Bow <3 and invited me up to do a foil workshop for staff and fellows. They guided me through processing the stone and getting it press-ready. A few months prior, Mary Banas and I were wandering through the Alternative Press Collection in UCONN's Special Collections for a residency at Counterproof Press. We found the "Fuck This Shit!" speech bubble illustration in an issue of RAT: Subterranean News. In the lithograph, the bubble is small and printed mostly to-scale so I wanted to float it in the middle of the sheet surrounded by white negative space. "Fuck this fucking shit" is a constant thought, a shout, a whisper, a mood. The paper is around the size of a small homemade protest sign or political window sign. It's outwardly protesting "Fuck This Shit!" but I also see it as responding to its own whiteness. One thing I love about making prints is being seemingly disobedient within the medium itself and challenging conventional notions of what print is and what it can be. It's funny to carve a diy rubber stamp to mediate the image transfer rather than drawing directly on the stone, and to that end, I think the stamp undermines the tradition of lithography in a low/high sort of way. 
Can you talk about your curatorial project Public Storage, a project/space in your home, window, and yard, and how it evolved over the past few months, including the recent off-off-site extension of Trunk Show at Artists Run Chicago 2.0 Hyde Park Art Center? 
Public Storage has been a super fun way to organize shows and events in Fayetteville. I rented a house with plans to host an informal residency alongside the project space, but then quarantine started after the first show. My original curatorial vision was to center artists who work in and around archival and counter-archival practices; to make a flexible venue for hosting unconventional projects, performances, and publications on- and off-site; and to co-opt the format of institutional visible storage as a bootleg model for sharing artists' personal collections. Some of these ideas are on pause because of COVID and in response to the pandemic, I've shifted the project to be almost entirely public(ation)s. Since March I've hosted solo shows in the window by Zora Murff and Leah Grant, Chris Reeves' performance lecture "How to Rythmn, or How to Rhythm," and Juliette Walker's series of "American Flags" is currently installed along the fenceline. 
I <3 Trunk Show and was so delighted to participate in the reboot for Artists Run Chicago 2.0! I'm a big fan and acquired the entire collection of stickers from Jesse at the Cincinnati Art Book Fair a few years ago. Anne Elizabeth Moore's sticker has always been one of my favorites though it's hard to choose exactly one because they're all so good. I'd been eyeing this building in Fayetteville for a few months, with the american flag stars and stripes next to images painted of Uncle Sam, troops in battle, and an unfinished Rosie the Riveter. The building is also in the same parking lot like the U.S. Pizza parlor. So it was a fitting combination and backdrop for Anne's "Let's Stop Pretending It''s Not All Racist." We hosted the tailgate occasion on Indigenous Peoples Day aka "Columbus Day." Kalyn Barnoski performed a mini-set and Loring Taoka made a U.S. Pizza Let's Stop Pretending playlist, both brilliant artists and humans I'm lucky to know.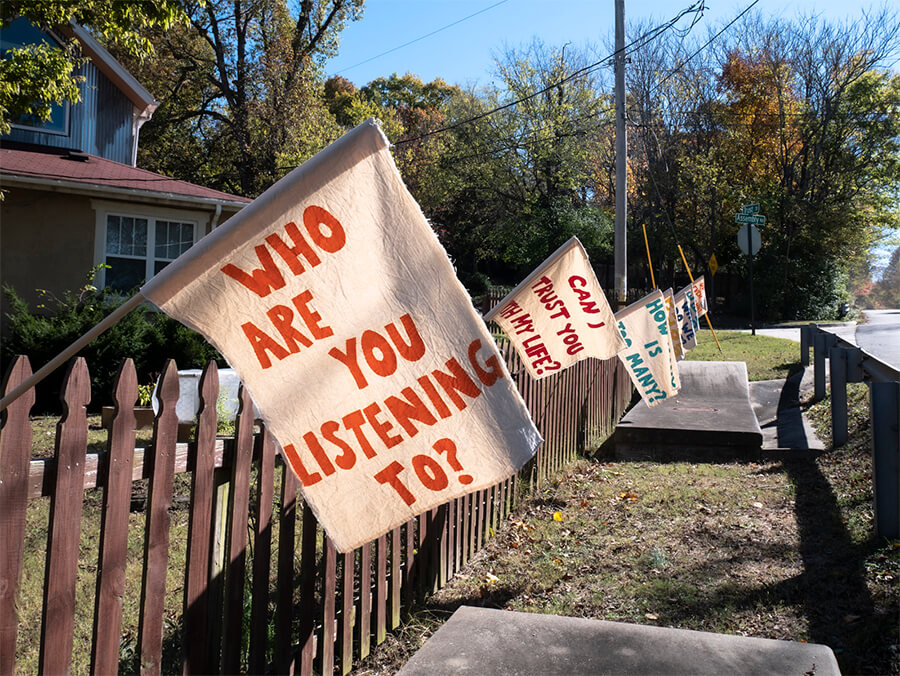 I've noticed that as an artist and curator you insert messages or images into contexts where they might not 'normally' be found, most recently utility poles and residential building windows. How do you use the tool of insertion in your practice? 
The utility pole and window are part of Public Storage, the project/space at my house. Eastern Pole is an extension of Jesse Malmed's curatorial project Western Pole in which artists are invited to make a version of a broadside installed on a utility pole there in Chicago; I created/appropriated my own versions of the project in the extended places I have lived and worked. Leah Mackin's was the first Eastern Pole show in Cincinnati which consisted of a simultaneous opening at Western Pole. I love this as a form of publishing—it's economical, accessible, and endlessly multi-locational, i.e. Cornell Pole (Western Pole at the Hyde Park Art Center) and the new Mystic Pole. 
Last spring I started hanging giant one-sheet assemblages in the window above Public Storage as a form of urgent publishing/screaming/venting during the quarantine. My street winds up a hill towards the house and the window is shielded from view by a big tree so when you roll or stroll by the window it's just very unexpected and it disrupts the visual landscape of the neighborhood… to see an enormous neon green globe that says "DON'T BLOW IT" in a window. Sometimes the texts are seemingly vague questions, phrases, and exclamations but hold deeper meanings related to COVID, the election, and social justice. These are typically laser printed as tiles then taped together, and I most recently installed a large vinyl text that says "[upbeat music]."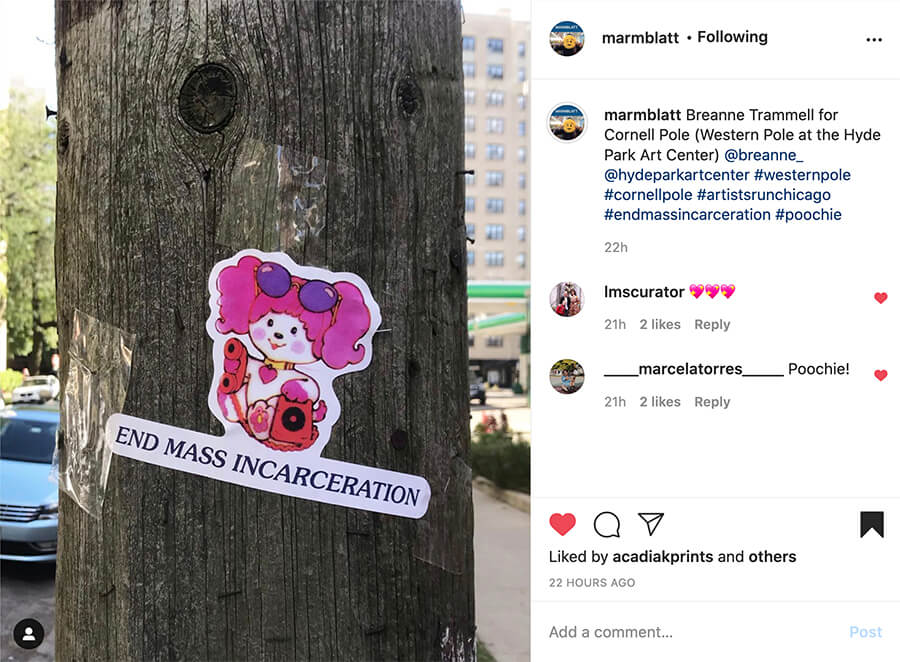 Your project, "Say it With Poochie," adapts the Poochie stickers from the 80s to include messages like, "End Mass Incarceration," and "Not Yr Therapist," Can you talk about your re-contextualization of poochie and the intention behind the project?  
The original Poochie stickers I'm appropriating were made specifically "for girls" and one of the taglines was "At one time you couldn't say what was on your mind. Now you can say it with Poochie" with stickers saying things like "Sorry" and "Oops" and "Keep Smiling." The gendered language and marketing is offensive, plus the fact that Mattel was asserting that "girls" need a cute dog to express feelings and emotions. The original stickers reinforce how "girls" are conditioned to apologize (and per my dad, to literally be "submissive") from an early age. The updated texts position Poochie in a state of reclamation and advocacy. Poochie is empowered to critique emotional labor and dating culture and advocate for social justice issues. The most recent iteration of "Say it with Poochie" is a free, downloadable combo booklet/broadside from the Quarantine Public Library, with new Poochie texts by Jesse, Zora Murff, and Loring Taoka. 
Introduce us to the experimental cookbook & happening you made with Jesse Malmed, 'The Joy of Enjoying.'
This entire experience was *chefs kiss*!!! We made The Joy of Enjoying just over a year ago at Temple Contemporary/Tyler Printmaking at Tyler School of Art. Before the visit, we had an open call for things like poems that look like recipes and recipes that look like poems, among the buffet of other prompts. We were in Philly for a week to riso, collate, and bind the cook~book and organize the release party. Jesse and I hosted the party talk show symposium happening and the line-up included a Seltzer Debate, The Uncanning Valley (game show-style-guess-the-can), Jessica Caponigro's "A Spell for Our Lady of Radical Exultations," Shannon Stratton telling all about Canadian Cookery, Serena Hocharoen's "Sick Bananas," there were screenings, or "Party Pickins (for Selig Itzik Lemisch)," and Bri Maule and I hosted an on-demand brie-cheese sandwich kiosk called Bri & Bre & Brie, and so much more! This was truly joyful and it's an all-time favorite for sure!!
These wonderful people deserve shouts for helping make TJOE happen!!! Amze Emmons, Rob Blackson, Claire Cooke, Brianna Maule, Shannon Dougherty, Maddy Conover, Serena Hocharoen, Anna Graves, Joan Quinones, Lisa Jungmin Lee, Katie Garth, Layla Mrozowski, Julian Van Der Moere, Chris Reeves, Willow Eagono, Sara McCaffrey, Jing Yu, Amy Cousins, Vivien Wise, Jessica Caponigro, Cecca Wrobel, Eric Mack, Imin Yeh, Lauren Sudbrink, Morty Keith, Princeton Cangé, Ginger Brooks Takahashi, Eva Sturm-Gross, Aaron Walker, Senja Toivonen, Annie May Johnston, Erin Miller, Adam Farcus, Theresa Harris, Maggie Wong, Kim Tomlinson, Mayetta Steier, Kati Gegenheimer & Kristina Paabus.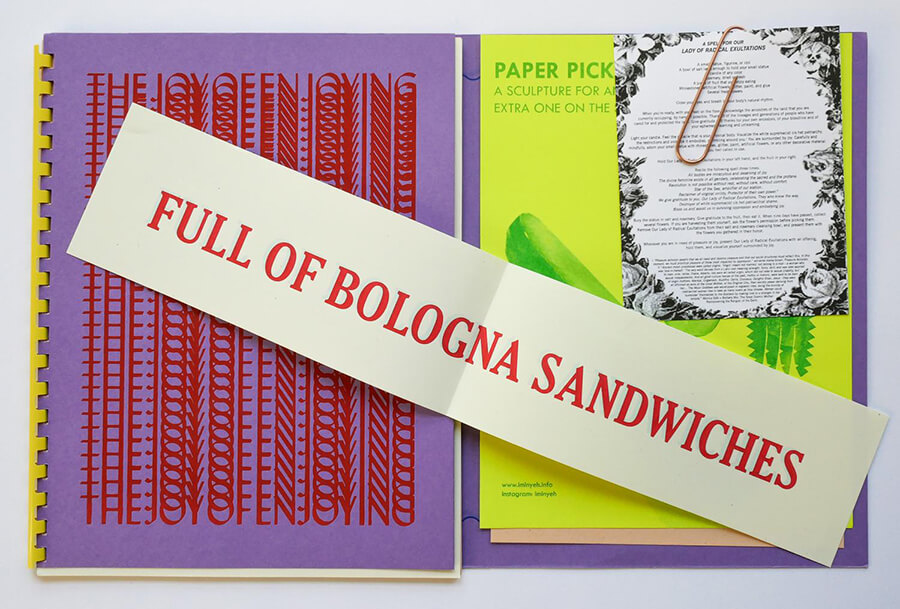 In addition to being an artist, you're also an educator, how do you feel these two roles impact one another? 
Most of the time it's hard to distinguish between studio and teaching life, it all kinda blends together for me, and yes absolutely to mutual impact. Sometimes this is not great for boundaries lol but I love introducing students to my world and doing the work with and alongside them. And I always learn so much from the students! I see my role in the classroom as a steward, facilitator, and active participant. I've abolished grades in my classes and students submit "Experience Reports" instead. I'm very interested in alternative pedagogies like Black Mountain College, CalArts in the 70s, and Tolstoy College at UBuffalo. Because I teach in a medium-specific area I operate as a generalist but I enjoy forming classes around tangible experiences that I hope give the students a sense of agency and permission to make things happen for themselves and in/with their communities. Now that I'm in Arkansas I'm working with more students who come from similar backgrounds as my own. It's so important to me to convey that there's no one way to do this, that everyone's path can look different and that's OK, and probably better tbh. 
Do you have any upcoming projects or shows?
I'm working towards my show Slow Burn opening in June 2021 at the Weston Gallery in Cincinnati. I have some new work in Flatland's (The) Old Future's Almanac and will have some goodies to share at Flatland's Telethon on Saturday, January 16.  Shannon Finnegan and I are hosting "No Limits" the 8th Annual Sandwich Summit in the fall, details & dates forthcoming!
What is your current studio/workspace like? 
I've been doing studio mostly at home these days on my kitchen table or on the floor. But I'm slowly moving back to my studio at school to finish things up for my show and to prep for the Summit.
Interview composed and edited by Amanda Roach.