Tell us a bit about yourself and what you do.
I'm a Korean-born, New York-based painter. I mostly work with oil on canvas, I like large paintings. I also make lots of pastel drawings on handmade paper. They are mostly a means to an end but sometimes they become paintings. 
How did you get started as an artist?
I was interested in design: fashion, interior, commercial when I was a kid and into my early teenage years. I realized when I was a freshman in college, that it was too practical, too left side of the brain. I switched majors and never looked back.
What's your studio space like? 
I love my sunny studio in The Bronx. It's quite spacious so I can spread out, with tall ceilings. It's part of the last frontier of affordable, non-gentrified artist studio buildings in New York City. 
Can you walk us through your involvement with Olympia Arts? 
I've known Ali, the gallery director for a few years.  We felt symbiotic about each other's sensibilities and knew we would want to work together somehow someday.  When the opportunity arose to have a solo show in the new year in the new space, I grabbed it. 
Tell us a bit about the work you included in Psychotropic Dance at Olympia Gallery. Can you talk about how that show was organized? 
It is an intimate space and we didn't want to crowd it up with too much work but also wanted to present a full range of what I have done. We both agreed that the quarantine drawings I've been doing during the lockdown were a must.  
In the beginning, we thought it would just be that. But as we fleshed out the concept, we realized that if we organized the layout, we could also show a couple of paintings.  We wanted the two large paintings to be on the wall that faces the visitor, rather confrontational.  One wall would have quite a few scattered, salon-style drawings, and the third wall had a selected group of drawings framed, a clean install.  The mural was a cherry on top decision. I asked Ali to paint the wall for me and wasn't sure exactly the size or where it was going to be. I was pleasantly surprised at the location and the shape. The oval is something I would've never thought of doing, I'm glad she did it.  The imagery that was created definitely responded to the space.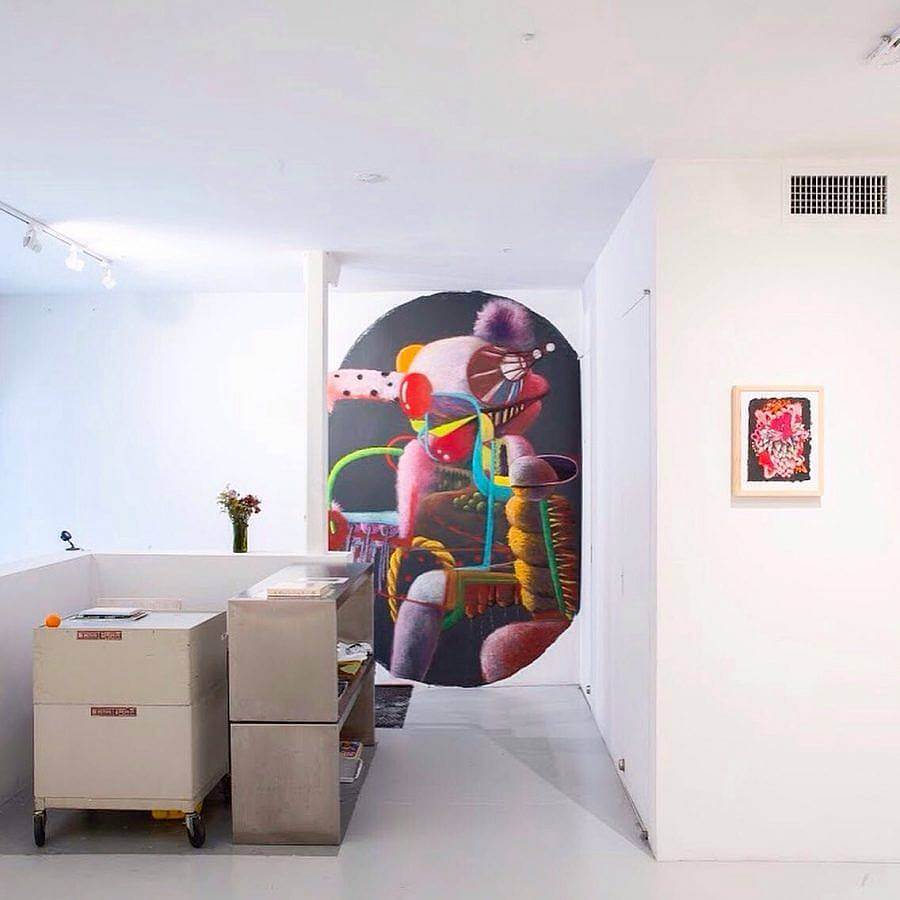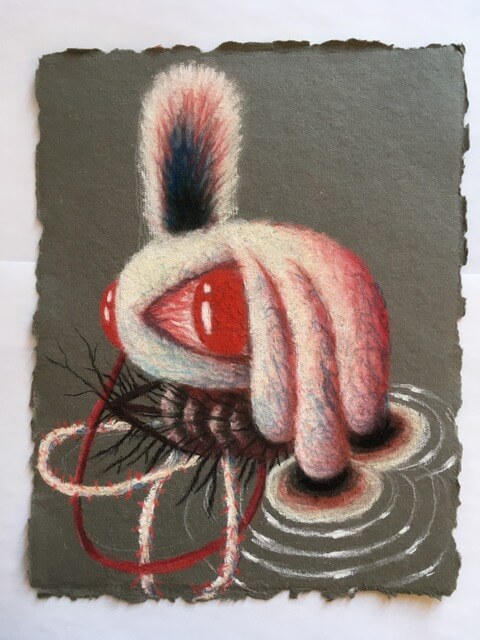 How do you approach working on murals versus paintings on canvas? 
Murals are so exciting to do. I've done a few over the years in different architectural settings and it never gets old. Unlike paintings, I have extreme time limitations, because I have a couple of days to make it before the show opens. I once painted huge murals in three days when I had a show in Turin, Italy. That nearly killed me but it was so much fun. 
It starts with a coat of flat house paint, I send a swatch to the gallery and they paint it for me so that it's dry when I arrive. It has to be flat. If it's semi-gloss, the pastel will not stick. I never know what I'm going to do. I don't have a fixed idea because then I feel committed. I want to improvise in the most pure, intuitive way. I don't consider any marks or shapes a mistake, it's a challenge to work with whatever I'm creating and letting myself trust in the process. I've not done a dud yet.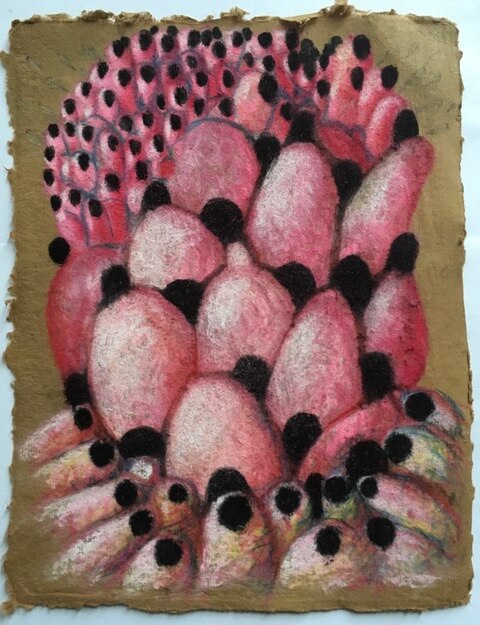 I associate pastels with saturation, softness, and distinct almost fibrous texture. You recently completed a series of pastel drawings on Shizen paper, titled " Quarantine Drawings." What process did you go through to create these pieces, and what role did your materials play in the overall series?
The quarantine phase may be ending, but the series is still going strong. I started it at the beginning of the lockdown. I grabbed some pastels and paper from the studio and set up a home studio at the dining table. When I quickly ran out of paper, I ordered this Shizen paper online. Never used it before. They come in multi-color packs, approximately 8×11, and they were a dream to draw on.  The pastel grabbed onto the paper beautifully. Sometimes they are too toothy and other times it's too slick, this brand was made for me.  I just got lost in the journey while the world was falling apart. To say last year was strange is the biggest understatement. I've always veered to and from figuration and abstraction throughout all my painting life, it was the first time that the two elements were happening at the same time. Sometimes on the same imagery.  The material gave me the whole gamut of supersaturated, hyped-up colors, soft muted tones, smoky atmospheric shapes, lines, dots, spikes, the kitchen sink.
Your vibrant and corporeal imagery includes spikes, fuzzy fur, red eyes, rippling water, patchwork, scales, and tendrils, to name a few associative forms. How would you describe the visual language you've composed?
The visual language has transpired from the cute, weird plushy figures from years ago to forms that are broken up, turned inside out like they went through a shredder and put back together. I want to get to the guttural, the abstract, the surreal. I want to push the imagery beyond conventional figuration and abstraction. It is an expansion of painterly vocabulary, deploying a wide range of formalist concerns. A lot of shapes like spikes, polyps, and vegetal shapes are new, citing coronavirus as an inspiration. The marks literally grow on forms, out of shapes, the chaos and horror of nature will always be in tandem with beauty and wonder.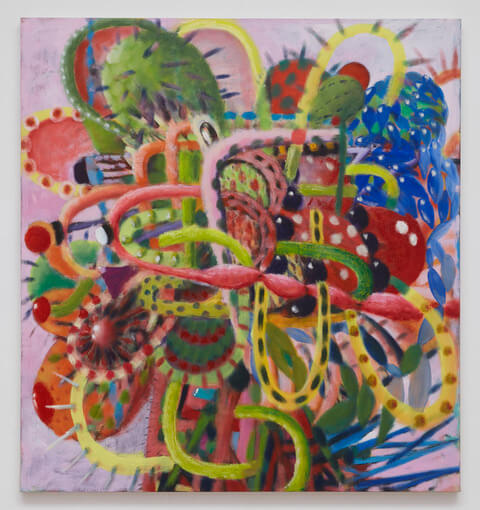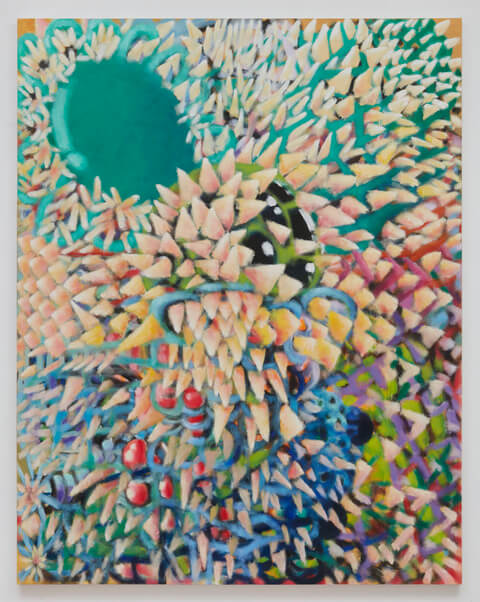 Your surreal emotive compositions reckon with identity and place. Can you talk about the psychological and cultural perspective you work from? 
The cultural perspective is my Korean heritage. It is fragmentation of uncertain memories that have been folded into my art in a subconscious way. It used to be more overt, 10-15 years ago. When I started painting, I made big, pseudo abstract expressionist paintings. Meanwhile, there was a nagging voice in my head that I should address my identity. Its uniqueness is something to explore, not something to feel ashamed of. I used anthropomorphic animals as stand-ins for characters in fairytale-like settings. A construct of emotive space that takes me back to my childhood years. It wasn't all a picnic though. I tried to convey an underpinning of darkness. Since then, the imagery has broken up and become more abstract, open-ended. 
Any Upcoming Projects?
It's been crazy busy this year and more projects are coming. My solo show in San Sebastian, Spain at Villa Magdalena is opening today, a solo at Marcia Wood Gallery in Atlanta in the fall/winter (yet to be determined), and many group shows in the works. Very grateful, after a surreal covid year.
Interview composed and edited by Joan Carol.