Tell us a little bit about yourself and what you do.
 I was born in Miami, Florida but I have lived in Chicago for several years. My parents immigrated to the US from Costa Rica and my older sister and I spent most of our childhood traveling back and forth between Miami and Central America. I have always had a need to reflect on my movements and memories of these two vastly different environments and cultures. I explore how my experiences through the scope of a first-generation American impacts my understanding of identity and home. I make artwork that draws on the accumulation of family memories and histories, keep sakes, trinkets, cheap domestic ephemera, like plastic table cloths and birthday balloons, and I utilize these everyday objects to create hybrid, woven and stitched topographies centered on my experiences.
How did your interest in fiber art begin?
It happened by chance actually, I stumbled into a weaving class with little to no idea what weaving was, through a recommendation from a fellow artist. After the first Beginning Weaving class, I immediately gravitated towards other more advanced courses and eventually studied other Fiber processes like sewing, embroidery, silk screen + dye techniques, felting, paper making, etc. Since then, there has been an endless need to continue learning traditional and more digital techniques involved in Fiber.
I originally moved to Chicago to study photography, specifically black & white darkroom photography. I started taking photographs and working in a darkroom while growing up in Miami, I was about 12 years old. I never really stopped using photography in my work and still do work with capturing the objects and environments that surround me. Through the use of photograms and imprinting techniques like cyano types (sun prints), I've taken a different approach to implementing the "camera" in my practice currently.
Looking back on it now, I realize how unsatisfied I felt working with color photography my first few years during my Undergraduate degree… (the B+W photo lab had been eliminated shortly after I started my degree). It became clear that color photography didn't give me the same satisfaction of working with my hands as weaving did, there was a tactile aspect to my practice that was missing. I wanted to have a larger or different role in creating materials, textures, forms, and surface.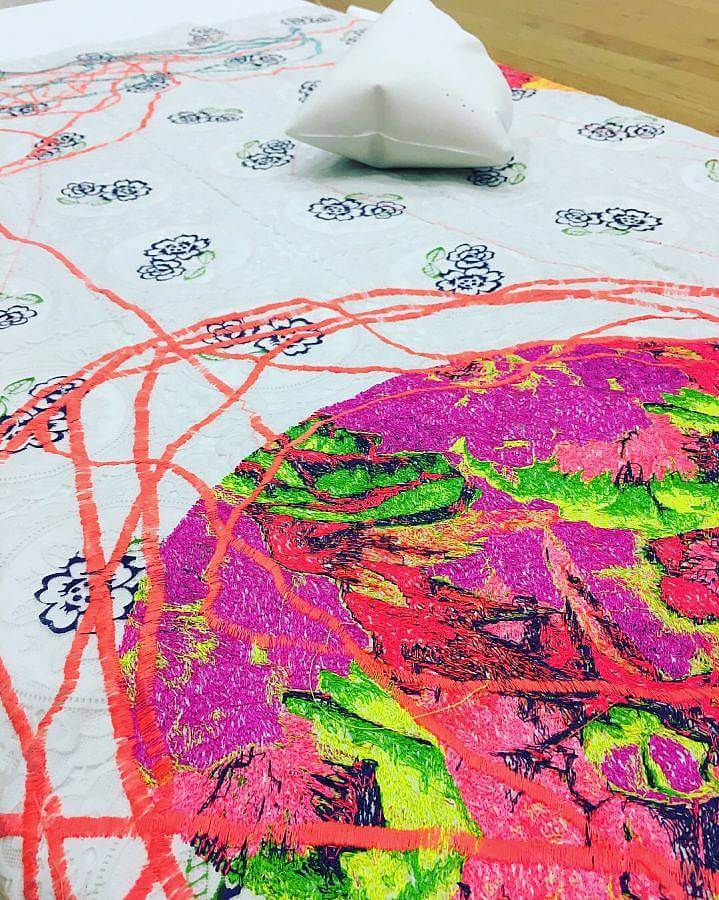 What are some recent, upcoming or current projects you are working on? 
I have some exciting upcoming projects, a solo exhibition at the Chicago Artist Coalition, and I'm also participating in a few group shows at the Hyde Park Art Center, Heaven Gallery and de Torcida gallery in Miami, my home town. This summer, I will be working with the Union League Boy and Girls Club of Chicago in Humboldt Park, doing summer Sewing and Embroidery workshops for teen girls, which I am very excited about. I am also participating in a Podcast, Archives + Futures at ACRE projects with Ivan Lozano and will be part of a panel discussion at the MCA, Explosive Superstars on July 20th as part of Oscar Gonzalez's Lean Artist project. A recent feature that I am excited about: June 2018 Artist Feature and Interview for LUXE Magazine,Design Chicago Style Edition. LuxeSource | Luxe Interiors + Design Magazine. I also just recently got back from the Jacquard Center in North Carolina, where I was doing research on more complex weave structures and techniques.
For my solo exhibition, I am working towards an installation space that will encompass household furniture that has been re-upholstered with my woven and embroidered designs and drawings, as well as a collage of woven works- that when paneled together- will cover two gallery walls, from floor to ceiling.
My goal is to transport my viewers into an alternate environment that brings to life the abstract landscapes and topographies that are represented in my work. I pull and generate imagery from my everyday experiences, familiar objects and family memories, using techniques of drawing, tracing, collaging, and Cyano type printing to fracture real word objects and places. The result is a series of woven, embroidered, and stitched images that hint at a personal narrative and place, but give the viewer no exact, definable or tangible sense of location. My pieces are often chaotic and appear to be in a state of motion/flux (slowed or speed up). I implement stitched meandering lines, bright bursts of color that fade in and out of the foreground, and have incomplete embroidery or patchwork throughout the surface as a means to parallel my own emotions and state of mind while I was initially making the work.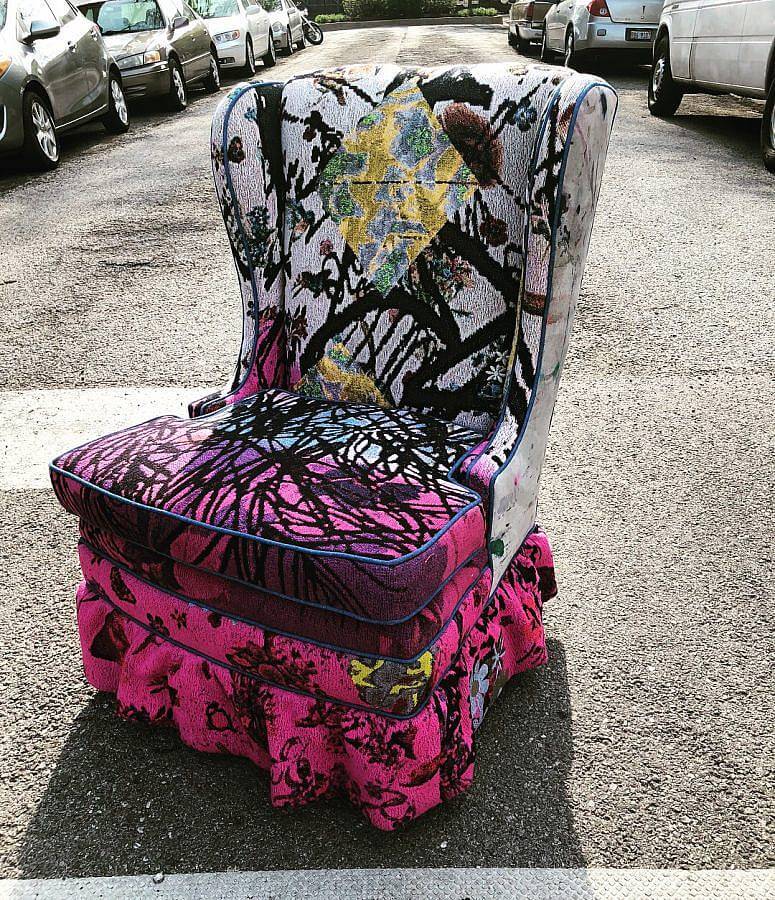 What does your process usually look like and what materials do you use?
My process is layered and repetitive. I usually spend a few months accumulating sketch book drawings and doodles, sun prints, printed ephemera, and small sculpted objects to generate additional imagery that later become inspiration for my woven works. I trace, scan, and collage drawings and sun prints OVER and OVER again until the end result is miles away from the original image. The form becomes lost and difficult for even myself to decipher where the mark initially came from. The process is destructive while also generative. . . once I pull apart and fracture my imagery, I immediate feel a need to reconstruct the picture through a mode of weaving. I'll weave multi-colored, synthetic and natural yarns together, stitch over them, dip them in dye or wax, tear them apart and then patch them back together, melt plastics into other plastics, embroidery on top of them or tape over the whole thing, peel the tape off and dip the fabric in an indigo vat, and then eventually stop when the piece "feels done."
What is your favorite thing about weaving?
My favorite thing about weaving is the inherent grid that makes up its form, it is what holds it together. Weaving has a set plan and order. I like its capacity to be transformed or interrupted.
If I can mess with that inherent order by glitching my picture/design I can start to build more history into that piece. I don't want to feel sentimental about tearing or layering over my fabric, it's not precious. I see each of my pieces more like old family photographs or knick-knacks. They are unique and special but most importantly ephemeral. There will always be more.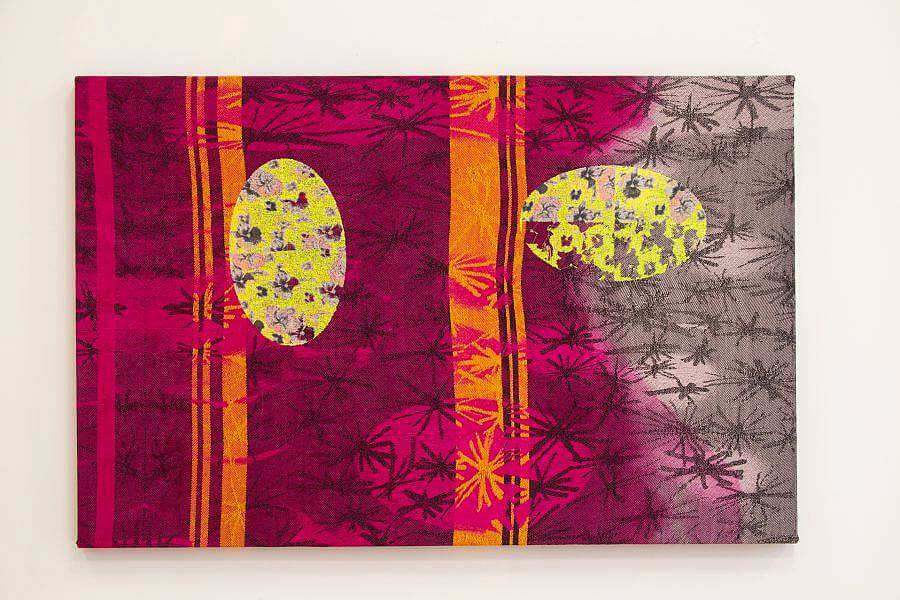 What was the last exhibition you saw that stuck out to you?
Otobong Nkanga: To Dig a Hole that Collapses Again. I love her work and I've read many articles and watched several videos of her talking about her practice. I admire her ability to document (through multiple mediums) the movement of people and resources- how those movements can be violent, abusive and part of our everyday lives. I had the opportunity to meet her once while I was in the Netherlands and see her producing part of the tapestry works she showed at the MCA- she is incredibly talented and I hope to see her work again in person!
What is it like living and working in Chicago?
Fun and crazy. There is always something to do or something to go see, and never enough time to do it all. I never thought Chicago would be a Home to me, but over the years, it has definitely grown on me. It's a great place to have a studio, active practice, and I've met so many wonderful and talented people during my time here. They have supported me and inspired me to seek out opportunities that have really helped focus my practice. I definitely feel like I have a community that I belong to and want to support, make better.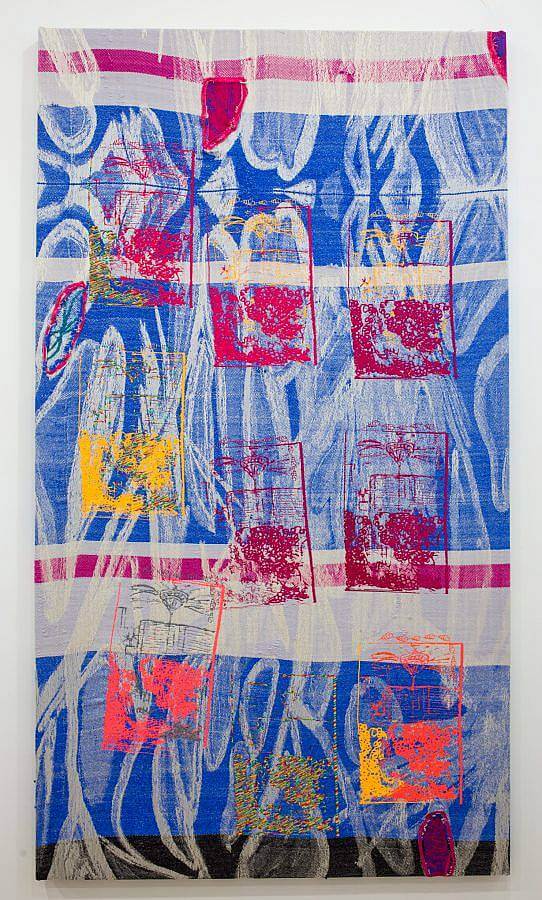 What is one of the bigger challenges you and/or other artists are struggling with these days?
Finding enough time to make work, juggling too many projects and goals at one time, not getting enough emotional and financial support to have a productive and sustainable practice. I'm constantly struggling with how to make artwork, do research, have a full-time job, teach, spend time with family and friends, and try to tackle real world issues that impact all of us. It's impossible but I am trying to weed out all the fluff in my life and focus on what's essential for me.
Any advice for emerging artists?
Apply to every opportunity that interests you, go to art openings A LOT, really try to get a sense of your city and see what work speaks to you, what spaces inspire you and REMEMBER TO TRAVEL as much as possible! I love spending time in Chicago but I always feel refreshed and excited about being in the studio after I get back from a trip outside the city.
I believe it's difficult for many emerging or young artists to find their community or support network if they don't make an active effort to understanding what's out there. Every practice is different and there is no right way to go about being an artist, you just need to do what feels right. I think particularly in my experience as a Latinx woman, I am constantly being told what "kind of work" I need to be making, what spaces, activities and narratives need to surround or supplement my practice. . . I hate this. I'm realizing more and more that those voices need to be drowned out, and I no longer feel trapped in one scope of the art world, I can do and exist in whatever sphere I WANT. The key is to ask for what you want and never feel shy about it, the people and friends who will play an impact in your career will be there to help you.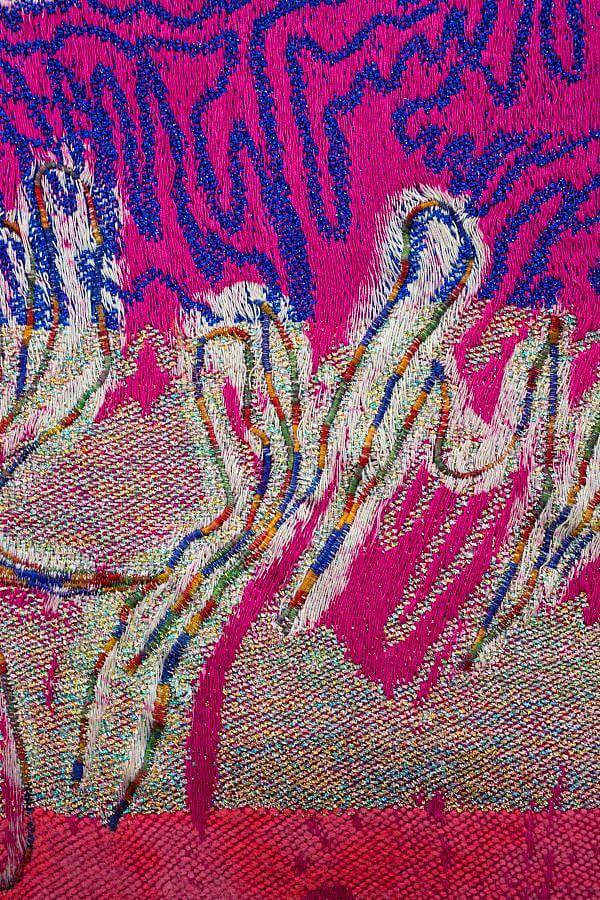 Describe your current studio or workspace. 
I share a studio space in Garfield Park, the Carroll Arts Building. The space has high ceilings and big windows which provides some really wonderful light during the late afternoon. But the large warehouse space is also very old, dusty and has some glitches. There is usually a slight cloud of dust that falls from the ceiling every time my upstairs neighbor makes any big moves… I've gotten use to this and don't find it too bothersome.
The building is mostly used by other studio artists and fabricators. I like being a part of a larger hub of makers and feel good working in that environment. I also have a smaller home studio in my Logan Square apartment. I use this studio to do most of my drawing and embroidery work- bouncing between the spaces allows me to spend more time at home with my cats and partner.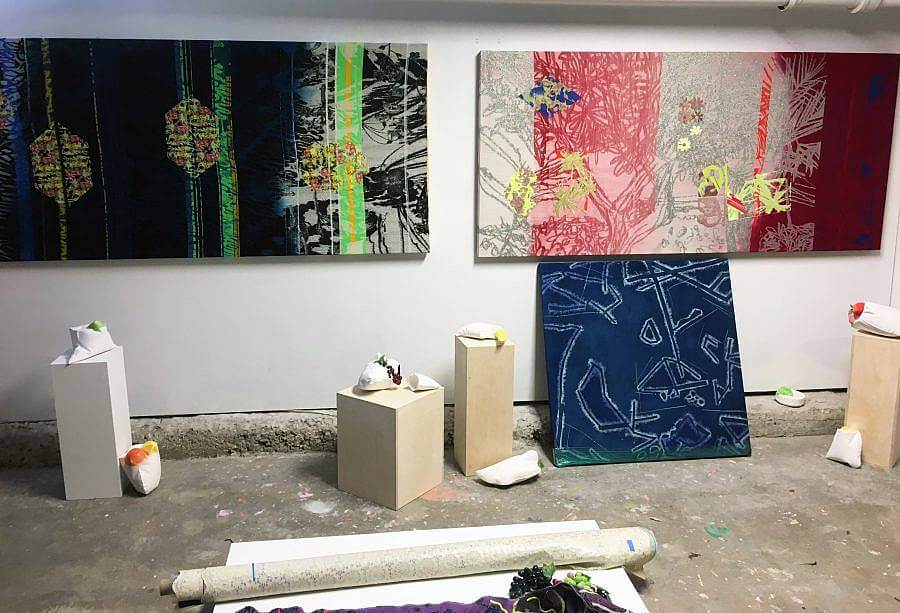 What do you want a viewer to walk away with after seeing your work?
I want the viewer to feel like they have fallen into another world, my world. If they can momentarily situate themselves in an alternate landscape and recognize a dollie pattern or an imprint of a familiar object- then that is all I want.
I'm just fascinated by the act of getting the viewer to step out of their lives for a moment and capture my experience; my child hood home, my mother's kitchen, my father's cooking, through hints of specific patterns, colors, or cultural objects.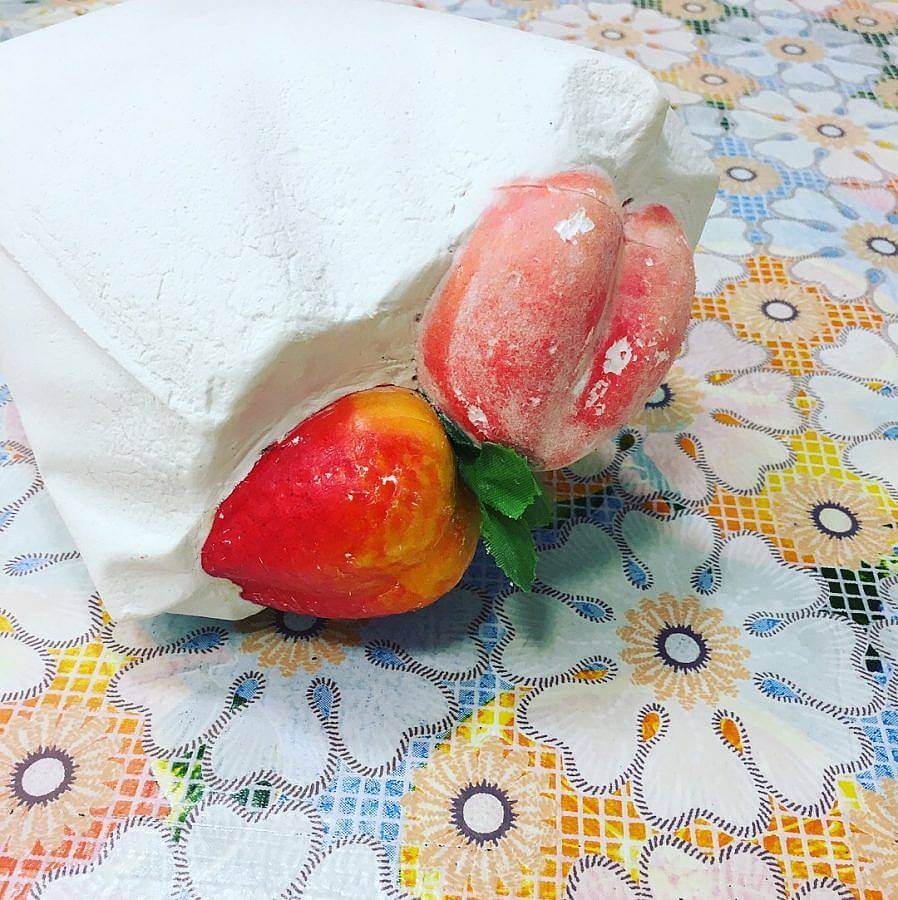 What is one of the key elements you consider when installing your work?
So much of my work is a combination or clash of my daily experiences, travels, my family, my home in Miami, my family in Costa Rica, and every memory leading up to that specific install.
What do I remember? who was I with? what did I see? I have a need to document my experiences through physical collecting or drawing of the spaces around me. So, when I'm installing my work or an exhibition, I want to be reminded of those spaces that I had once moved through. I may not be interested in recreating the memory exactly as it was, but I need the piece or gallery to give me a sense of nostalgia for that place. It's got to feel like the room is buzzing with energy!
Where do you see your practice going next? Any major changes happening in the studio?
Since finishing my MFA, I've had a really exciting year making new work, meeting more people through my BOLT residency and exhibiting! I feel like I have a good rhythm and looking forward to some exhibitions coming up in the Fall, which will be more sculptural and installation based. I am also in the process of fine-tuning my Garfield park studio for some upcoming studio visit in the next two months. I will be teaching a class at the Art Institute this Fall and Spring and plan to continue working with the Boys & Girls Club in Humboldt Park.
I want to keep traveling a lot this year (I'm planning a big trip to Costa Rica in the winter) and work towards exhibiting more in other cities.