Tell us a little bit about yourself and what you do.
I was born and raised in Ohio. I attended BGSU in Bowling Green, Ohio and then Illinois State University in Normal, Illinois where I received my MFA in 2012. I've been in Chicago for the past four years. I've had the opportunity to work for amazing institutions like MCA Chicago and Marwen while continuing to paint and show. I'm a diehard painter, studio rat, and cat lover. Painting is the one thing that has sustained me through some of the most difficult years in my life and is the one thing I constantly come back to. I've often been called a "Painter's Painter" and although I am very interested in the history of painting and am concerned about its future, this term often seems to devalue the content of painting itself and place it in the realm of material fetishization. Perhaps, this term situates the knowledge of craft and skill into a sub-category outside of the conceptual. For this reason I hesitate to associate myself with the term all together. In turn, I believe the material inherently has content but also needs structure and image to survive.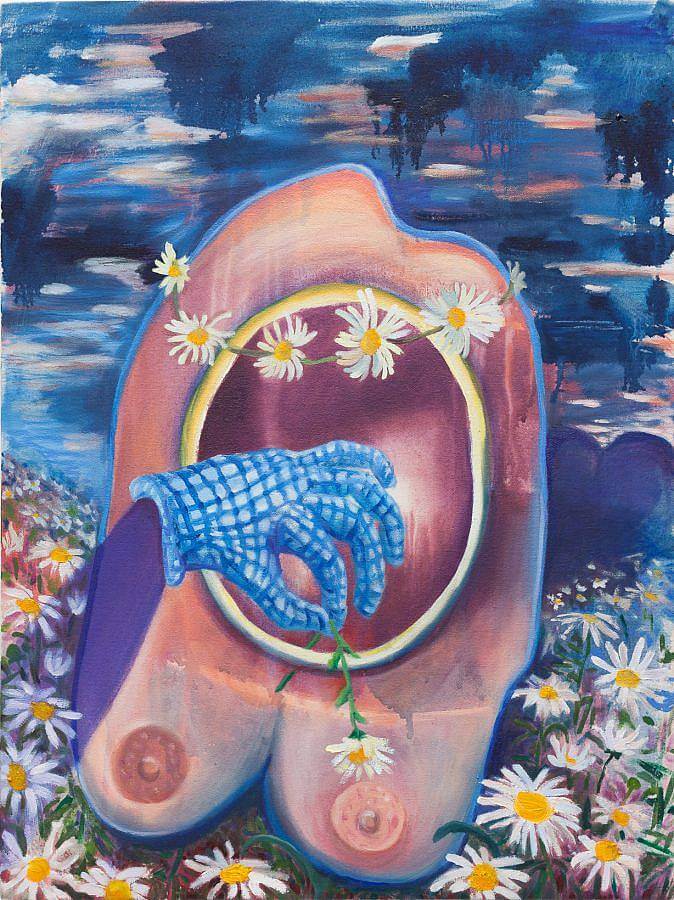 What are some recent, upcoming or current projects you are working on?
This past year has been incredibly busy with making and exploring new ideas within my work, in addition to showing in a multitude of different spaces. Recently I've shown at Andrew Rafacz Gallery, Ukrainian Institute of Modern Art, Condo Association, The Chicago Show in Brooklyn, and currently have work up in Mother of The Clown with Molly Colleen O'Connell at Roots & Culture and Women Painting Men, a group show at Riverside Arts Center.  I've been in 8 shows in 8 months and am finally excited to have some down time in the studio this summer to make without the pressure of showing the work right away. The longer I've been painting the more I realize painting takes time including time not painting. My best paintings are often born in unexpected bursts and stem from my personal experiences. This summer I am creating a reading residency for myself where I can focus on all of the texts and books I have have not had the time to read and am excited about a writing project/platform that another artist and I are working on developing. These peripheral areas are just as important to my practice as painting itself.
What materials do you use in your work and what is your process like? 
I mostly use acrylic to start, and oil to finish and collage a lot of craft and found materials.  Sand, rocks, buttons, stickers, embroidery, etc. If it makes sense for the painting then I use it.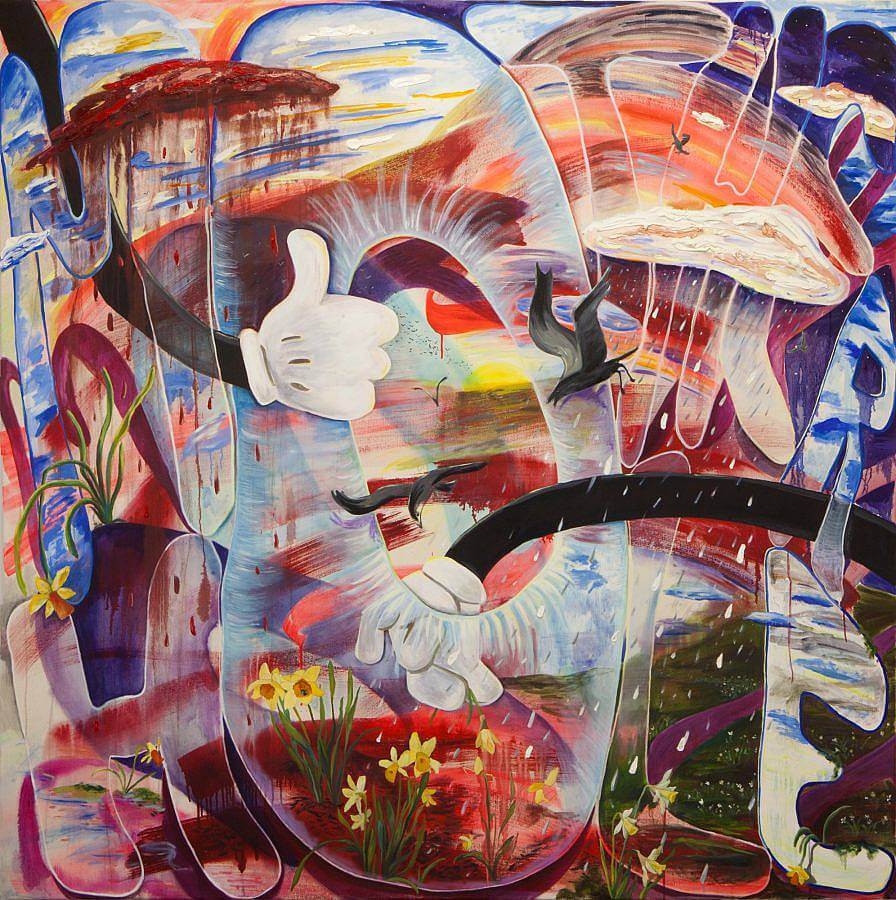 What was the last exhibition you saw that stuck out to you?
Pipilotti Rist at the New Museum in 2016 was one of my favorite shows I have seen to date. I think I spent 6 hours there writing and looking at each video and installation. Her work is fantastic. It takes leaps in exploring the wonder of the world but refrains from feeling cliche or trite. The work is poetic in content and form—often Rist's work explores the boundaries between sincerity and criticality. 
What's your favorite thing about living and working in Chicago?

I love the DIY spaces and projects. Every few weeks there seems to be a new artist run space, project, or publication. I think Chicago is unique in this attitude of building community spaces that allow for experimentation and failure outside of the commercial market. I think this where the heart of Chicago's art scene is based. It's not always sustainable, but there is something to the constant flux of spaces that is exciting and encouraging.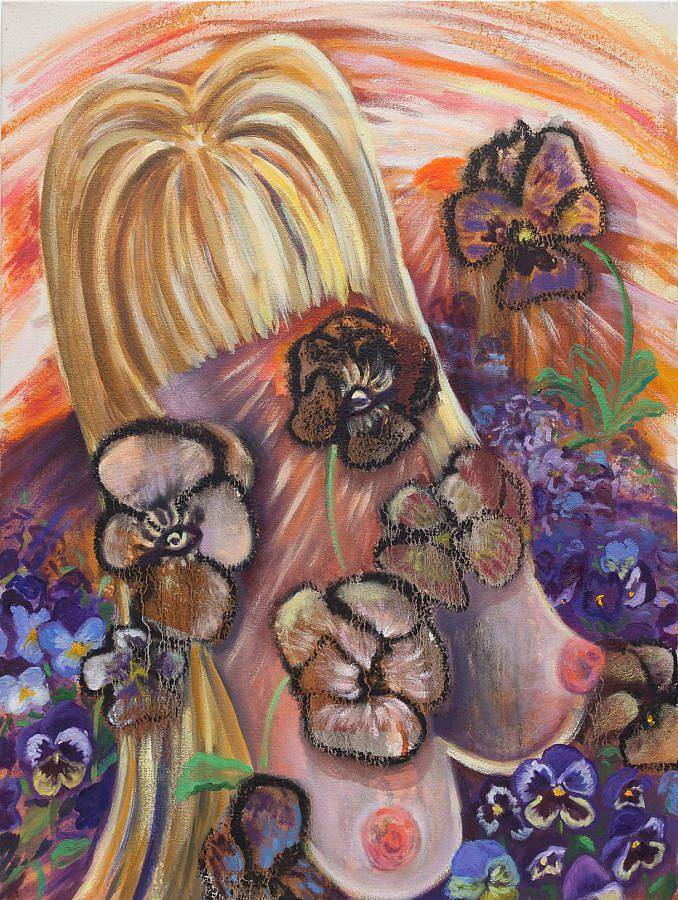 What is influencing your work right now?
The short answer is—my work is influenced by a mixed bag of various things and experiences. But to expand upon this I would say this. . . I view my practice as a moving constellation of ideas, always, continuously, changing in their arrangement. I pull from my personal embodied experiences—unique to myself— as I encounter the world in my femme body. I believe that the use of image and object in painting parallels my experiences of moving through the world as a woman—simultaneously occupying the space of a subject and object. I explore these dichotomies through visual explorations that borrow and expand upon the language of landscape, body, and most recently text in paint.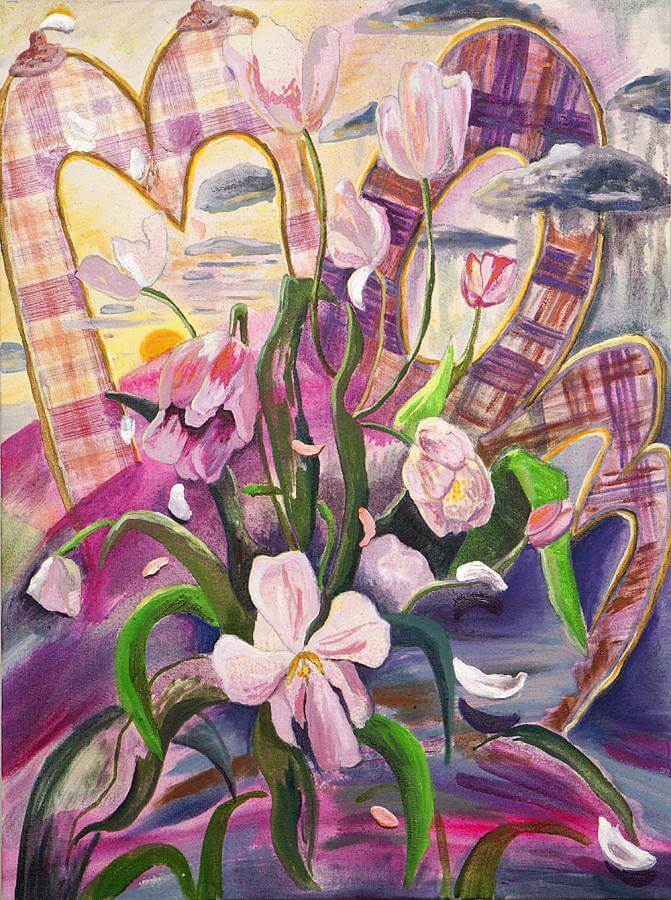 Do you collect anything?
Trash and miniatures. Miniature trash is even better.
Describe your current studio or workspace. 
My studio is in the Grommit Studios on the second floor of an old pipe factory building on Damen and Fulton. It's a large communal space divided into smaller studios with open doors. I love my studio. The location is great, there is a lot of natural light, and my studio mates are like family. I've been there for 4 years and will be sad to see it go when they remodel the building. 
Where do you see your practice going next? Any major changes happening in the studio?
As always it starts and ends with painting. What I will paint or make is always a surprise. I have been working with text for the past year or so and am interested in combining writing into my practice. I'm not sure what form it will take but it's something I have finally given myself the permission to do without judgement. 
What do you do when you're not working on your art?
I read as much as possible.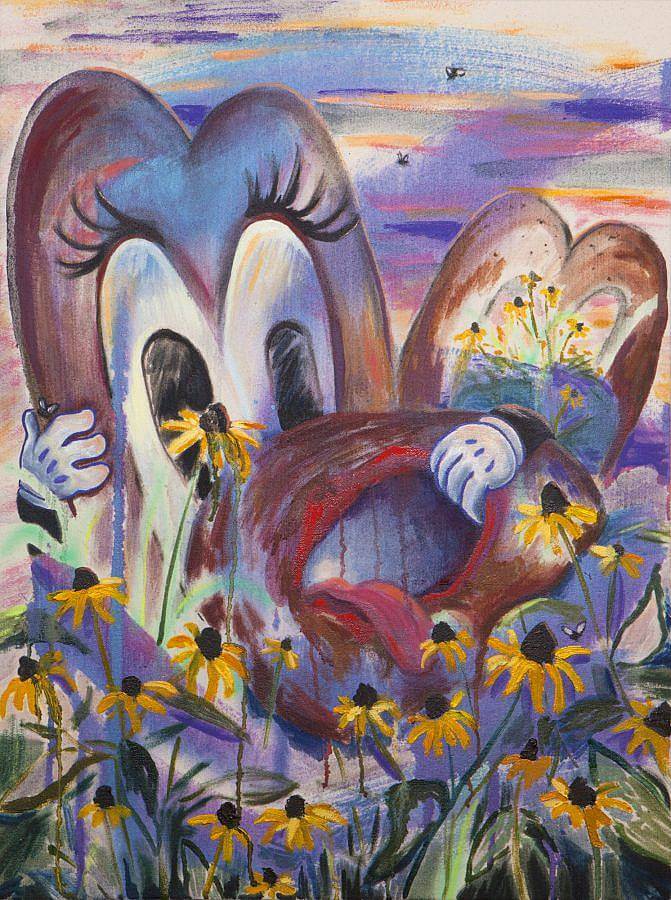 What's the best advice you've ever received?
When I was at Skowhegan in 2016, I had a studio visit with Rebecca Morris. I was so stressed out about what I wasn't making and where and what I was going to do after the residency. She was incredibly insightful and said that the year following the artist residency is when you really begin to unpack your experience and to develop the work. She was right. The next year was so fruitful and productive. At residencies I think artists often feel an extreme pressure to make incredible work or to have these breakthroughs and can become competitive in what they are producing alongside their peers. The more residencies I have participated in the more I have taken her advice to heart. For me it is often not about producing, but more about discussion and exploration of new ideas that generate the next year's worth of work. I am still unpacking ideas from ACRE last summer.