Tell us a bit about yourself and what you do.
I am a musician, artist, woodworker, photographer and organizer. I play guitar in the band Liturgy, since 2020, we've been traveling frequently and are about to go on a West Coast tour of the U.S. as well as a European tour in October. I've also been playing guitar in the band Junta, since 2017.
I'm very interested in Woodworking right now, making furniture, and incorporating it into my art practice.
I take photographs of artwork and furniture, as well as documentation for the artist-run space Gern en Regalia I organize with my partner Zoe Brezsny. I also code html for my own website with my artwork on it, but would like to learn Java.
When did you start playing guitar and how did you get involved in playing with Liturgy? 
I started playing guitar when I was 11 and have been on and off it. I learned basic fundamentals and how to play music with others early, and try to reflect those capabilities with interacting with people everyday.
I was interested in crossing Metal and Techno and have a solo project called ACCDNTL DRED. It's sort of like groove metal, meditation, and industrial fusion. I have fun with it. I opened for Liturgy in 2018 for my friend Ben Fama's book release 'Death Wish' at Saint Vitus and in 2020 right before the pandemic Hunter reached out to me to see if I wanted to join. I'm also in a band called Junta, an NYC Hardcore thrash metal band created in 2017. I am very thankful, happy, and blessed to be a part of Liturgy. Hunter, Tia and Leo are incredible musicians and I enjoy every second playing music with them.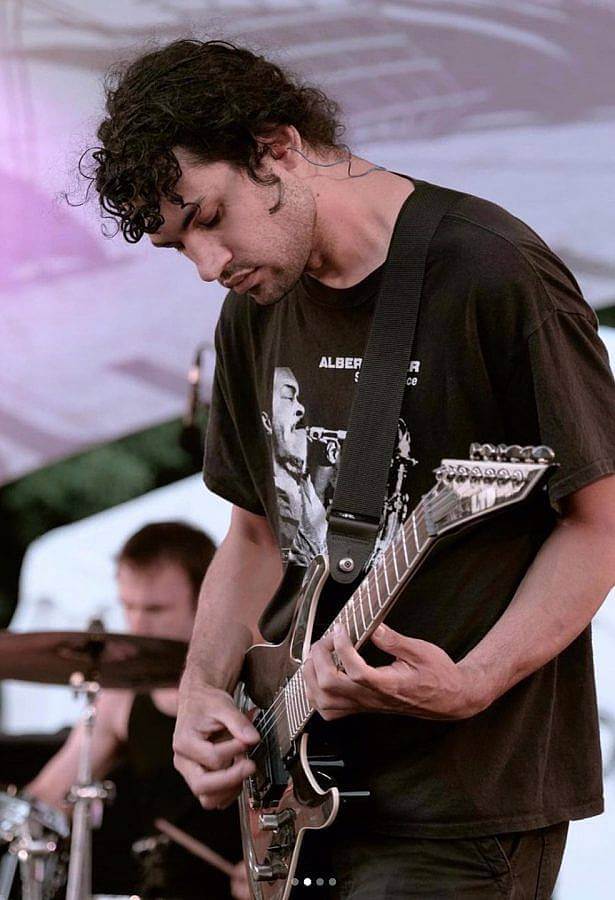 Do you find it difficult to balance a studio practice and a curatorial practice with your involvement in music?
Sometimes it's difficult, but I enjoy staying busy! It allows me to travel from one practice to another inspiring myself from Music to studio back to organizing artwork at the space. Everything is connected, even when placing someones' artwork on a wall. Artwork in a space can be orchestrated like music with rests, and height and distance, and can make the eye dance when viewing a room. Working with friends day to day and then on my own projects has been a great blessing I'm eternally grateful for.
For studio practice I try to pace myself to achieve or learn something new every time I go to the woodshop or make a painting at home even if it's about how to not do something next time.
How did you and Zoe meet?
Zoe and I went to CCA, and both moved to New York in 2014 after school. She studied Poetry and came to New York to receive a masters degree at Columbia. We both started dating out here and it's been great ever since! We go to a lot of poetry readings together and she is my favorite poet.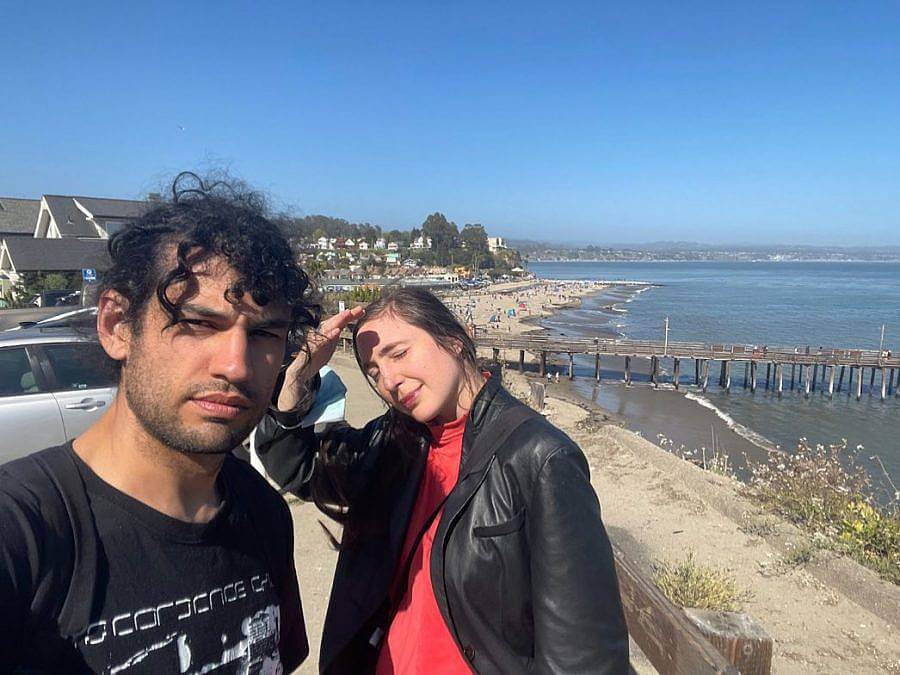 What have you been listening to lately?
Zoe Brezsny inspires me every time she djs on WFMU on mondays from midnight to 3AM! She plays Ambient techno, Goth, Dub, Metal, pretty much any genre and is always unique and amazing. Hunter Ravenna Hunt-Hendrix inspires me with a lot of music, I've been listening to a lot of early screamo from the 90's and 2000's like Page Ninety-Nine and Saetia. As well as Opera like Giacomo Puccini, We just installed a show called 'Puccini's Fire' at Gern with the artist Irina Jasnowski Pascual. The show uses mapped spotlights highlighting each sculpture to interact with each other with orchestrated sounds. The show is being treated like a Sculptural performance where only 1-2 people experienced the work at a time. 
I also listen to a lot of early hardcore like Spazz from the Bay Area, as well as Grindcore, Deathmetal and Techno. 
Also a lot of Jazz/ Free-Jazz. I'm very into Clarinet right now, my friend Daniel Carter is a legend in New York, and he performed like 5 duo set's for a NYC Noise show. He performed with Patrick Holmes, who is an incredible Clarinetist, and I'm a huge fan.  My grandfather played Clarinet as well and it's an incredible sounding instrument that has inspired me.
Looking at your recent works, many of your paintings and drawings appear to be tributes to musicians. Can you elaborate a bit on how you make these works and approach this subject matter? 
I used to make a lot of fan-art of musician's I enjoy and I started thinking about artwork I made 10 years ago. I found it very interesting how music from a decade ago comes back into the periphery of consciousness. Relating it to artwork, I realized I used to make work about musicians and why not? Deviant art as a style is of interest to me as well. The work I'm making right now is in a similar vein, but I keep trying to extrapolate the subject matter into different materials and with woodworking. 
This particular work is called 'Ridin' the wave of Life'. I made the stitched stretched fabric from multiple pieces of canvas and different textiles treated with bleach, dye and acrylic outside on my roof in 2015. The float frame is made from oak with maple corners. The ornamental frame on top is a part of a way where I elaborate a rorschach-esque drawing on a piece of letter size paper, and I've been making drawings like this since 2015 when I moved here also. 
Thinking about time and how this stretched painting was in my storage unit for so long, I realized I should also think about some music I was into even 10 years prior to 2015 like Syd Barrett from Pink Floyd. Syd Barrett resonates with me also because I found out about 'Opel', a solo acoustic cd from Borders bookstore and I thought the cover looked like a metal record. I grew up listening to the idiosyncratic poetic lyrics, and guitar recording style. I'm happy with the psychedelic-psycho-analytical way this one turned out especially with being right next to my friend Tom Forkins beautiful work resembling a magic mushroom.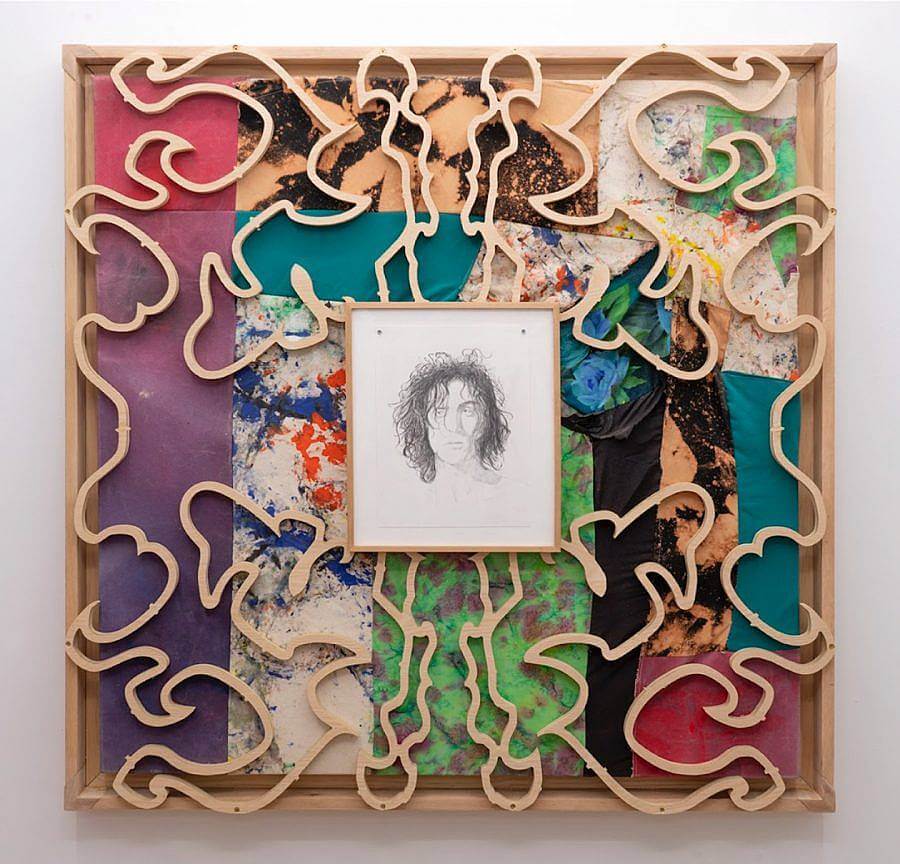 Do you have any book recommendations?
Neuromancer, Count Zero, Mona Lisa Overdrive, any William Gibson book. Valis, Philip K Dick books, Lilith's brood by Octavia Butler, Stars in my pocket like grains of sand, Dhalgren by Samuel Delaney,  Televisionary Oracle and Pronoia by Rob Brezsny.
Can you talk about the exhibition space that the Gern en Regalia shows were held at in Aeon Books?
Gern at Aeon Books was created from trying to find an exhibition pop-up space for Joe Speier's first New York Solo show. We were all looking for a space that fit Joe's occupation as a waiter in Baltimore. The back of Aeon was an old kitchen with the recommendation from Zoe knowing Josiah the bookstore owner from her previous job of working at the record store Commend where Josiah sold books at. That space still had a lot of cooking grease everywhere, and it was quite hot with a lot of flies but it somehow all worked with the work. 
We ended up staying in this space for a year and it was really great! Super grateful for our time there. The metal walls were fun, everyone just sort of recognized us as the metal wall gallery. We would leave the space open for the bookstore so the traffic was pretty good.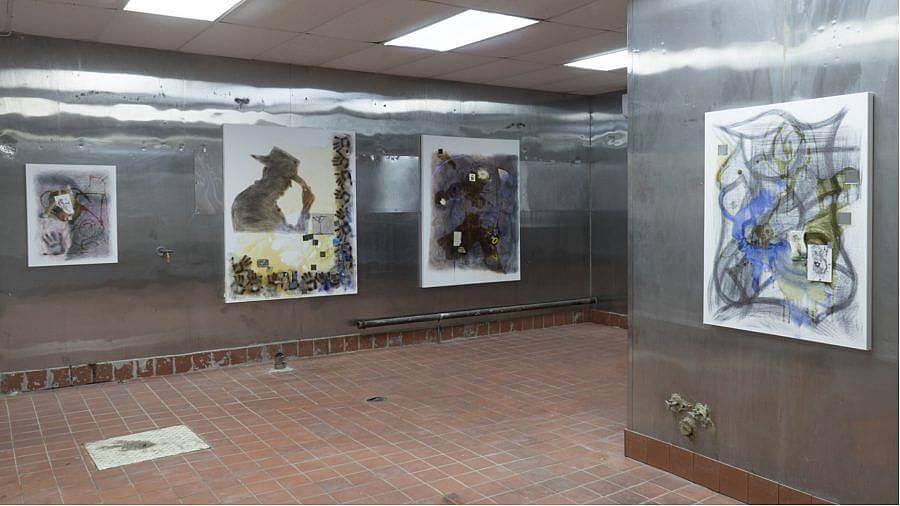 What goals do you and Zoe have for Gern en Regalia?
We hope to have a bookstore component to Gern with a large poetry section and our own publications. Our main goals are to have art shows with people who are making important artwork and are on our radar aligned with Gern as a project. We do recognize the space as something different from other artist-run project spaces/ galleries and hope to keep true to how the shows have been presented in the past but also collaborate with more spaces in the future!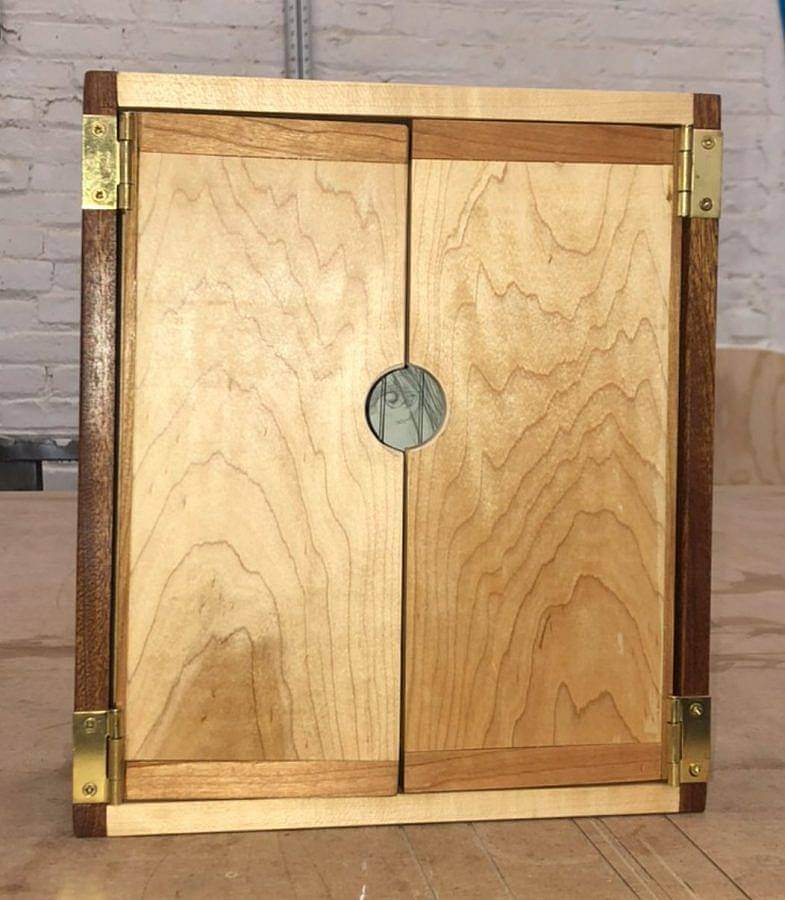 Any upcoming projects that you can share?
I recently am a part of a group show at Afternoon Projects in Vancouver with New York based and Montreal based artists. I made a hand-cut dovetail jointed cabinet out of mahogany and maple with a portrait of Neil Young. I suspended Guitar strings in the middle of it and had Neil look through the handle/ sound hole. I'm very happy with how it turned out,  it's called ' World on a String' from the album 'Tonight's the Night'. Neil Young is another important musician for me because of his beautiful countertenor voice and shimmering/ drop tuned guitar playing being so unique and his own. My friend Tyler mentioned it's like we're looking into the cabinet but it's actually Neil on the outside looking through the strings into our own world of reality.
Any predictions for 2023?
2023 will be great and I'm looking forward to it! We have some awesome shows in the works with some amazing artists. Looking forward to traveling some more with Liturgy, and Junta as well. 
I also plan to release my furniture project which will be called 'Centuries End'. My friend Brandon helped me come up with the name. I was thinking about Mid century furniture and also The Ramones Album 'End of the Century' and it clicked. Hopefully I can make this a furniture brand and can make commissions for people or sustain a practice of making any woodworking pieces. More on this project soon and am excited to announce the idea hopefully even in 2022.
Interview conducted and edited by Sam Dybeck.
Portrait Photo credit: Zoe Brezsny at the M train