Tell us a bit about yourself and what you do
I'm a Jewish guy from New York which honestly you don't see very often. I'm mostly a comedian but sometimes people call me a performance artist (which I don't love, but maybe that explains the vibe a bit?). I also do some carpentry and woodworking, graphic design, make hot sauces and condiments, fight against landlords and private property doing tenant/housing organizing, and above all I try to be the best boyfriend I can be. A lot of my time recently has been spent on my new solo show about grief and loss called Live After Death and also making sure I sound funny and cool and not lame and stupid in these answers cause I'm more of a live act. 
When and how did you get the idea for your show, Live After Death?
Between 2017 and 2020 my dad, granddad, uncle, and four friends died — and that's basically how I got the idea for the show. It felt like a lot of death back to back to back, and it was all I could talk about on or off stage, so the topics of grief and loss just naturally bled into my comedy for a couple years. I got to a better place in my grief where death wasn't the only thing I needed or even wanted to talk about, but it felt weird to just… stop doing this specific material anymore without making a whole fucking thing of it? So I decided to try working all my death stuff into a fuller show that could act as a tribute to my loved ones, but then the pandemic hit and I had to cancel the first run of shows, BUT THEN it felt like literally everyone started dealing with death and grief, and I got the idea of incorporating audiences' experiences with loss into the show, which excited and engaged me more than doing a show that simply focused on my own story and trauma for an hour-ish.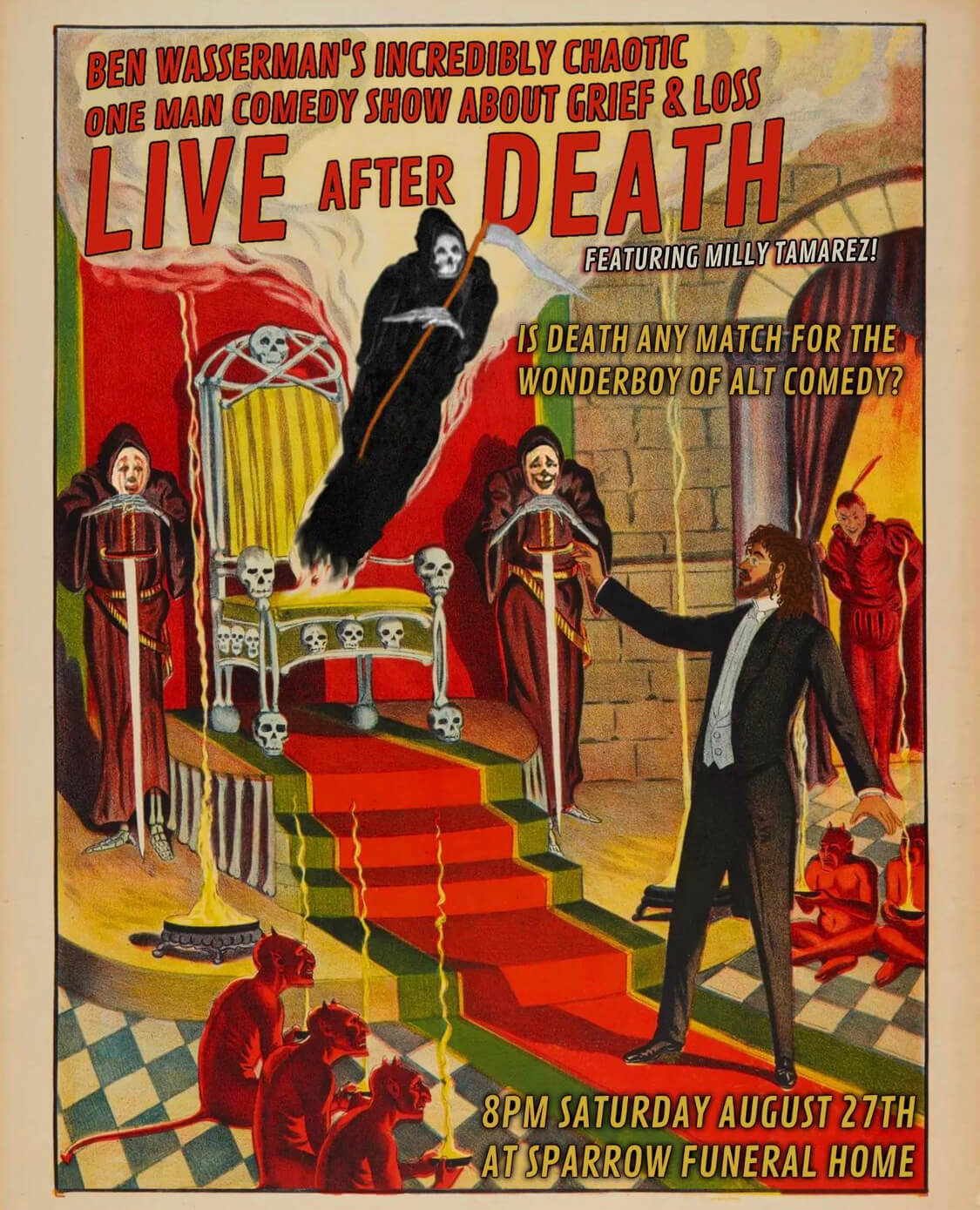 What was the process like for writing your show?
I'd say the process for this show has absolutely sucked, because seven people I cared about had to die for me to make it? But I'd also say I don't necessarily… write? I've probably never told a single "joke joke" in my life and that's mostly because I hate writing (except for answers to interview questions). But I do love an idea. Like having an idea for something to do on stage and then doing it later that day? I love that. And most of the material in the show sprung out of that context. Like, there's a juggling routine in the show where I try juggling all the stressful stuff that's been going on in my life, and I came up with it on a day when I just felt so overwhelmed by all the deaths, caring for my grandparents and my sick cat, trying to make a new relationship work, and finding a job, blah blah you get it. There's a seance in the show and I came up with that on a day that I really wanted to talk to my dad. And so in that sense, "writing" this stuff was super cathartic. 
How has doing a one-man show been different from doing more traditional stand up stand up?
I'm more of a "goof and gag" comedian than traditional stand up so I wouldn't know. But one thing I love about doing my solo shows versus a set on someone else's stand up show is the me component, cause I think I'm great and really funny.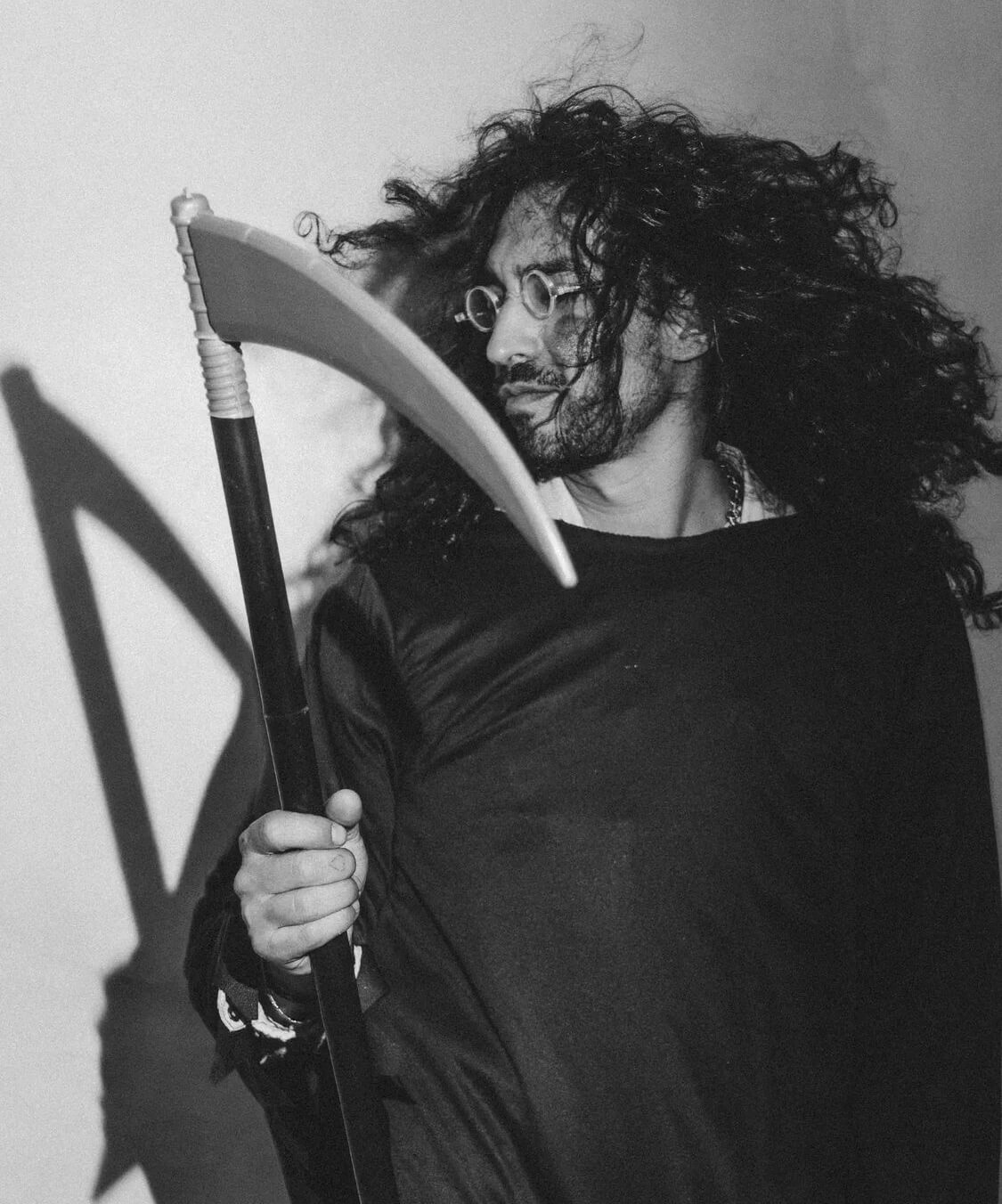 What's your favorite snack?
Good luck stopping me from having more than one pistachio, I love those lil guys! 
What has it been like performing at funeral homes? How has the reception been?
Doing the show at a funeral home has been so sick, and people are absolutely eating up this show. There are people who have come back two or three times and that really warms my heart and makes me feel good. You hear people talking about "using a space" in art a lot, and doing my show about death in a funeral home has felt like a good way of doing that. I think the funeral home setting primes people to talk about and share their experiences with grief and loss, which makes the conversational moments of the show a lot more fruitful.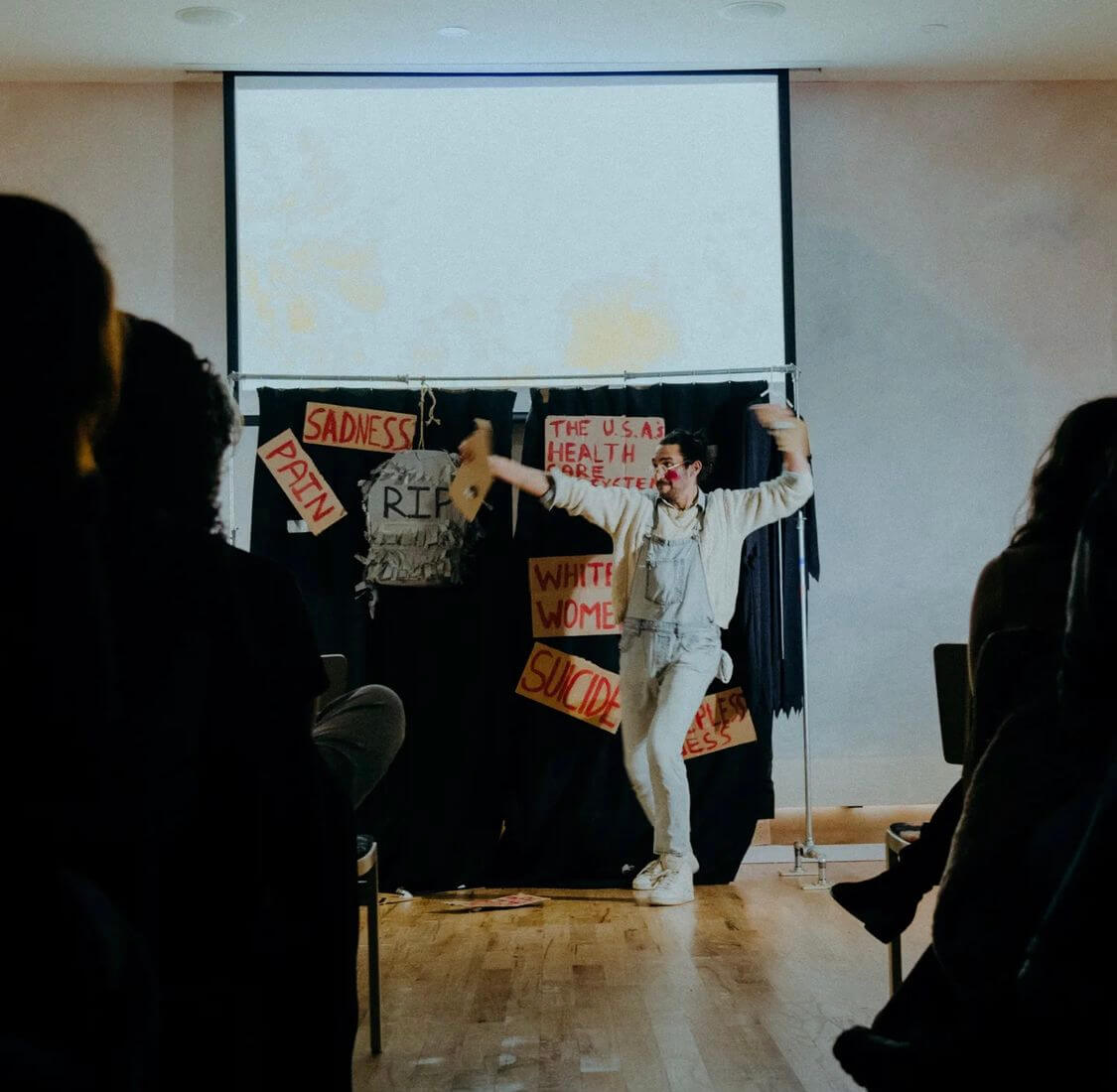 What's your favorite or craziest story from doing crowd work
One time in Philly I brought this kid up on stage, he was probably 18, too young to be in the bar, but I brought him on stage to a do a bit with me and he was just sooo drunk and kept saying weird and inappropriate stuff into the mic and I had to work really hard to corral him and get him to just not say something out of pocket and I just kept pleading with him like "dude this is my set, please be cool and let me do my set," and when I finally got him to follow directions and was about to start the actual bit this lady came bursting into the show screaming "I've got guns, I've got bombs, and I stand with ISIS" and as I started to intervene and ask the ISIS lady to be respectful or leave, the drunk kid started shouting at her "Hey, this is his set, it's not your set,  it's not my set, it's his set!" which frankly was really funny and cute and didn't help the situation whatsoever and she stayed interrupting for the rest of my set into the next comedian's.
What music have you been listening to lately?
I've been listening to a lot of country lately but I don't want to give any names cause I haven't really looked into many of these musicians too deeply and I'm worried they're all like cancelled or something, but I just really like when a song tells me to get muddy, hang out, and have a drink.
How did you start doing stand up?
I was about to go to grad school for philosophy and realized that I was going to be bored with it and that academia wasn't for me so I went to an open mic on a whim and utterly destroyed. A classic story. 
Who are some of your biggest influences?
I don't remember his name but there was this Ted Talk I saw years and years ago with this scientist who was supposed to be giving a talk about who knows what some science-y thing, but he was like super erratic and all over the place and just kept showing different stuff to the audience like maybe I was too stupid to understand the science component but it just felt like a lunatic was doing show and tell and getting very exasperated when he'd show a new object to people. That guy probably has had the most influence on me comedically. Him and Chewbacca Mom, remember her? 
Who are some of your favorite comedians working right now?
This one's tough, there are just soooo many bad ones. But, my friend Sefa Urgenc makes me laugh more than anyone.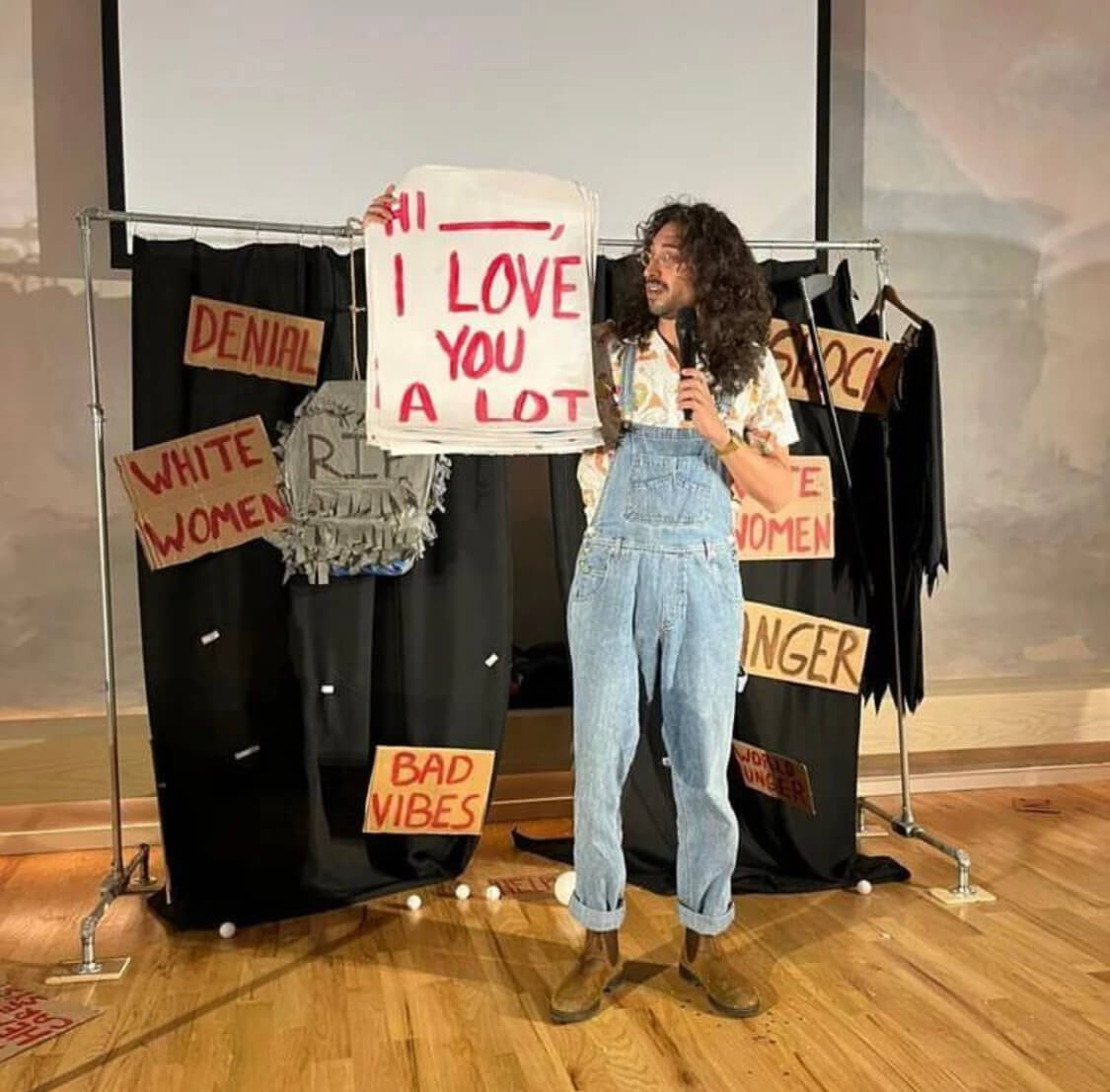 What have you been reading lately?
OK so I don't write but… I also don't read very good. I've been working my way through a very big biography of Che Guevara for over a year. 
What's your favorite meme?
This one: https://starecat.com/yeah-im-into-fitness-whole-pizza-in-my-mouth-dog/
Any upcoming projects you're excited about?
Yes actually! Several years ago I did an hour long show of mentalism (mind reading, hypnosis, thought control, etc lol). I spent half a year teaching myself how to do all this stuff only to do the show just once, but next month I'm bringing it back for this festival in Philly and I'm really excited to do some longer form stuff that isn't just about death and grief.