Tell us a bit about yourselves and what you do
Rachel is a weaver, interested in the microbial world. She is also a homesteader (hobby farmer) living and working in Fennville, Michigan. 
Théo is a visual artist, working primarily with embroidery, and a studio manager. He lives and works in Montréal. 
Molly is a Chicago based mixed-media sculptor and a teaching artist (and gardener.)
Mostly, we're a trio of three unexpected, but entirely fitting, friends who champion each other's art. 
What is your quote unquote 'origin story'?
The very first Abstract Lunch exhibition was created when Molly, Théo, and Rachel were using a shared space in the Graduate studios at SAIC in 2018 to photograph the work they had been each individually making, but intentionally curated together. The intention of these photographs was to propose an exhibition elsewhere. As the time came to take everything down, it was just a few minutes to the lunch hour for the entire school. We quickly came to realize that we had in fact installed our own little group show, and that perhaps it lived in this space instead of being something that we would propose to another gallery.  The spontaneity of installing our work together in the critique space felt fresh and exciting and we chose to celebrate it for what it was in that moment.  We felt we should honor it with its own opening reception – NOW. So the first of many brainstorming sessions between friends began, the name Abstract Lunch was born – with the subtitle "bring your own or eat with your eyes" – emails were sent immediately, simple posters were printed and slapped on doors, people were texted, and most importantly – people showed up. It was so fun that we decided to do it every week, and pass the curatorial decisions to the artists themselves, pulling together different friends & departments and facilitating the pop up itself. We chose to keep the same timeline and format – installing either on a Monday night or Tuesday morning, throwing an opening during the Tuesday lunch hour, and then deinstalling shortly after.
Given the original constraints of having shows during lunch breaks, how did the shortened timeframe affect your curatorial considerations, as well as how people viewed it?
Within the grad school format, we found that joy, excitement, and spontaneity were often drained from our practices.  Critiques are things that we would plan for, anticipate, sometimes dread – so making quick curatorial and installation decisions felt like a way to bypass those heavy feelings and reinject the fun back into making and sharing art.  It felt incredibly important that these shows were developed, curated, and fostered within the community of students separate from the institution and even our own faculty.  Even though there was an extremely limited amount of time, part of the fun of the original pop ups was that there was a true community that formed around executing ideas that sometimes required literal heavy lifting – like moving a pair of cement shoes five city blocks (from one graduate studio building to the other).  Sometimes the traditional gallery resources were missing, like when we couldn't find a single pedestal in the grad studios the morning of an install so the artists chose to use giant butcher paper rolls turned on their ends instead.  It encouraged experimentation and playfulness – inviting artists to make riskier decisions that they might overthink within a traditional gallery and show format.   Having to make quick decisions makes you rely on your first instincts, and that can be a missing element in regular format exhibition. The space was safe and it was fully ours as artists.
The lunch break openings were a somewhat simple product of timing, but they invited a casualness to how the audience engaged during the lunch time.  People sat around for an hour and had full on lunches and the conversations around the works were therefore very different from studio visits or crits.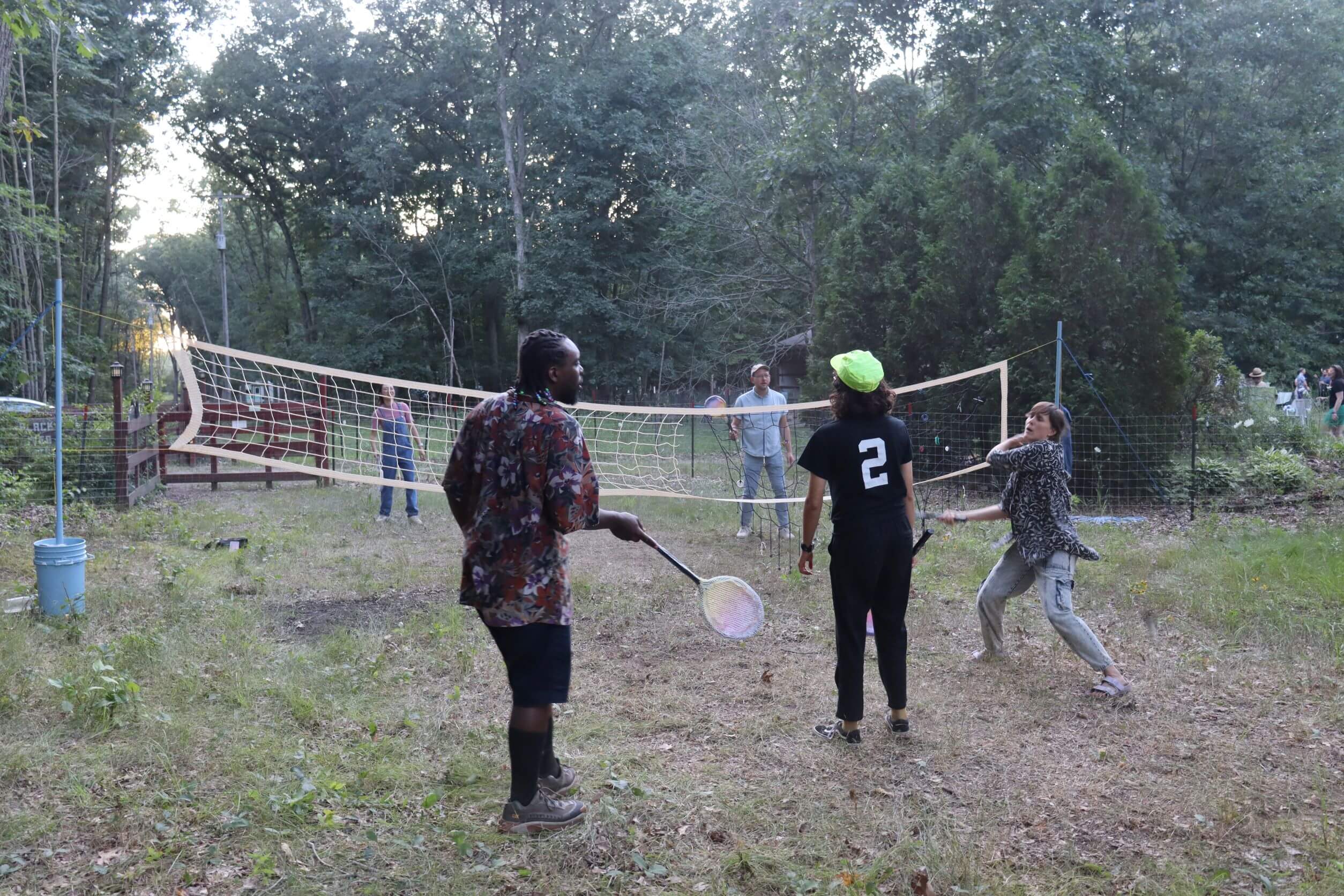 How different is art in the studio vs. Shown in a show setting? Why do you think that is?
I feel like there is an expected answer here – about playfulness & expectation. I think artists who go through academia only show work that they are set up, mentally or verbally, to receive criticism about. But the studio is reserved with intention for experimentation: which is by default a form of play. If we were feeling very bold we might say that the implications of a one hour pop up show, or a one day pop up exhibition on a farm, allows for playfulness more reflective of studio practice and less reflective of how we perceive expectation.
Oftentimes we feel that artwork shown in a gallery setting needs to be fully fleshed out and justified – it is an extension beyond the independent, personal, solitary making practice to say to the world "hey come look at this!"  Sometimes we lose the questions that we're asking in the studio when we try to present fully finished and polished work.  In some ways, Abstract Lunch straddled those moments as we dragged artwork fresh out of the studio and into a show, bringing those questions right out into the public space. 

How does the term 'white cube' make you feel?
We all have different feelings towards this term, but we all circle around various forms of discomfort.  Some personally don't mind the white cube itself. What is scary is when we imagine the white cube as the only space that can house an exhibition, or the white cube exhibition as a superior achievement than another show. Because the white cube is so codified and historically exclusionary, we don't love the idea of holding it in the highest esteem.
The "white cube" tends to have some negative connotations, mostly in that it aims to exist as a space free of social contexts and histories and all other things that are incredibly important to acknowledge as we take up space as artists.  The white feels like an attempted erasure, a fictional neutrality, as if the only thing that exists within the space is the art itself, and it is entirely impossible to actually erase a physical space.
As young artists, the "white cube" can also feel exclusionary, intimidating, unattainable – it's positioned as this elite level to which we may never be invited.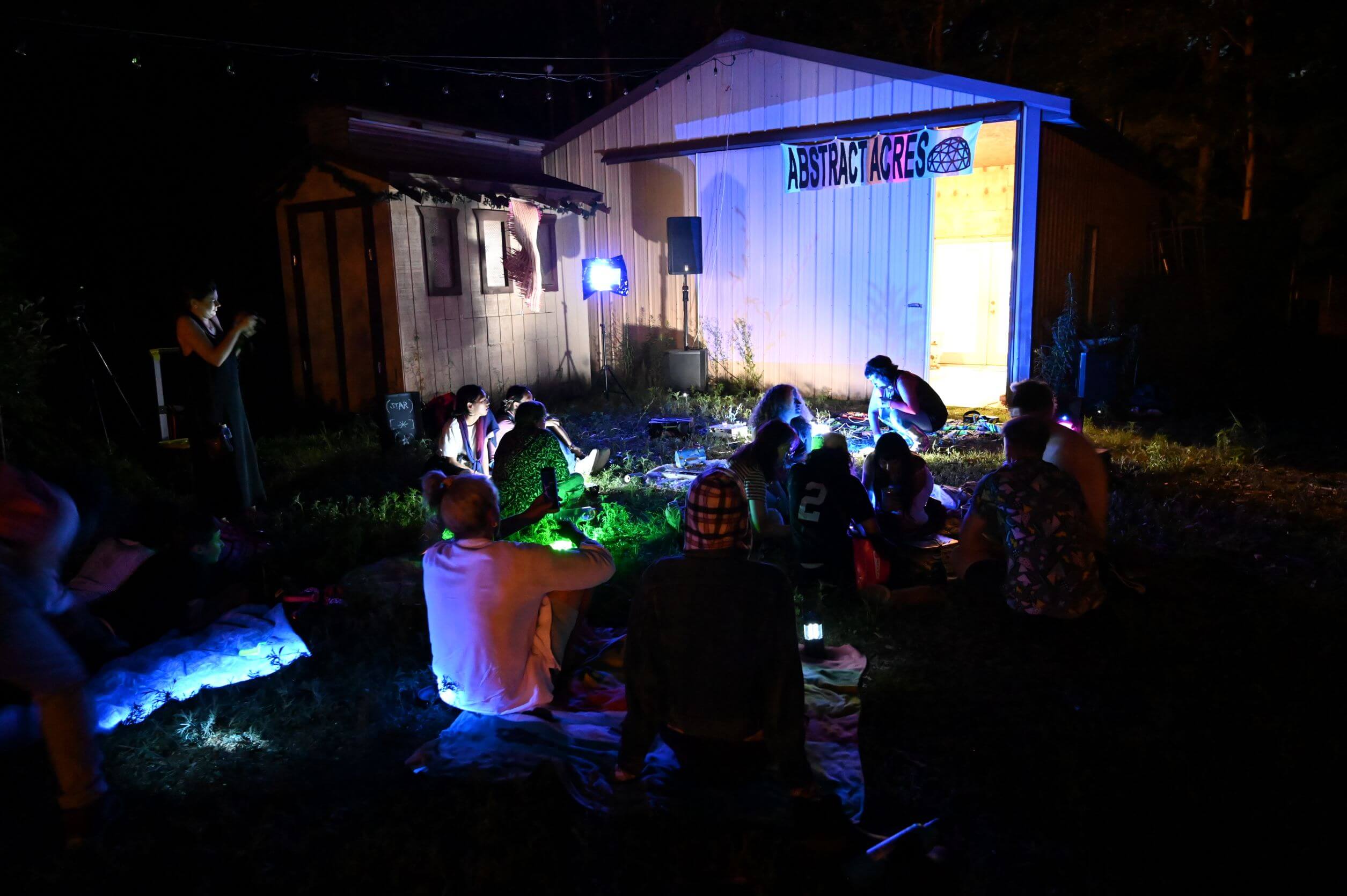 What should curation do, and what responsibility does one have as a curator?
We think of Abstract Lunch as a project to go back to the etymology of what curating is: to care for. With our program, we care for the artists we know, we care to know new ones and to create spaces for them to meet. Caring is our main responsibility. For us, the organizational principle of what we do feels often more important than what the final outcome will be, to be honest. We are less interested in a specific vision of what a show will be about but more how it came to be. In this sense, I think we see each other as organizers and facilitators more than curators. 
What are your opinions on graduate art programs, and what did they do for you?
To be totally transparent, the three of us have some pretty strong feelings about our graduate school experience.  We fully acknowledge that each school, each department, each cohort can run differently so we can't make any sweeping statements.  What we do know is that we were all at a time in our lives where we felt it was incredibly important to invest in our practices and ourselves as artists by furthering our education.  It was a very intense two years, and we felt that we had to fight a lot for the education that we wanted.  While it might not have been the experience that we had anticipated entering, we found each other and an incredible community, and all feel that we came out as better artists.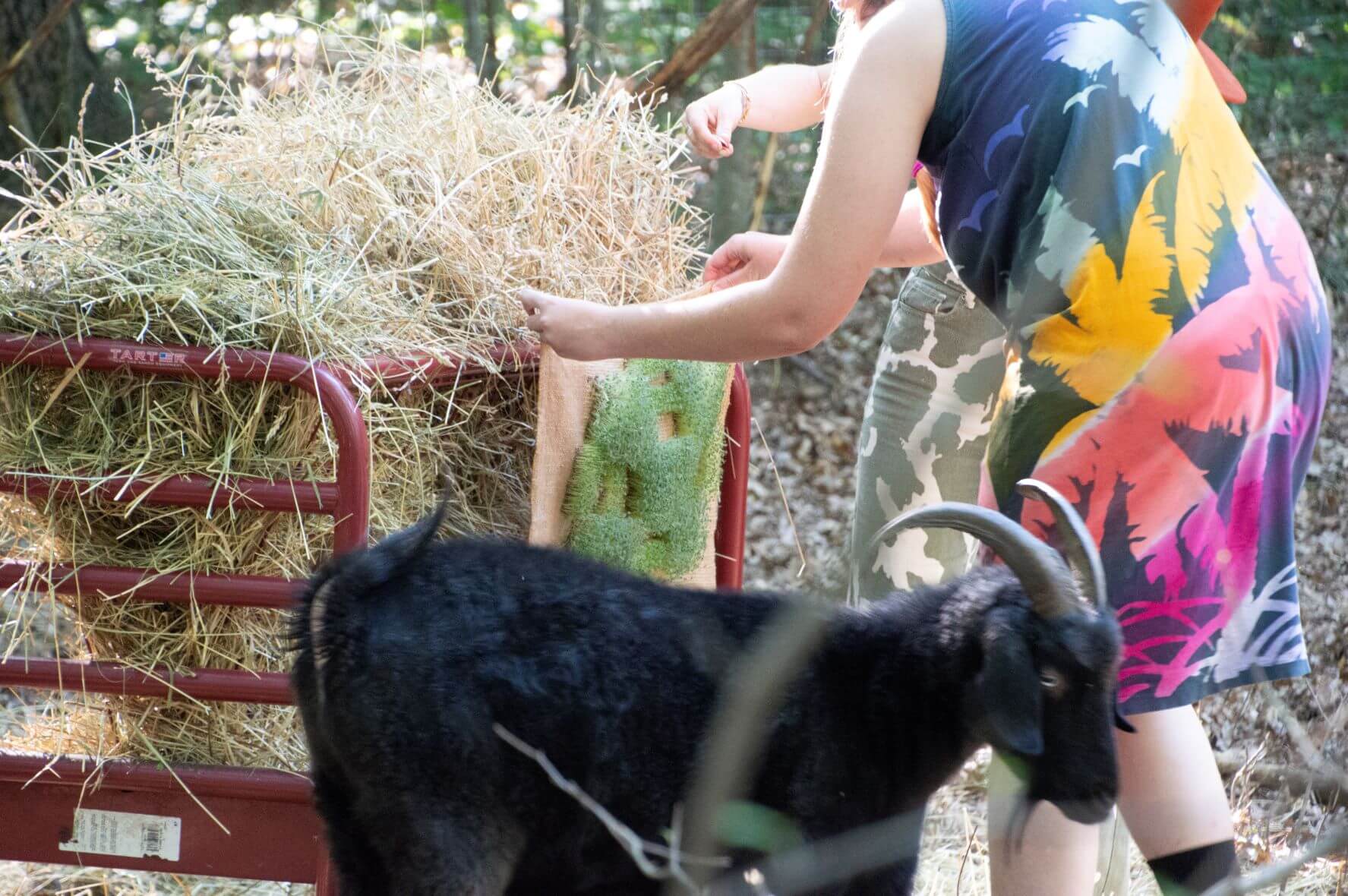 What are some things that may not make you enjoy a show that you see? 
The unnecessary waste of material of some blockbuster or bigger scale shows: large vinyls, building walls, repainting large sections of the space. It's especially frustrating when it's an exhibition or a piece that addresses our climate crises. We will not name examples here but there have been a few examples of this recently in various Chicago institutions. 
What is Abstract Acres? How did it come about?
Abstract Acres is a one-day outdoor art exhibition/fest that was held at Fluffybutt Homestead in Fennville, MI on July 30, 2022.  It was entirely a grassroots experiment – supported by our community, and put on by and for artists and our friends, families, and anyone who wanted to get down with the art, animals, music, and food.  The spirit of Abstract Acres was really similar to that of the original Abstract Lunch shows, but on a much larger scale.  It was a space for community, experimentation, sharing artwork, and celebrating the resilience that artists have shown over the last few years.  It was an all hands on deck installation on the morning of the events, with artists hanging and installation art all over the farm with whatever means they could find.  And while we celebrated, partied, shared joy, and ate food all day, by the next morning the show was entirely deinstalled and the farm was returned to its normal state.
Honestly, Abstract Acres came about much the same way the original Abstract Lunch came about. The three of us have been spread apart by physical space since 2020.  We live in Chicago, Fennville, and Montréal, but we communicate via text every day, we are a part of one another's studio practices and also day to day lives. When school, and the larger world, shut down because of the covid epidemic, we missed out on an entire spreadsheet of artists that were looking forward to showing in the spring semester of 2020 for Abstract Lunch.  And while we tried to make an online exhibition happen – there is nothing quite like looking at art in person. So we began scheming a one day in-person pop up. Choosing a space was easy.   Rachel has five wooded acres of gardens, a barn, a studio, and other structures in Fennville. While we had been talking about putting this show together in the abstract for a while, we only really sat down to start planning in early June 2022.  We decided if we just picked a date and started telling people about it then we would just have to make it happen.  We figured we would reach out to a few friends and get together a show of 10 to 15 people at most. We didn't realize that we were creating an opportunity that would be so appealing to so many people. We topped out at 40 exhibiting artists in the matter of six weeks from our initial call for art.
What are your favorite kinds of exhibition texts?
We enjoy exhibition texts that have a distinct voice of the writer. Something that makes it quirky, fun, aggravating, but never something that is too flat. We also enjoy a statement that has a few factual statements that give us something to chew on. 
We appreciate an exhibition text that is easily understandable and accessible, that is frank and honest, that doesn't lean too far into academic and veiled language. It's also lovely when it addresses the language of the artist, or the audience that will visit the exhibition, i.e. not always deflecting to English. We feel that texts should be legible without needing a background in academia or an art-historical education.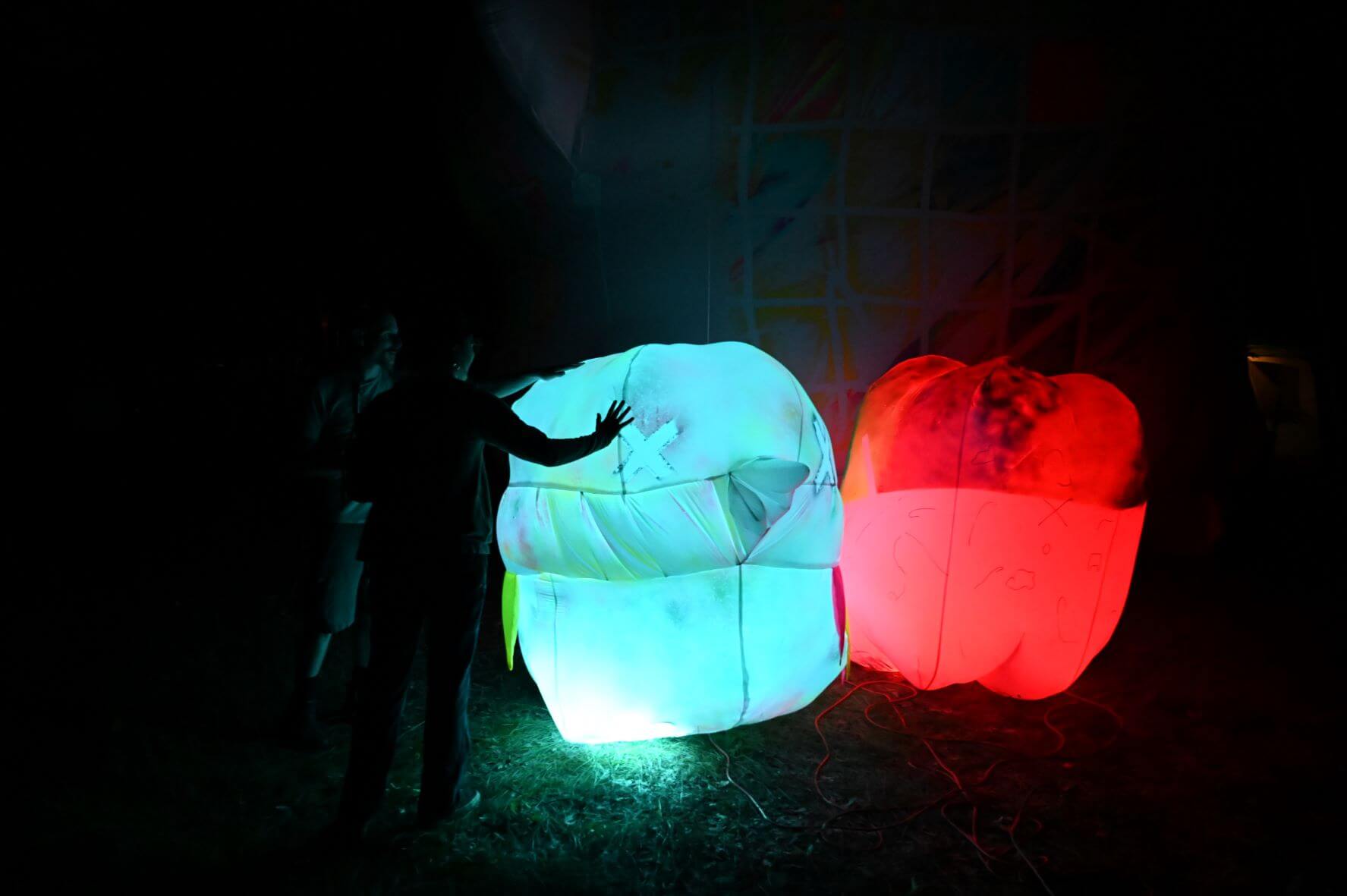 How do you feel about accessibility in showing art?
This is such a rich question, and we've thought quite a bit about accessibility in terms of both removing barriers for artists to exhibit and how to make the art and space physically accessible.  While we have much to learn in both realms, we can fairly say that the 3 of us feel very strongly about making accessibility the underlying element of our approach with Abstract Lunch. 
In terms of being physically accessible, Flufflybutt as a location brings about some distinct challenges that we will continue to work through as Abstract Acres evolves.  We've been applying to grants with a specific hope to create ramps and accessible pathways for wheelchair users and those with mobility issues.  We also want to remain open to feedback from participants and attendees as to how to better accommodate all of our artists and viewers.  We will also soon officially announce our next initiative – Lunchbox Gallery – which will be a small mobile gallery (we'll talk more about this below!)  We hope that by bringing the gallery space directly to the artists we can tailor the experience to the individual needs of each person and exhibition. 
In organizing Abstract Acres, we strongly prioritized making it as open and barrier-free as possible. We did not ask for a fee, a CV, any kind of text, even images of works. All these parameters are very common in calls, but really they cater to college educated artists that can afford to pay entry fees and have professional documentation of their work. Also it is impossible to not be influenced by a line in a resume when looking at someone's portfolio (for example knowing a work was documented part of a solo show somewhere as opposed to be taken in the studio does not have the same value in most people's mind, it's impossible not to be biased in this way). Therefore for Abstract Acres, the idea was that everyone who wanted to participate could, and our role in this process was to be facilitators and not curators. Rachel and Molly organized art drives between Chicago and Fennville, to make it as accessible as possible for artists in the city to have their work shown there. There was a real spirit of community, artists stepped up and helped each other, drove each other and their work, tried to organize group shipments. Our big goal for a next iteration is to secure an important shipping budget to allow more artists to send their work for free. I think all of us have had the experience of participating in exhibitions, and in the end it winds up being a big cost just to participate. But Abstract Lunch is a work in progress and we have a lot of room for improvement, making our process as transparent and accessible as possible is something we will keep working on as long as our collective exists. 
What are your feelings towards online exhibition spaces?
Online exhibitions are a great leveling field, in some ways. They are easy to share and have a fairly low barrier for entry in terms of creating and accessing them.  They allow for art to be curated and shared across distances that could prove to be impossible in the physical world.  But the flattening of everything through a screen and limited viewpoints removes a lot of agency from the viewer to notice detail or make comparison, association, etc.  We're all material girls, and we feel really invested in the materiality of artwork.  This close investigation and understanding of materials can get lost in virtual spaces and documentation. While we believe that material investigation is an important part of viewing artwork we also think online exhibitions also offer something very interesting to the table: reducing the environmental impact of an exhibition. For example it's probably about time the Venice Biennale shifts gear for some sort of online presence instead. How much longer can this sinking city handle the international artists and cultural jet setters flying in and out for this event? It is interesting how these questions were very central in the early pandemic conversations and are now appear completely done.  Considering how we can adapt to a different space might help us in this, maybe we need to get back to considering how we present online exhibitions independently of how we present documentation of a physical space.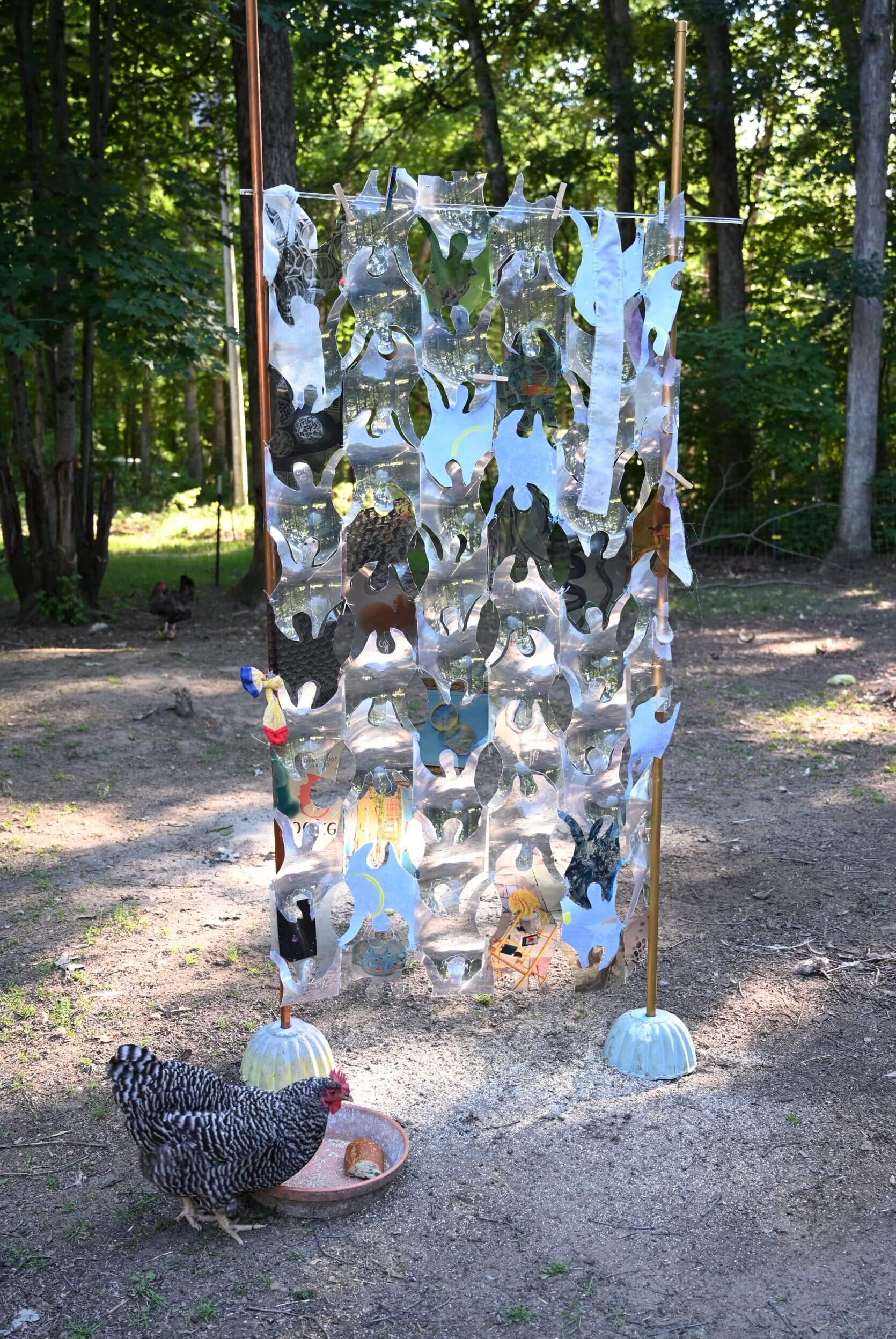 Do you have any upcoming projects you can share?
Abstract Lunch presents: Lunch Box Gallery
We've gone big, and now we want to go small and portable.  This idea was spurred by discussions on how to curate and organize art exhibitions without being tied to a specific location.  We want to empower artists to manifest one's own exhibition. Ever dreamed of your own solo show in NY? With Lunch Box Gallery, you can make it happen. 
Lunchbox Gallery is a miniature portable gallery intended to provide equal access to exhibition space and solo shows independent of zip code.  It aims to level the playing field with no application fees or resume requirements.  Artists of all mediums are invited to enter a lottery for 10 randomly selected solo shows for 2023.
Follow us on instagram @abstract.lunch to see these updates as we announce them!
Interview Conducted by Milo Christie