Tell us a little bit about yourself and what you do. I was lucky enough to be raised in a creative household — my mom, an artist and my father, an Elvis impersonator. After a childhood of bizarre homemade movies, I attended the Ontario College of Art & Design for Art Direction, but in my last year had the opportunity to study fine art in Florence. After studying in Italy, and being inspired by the style there, I knew I wanted to be in fashion. Since I'd already gotten my degree in Art Direction, I went through the motions I thought I had to and I got a job in advertising. Thankfully, it didn't last long. I quit the advertising world pretty quickly and decided to pursue fashion. After a brief stint working for other designers and studying the technical side of it, I branched out on my own and started a small Etsy line. At that time, Etsy was still fairly new so it felt really easy to put myself out there. Thankfully, it paid off. What started as a bunch of one-offs turned into a 40 piece collection that was selling in stores throughout Canada. As amazing as it was to have that full line, I just couldn't keep up with it. So, in 2015 I stopped the line and launched The Yes! Project. A line of swimwear created in collaboration with all my favourite emerging artists. I was feeling really burnout doing the full line and saw the Yes! Project as an opportunity to slow it down a bit and start to experiment again. I've always found there to be a significant relationship between swimming and art. When you're swimming, it's just you alone, keeping yourself afloat — there's lots of time for reflection. I believe it's the same when it comes to trusting that inner voice that makes us create. The swimwear became my artistic outline, eventually breaking from just swimwear into a full-fledged art and lifestyle profile on Instagram. Leveraging the swim line while featuring the art, design and destinations that inspire me.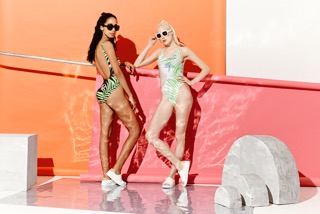 What are some recent, upcoming or current projects you are working on? My latest project is the colour basics swim collection and it's subsequent launch campaign. The campaign is a series of six monochromatic videos released exclusively on Instagram and preceded by weeklong colour stories teasing the line. I collaborated with photographer Jennifer Cheung to create the videos and create these strange little colour worlds.

How did your interest in art or fashion begin? As mentioned, I grew up in a pretty creative household. I was always drawing, painting, making, taking pictures, writing stories, putting on plays, etc.  It's just something that I was "drawn" to. haha (ok, ok, bad pun). One of my most memorable projects was a fashion magazine I created, I think I was 8 or 9. I styled all my friends, photographed them, designed the layout of the magazine, cut out all the photographs, wrote all the copy, I even made fake ads between the "stories". This was all pre computer so I was very inventive. But it's true, I've always just had this need to create. My head is always full of ideas. Fashion just became my vehicle for getting those ideas out into the world. My time in Italy solidified that, but I definitely have always treated clothing as an outlet for creativity.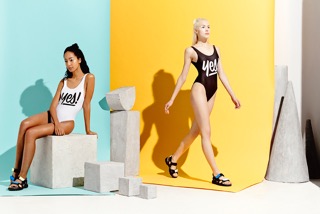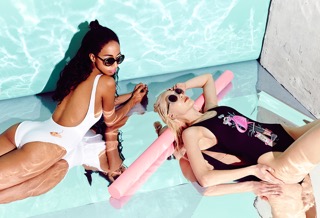 If you had to explain your work or brand to a stranger, what would you say? I would say it's Pee-wee's Playhouse meets Tim & Eric meets Dynasty in a Florida retirement home sometime in the 80s. That's how I see it. Hopefully it's coming through…   
What materials do you use in your work and what is your process like? For the swimwear, I use recycled jersey from Italy. I'm very particular about the fabrics and process I use – I don't want to be adding to landfills or polluting the water. There are enough people doing that already. For the videos and sets, paper and paint are the most forgiving and inexpensive materials. As far as the process goes, it's different every time. With my latest project, the six videos, it started with me wanting to create a short-lived soap opera, it's something that has been on my mind for a while. These videos brought me one step closer to it.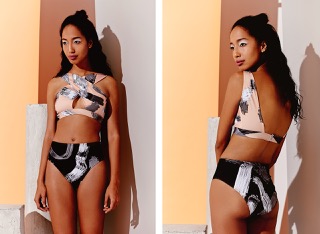 What artists or designers are you interested in right now? Right now I'm so interested in illustrators who are working in 3D graphics and motion. Of course, Clay Hickson, Maiko Gubler, The Low Bros and Rcade. For fashion, I loved this season's Christopher Kane, Erdem, Jacquemus, Dries Van Noten, Marni, and Celine (Phoebe Philo) to name a few. I could go on and on with designers.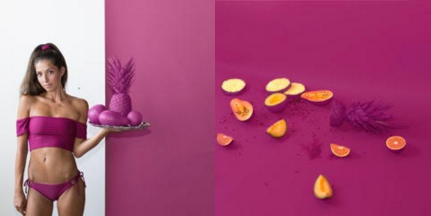 What was the last collection you saw that stuck out to you? I've been spending some time in NY so I've got access to so many incredible exhibitions. I recently saw The River Bed, Yoko Ono's interactive exhibit. It was so moving to see people interact with the exhibit and then to witness my own emotion when I took part in it. It was very therapeutic. As far as fashion collections go, there are so many, but off the top of my head the McQueen hologram of Kate Moss was beautiful and so touching given what was happening in her life and media at the time. Karl Lagerfeld for Chanel always puts on very theatrical and over-the-top shows.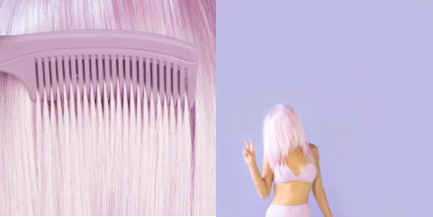 What is your snack/beverage of choice when working in your studio? Medjool dates. If you don't know why, get to the grocery store immediately and try one.

9. If you hadn't become a designer what do you think you'd be doing? I wanted to be a Marine biologist or a director. I guess I'm actually kind of doing my own version of both. You know, 'cause swimwear and oceans, Instagram videos and directing. Maybe that's a bit of a stretch, but there are some similarities.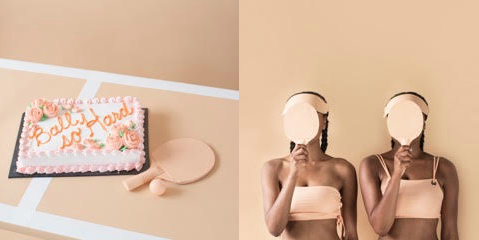 10. What are you listening to right now?
At this very moment, I'm listening to the howling winds of #Blizzard2016 aka Jonas (Not to be mistaken with the Jonas Brothers).