Tell us a bit about yourself and what you do.
I grew up in a small town in Illinois not far from the Wisconsin border, but I moved to Rhode Island for college. I stayed in Rhode Island for almost 2 years to work after I graduated. I moved to New York last September and I live in Brooklyn now. I work during the day as a studio assistant and spend my nights/weekends in my studio.
sky hanging lamp, 2023
How do you consider functionality when you are working?
When I first started making lamps I don't think I was really even thinking of them as functional objects, more just as sculptures. Now, I think I take pride in making the object functional and really enjoy that part of the process. I've found that making an object that has a defined use is very satisfying to me.
Where are you currently located and what does your work space look like?
I live in Brooklyn and have a studio about 10 minutes from my house. My studio is usually covered in tiny glass pieces and little objects I've collected, like stickers, toys, lamp bases, etc. I often get ideas for new projects because of the items laying around my studio.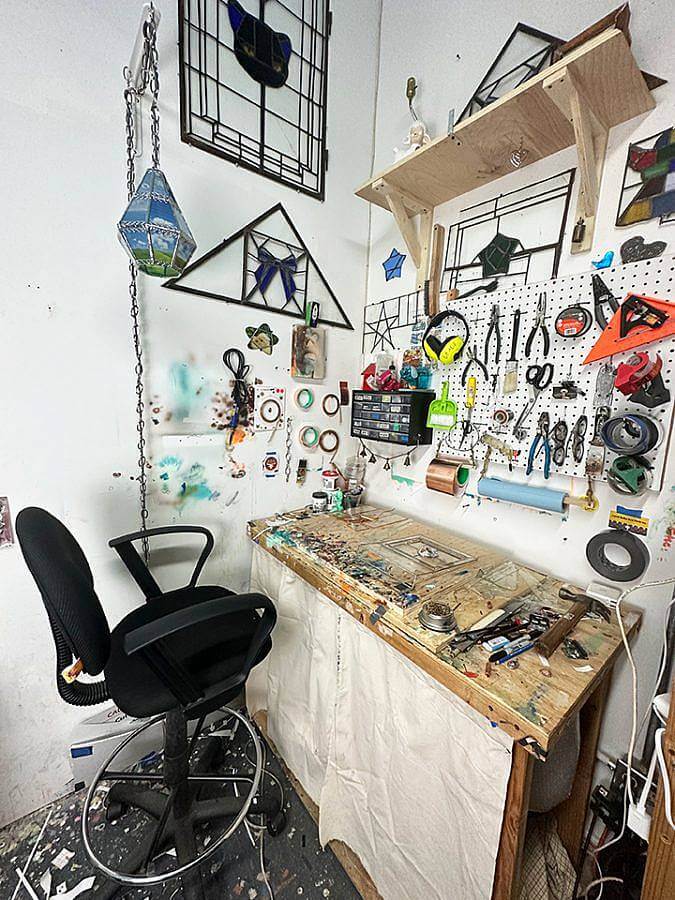 How do you usually select the materials that you use?
I am a major hoarder of materials, the majority of the materials that I have I got for free. The material that I use the most is glass, and I mainly just try to use any glass I found on the street or on craigslist. When I lived in Rhode Island, I made a connection with this guy through craigslist who worked on houses and he would give me the old windows from the houses he worked on. It was really cool working with that glass knowing it was from a house around the corner from me from around 100 years ago. I've definitely given into the convenience of buying glass at the hardware store lately since I've been working at a faster rate, but I'm always searching for materials that have more of a history or background to them.
What have you been listening to lately?
I listen to a lot of stuff, lately a lot of belly, lush, pidgeon, dj zirk, deux, the Sundays, carpenters, cibo matto, Jennifer lara, etc and I listen to a lot of random mixes on soundcloud.
puppy lamp, 2023
Thoughts on cuteness.
I'm interested in how cute things evoke emotion and can trigger our protective or nurturing instincts. I love Sianne Ngai's book 'Our Aesthetic Categories: Zany, Cute, Interesting', it really made me think about my understanding of cuteness as a very complex aesthetic category.
Do you have an academic background or are you predominantly self taught?
I went to RISD and ended up getting a degree in sculpture. I worked for a sculpture tech in the metal shop, Doug Borkman, almost the whole time I was in school and learned so much from him about sculpture and fabrication. I started learning about stained glass in 2020 just by watching YouTube videos and talking to people who work with the material.
<3, 2023
Do you have any daily rituals?
I'm definitely a creature of habit and I feel like I think of a lot of the little things I do everyday as rituals, like coffee in the morning and tea before I go to bed. I definitely have certain rituals in my studio, not that I perform daily, but for each project. Cut the glass, grind it, clean it, tape it, clean it again, solder one side of the glass, clean it, solder it together. Doing these steps over and over again has become kind of ritualistic for me in my studio.
What made you interested in using solder?
I was working with a lot of metal and wanted to see how I could combine steel and stained glass. I ended up experimenting with solder and trying to push the limits of the material and seeing what it can do, like just gluing copper foil onto anything and seeing if I can solder items together. I love experimenting with techniques that aren't super typical to traditional stained glass craft when I'm working with solder.
mushroom lamp, 2023
Do you have any upcoming projects that you can share?
I was trying to take a bit of a break from lamps but I keep being drawn back to making them. I'm working on new hanging lamps and I want to try floor lamps. I'm also planning new glass sculptures.