Tell us a little bit about yourself and what you do.
My name is Grace Camille Miller; I am a 23 year old artist and designer. I grew up in Berkeley, California and graduated from the School of the Art Institute of Chicago (SAIC) with a BFA in Fashion Design. I am currently working for a resort wear company in Los Angeles, while also designing my own line in my free time.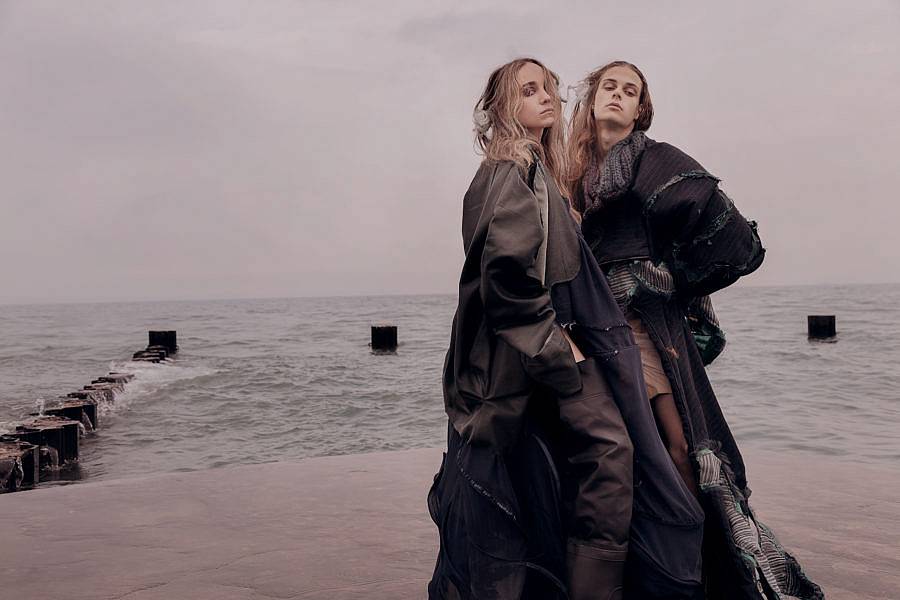 What are some recent, upcoming or current projects you are working on?
My new collection is centered around a painting of "The Three Graces." I was lucky enough to see Rubens' painting of "The Three Graces" at the Museo Nacional Del Prado in 2017. I was struck by the painting's variations in color and how Rubens was able to create almost grabbable flesh with the use of overlapping green, blue, and red strokes of paint. I am working to translate that flesh back on to the body, through textured fabrication and voluminous silhouettes. I also was in awe of the mythology behind the painting. To me, the three goddesses were a reminder to stay grounded with wisdom, love, and culture surrounding me. I am starting with three looks, one about each of these characteristics. The first will emulate a warm hug of "Love." Another is a complex utilitarian look with hidden compartments and writing to mirror "Wisdom." And finally I am collaborating with other LA artists to create a look referencing "Culture." Centering myself around the values of goddesses has helped me maintain perspective throughout my transition from school to work life.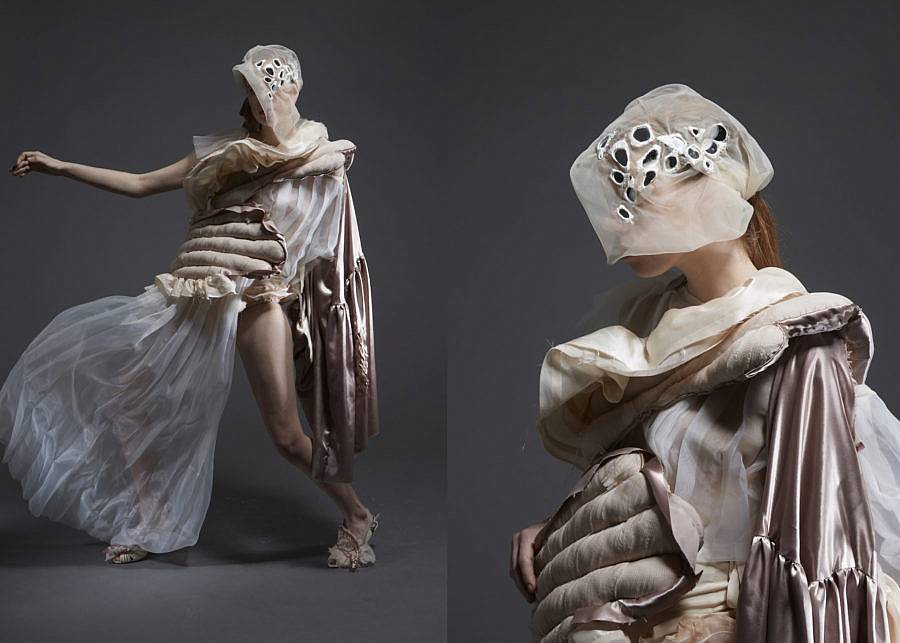 How has living in LA affected your work?
In Los Angeles, I am surrounded by talented artists, musicians, and designers eager to make a living out of their passion. I have enjoyed collaborating with other artists, especially styling for music videos. Throughout my time working in LA, I have also learned about production, all the components that go into creating a ready-to-wear line, and how to run a small business. My immersion in the practical side of design has shaped my perspective and has helped me think strategically about how I want to run my own company. It has also reinforced how important it is to nurture my creative side, and not let business compromise my designs.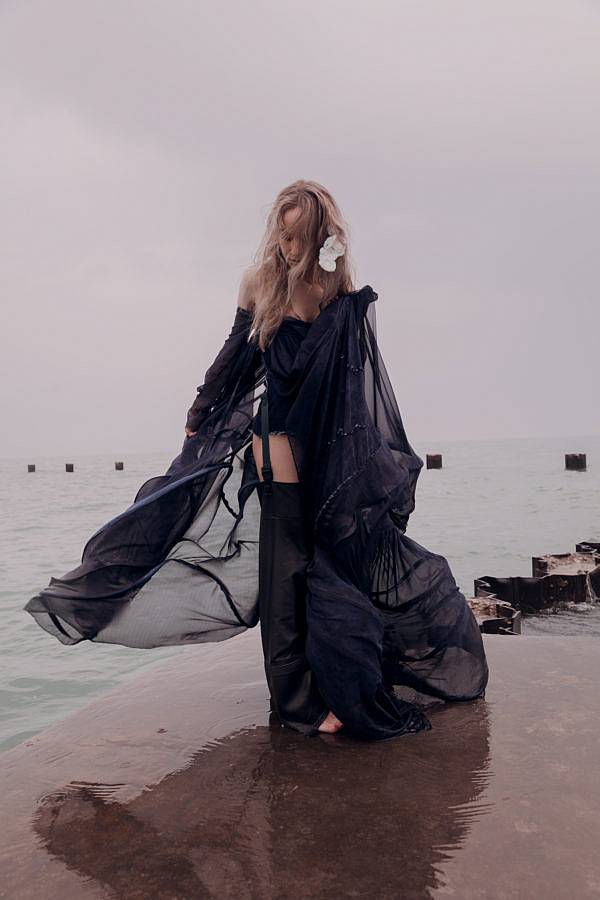 Who would be your dream person to dress or style?
Rihanna.  Her bold and dynamic style throughout the years along with her fearless personality have made her a fashion icon. All of her red carpet looks, whether it be Comme de Garcons, Adam Selman, Giambattista Valli or Guo Pei, are remarkable. It would be an honor to dress this multi-talented artist who continually reinvents her image.
How did your interest in art or fashion begin?
I have always loved art and fashion as long as I can remember. Both of these passions have been foundational to my life. I started picking out my own clothes when I was 2 years old, and since then I have never stopped being obsessed with what I wear. The first dress I made was a lacy black dress, my own version of Coco Chanel's iconic little, black dress. I started making the dress the day of my homecoming dance, and I was determined to wear it that night. I ended up not going to the dance because I felt the need to finish sewing the dress and did not want to wear anything else. Though my designs have changed drastically over the years, my love for getting dressed up has not changed.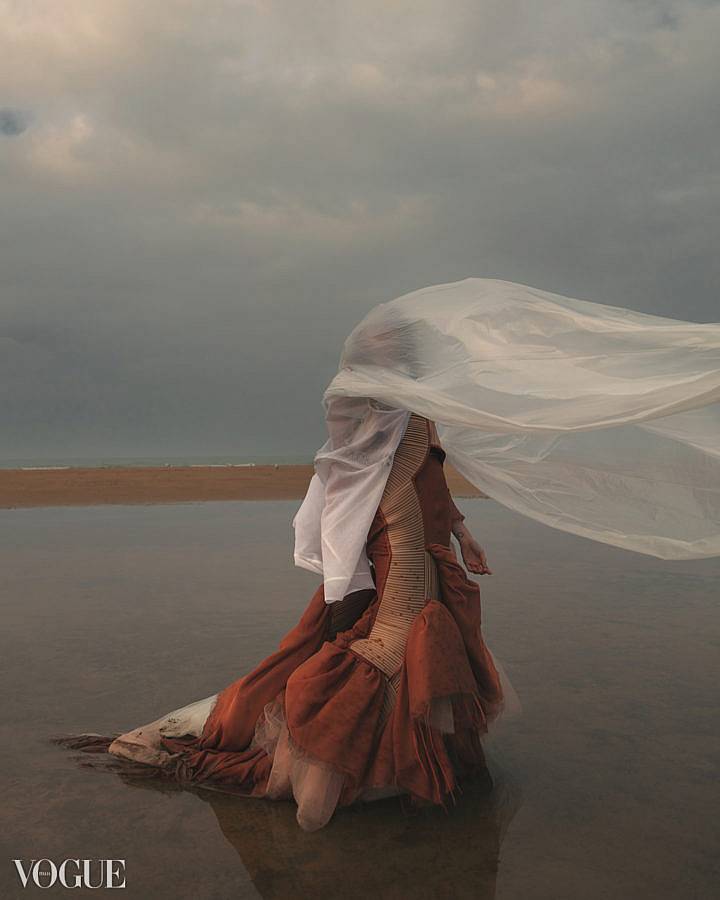 What materials do you use in your work and what is your process like?
I start with a small idea that grabs my attention. For my "Swallowed" collection it was the rising water in Venice, Italy. The idea of a collection embodying a fictional future of culture submerged, conveying a sense of loss took hold of me when I saw Damien Hirst's "Shipwrecked," exhibition at the Venice Biennale. Then I started brainstorming and collecting every related image I could find in my sketchbook. From there I narrowed down the images and pulled out shapes from the architecture and images or colors from the paintings. These shapes came to life as I sketched out my ideas as quickly as they came in. The dark blue and green wool in my "Swallowed" collection are reminiscent of the canals and mossy stone.  The long narrow beads reflect the shimmer of the lagoon and the rust dyed denim shows the forceful and damaging quality of water over time. 
Where do you plan to travel next?
I would love to travel to Peru and learn more about its eco-friendly knitwear industry. There are several Peruvian communities where Artisans hand-knit garments from Alpaca wool. Throughout my "Swallowed" collection, I became infatuated with knitwear; each piece had its own unique weight, texture, color, and technique. These pieces combined hand knitting, machine knitting, and crocheting. For Look 4 of my collection, I created a thick, voluminous knit by weaving various chunky yarns, and opaque, picot-edge ribbon.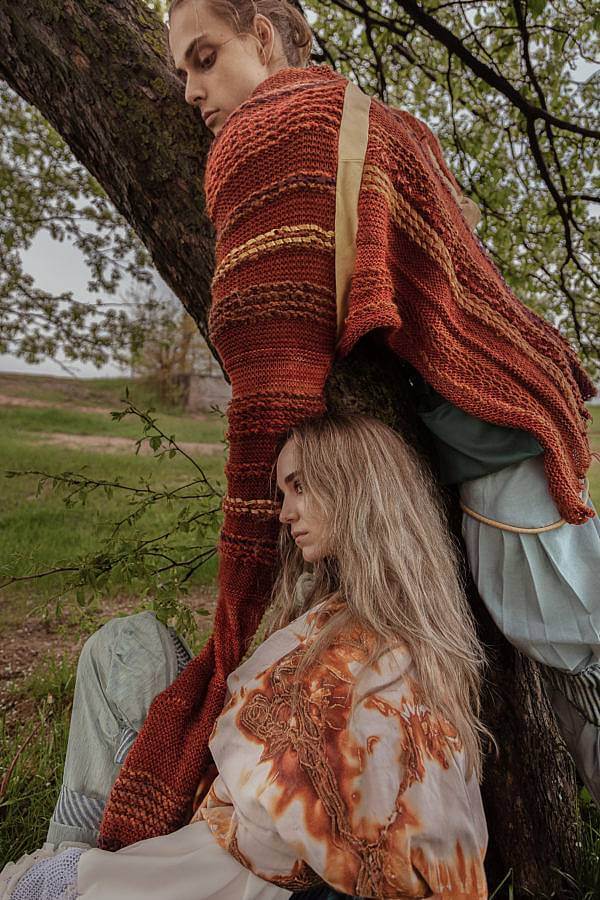 What do you collect?
I love collecting sea shells, as cliche as that sounds. I actually designed a garment centered around oyster shells.  It was challenging to get enough shells to make a jacket. I went to a $1 oyster happy hour with my friends and we ate as many as we could. We did not get enough shells in that happy hour, so I asked the waiter if I could come collect the shells they had leftover every week. For 3 weeks, I went to the restaurant to collect oyster shells and cleaned and boiled them all. Then I drilled holes in each one to embroider them with beads and scraps of fabric. This later became an ornate jacket weighted by the shells.  Though I'm no longer making garments with oysters, their almost magical iridescence, which first inspired me, still catches my eye when I walk along the bay in my hometown.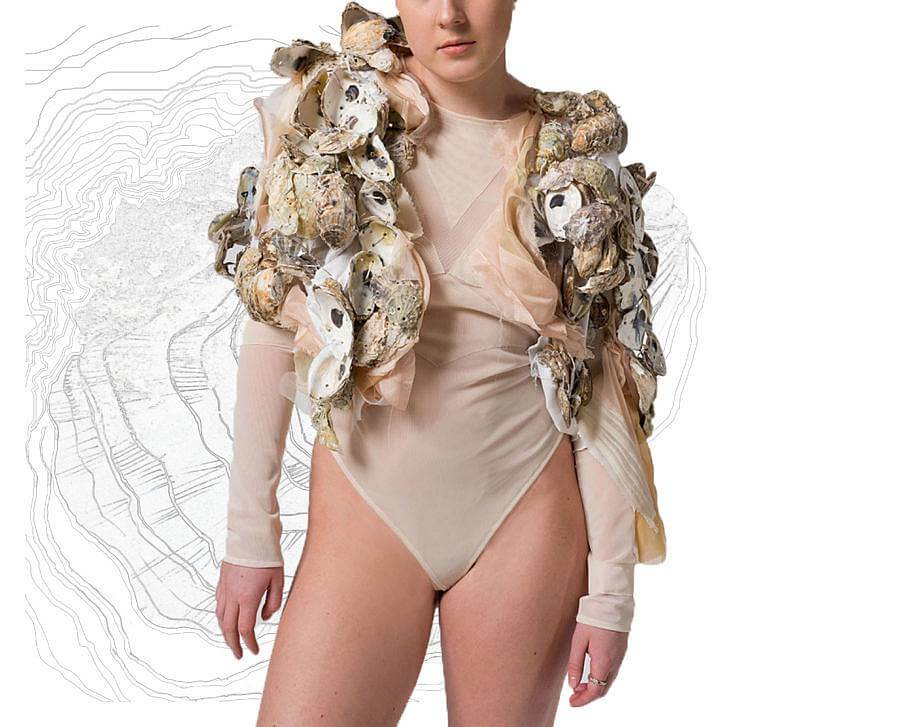 What role does documentation (video and photography) play in your process?
When I was first documenting my work, I would beg my sister to model for me and take pictures of her in my backyard.  Now, with a little more time and help from peers, I have been doing small photoshoots and video shoots. I find that video more fully captures the mood and movement of my garments. The first time I tried video documentation was my sophomore year at SAIC.  Everyone was getting photos taken of their collections, but I was determined to capture the essence of my collection, which was about dealing with imperfections. I wanted to make the viewer feel the angst, and experience the turbulent thoughts. My interest in video has grown as I have worked with music artists, and I plan on continuing to include it in all my upcoming work.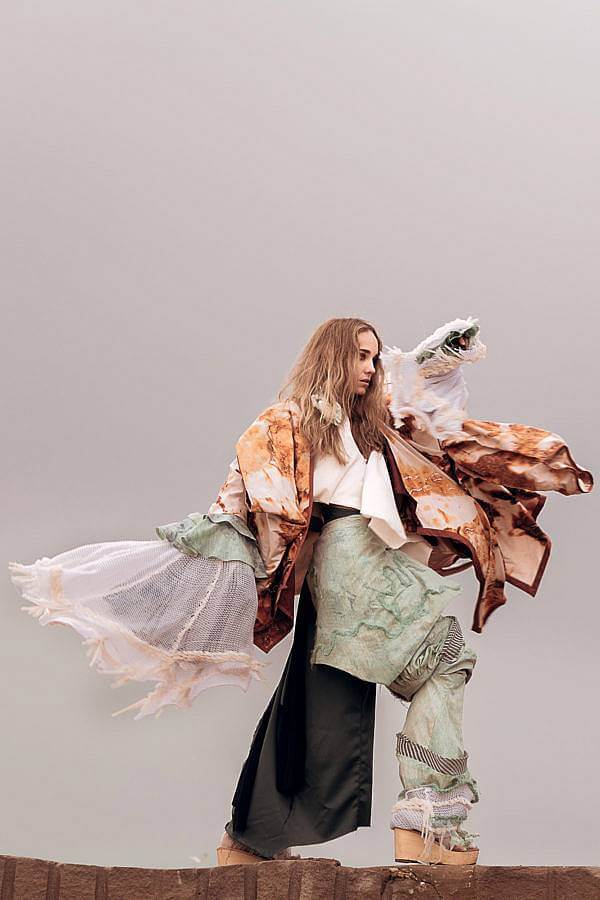 Where does the inspiration of the shapes and forms in your work come from?
Most of my inspiration for shapes and forms comes from architecture or contemporary art. I like to use tracing paper over my favorite images and outline the shapes that stand out to me the most. I then use these abstract shapes to help inspire my silhouettes. They don't have to make sense; I am most drawn to construction that gives garments an interesting line.