Tell us a little bit about yourself and what you do.
I am a nonbinary dyke who makes handmade textiles and clothing focused on shape, identity, construction, and play. My self-titled brand features oversize work coats, overalls, button downs, wrap sets, and playsuits, among other staples. All wearables are made by hand in Chicago, with locally sourced or hand-dyed fabrics.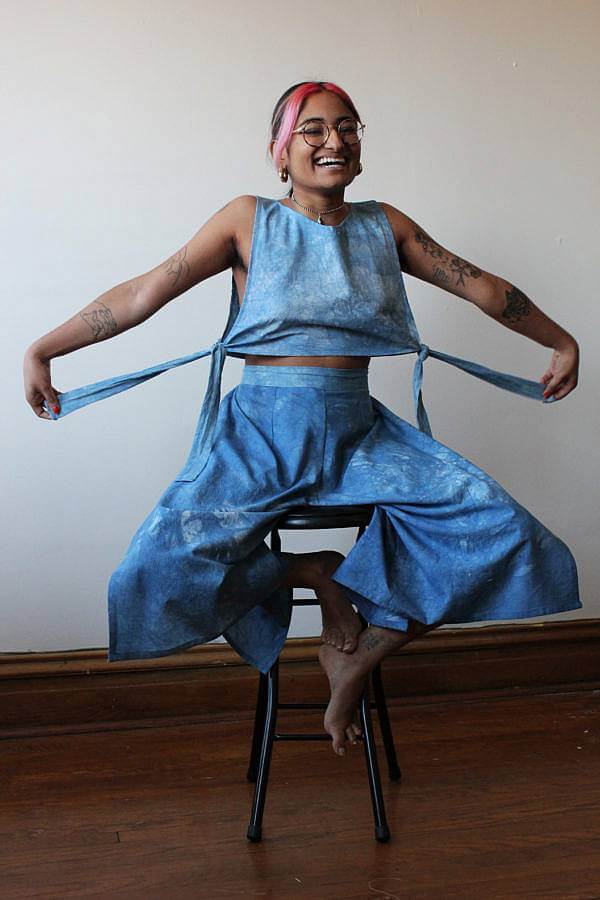 How has living in Chicago affected your work?
I think in Chicago we all have a particular attitude, a particular way of performing in public. I grew up in D.C. and I just remember the painfully hip way that people dressed. I dressed that way when I was younger but I remember feeling such a shift when I moved to Chicago for school. Chicago isn't really like that, the people here work really hard and want their clothing to reflect the practicality and grit of this city. I find there is an  understated, utilitarian, and elegant style that comes from living here. 
Chicago has definitely influenced me in a practical way. I care a lot about coats with the winter lasting so long. You're going to be wearing that coat for months, often covering your "actual" outfit, so it better not only keep you warm and hold your stuff, it also needs to be enough of a statement to show people who you are and how you want to present yourself, and versatile enough that you can wear it with your entire wardrobe. That's where I got the idea for my signature Coat For Work And Play. It has this oversized fit that feels like a shell when you put it on (great for layering under), which also makes it look playful and personalized. It has multiple huge pockets so you don't have to carry a bag (a big concern of mine as someone living with chronic pain), and a funky collar that flips up to protect your neck from Chicago's harsh wind. I wanted the name of the coat to speak to this dynamic–it is designed to be used, to weather things, to be worn all the time, but also to be sculptural, signature, and fun. I make them in all kinds of color combinations and fabrics to reflect the unique energies and personalities that people want to put forward.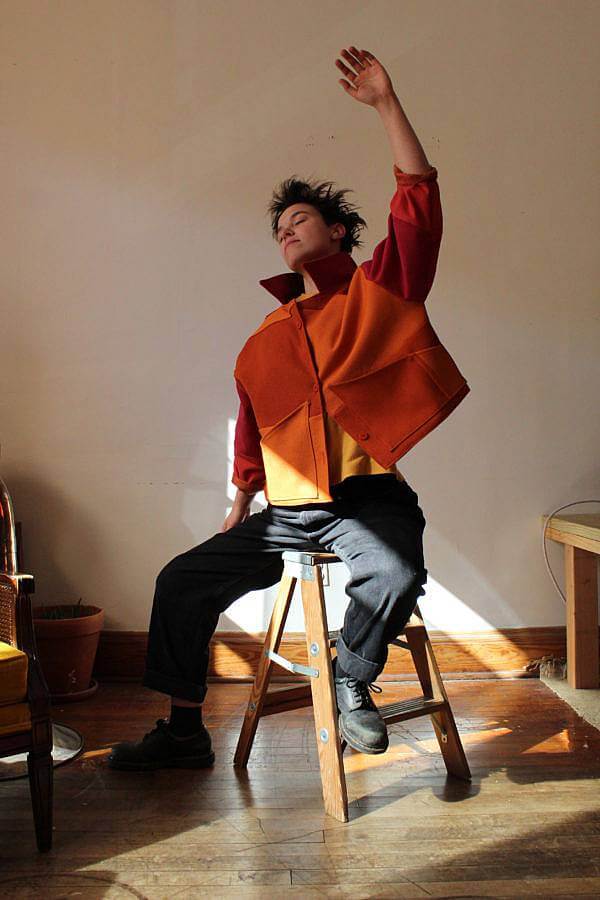 What are some recent, upcoming or current projects you are working on?
Right now I'm making a bunch of clothes to sell at Buddy Shop, the new pop-up store opening  in the Cultural Center this Spring. It's a pretty exciting opportunity for me, not only because the Cultural Center is such an institutional space that makes me feel professional, but also because Buddy Shop was organized to bring together local makers who need a commercial space to talk about and sell their work in a way that foregrounds artistic practice. I make clothes but I also make wearable sculptures, and the designs have meaning and inspiration behind them. 
What role do sculpture and photography play in your brand?
Sculpture and Photography are a big part of my practice. I used to make these incredibly elaborate performative happenings I called Photoplays, with complicated textile sets, costumes, scores, interactive props, and multiple forms of documentation, most specifically long exposure photographs. I think that method of working really transformed my ideas of what clothing and textiles do in general. I think a lot about shape and movement and the way people literally take up space. All that stuff plays so directly into gender for me, and the idea of performing the self. It's definitely a driving aspiration of mine that every person who purchases one of my pieces feels good about themself in it. 
More immediately, I also help run a smaller furniture making operation with my partner Breanne, which we're trying to grow as we get more materials and resources. My work has always been tied to set design in some way, and I like to think about making furniture as getting to design the play that is your life. Breanne has also become my photographer to document all the pieces I make, and we're working on some fun books with those images.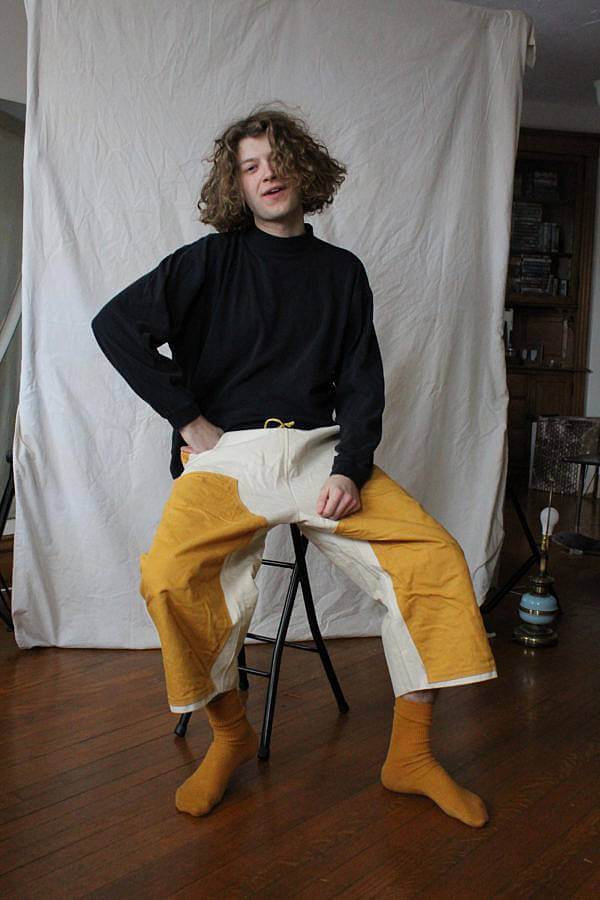 Who would be your dream person to dress or style?
I think my answer is tied between Lily Tomlin and Billy Porter. 
Lily Tomlin because she's such a badass dyke and the way she wears clothing just exudes confidence, not necessarily because she's trendy but because she knows who she is and how she wants to take up space. My partner put together a list of 30 Lesbian or Lesbian adjacent films to watch during this quarantine, and the one we watched last night is called Grandma (2015), and stars Lily Tomlin as a fiery gay grandma trying to help her granddaughter get money for an abortion. There's this scene where she's driving, wearing a black denim jacket, and she looks so effortless. I would love to see her in one of my boxy button downs.
Billy Porter on the other hand is such a performer, and clearly cares a lot about shape and movement and gender. I think a lot about this image he posted on instagram, of him voguing in a jumpsuit which has this fitted bodice, but not in a corset way, more in a muscle tee way, with these massive triangular bell bottom pants. In the image he's holding a wide squat and just *exists* in the most beautiful way. 
How did your interest in art or fashion begin?
I've been making clothes since I was 12. I still remember getting my first sewing machine, and my babysitter who taught me how to make a pleated skirt for my doll out of scrap fabric from a pillow sham. I have always been entrepreneurial, having many little businesses throughout my teenage years, collaborating with different friends. I used to spray paint my stencils onto shirts, and then once I learned to screen print that was my thing for a long time. Right after college I started a business with one of my best friends Cristina Umaña called MISMO CULO, where we dyed fabrics and screen printed her drawings and other experimental graphic forms onto them, and then I made them into reversible dresses, shorts or playsuits. When she moved back to Colombia that project morphed into Building Block Goods, which was my first attempt at a solo project–it was going to be clothes, tote bags, toys, and other housewares, but after a while I realized that what I really wanted to be doing was building and designing my own clothing line.  I've spent the last few years really honing my construction and pattern drafting skills, and now am more focused on that.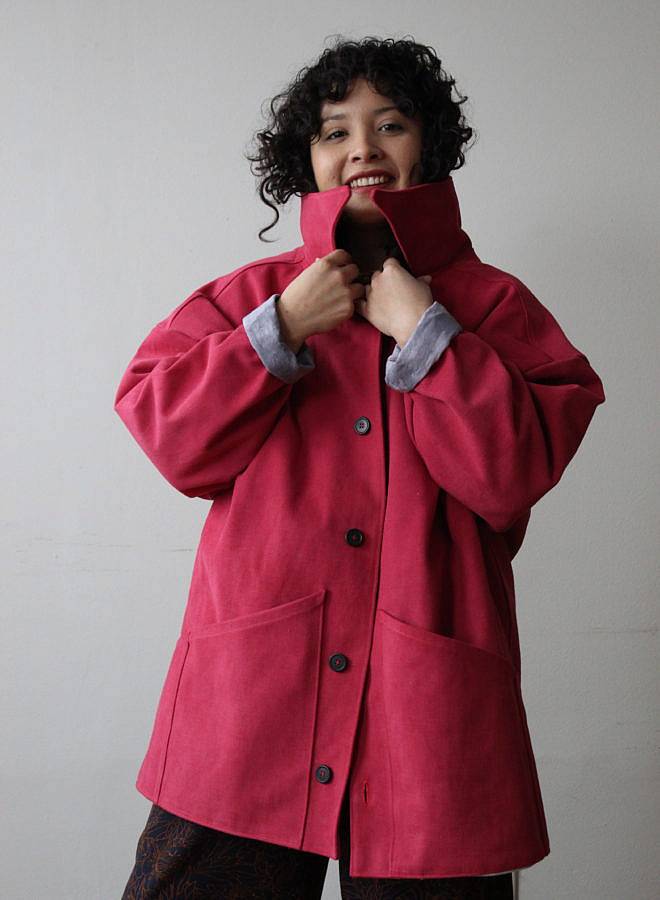 What materials do you use in your work and what is your process like?
I source all my textiles locally. I know how big of a polluter the fashion industry is in general and I figure that sourcing locally is one easy thing I can do to reduce my footprint. Plus Chicago has a couple really amazing fabric stores like Fishman's Fabrics downtown, Chicago Canvas Supply in Albany Park, and Textile Discount Outlet in Pilsen. I still use some of my own hand-dyed and printed fabrics as well, and enjoy working with indigo, bleach, and a signature silk screen print that I designed a few years ago. My process has been pretty commission based so far. I'll have a consultation and fitting with a client and talk about colors and textures they're into, how they want the garment to hang–in a flowy or more structural way–and what season they want to wear it in most. Then I just go search for something that feels right. 
What are you listening to right now?
I've been listening to Princess Nokia's new album Everything is Beautiful on repeat this last week. 
Describe your current studio or workspace.
My studio is in my apartment. I have a sewing room in the smallest bedroom of my apartment with a sewing machine and serger and lots of patterns and notions and archived garments from previous collections. I also have a repeat table in my front room for screen printing fabric; that's the place I work the most. I print fabric on it, work on my computer on it, cut out clothes on it, eat an elaborate brunch on it, you name it it happens there. I've also got a massive mirror for clients so they can see themselves in my pieces with negative space around them. I think the negative space is just as important as the space you take up, and I realized how much a good mirror can change the way you feel about yourself and your body. I have a rack to hold my fabric, a work bench for my dyes and inks, a press for printing t-shirts, a porch for hanging fabric to dry, and now a small wood shop that I work in with my partner. I really love working in my home, it helps me a lot as a person with chronic pain to be able to take breaks in a comfortable space. I also love that people can feel at home when they're here. Comfort is key.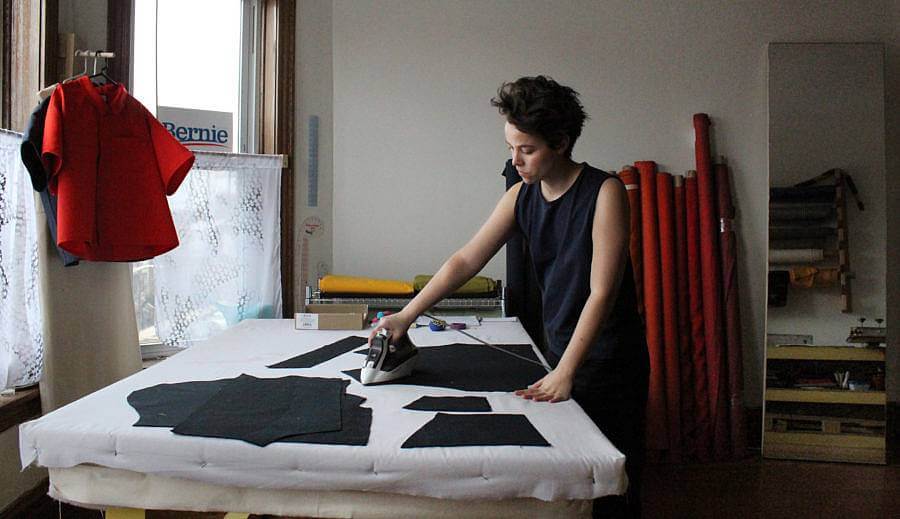 What was the last collection you saw that stuck out to you?
This is really hard, there's so many I'll list a few that are stuck in my mind.
Harikrishnan I stumbled upon randomly, he made these incredible inflated balloon pants that remind me so much of Oskar Schlemmer and the ballet he made at Bauhaus. It's not designed for mass consumption which I also really respect. 
Barragan FW20 was full of these amazing oversized fits, but my favorite part was the huge shoes some of the models wore; it made me think about how I feel in  my own Doc's, with their curvy and assertive mentality. 
Bode… literally everything they make is so incredible, I love the boxy boyish silhouettes and the stories that are interwoven with their textiles and designs. My friends used to tease me that every piece of clothing I owned had a story, and that I didn't have a closet so much as a collection. I also just really enjoy how Bode addresses the idea of Menswear. It feels very genderqueer to me, and once I have some money saved up I'm totally buying something from them.
Sunnei Summer2020 is so fun to look at, I especially love the way they documented it, kind of class picture style with models in rows/bleachers. I love the way they play with color and pattern and aren't afraid to be weird.
Paloma Wool, SelvaNegra, Ijji Co, and Lorod are also favorites of mine.
Can you share one of the best or worst reactions you have gotten as a result of your work?
This one time I was having a pop up shop at an arts space and a person I didn't know was there browsing my stuff. We talked for a while and I helped suss out what they were looking for and got them to try a couple of things on. They went into it really uncertain that anything would look good on them, but then surprised me by becoming sort of emotional. They bought everything they tried on, and told me as they were paying that it meant so much to them to have that experience shopping, because usually the things they like aren't designed for people with body types like theirs. That feeling when clothing affirms your body is so special, especially for queer people, and it really touched me to get feedback like that.