Tell us a bit about yourself and what you do.
My name is Daniel Barragán(he/him). I am an artist from El Paso, Texas living and working in Brooklyn, New York.
Your work spans several mediums and exists in separate formats like the "Bandanas" and "Artifacts", would you say this division exists to deeply explore more specific concepts you are interested in?
Yes definitely. I have a few rules set in place throughout my practice. I can't stand rules but by putting limitations on certain projects I was able to clarify the outcome. One of my made up rules is about human figures or images of an environment or atmosphere. I have reserved my paintings on canvas for symbols and codes. Introducing atmospheric space or a character to my series of paintings will dilute the concept. This is usually when I create a new category so I can open up the range a little bit. I have a certain attachment to using family photos and scenic western views so I created the hieroglyphs to welcome these images.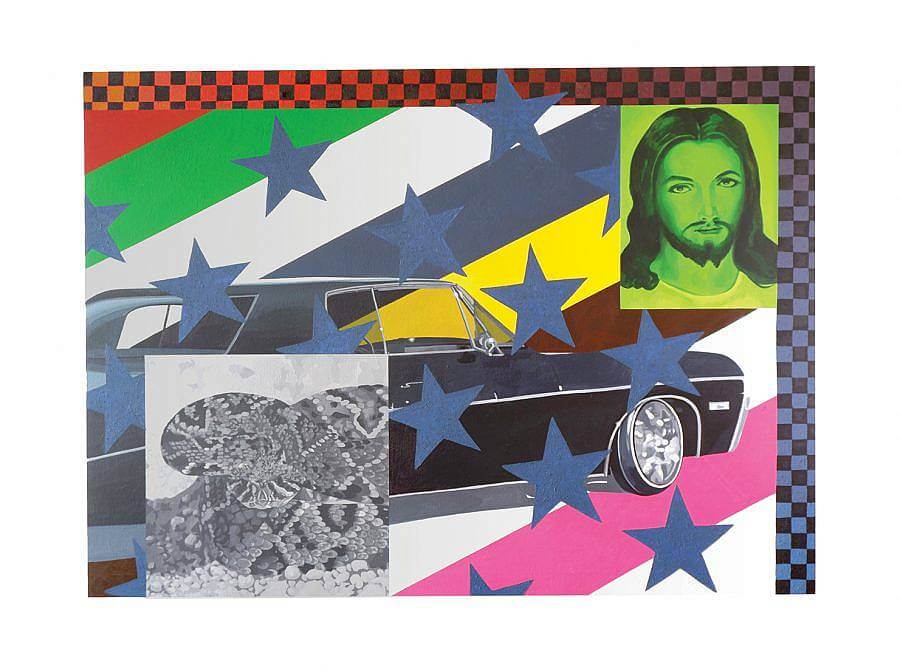 Many of the images and elements that you incorporate overlap and obscure the subjects of your paintings. Can you talk about your approach to the pictorial plane and scale in your paintings?
When I am imagining the pictorial plane I am thinking of a vast void where images are constantly in flux. Almost like a spinning slot machine – you can just capture a glimpse or fragment of the image before it passes your view. When I imagine this void I am thinking about cultural mobility and hybridity in action. This void is usually characterized in my work as a repeated cubed pattern or a grid.
Who has been inspiring your work lately?
I'm inspired by artists who kind of sit on the fence between mediums. There's so many that inspire me but especially Mark Dion, Betty Woodman, Mike Kelley, and Robert Mapplethorpe. I am also inspired by things like pinstriping, nail art, special fx makeup and fashion. I try to pay attention to as much as I can.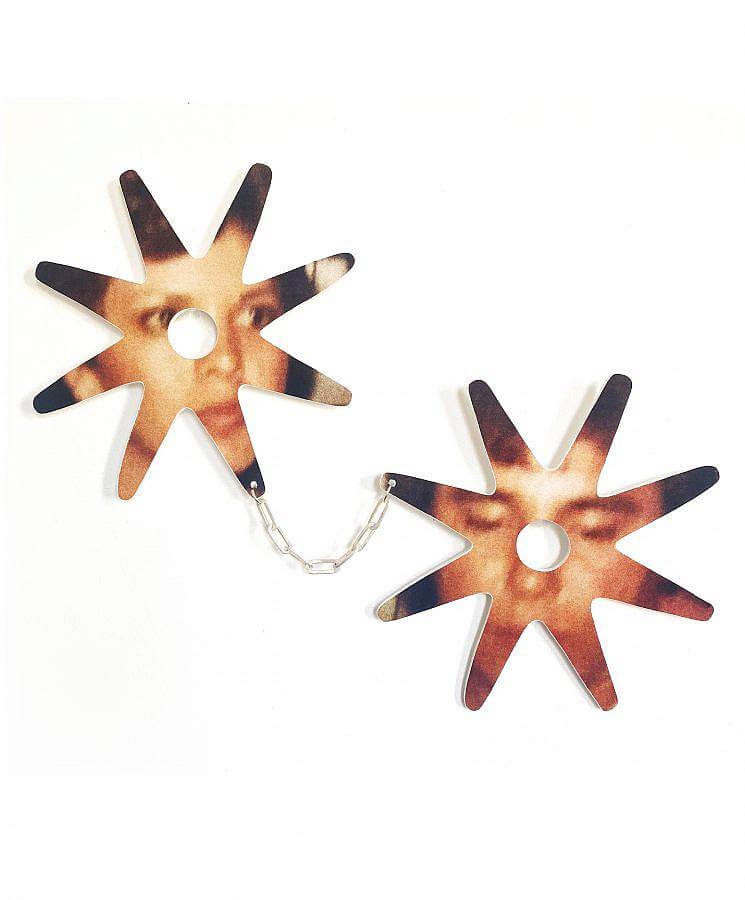 In some of your recent works it appears that you have been experimenting more with the shape of the panels. Was there a particular moment or realization that made you want to further explore this?
Experimenting with the shape of the surface was an extension of the Hieroglyph series. It was a way of doubling down on one symbol. In the bandana series for instance the bandana becomes the structure of the painting, allowing me to respond to the symbol without having to repeat its shape on the image. I think it allows the work to be more elegant, I don't have to add too much onto the image to get my point across. I'm playing with the idea of introducing new shapes like spurs and spirals.
What is your favorite studio snack?
Cucumbers lime and Tajin. Or olives! I love olives.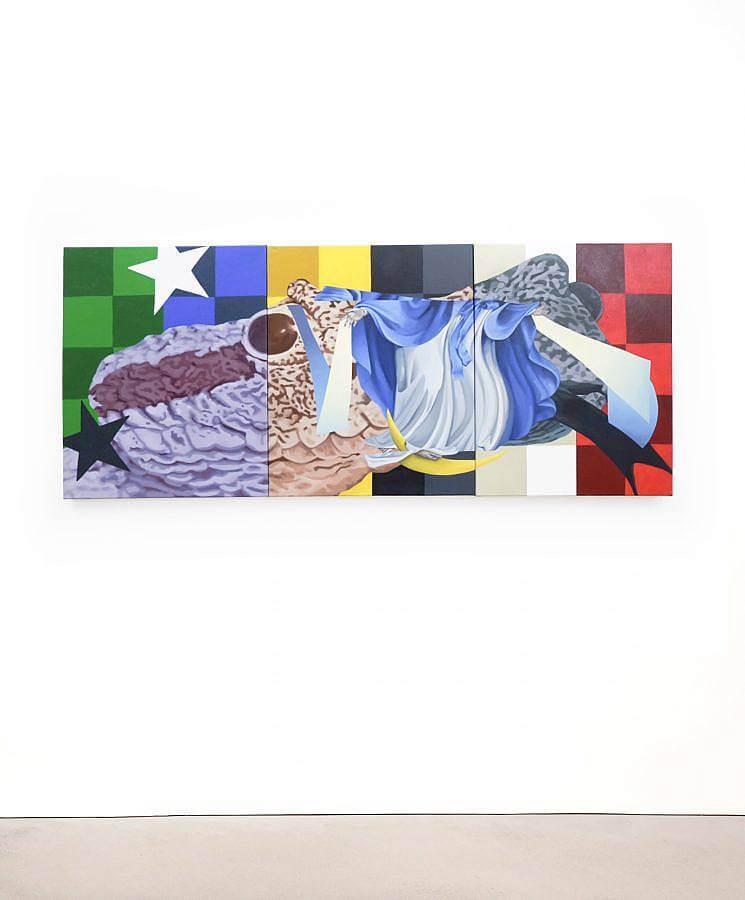 How would you say that your upbringing in the American Southwest influences the choice of photographs and references that you paint from and include in your work?
The images come directly from my lived experiences. It comes from the regional economy, art, and craft. I would mostly experience these references while driving through long stretches of desert on family road trips. Craft is historically traded throughout the American Southwest and I was there to witness it. It's still around if you look closely. As I grew older and more curious I started to understand how those objects and artifacts reflected the region they were from. It has become more poetic.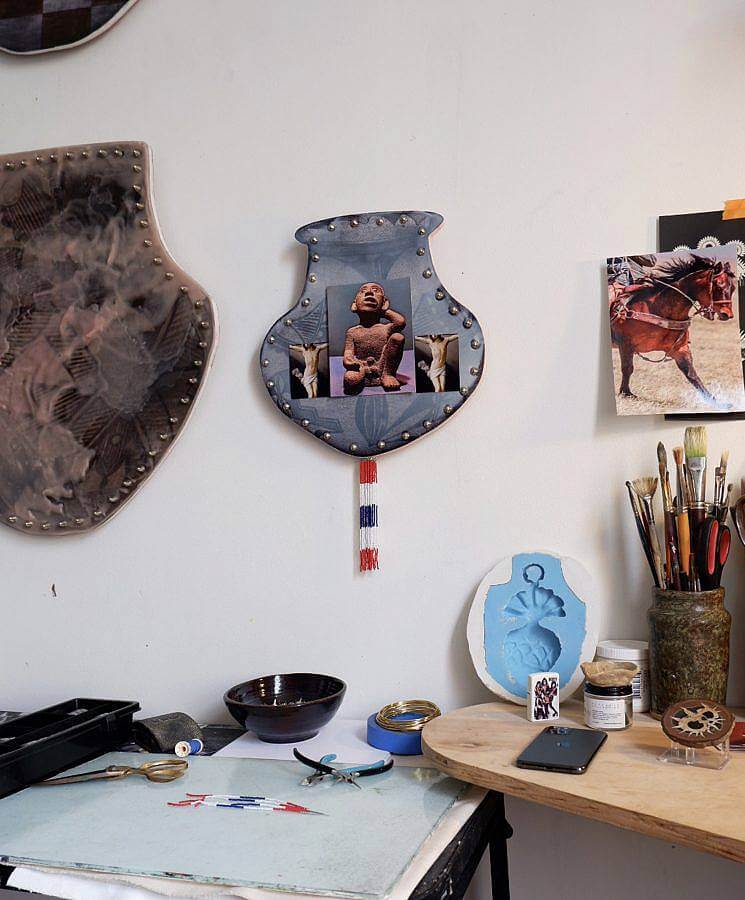 What does your studio look like?
I am currently between studios and working in my apartment that I share with my brother. We are both creative so we share a spare bedroom as a studio space. It's working for now but I'm looking forward to finding a new place to work.
Your "Bandana" series stands out specifically because of the inclusion of three-dimensional objects. What made you want to incorporate these materials into these works specifically?
I've always been interested in craft. Ive studied different techniques like metal smithing, beading, textiles, and different forms of ornamentation. All of these techniques have a cultural and regional identity that I relate to. I have a passion for these things and need a place to put them. I wasn't able to incorporate them into my paintings or artifacts so I started a new series. The Bandanas are a little wacky – I try not to hold back when I'm making them.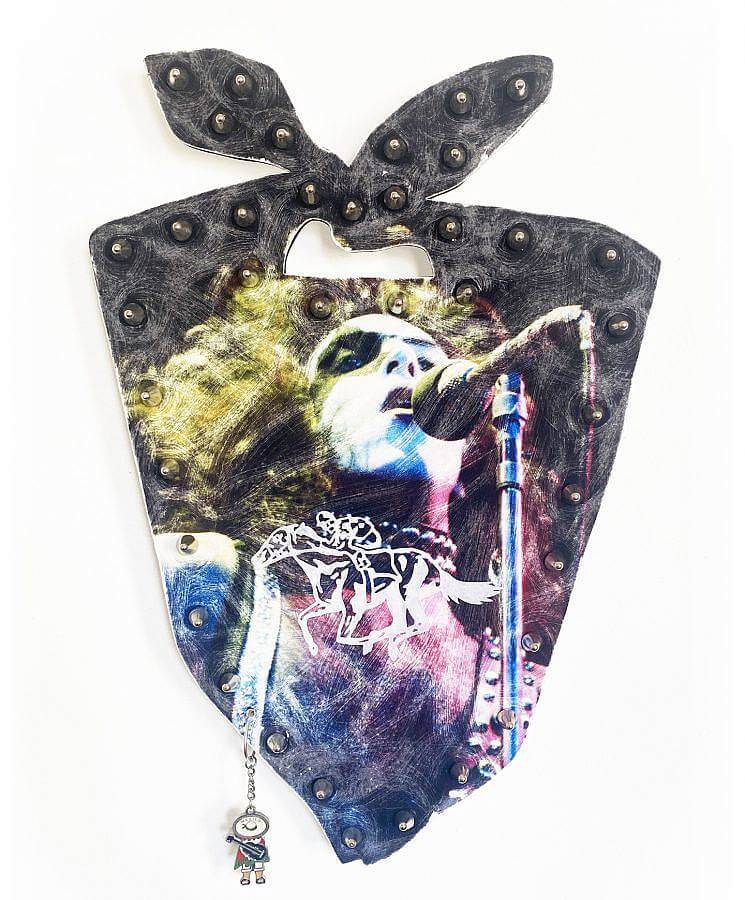 What have you been reading recently?
I get a lot of ideas from books and I like to work with different topics so I'm always juggling a few books at a time. Currently I am reading Death and the idea of Mexico, Corpus Delecti, and Undermining: A Wild Ride through land use, politics, and art in the changing West. Borderlands/ La Frontera and The Location of Culture by Homi Bhabha are always on my nightstand.
What do you have planned for the rest of 2022?
I'm making some small works for a benefit at the moment. I like working small and it has prompted a nice little series. I'm also looking forward to finishing some paintings that have been haunting me since last year. I'll be making some new ceramic works later in the year for a group show at Jane Hartsook Gallery at Greenwich House Pottery. I'm really excited about it. I will be showing beside some excellent artists!
Interview conducted and edited by Sam Dybeck.