Tell us a bit about yourself and what you do
I'm a 23 year old libra from the Jersey suburbs who paints compulsively. By that I mean that I become incredibly anxious if I go more than 2 weeks without painting (or at least drawing). It's always there for me no matter what I'm going through. I've been living in Chicago for the past 6 years. I moved here to attend the School of the Art Institute of Chicago in 2016 and knew from the beginning I wanted to live here after graduating. I am fortunate enough to have been able to sustain myself as a full time artist for the past 3 months and hope to be able to continue on this path.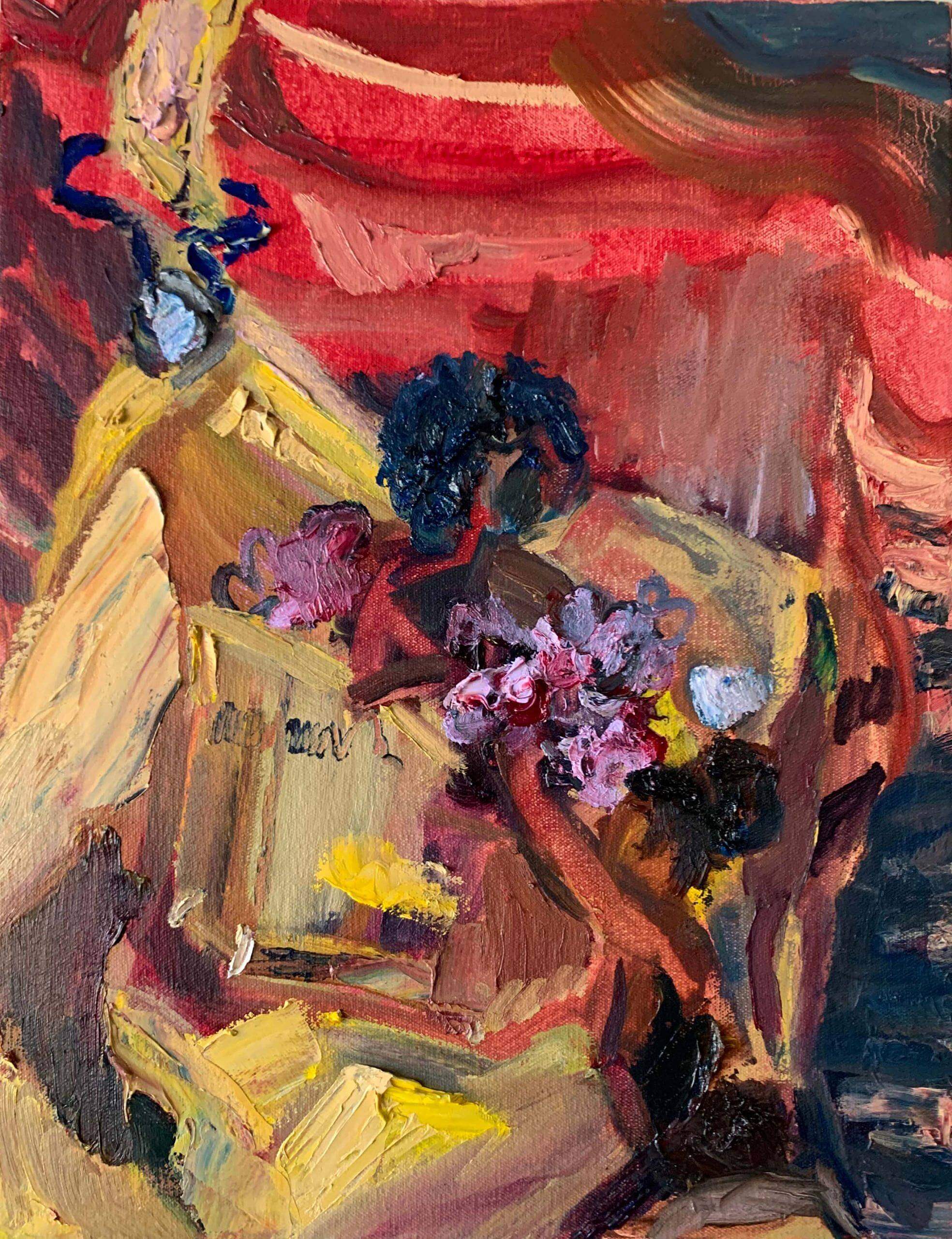 How has your work evolved since you graduated from SAIC in 2020?
I think that since graduating I have more time to sit with the images I'm creating. When you're in school you are constantly trying to meet deadlines. I am naturally a fairly quick painter so this wasn't an issue for me in terms of completing pieces. But over the past 2 years I have realized how much more fulfilling the process is when I am able to take a hiatus from a painting that is troubling me. I also am finding myself veering more towards abstraction since leaving school. At the tail end of my undergrad I was already trending this way. I'm learning to trust my own sensibilities more and rely on photo references less.
In your paintings, you create these sort of dream-like spaces for Black women to exist in. How do you go about constructing these spaces?
It's hard for me to answer this question because I feel like there's no formula that I use. Often it starts with a compositional idea or color palette. Sometimes it starts with knowing I want a certain object to be in the composition. I might say to myself "I want there to be a waterfall in this painting". So then I'll google a bunch of stock images of waterfalls until one speaks to me, and I'll build the composition around that. (I don't actually have a waterfall painting but now I'm gonna jot that down). The majority of my paintings start with an acrylic wash of 1-3 colors in abstract shapes before I go in with acrylic to lock in a composition. So I'll do these large brush strokes at random just based on intuition. Whenever I do so I feel like Helen Frankenthaler, who I love. And then I'll step back and look at the canvas once the surface is covered and see if the shapes of acrylic brush strokes remind me of any real world objects. It's kind of like a Rorschach Test. I always say building these spaces feels like putting a puzzle together. It's a lot of adding and scraping away.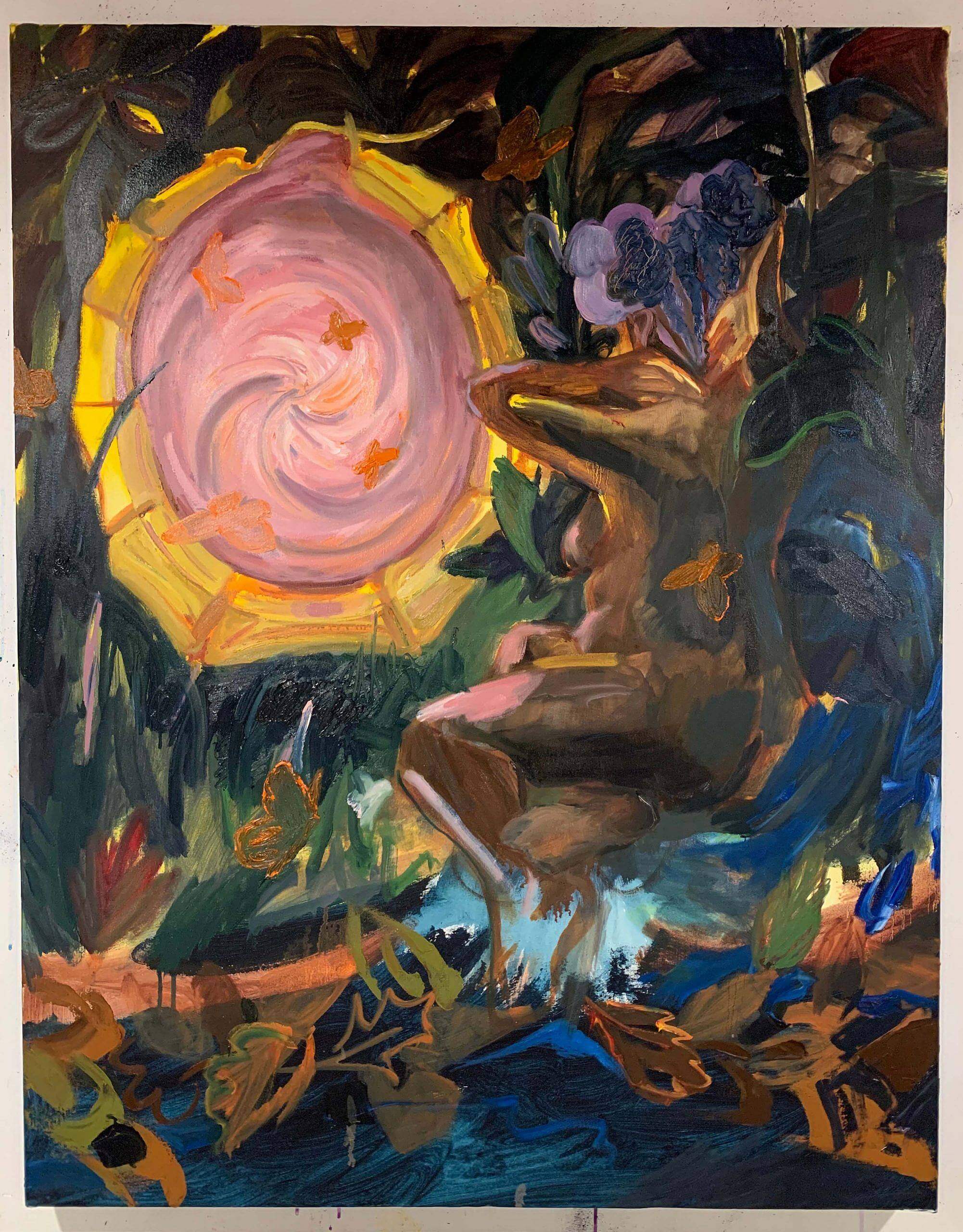 Who are some artists that you consider influences?
Romare Bearden was my first favorite artist I ever had. When I was in elementary school my parents got me a book about him as well as a hardcover book copy of 'The Little Drummer Boy' that he illustrated. I still look to him frequently for inspiration. Specifically, I love his warm color palettes and use of patterns in the clothing of his figures. Matisse is a huge one. He has the perfect balance between abstraction and representation. His figures and environments are rendered with a loose openness but
still have a weighted presence. Specifically, I love the painting "Bathers by a River" at the Art Institute of Chicago. As a student of the school I would admire it frequently. Other influences of mine include Emma Amos, Inka Essenhigh, Cezanne, and Jacob
Lawrence.
You recently had a two person show at FLXST Contemporary. Tell us about what it was like preparing for that.
It was actually quite an easy process for me. I was lucky enough to be approached about a two person show called 'Embodiment' with a fellow SAIC advanced painting alum Araceli Zuniga. The thesis of the show was already something that I considered in my practice. That being, interrogating the ease with which the viewer should be able to identify with the figures in my pieces. Figure painting isn't just depicting bodies. It's giving them a personality.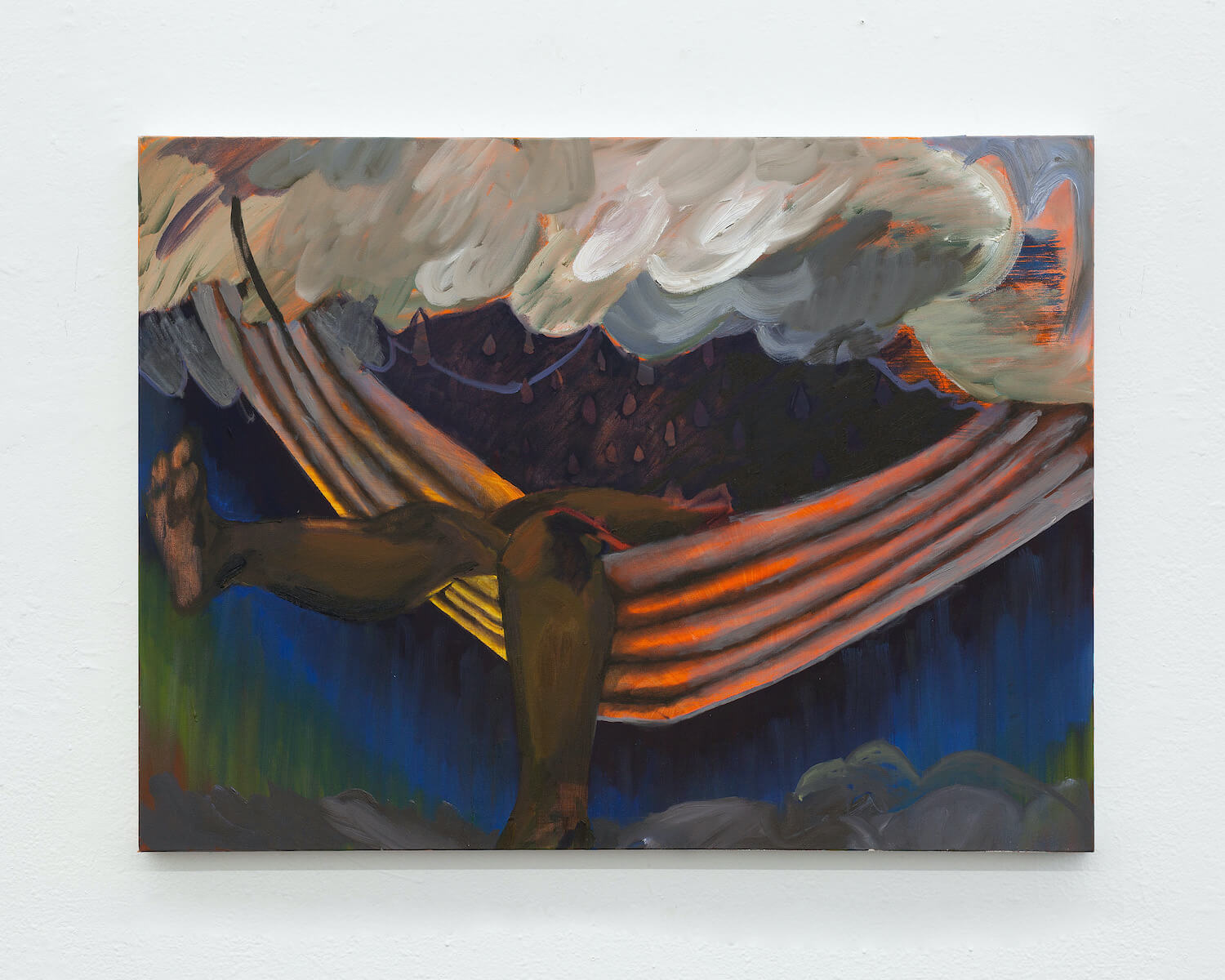 What does your studio look like?
For the last year I have been working out of my one bedroom apartment in Edgewater. My living room is my studio. It's lovely because I live a half mile from Osterman Beach. Lately, any of my pieces take place in or near the water so I'm definitely feeling that influence. Unfortunately I don't have many photos of my studio and I'm out of state so I can't take new ones.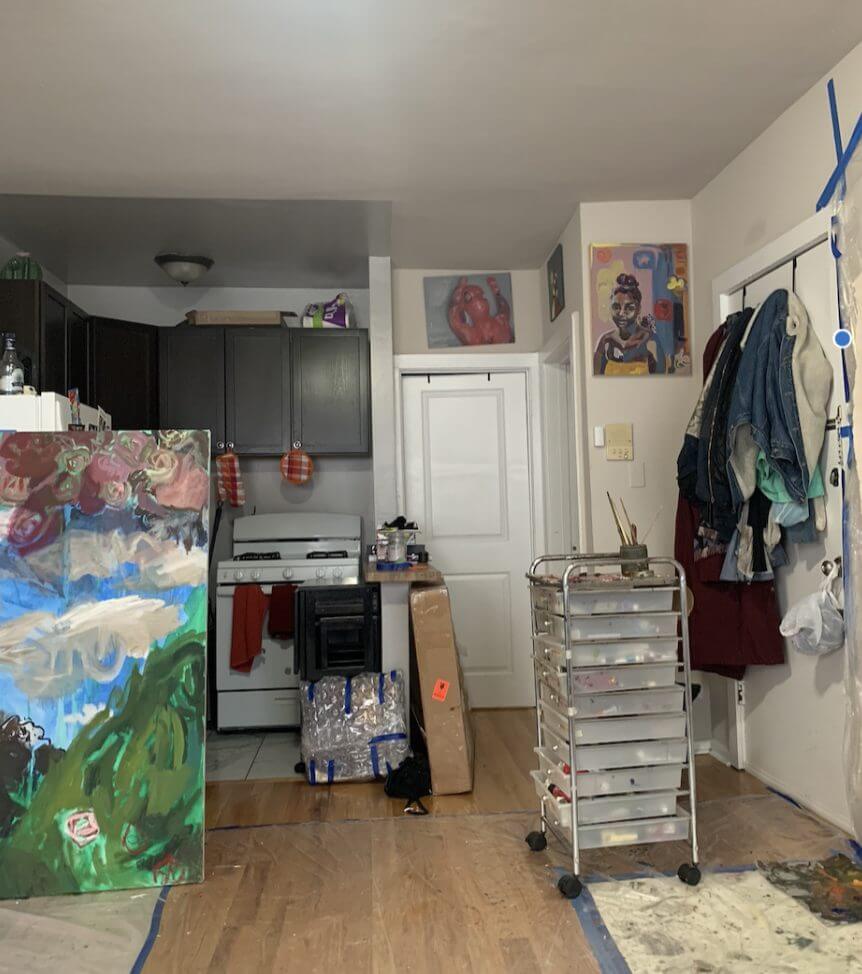 Your paintings have a very multi-dimensional, tactile feel to them. Tell us about the techniques you use to achieve this effect.
I already mentioned that my paintings are oil over acrylic. The reason I like this combination is because the acrylic washes peek through parts of the heavier oil paint and add a nice atmospheric airiness to pieces. I want my figures to feel like they are
moving through a tangible space. I want the viewer to feel there is a sense of temperature in each piece; like they could tell me what type of weather is occurring or what time of day it is. The washes of acrylic help with this as they engulf the figures and
all surrounding landscape like the weather touches everything.
I enjoy impasto mark making. I'm not interested in an illusion where the viewer doesn't consciously think about the fact that they're looking at paint. I love paint as a material and all the textural elements that come with it. I love forming representational images but I still leave myself space to 'fetishize' the brushstroke for lack of a better word. Sometimes a palette knife mark is just too pretty to be integrated into a greater illusion. As long as the overall image is recognized at the completion of the painting I will always leave room for those moments.
Favorite studio snack?
Unfortunately, anything that requires being picked up directly with my hands, which have oil painting on them the majority of the time. Pita chips with hummus, strawberries, chocolate covered pretzels. I love my daily iced coffee and nightly red wine (not every night of the week).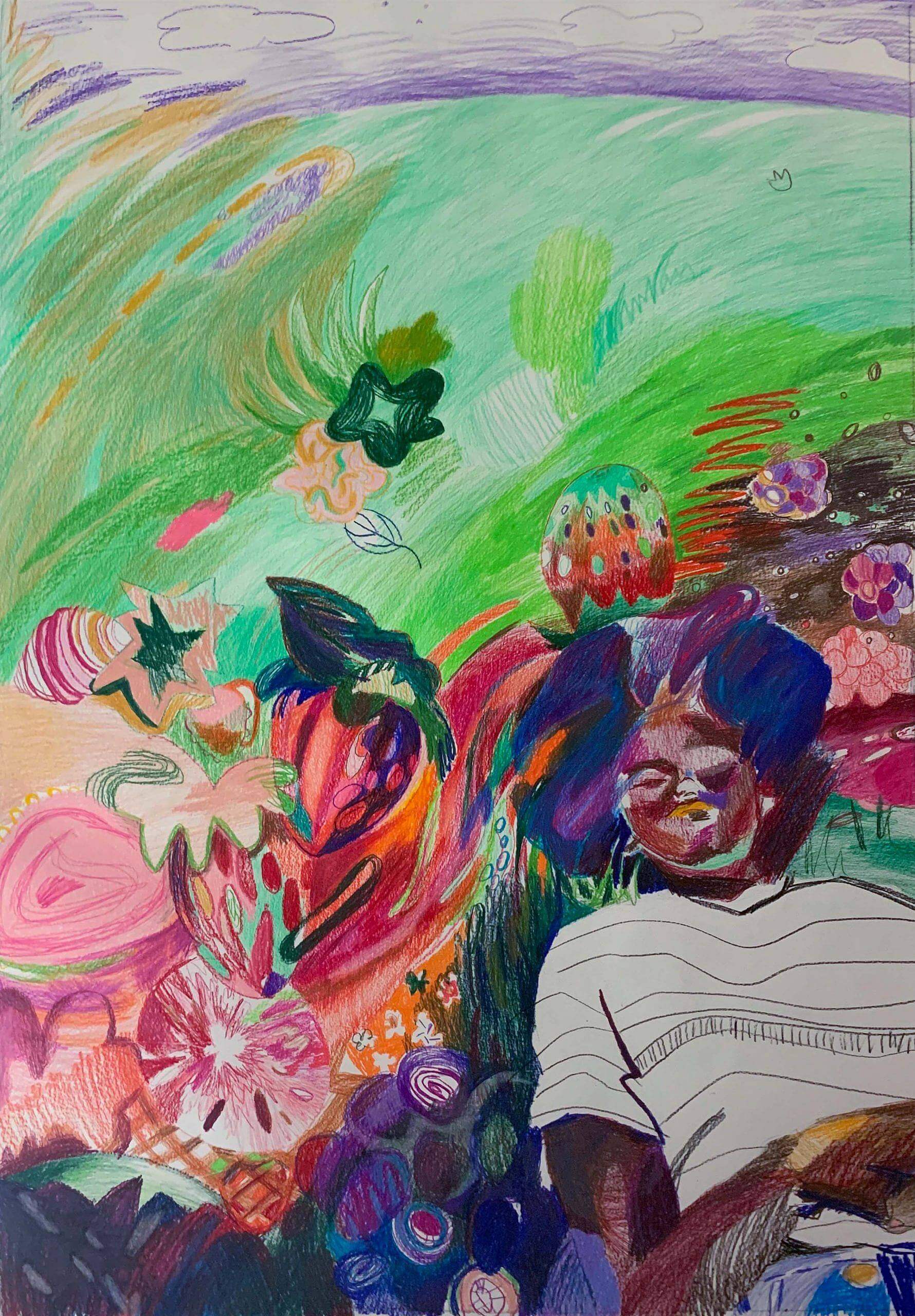 Tell us about your process for titling your pieces.
This part of the making process is actually a bit difficult for me. I usually don't think to title my works unless I need to do so for a show or an application. I don't like sitting and trying to conjure titles intentionally. They usually come to me when I don't make a point of thinking about it too much. To be honest I really just like short and sweet titles that
sound pleasing to the ear. I really like alliteration for this reason. For example some titles of mine are "Heart & Hand", "Pads & Pebbles &Pink", and "Hidden Figures Hug the Floor". In terms of my own practice I'm not one who enjoys convoluted or esoteric titles. The more direct the better.
Your paintings have a really interesting mix of abstract and representational imagery. What's it like balancing that when you're making your work?
Basic answer: it's fun! I find myself getting bored when I go too far either way on the spectrum. I think it's instinctual for humans to want to make images that look like themselves. It dates all the way back to cave drawings. In the past when I have used photo references I find myself getting too attached to the idea of mimesis. I love being a painter rather than a photocopy machine. I have always been enamored with impressionism. It feels like you get to show how your eyes work if that makes sense. Giving my impression of something, like a flower for example, feels more interesting and specific than sitting there and articulating each and every petal. I love painting because my world doesn't have to follow the rules of logic, perspective, gravity etc. It's only limited by the bounds of my imagination.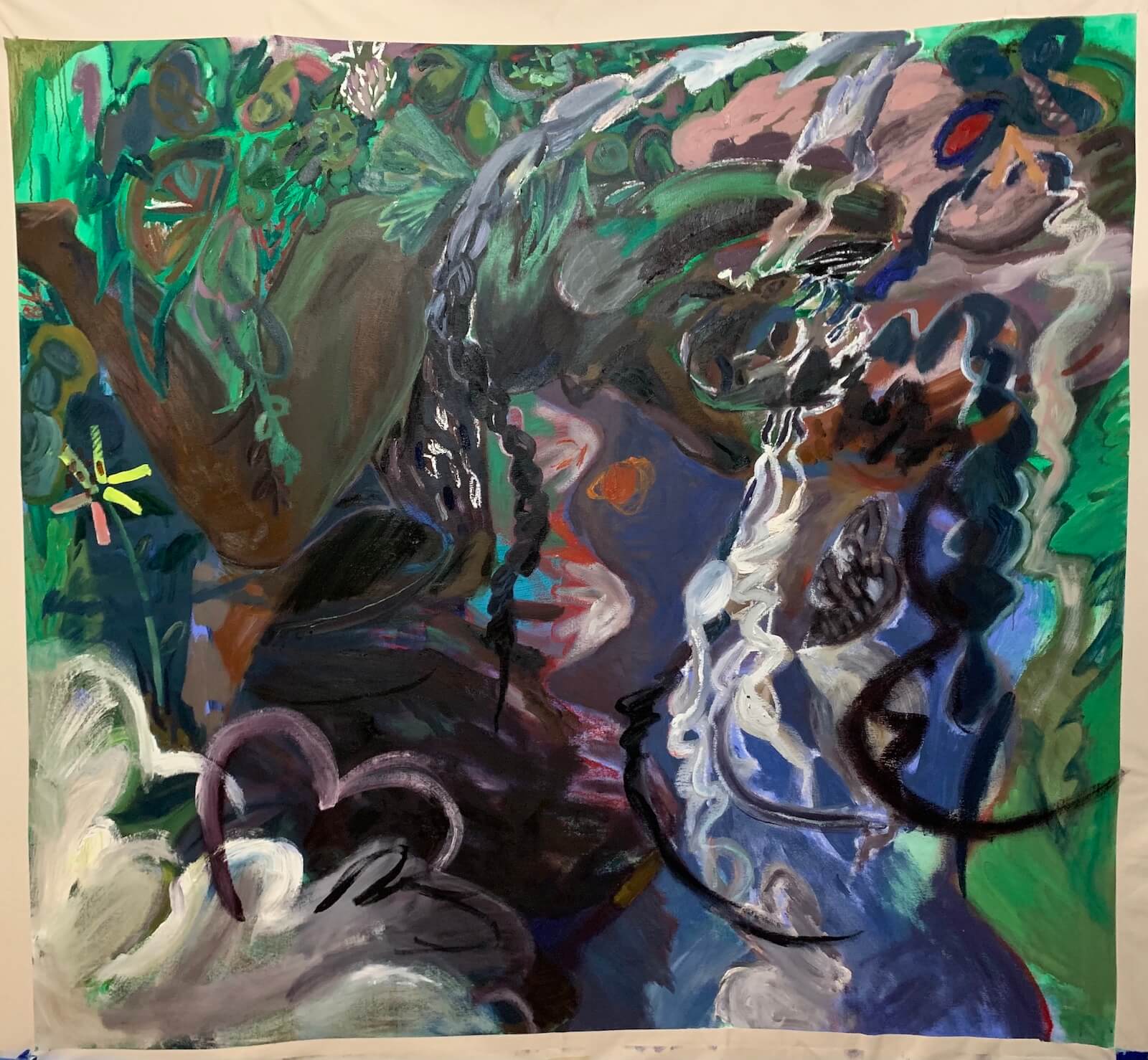 You grew up in Montclair and moved to Chicago for school. How did moving affect or change your work?
In high school I feel like you're mostly making pieces to satisfy an assignment, usually to prove technical proficiency. At least that's what it was like at my public school. But then you get to art school (especially SAIC) and you're asked what conceptual frameworks you're working with and why. So basically moving to Chicago forced me to ask myself
why I'm painting what I'm painting. I knew I liked painting figures and flowers but I kind of just assumed it was because those are fixtures of the art classes I had been taking for my whole life. I had to ask myself what those figures and flowers meant to me. Moving here also makes me crave nature more. Living here in the city sometimes feels like a brown and gray maze. By no means would I ever describe myself as an 'outdoorsy person' but living in a city definitely made me start thinking about the flora and fauna I previously took for granted.
In what ways do you hope to see your practice grow in the years to come?
I want to get back into making larger format drawings. I really love the slow meditative process of drawing in colored pencil and graphite. It provides a nice contrast to my gestural painting process which moves a lot quicker. I see painting and drawing as inseparable from one another. For me, there is no painting practice without a drawing practice.
I would love to do a residency somewhere outside of Chicago. I've never done one in general. But I'll keep applying until I get one!
I definitely have milestones I'd like to achieve in the next few years or so but I can be a bit superstitious and I worry about jinxing things if I share them with anyone other than my journal.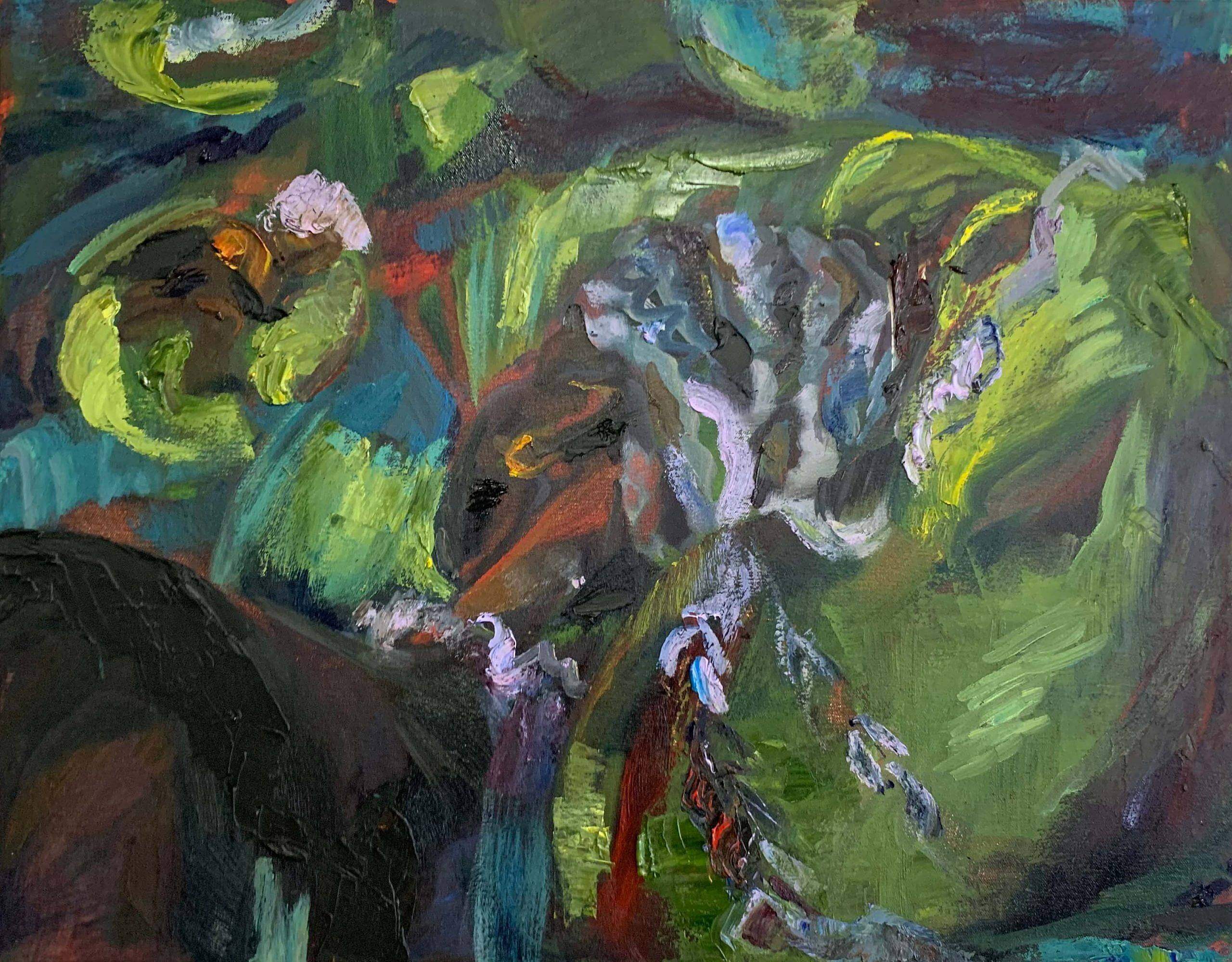 Any upcoming projects?
I have an upcoming solo show, 'Moon as My Mirror' at The Breeder in Athens Greece. It's my first international show and I'm (no pun intended) over the moon about it. It hasn't been announced yet so I must bite my tongue now. My dad does photography, mostly of jazz musicians performing and street photography. We have a father daughter show in February of my paintings and his photography in my home state of New Jersey. It's a really nice full circle moment for me. My art would not be what it is without the influence of the jazz, Motown, and soul music my parents played in our house.
Interview conducted and edited by Lee Schulder