Tell us a bit about yourself and what you do.
My name's Mia Scarpa, I grew up in New England, and stayed there for college at RISD. Moving out to LA was a big change for me and has been pretty good so far. I do miss the East Coast sometimes but I think there's something about being so far from it that makes me appreciate it even more and kind of idealize it in a way. Growing up I spent my summers in New Hampshire at my family's cabins on Suncook Lake. This place has been in my family for over 75 years now and it means more to me than any other place in the world. It's really hard to describe how special it is but it's definitely had a lot of influence on my work. 
My life here in LA mostly consists of working as a studio assistant during the days and going to my own studio after work everyday and on weekends. I spend all of my time with my dog Motley, he comes everywhere with me and has made his own dog friends in the art world. He's the best and he's so chill and I'm so lucky to have him.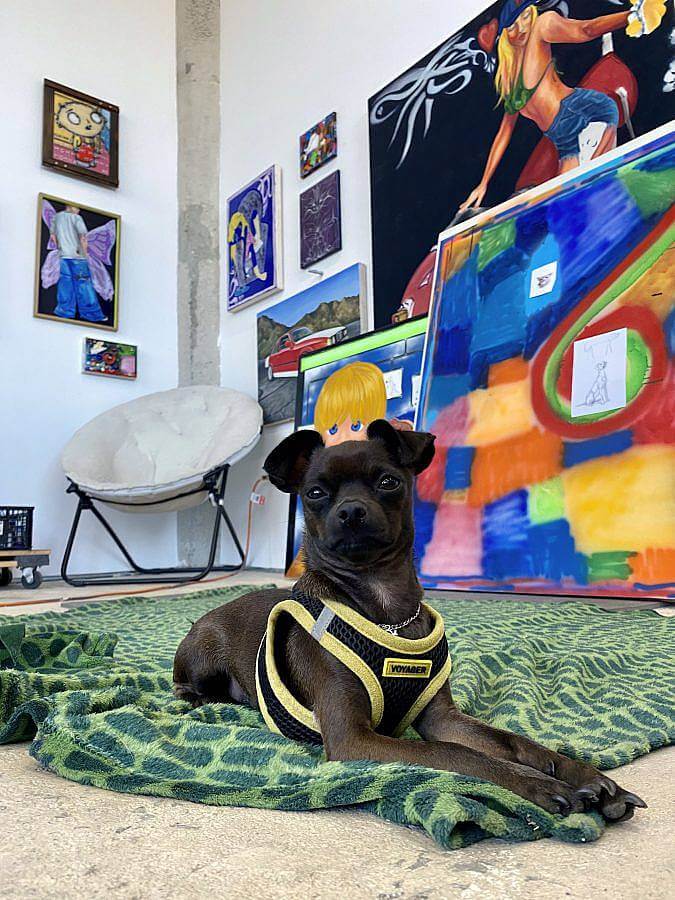 How did you start making Art and Painting?
I think I started drawing my toys, specifically Littlest Pet Shop animals, and my mom told me the drawings were pretty good and encouraged me to keep doing it. She's really talented and used to host an arts & crafts camp out of our basement so I learned a lot from her. My dad is an electrician and a musician so I also credit him for a lot of my creative side.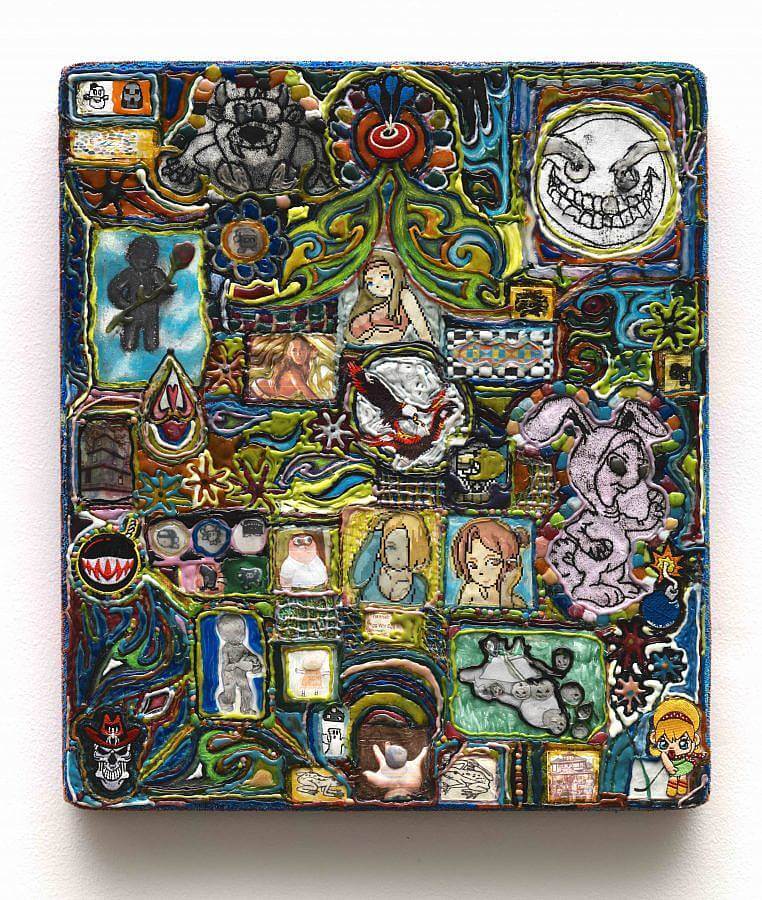 How is your imagery usually sourced and how do you work through picking the imagery in your paintings?
The imagery usually comes from all of the things I've collected. Some are physical objects found or cut out from books, magazines, etc. and some are images I've collected digitally on my computer through the years. Sometimes the paintings have imagery that makes sense together and sometimes there is no clear relationship between the things included, but by choosing them and putting them together in one piece, I hope that something is built and established.
What is your current music rotation in the studio?
Patsy Cline, Ween, The Specials, Alice in Chains, Sublime, Slightly Stoopid, Limp Bizkit, Van Halen, Brenton Wood, The Delfonics, Amy Winehouse, Motley Crue, 311, Nickelback, The Dream, System of a Down, Linkin Park, CKY, Aerosmith, Journey, Miley Cyrus, Smashing Pumpkins, Kid Rock, Prodigy, Live, Marcy Playground, Sum 41, Rush, Soundgarden, Audioslave, Temple of the Dog, Massive Attack, Sugar Ray, Alien Ant Farm, Metallica, Crazy Town, No Doubt, Christina Aguilera, Rihanna, Yung Lean, Show me the body, and a lot more lol.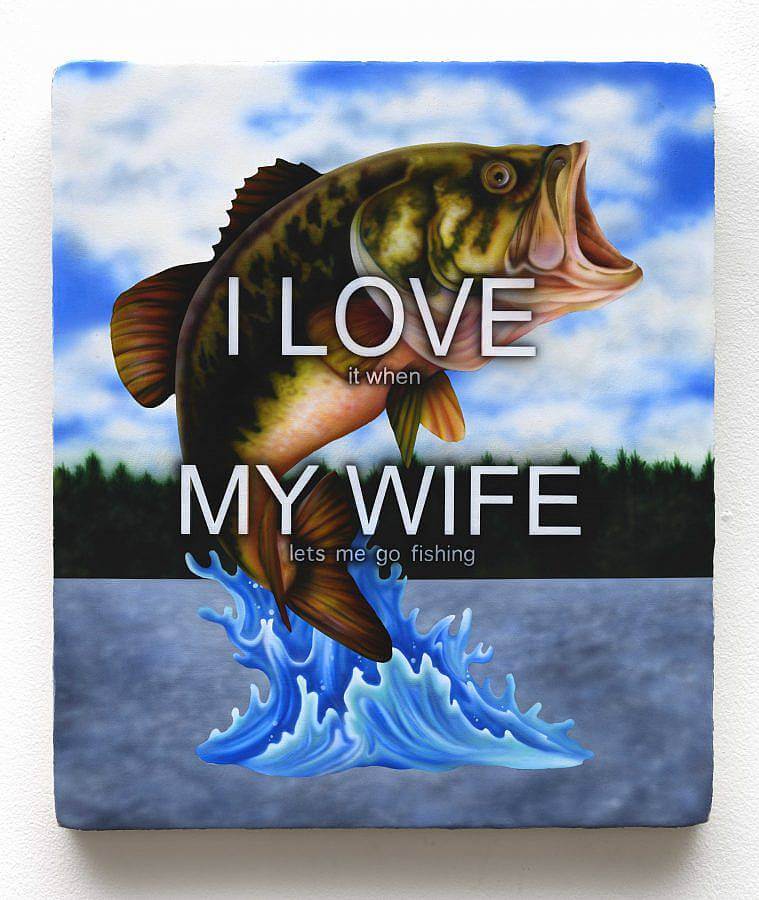 What do you collect?
I love collecting things. I would say I collect anything I can consider special, which is admittedly most things. I used to collect dragonflies when I was a kid and would find them dried out in my yard. I have a few old moths that I've brought with me from Massachusetts, to Rhode Island, to Los Angeles. I alway pick up pennies when I see them on the streets. I've collected feathers for most of my life, a habit I picked up from my Auntie Judy who is one of my favorite people. I have a ton of little toys and figurines that are all around me & my sister's apartment. I also try to collect things that I could potentially use in my work. My studio is full of little objects, charms, toys, scraps of paper, fabric, rocks, beads, tiles, pieces of glass, and a lot more. One of my favorite things about having all these things around me at all times is that I can give them to people as well and then they hopefully become a special object for someone else to treasure.
How would you describe your consideration of humor in your work?
I think humor plays a big role in my work, if not my practice in general. It definitely makes it easier for me to have fun when I'm making things and not take the work too seriously, but it's also a really important part of my work to me.  A lot of the time it's hard for me to justify being an artist, it's such a privileged occupation to have in my opinion and I really don't like the exclusivity of the art world. I guess that incorporating humor in my work is sometimes a coping thing and kind of an attempt to make the work more accessible to viewers outside the art world. I don't think my thoughts about it are fully formed yet, but I'm definitely going to keep working through this idea.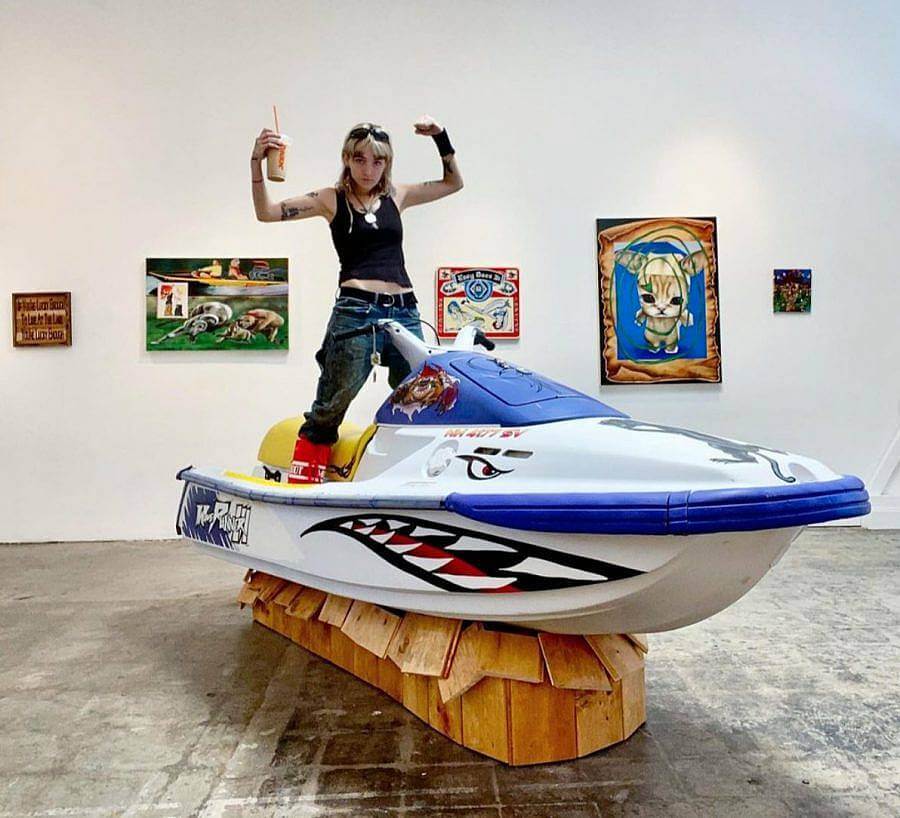 You recently closed a show at Spy Projects called 'Masshole' – How was that experience and what things were on your mind when making work for it?
Working with the team at Spy Projects was an amazing experience. I went to school with one of the three founders, Sasha Filimonov, and am close friends with the other two, Pietro Alexander and Gabriela Rothbart. They helped me transform the space and build an environment for my work to live in and be seen in. It was important for me for the space to house the work rather than just display it. Once we had the space figured out I tried to make some paintings that acted more as props to me and helped the room come together as more of an installation as a whole. One of them being a wood-burnt sign that says "If you're lucky enough to live at the lake, you're lucky enough", and another being a recreation of an old travel poster advertising The man of the Mountain attraction in New Hampshire. I hope to be able to work with future spaces in this same way.
How do you feel about online or instagram-based galleries?
I think they're pretty cool, it's a good way to discover new work that you'd otherwise maybe never see. I also think it's cool for people who aren't able to/don't want to live in larger cities and can't go to openings as often as others who do. The only unfortunate things in my opinion are that the materiality of the work is not as noticable/loses importance and is sometimes lost, and the relationship the viewer can build with the work is altered. These things are really important to me when I see art but I do see the value of online-galleries as well.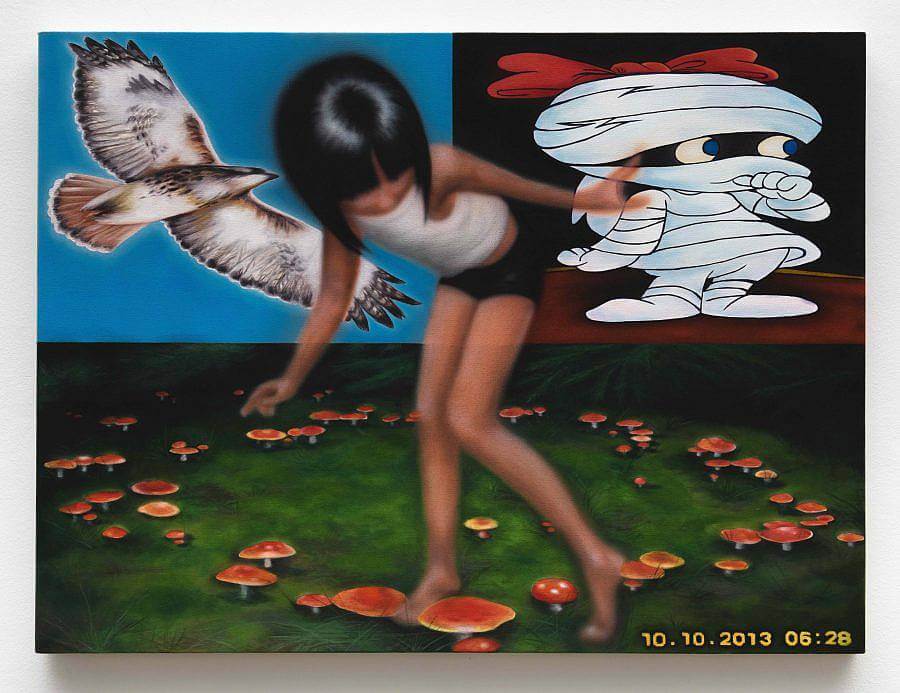 What is your typical approach to the scale of your works and the intimacy of the viewing experience? 
I used to feel a lot of pressure to make bigger work, not sure from what or why I felt that way, but in the past few years I've embraced working on a really small scale. I like the speed of it and being able to get an idea out of your head, into an object, and then moving on to the next one. I also love the intimacy and the ability to hold a painting in your hands and consider it more of an object than a two-dimensional image. For the same reasons I also like to explore making sculptures, some furniture, ceramics, and jewelry. Recently I moved into a bigger studio and I've wanted to try working slightly larger than usual so we'll see where that goes.
What was the last exhibition you saw that stuck out to you?
Chris Martin: Recent Works at Kordansky in May 2022
Shattered Glass at Jeffrey Deitch in March 2021
The Views at Moskowitz Bayse in February 2022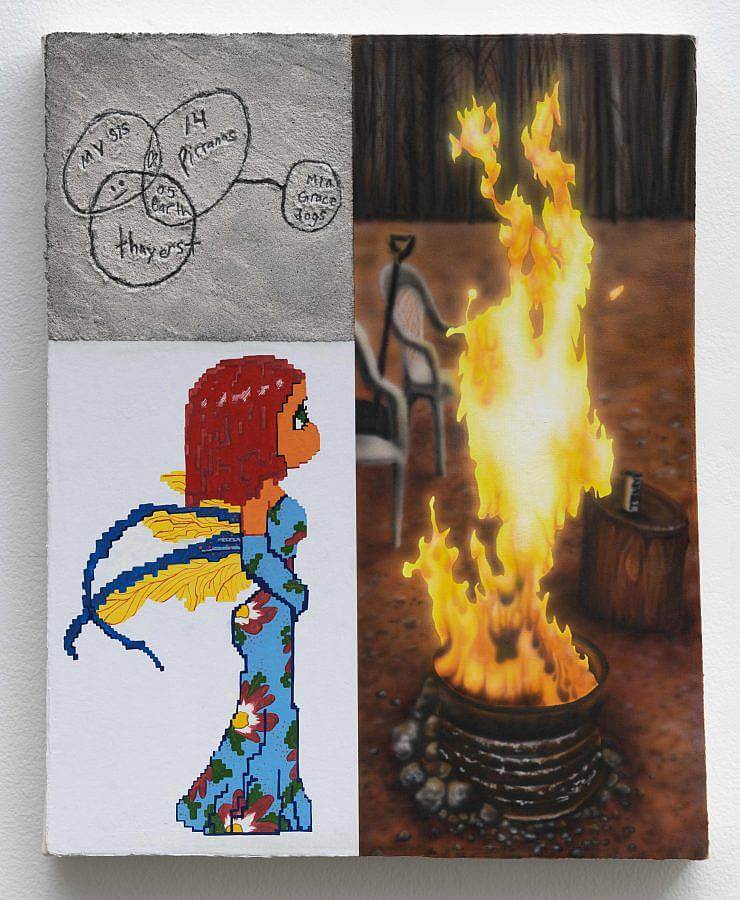 Any Upcoming Projects?
I'm not 100% sure if I can share things but I have a show coming up at a gallery in Massachusetts, excited to be able to show where I grew up. And might be curating a show with another gallery that I really admire in the coming year. Other than that I'll just keep working in my studio, I plan on making a new batch of necklaces to sell soon and have also thought about maybe having some prints or shirts made. I'm happy to be able to work without set deadlines at the moment, I guess it takes some pressure off knowing that the work is not leaving anytime soon or going anywhere specific. I like to live with my work for a little while before it leaves my own space.
Interview conducted and edited by Sam Dybeck and Milo Christie.