Can you tell us a little about who you are and what you do?
My name is Carol McMahon. I'm a visual artist, a maker of objects and paintings, a collector of art, antiques, junk and trash. I've always made stuff/art, sometimes with said junk, but I have a passion for traditional artist materials too.  There's nothing so wonderful to me as paint, brushes, paper—in fact, I've never met an art material I didn't like. 
I've recently moved to an artist loft building in North Adams, MA. The building is open to visual artists, painters, sculptors, photographers, and also to writers and others involved in some art endeavor. There is a gallery here for artists in the building to use, and there's a commercial gallery here too. We're five minutes from MassMoca. I like combining living and working together. Working a lot, every day, is my idea of a good time.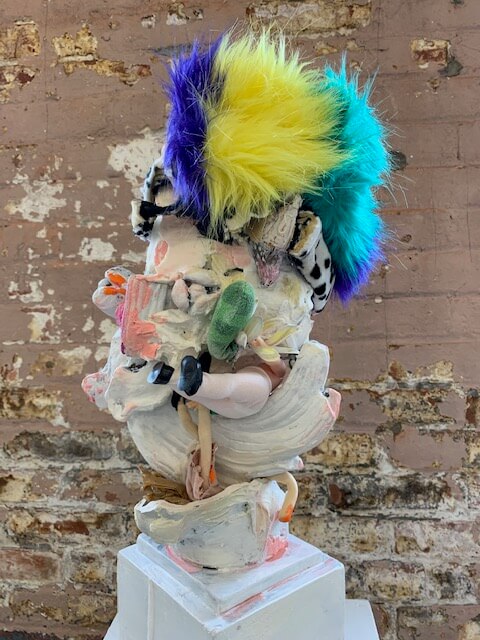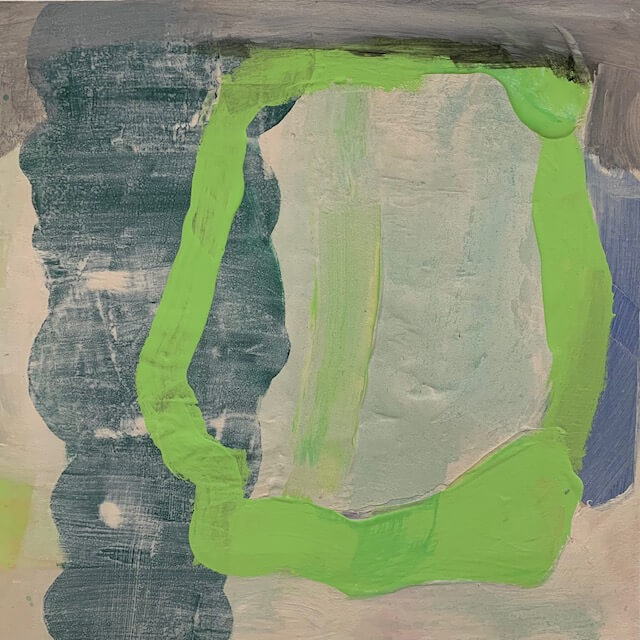 Do you classify yourself as a painter or a sculptor? Do these terms have any resonance to you?
I don't like classifying myself in this way. I like to think of myself as free to make whatever kind of work I want—whether it's two or three dimensional work and the classification would just be: artist. If I had to classify myself, though, as one or the another, I would say that I'm a painter. Most of my sculptural pieces seem to me to be three dimensional paintings.
When approaching a new work, what is your first step? Do you plan, or just make?
It's been different at different times. A long time ago, I did portraits of politicians and other primates. These were done in black and white oil stick on wood panels. Then, I knew each day what I wanted to work on and achieve. It was easier to know ahead of time what I was going to do, but it got a bit dreary after a while. These days, and for a long time now, my work has been more intuitive. I work on many things at once. I might have fifty works, more or less, all spread out, all clamoring for attention, along with lots of odds and ends of potential three dimensional things, waiting in the wings, in case they're needed. It can be chaotic sometimes, but it's exciting.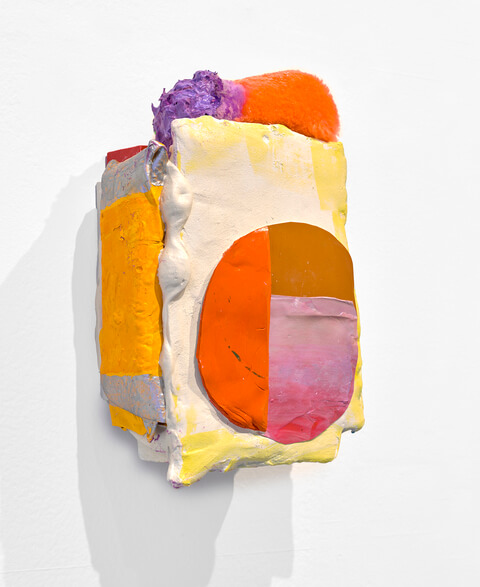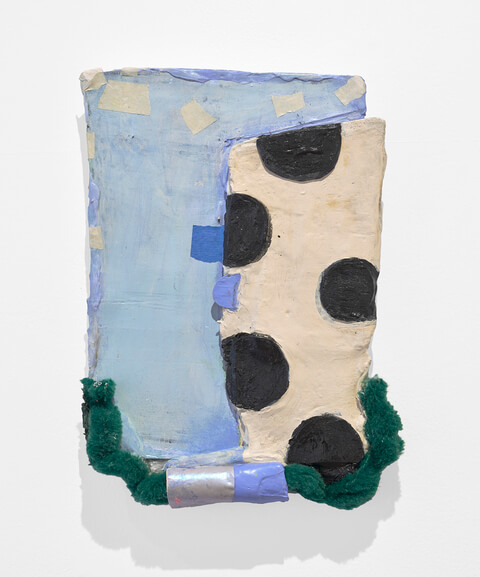 What are you working on right now?
Right now I'm working on slightly larger pieces, both two and three dimensional works. Instead of paintings that are 4" squares, I'm working on 8" and 12" wood panels and larger works on paper, 30" X22". I've recently been invited to participate in the 6th Biennial of International Non-Objective Art in the city of Pont de Claix, in France. This exhibition opens in September of 2021, so I'm working on getting ready for this now.
How do you think about the role of color in your work?
Color is so important. Its role is to provide an emotional resonance, to convey feelings and mood. Color can call people to the work. It can repel also. Getting the color right can be hard, but it's worth trying for. White is a color, but many people do not think so. It's a color that doesn't interfere with form. It doesn't demand attention and doesn't provoke much emotion. For several years, I couldn't bear the thought of any color but white for my work. In the past few years, I've wanted to use strong, vibrant, loud, sometimes garish color. And I'm trying to use color to express a wider range of feelings.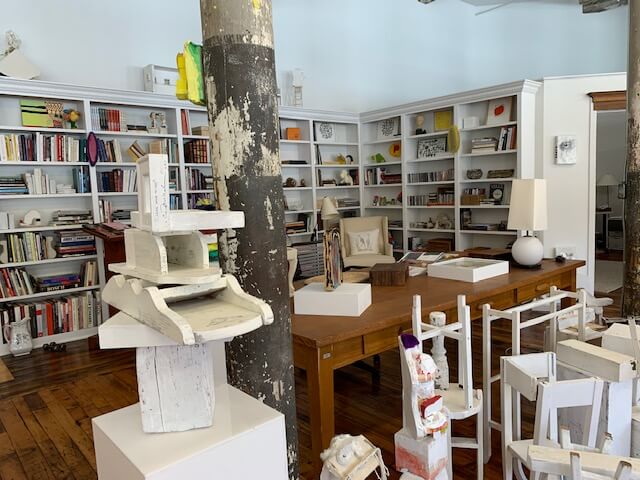 In your show at Room 83 Spring in 2018, your works were hung all over the gallery. How do you think about installing your work and filling a space?
Installing a show is an art in itself. There are many right ways to hang work and many wrong ways. If a show isn't hung well, it can kill good work. It helps if you can trust the eye and sensitivity of the installers. Cathleen Daley and Ellen Wineberg, working together, have consistently installed great shows at Room 83, in Watertown, MA, and elsewhere. Fortunately for me, they installed that show and I loved what they did. Usually, in a group show, I like each artist's work to be hung by itself. I believe they did that in the front gallery, but mixed work in the back gallery. If it's done right, it works.
What is the most interesting or satisfying to you about working on a small scale?
I worked large for many years, so it's interesting to me that I started working on a very small scale. It wasn't planned at all and I'm not sure exactly what prompted the change. Maybe it was a way, at the time, of declaring my independence, as an artist, eschewing, even thumbing my nose, at the prevailing thought in the art world, that bigger is better.  It delighted me as my work got smaller: 4" x4", 2" x2". I think I even made at least one piece that was 1 inch; and I fantasized about making work even smaller. Somehow, the thought of making really small work amused me.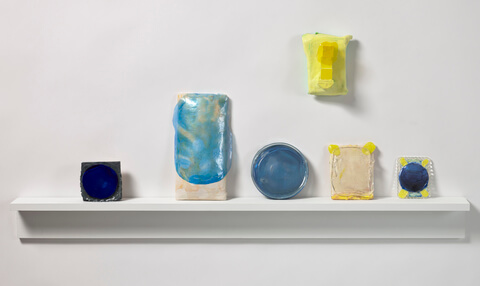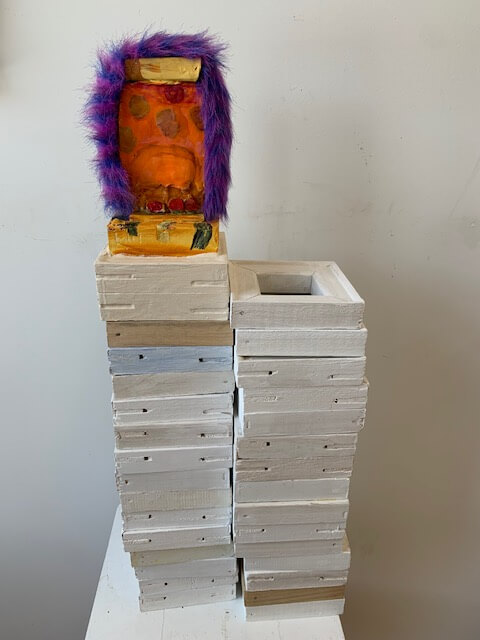 What role does humor play in your work? I especially love your titles, like "Billionaire Venture Capitalist On His Way To New Zealand."
Not all my work is funny, but when it is, I like it. Many times, when I'm in the studio, looking around for something to work on, I ask myself what combination of things I could put together that would be incredibly silly and really make me laugh. I've noticed that when I let myself be totally goofy, sometimes I get my best work. The titles almost always come after the work. They often come from whatever is going on in the world that I'm mulling over. Like billionaires hiding their wealth in New Zealand and other places so they don't have to pay taxes in America. You gotta laugh at that.
What are you reading right now?
I've just started reading, "The Golden Flea—A Story of Obsession and Collecting", by Michael Rips. Rips is the executive director of the Art Students League of New York. He's writing about his passion for flea markets, his interest in collecting, and the people who inhabit and frequent this special world. His writing is so spot on, his drawing of this world is perfect.  He's brought back so many memories of the great times I've had at flea markets myself. I'm really enjoying this book.
Interview composed by Maddy Olson