Tell us a bit about yourself and what you do.
I am an artist and a children's book writer and illustrator and currently have three books available – Starting Over in Sunset Park written by Lynn McGee and José Pelaez, published by Tilbury House, The One Day House written by Julia Durango, published by Charlesbridge, and The Princess Who Went Quiet, which was self-published and distributed for free at the Cook County Jail and in workshops throughout Chicago. It is available for free online as well.
My grandparents on both sides of my family immigrated to Pilsen in the 50's from Mexico, and I like to shine a spotlight on our neighborhood in my work, which focuses on family, community, culture, childhood, and memory.
I also enjoy being an on and off teaching artist and working closely with young people, doing house portraits on commission, and making paintings and drawings just for myself.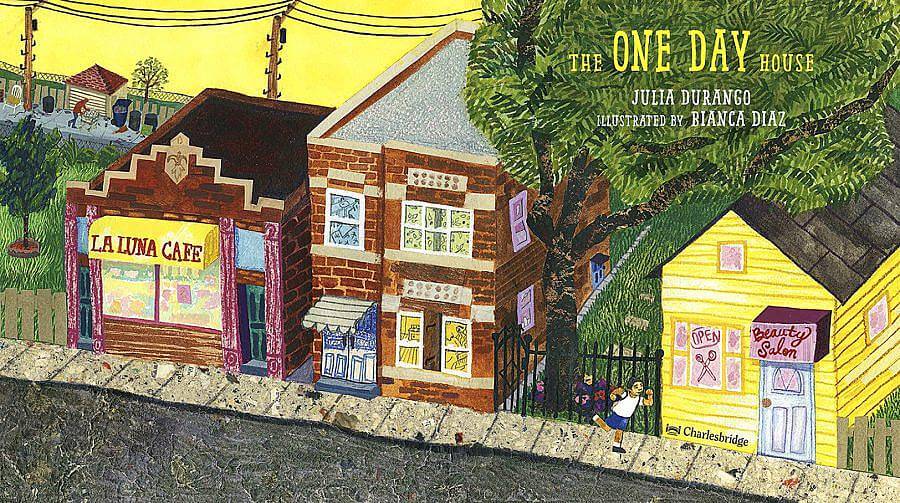 How do you approach & play with perspective in your illustration practice?
Although I have learned the basic rules of perspective, I often break them. I prefer to capture my feeling of a space and I bend lines and angles to do that. Usually in my drawings you'll see more than one room, sometimes all the way down a hallway into three different rooms like a tunnel, or a perspective through a window that isn't exactly "right".
I'm often using my memory to remember what it felt like to experience spaces as a child, things are bigger, angles are stranger because you're more curious to look under or inside an old wardrobe, or see the room from on top of it. I also think my unstable lines are inspired by the homes I grew up in, old buildings that have layers and layers of paint and shifting floors, where there are no right angles. The facades of buildings are crumbled and patched up over and over, and so in a lot of ways my searching, wavering lines are more honest to reality than a straight line.
I also think a big part of my approach to perspective is inspired by my love for dollhouses and toys. I think in my drawings there's a sense that you could pick up this little couch or these little furniture objects, and you're often looking down into these rooms like a giant.
What does it mean to you to portray a "place" whether it be a home, building, or city street?
When I think about my neighborhood I think about everything my abuelos saw and experienced, everything my mom and dad have seen and lived, my tios and tias and my cousins, all the lives that have crossed over and through one neighborhood, through these buildings, and how that experience changes and how it stays, the marks we leave. I think about everything my family and the people of my neighborhood have brought with them from Mexico and from all over the world, everything they left behind, everything that's new, and how things will change and morph into each other.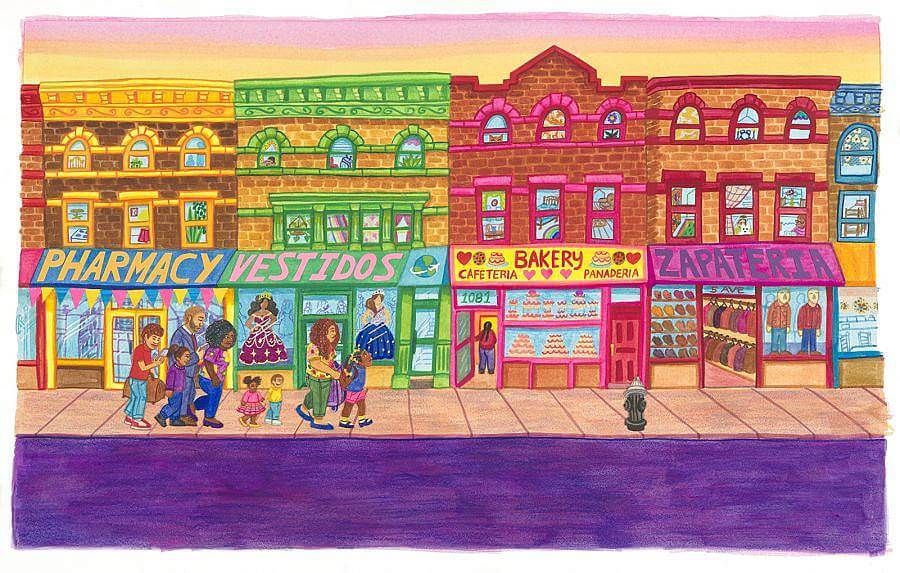 When I think of Chicago, I think of all the schools I attended as a child and how they brought together children from all over the city. I think of the schools my parents went to in our neighborhood. I think of how segregated Chicago still is, how lines are drawn between people and classes, and access to resources. I think of my own privilege in that ecosystem and how it affects the way I see the world, and I try to listen to people around me and imagine a more just future together. I try to be in the past, present, and future all at once when I make my work.
To portray these places is so important to me because I got to bear witness to it, and I just want to save these beautiful and rough moments, to have them last for generations beyond. So much has been lost because of forced immigration, forced migration, gentrification. People are constantly being pushed. But stories help things survive, and I want to be part of helping those stories stay alive.
How did you get started as a painter and illustrator?
I got started as an artist as a child. My mom, brother and I took pottery classes together at Casa Aztlán, and my dad took us to darkroom photography classes at the field house in Dvorak Park. Later I took painting and drawing classes at Yollocalli and then Marwen, then Gallery 37 in high school. Chicago has so many free art classes for young people, I was very fortunate to come up through them. Pilsen itself has murals everywhere documenting the history of the people who live there, which were very inspiring to me as a child.
I eventually used my Gallery 37 AP Studio Art classes for two years to create a portfolio which I submitted to several art schools, and was accepted to the Rhode Island School of Design. I took a class on children's book illustration at RISD and presented my final book dummy to a room of art directors and editors for various publishers that my teachers had organized for our final critique. Charlesbridge kept my manuscript and asked to work with me a year later on The One Day House.
How do you hope to portray the cultural iconography of the Mexican American experience in your work?

I try to show the things I experienced as a child. Hot Cheetos bags lying empty on the ground, fake fruit and flowers decorations and chewing on the fake grapes at my bisabuelita's house, the many statues of saints, the Virgin Mary, rosarios, looking at old family photos with my abuelita, my tia's beautiful long painted nails, ants crawling around the house, wrought iron and chain link fences surrounding our yards, piñatas, big pots of beans and rice, watching cartoons on TV, playing video games, the different colors of my family's beautiful skin, washing clothes at the laundromat, trick or treating with my cousins and getting almond cookies from the panaderias that ended up in crumbles at the bottom of our pillowcases by the end of the night, walking through smelly alleys and finding treasure, flying plastic bags in the air like a kite, playing hockey on the sidewalk with my dad and brother, running up and down the stairs in our big building that housed families and artists, sticky hands from melted paletas. These are all the positive things and there's another side, but it's harder for me to put that down in words. Images are an easier language for me to tell the full nuanced truth in.
The Mexican American experience is not a monolith, and I only attempt to honestly portray what I have seen and felt and what I've learned from my family, and hope that these views resonate with others. I hope to show our beautiful culture in a light that shows the good in the bad and the bad in the good. I try to portray that feeling of being ni de aquí, ni de allá, being from neither here nor there, of learning to exist, sometimes comfortably, in the uncomfortable middle ground between two cultures.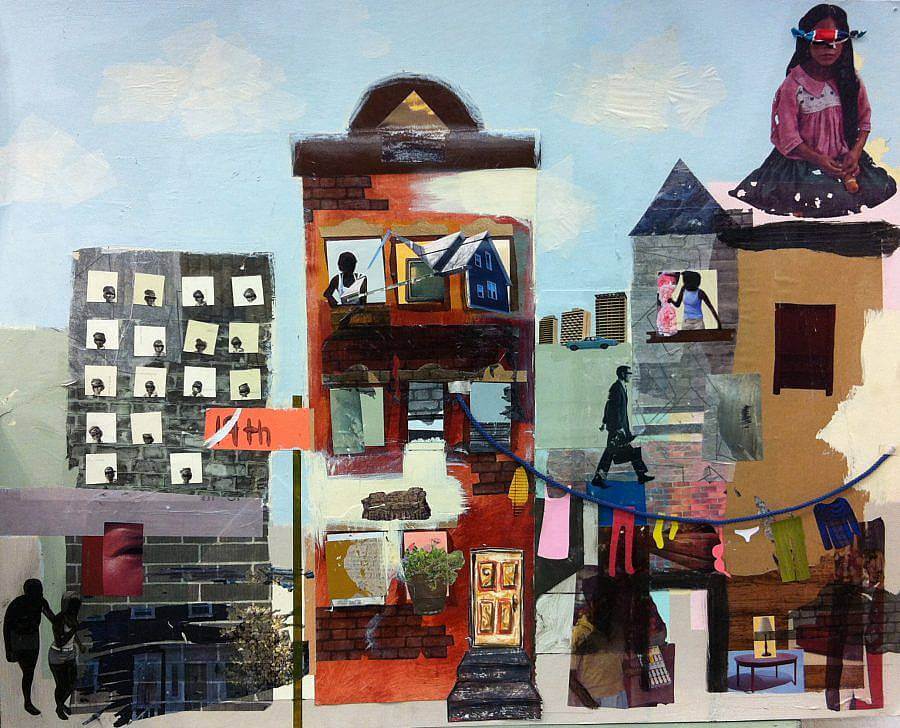 What about children's illustration interests you as an educator?
Children's books are an invitation into a new world. They can be so beautiful and enticing. I hesitate to present myself as having the answers to the problems that plague our societies. I choose instead to imagine what I would like to see, a vision of what the future could be, both entirely different and in many ways the same, and to make it enticing. I want the future to be something we work out together with the needs of everyone in mind, rather than a prescribed idea. And I hope create work that encourages children to do the same, to think about what they want, what would make their world better. To make a story about it, bring it outside of themselves and into the world by whatever means suit them. I think young people have so much more knowledge and ability to give to the world than we give them credit for. So, children's books interest me in their power to inspire children to wonder.
Can you walk us through the history of and process for creating your house paintings?
When I was accepted to a school on the east coast I was so excited to get out of Chicago. The longer I stayed away, however, the more I kept returning home through my work. I felt like I could see everything in a new light once I had left. I realized that the beautiful buildings I grew up surrounded by do not exist everywhere. I started returning home to my neighborhood using Google Earth and drawing the buildings like they were old friends and family. They felt like people. They are all so individual and I just love the way they look when the sunlight hits them at magic hour. I started making more drawings and paintings focused on my neighborhood and making detailed works of individual houses.
Eventually, I started making these paintings for people, and on and off throughout the year, I will accept commissions for house portraits. I like being able to make a beautiful keepsake for people that they can use to remember their home forever. The building that I grew up in as a child was gutted and changed and will never exist again, but when I draw it I bring it back to life.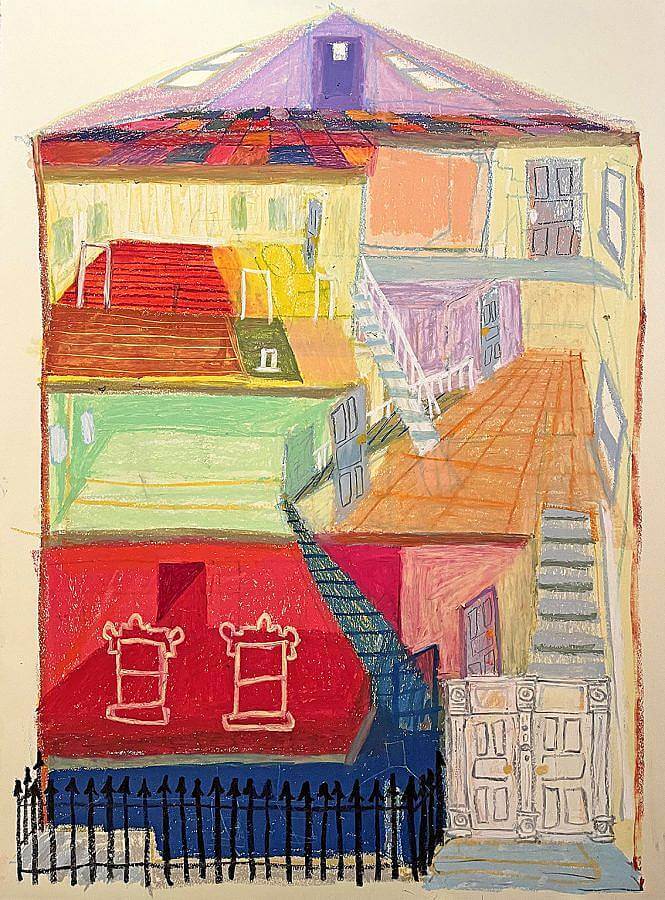 There's such a warm vibrancy to all of your work, how would you describe your visual language?

I am most fascinated by color. The subtle shifts on the pavement from violet to yellow, the mix of them to make a warm brown, how all the colors relate to each other on a palette, and getting so familiar with them that you could imagine what colors you'd use when you're looking at the shadow of a tree, that inspires me always to keep working. Right now I'm focusing on using the translucency of watercolors to capture light. I don't use any white or black, and at one point I mixed gouache into my palette but I stopped when I realized gouache contains white chalk. I think letting the white of the paper be your white gives a piece that warm vibrant quality.
Some symbols that I've noticed come up in my work are windows and doors. I was kind of an indoors kid and stuck very close to my dad growing up. Even now I'm more of a home loving person. I also went to a school outside of my neighborhood, so I didn't have many friends from Pilsen, just family. I think the windows and doorways might be an expression of that, a way of looking in but also knowing it's just the facade I'm seeing. It's kind of a longing to be invited in, but at the same time, a comfort to be able to just observe and not be in the center.
Any upcoming projects?
Right now I'm working on a children's book with Mariame Kaba that will be released sometime in the next year. I first met Mariame when I was her intern for Project NIA during the summer after I graduated from college. Project NIA is a grassroots organization, founded by Mariame, that works to end the arrest, detention, and incarceration of children and young adults by promoting restorative and transformative justice practices. I was given grants by the RISD Maharam STEAM Foundation and the 96 Acres Project to create a children's book that would help meet the needs of children with incarcerated loved ones. This book was The Princess Who Went Quiet. The internship involved attending an 8 week seminar about the Prison Industrial Complex at the Jane Addams Hull House. I was privileged to be in the room learning with and from so many people who graciously shared their knowledge of what the PIC is, and all the ways that it weaves itself into our society and everyday actions. I also attended workshops where formerly incarcerated mothers spoke openly about what it was their children might need in a book. It was a huge period of learning for me and opened my eyes to many things I hadn't considered.
I'm so excited and feel blessed to be able to bring Mariame's words to life with pictures, and hope more than anything that our book can be of use to children and families.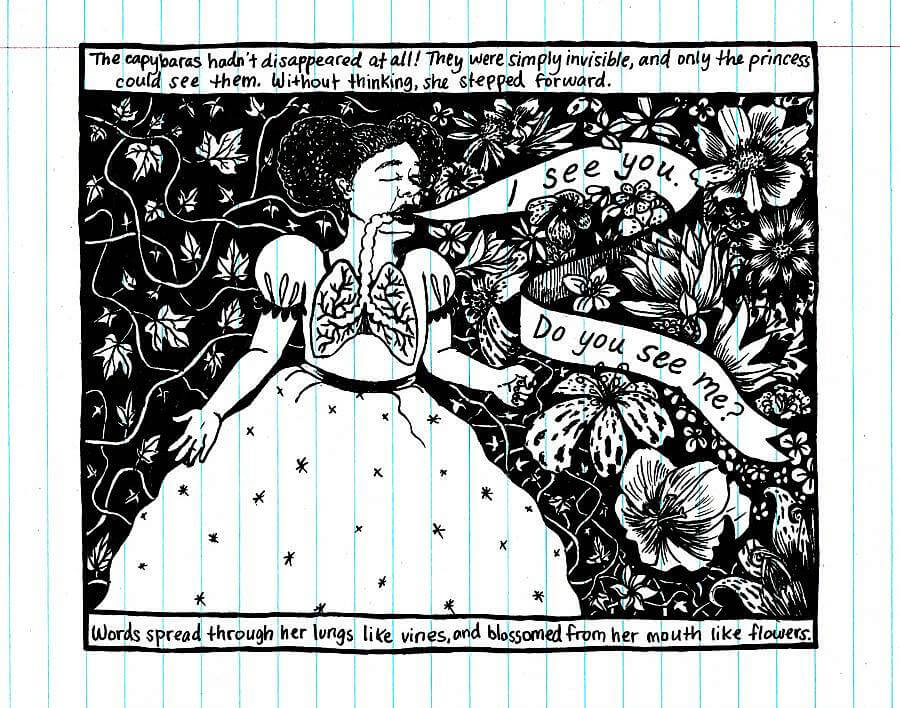 What does your workspace look like?

My workspace is simple. I'm so happy to finally have a dedicated room in my home for my studio and I'm currently trying to work at a standing desk as I want to avoid back and arm problems. I used to work at a folding home depot table that was set up wherever I could find space and stay mostly out of the way. I have bookshelves filled with children's books and various research books. I like to craft furniture out of cardboard, glitter and pompoms etc. and I keep those on my bookshelf too. I have a window that looks out onto a beloved magnolia tree and I can hear the bluejays, mourning doves, robins, and cardinals as they swoop through. I try to keep the final art and sketches of my books up on the wall as I work on them because otherwise, things get very cluttered and confusing. I recently invested in an art cart with wheels and I love it. In the corner, I keep music things and sometimes I record songs in the closet.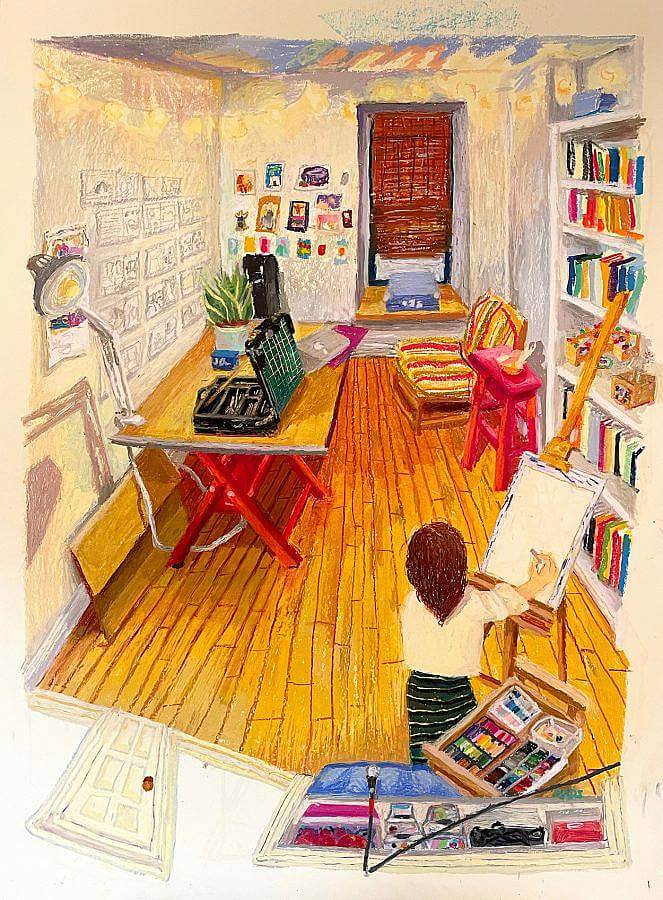 Interview composed by Joan Roach & edited by Kaitlyn Albrecht.