Inspired by the southwestern culture of her Texas upbringing, Robin Kang reinterprets the hand tradition of weaving within a contemporary context.  She received her BFA from Texas Tech University and an MFA from the School of the Art Institute of Chicago, where she studied both new media and fiber arts.  Her textiles, sculptural installations, and video work have been exhibited throughout the US, Canada, Spain, Belgium, Austria, and Saudi Arabia.  She has participated in artist residencies in Texas, Michigan, and Beijing.  Robin is also a curator and has directed several artist-run project spaces including, the Carousel Space Project in Chicago and PENELOPE in Ridgewood, Queens.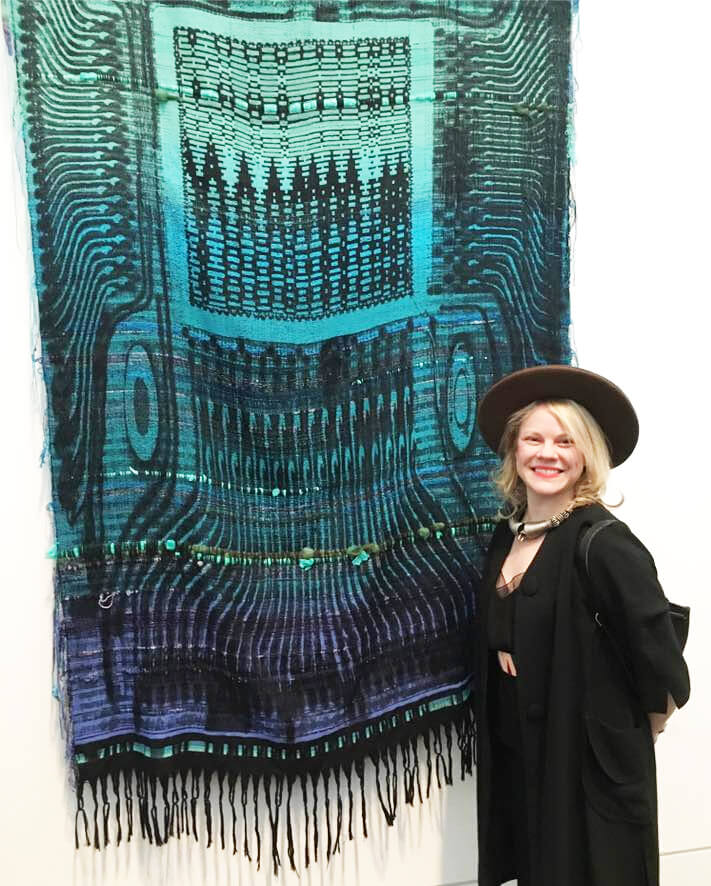 Tell us a little bit about yourself and what you do. I'm originally from a small town in Texas where Southwestern culture and the cotton industry were natural influences.  However, recently I've clocked in 10 years living in Brooklyn, but spent two years in the middle of that time studying at The School of the Art Institute of Chicago.  My interests in folk traditions and handmade crafts have been blending with new technological resources and my responses to our current digital culture.  The historical connections between the textile industry and the development of technology provide inspiration for my artwork, that has mostly centered around weaving.  Utilizing a hand operated digital Jacquard loom, the contemporary version of the first binary operated machine and argued precursor to the first computer, I hand weave tapestries that combine what may appear to be ancient symbolism, computer related imagery, and digital mark making.  While researching early computer hardware I learned that the earliest instruments for memory storage included both handwoven copper wires and hand-drawn solder lines.  These objects embodied concepts of woven information and a kind of technological drawing, which becomes inspiration for the digital sketches that I then weave by hand.  Photoshop pen tool gestures layered with symbols from ancient weaving traditions and motherboard hardware blend together amid interlocking threads.  The juxtaposition of textiles with electronics opens an interesting conversation of reconciling the old with the new, traditions with new possibilities, as well as the relationship between textiles, symbols, language, and memory.
What kinds of things are influencing your work right now? Symbols and patterns from Ancient cultures have always interested me.  Lately, I've also been studying the use of textiles within various religions and rituals such as altar tapestries or ceremony regalia.  I've been especially inspired by the story telling and mystical imagery found in Pre-Columbian textiles often depicting anthropomorphic and zooamophic characters. There is a certain mediative satisfaction in the rhythmic and repetitive process of creating cloth. I enjoy thinking about connections with pattern, repetitive action, and altered states of consciousness.  Cultures all over the planet have engaged in various forms of weaving for centuries, so it is a deeply rich and fascinating craft to study.  Simultaneously, I've been researching the history of computers and looking at vintage hardware as inspiration.  Ferrite Memory Cores were the predominant form of computer memory during 1955-1975. These early computer parts were hand woven out of copper wires with tiny bead-like toroids that were magnetized, positive or negative, to hold binary data. Though no longer hand woven, computer memory is still somewhat based on this construction format.  Concepts of memory and symbolism that refer to cultural identity are depicted in textiles throughout history. I enjoy mixing references from the ancient and contemporary together, a kind of blending of space and time.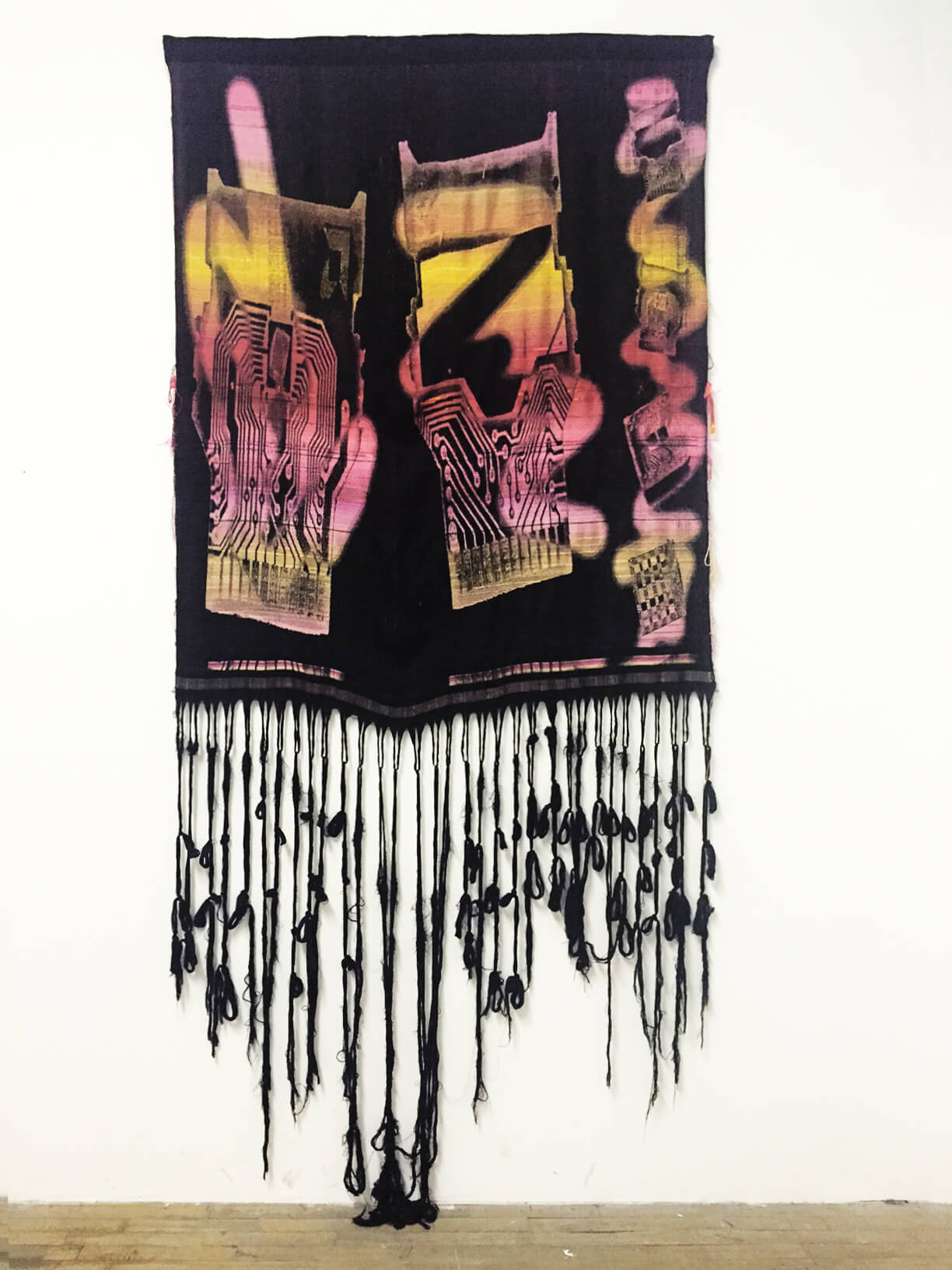 What are some recent, upcoming or current projects you are working on? I'm writing this while in Amsterdam after spending several days creating new works with the Textiel Museum in Tilburg, the Netherlands.  After an amazing opportunity to exhibit my work in Brussels in collaboration with MaxMara during the art fair week, I was able to schedule the opportunity to work with the large industrial Jacquard looms that are part of the museum's Textile Lab.  The experience was so exciting as its one of the only places in the world where you can work collaboratively with these special machines.  What struck me most was the special history of the city, which dates back to the Middle Ages and was known as the wool capital of the Netherlands, a place filled with weavers.   I look forward to what will develop from this time.
As far as exhibitions, I recently showed with Field Projects at VOLTA and currently have work in the Queens International at the Queens Museum and also in Common Threads at DANESE/COREY, NY.   Coming up, I will be showing at the Art Market Hamptons, the group show Escape Routes at the John Michael Kohler Arts Center, and a solo exhibition at Outlet, BK.
What artists are you interested in right now? Ancient weavers from the Paracas culture, fiber art pioneers Lenore Tawney, Magdalena Abakanowicz, and Shelia Hicks, the fascinating life and art of Warlimpirrnga Tjapaltjarri, and contemporary works by Caroline Achaintre andCharleen von Heyl.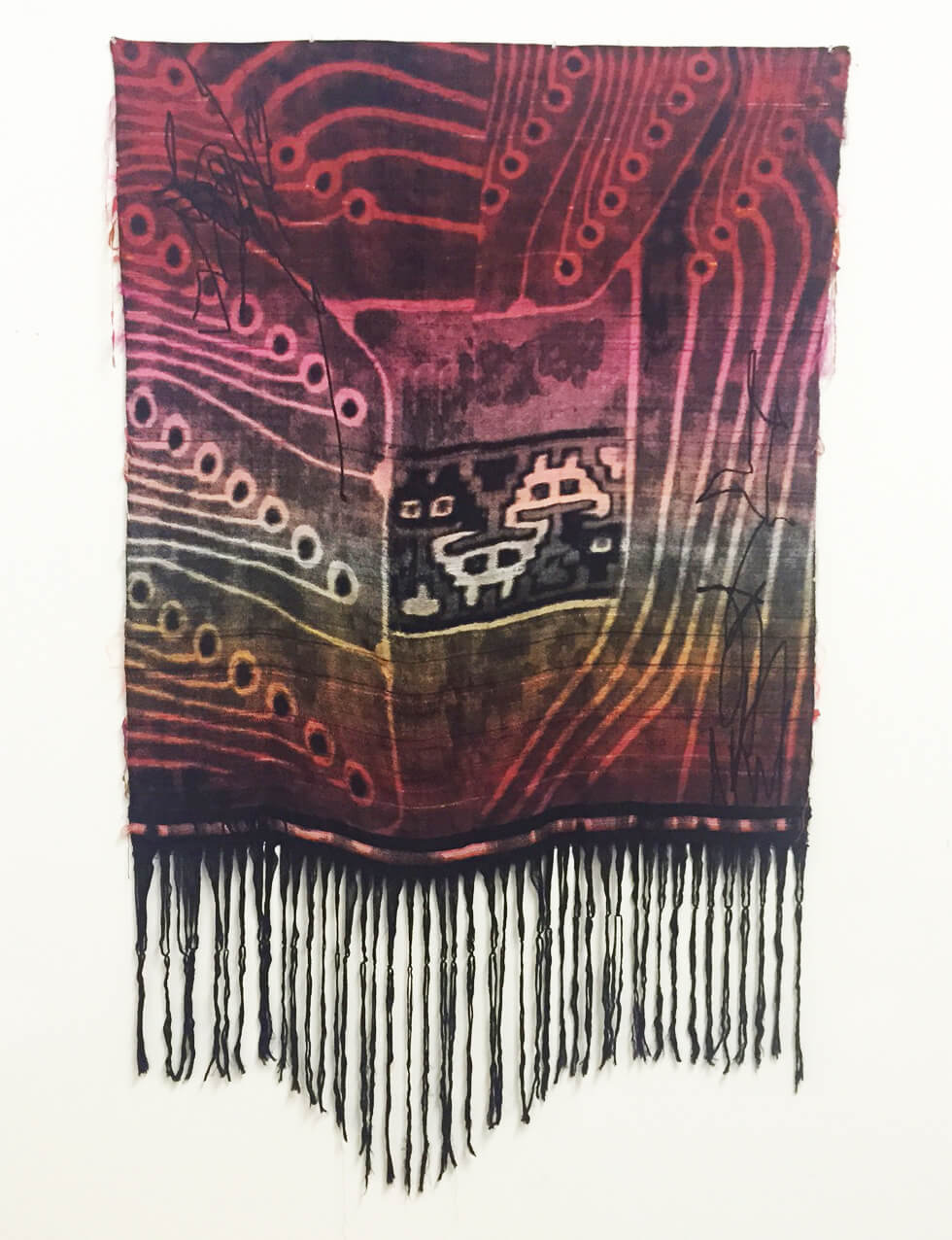 Tell us about your work process and how it develops. My background with printmaking and creating compositions digitally is very important for working with this particular type of loom that I use (TC-2 Jacquard loom). There is a considerable amount of process that goes into the file set up, which involves many steps that translate a digital image into weave structures. These determine the way the threads interlock, which ones are visible on the surface of the cloth, and how they blend to create colors. Once the digital files have been completed, the weaving process is actually very similar to that of a floor loom, where each thread is inserted by hand manually, building up line by line. This machine is such a fantastic tool for an artist because it combines a computer based file set-up process that allows for weaving multiple complex weave structures within the same cloth, with the unique experimentation that can only happen with hand weaving. I enjoy the challenges of what include a considerable amount of labour with the loom setup, threading, file programing, and research.  In the midst of so much structure, there are infinite opportunities for improvisation at each step that will completely change the outcome of the weaving. These are magic moments of discovery. Manifesting something completely tactile from what had before only existed digitally, feels almost alchemic.  The translation from computer to the weaving is never exactly what you expect. Many indigenous cultures would create intentional error within their designs. They did this to honor the Divine and highlight the humanness of the hand that created the weaving. This concept feels relevant in a digital age when human and machine are in constant dialogue. In my process I break up rhythm and symmetry by utilizing unusual materials, dangling broken threads, and improvisational color changes. These acts embrace the beauty of the handmade glitch.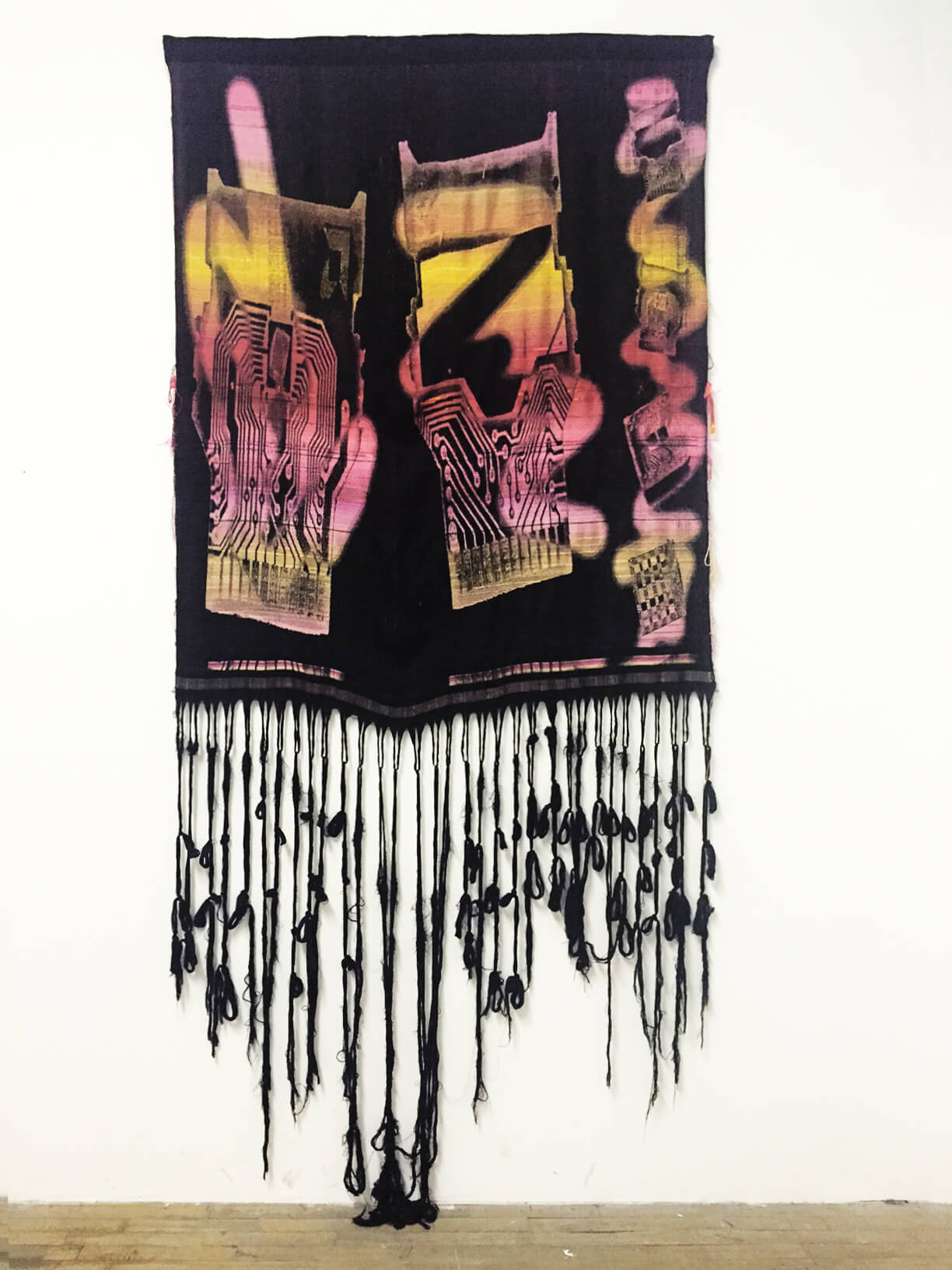 What's your absolute favorite place in the city/the world to be? I love being surrounded by nature with special friends and family. My hometown hosts a folk music festival each summer, that is definitely one of my favorite places.  As a child I began attending with my family, and ever since many of my childhood friends and I do our best to try to make at least one special night camping there each year.  Listening to live music surrounded by fireflies and childhood friends in the Texas hill country…is soul medicine.  This is also the place where I first saw musicians collaborating improvisationally and observed the magic of poets generating new ballads in the song circles that exist at the camp grounds until the sun comes up.  When you enter the camp ground, the ticket attendant greets you by saying "Welcome Home"…I think that pretty much sums up the experience.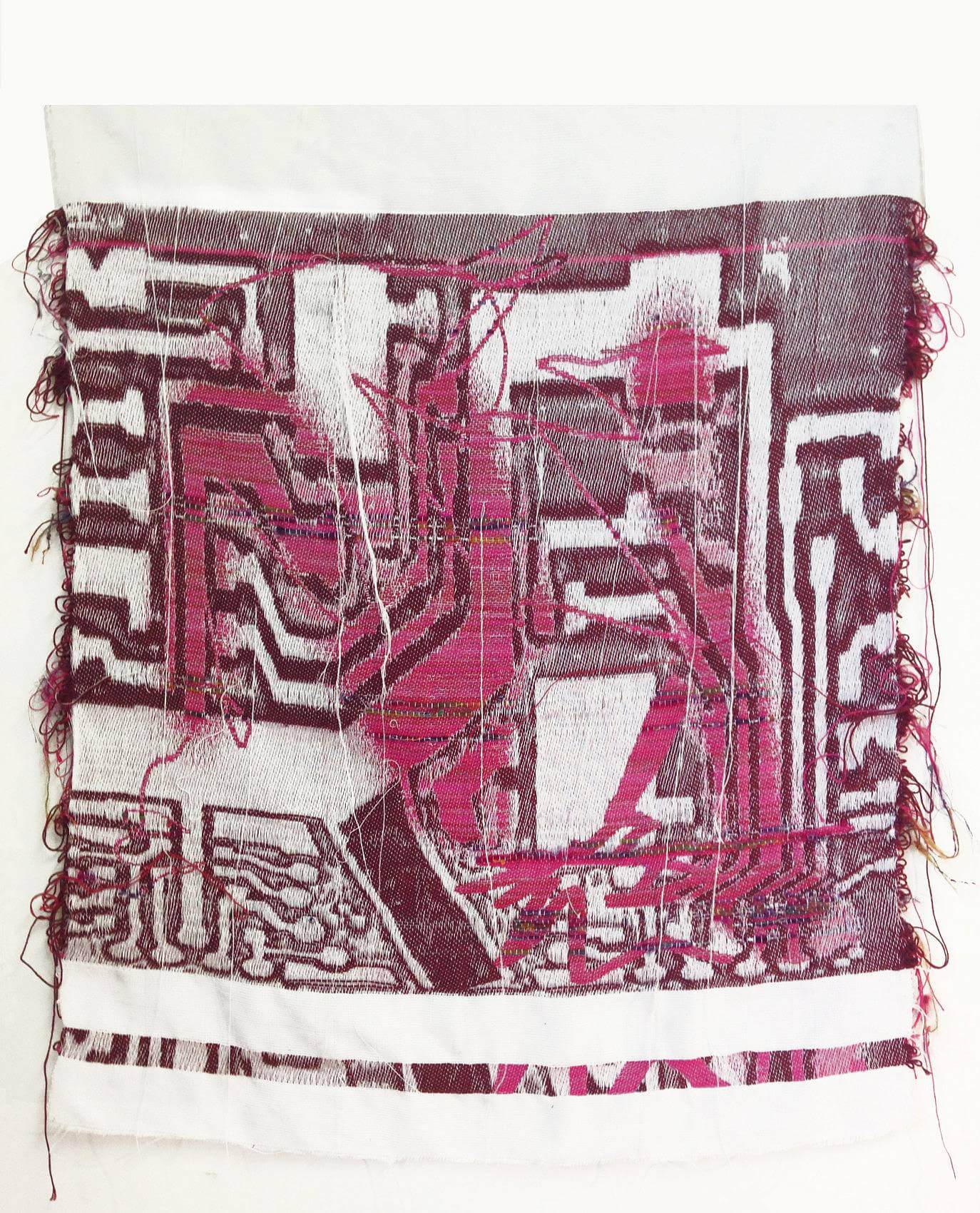 Describe your current studio or workspace. My currently studio is located in a warehouse space in Ridgewood, Queens, that is shared with 7 friends and artists that I admire.  Community is very important to me, since my art making practice is very solitary and labor intensive, so I'm grateful for my current space and the fantastic artists there.  My loom takes up the majority of my workspace, it's about 65″ wide.  Besides that, the space is filled with shelves of colored yarns, woven color tests, a bobbin winder, a warping wheel, sewing machines, and lots of crystals, feathers, shells and bones.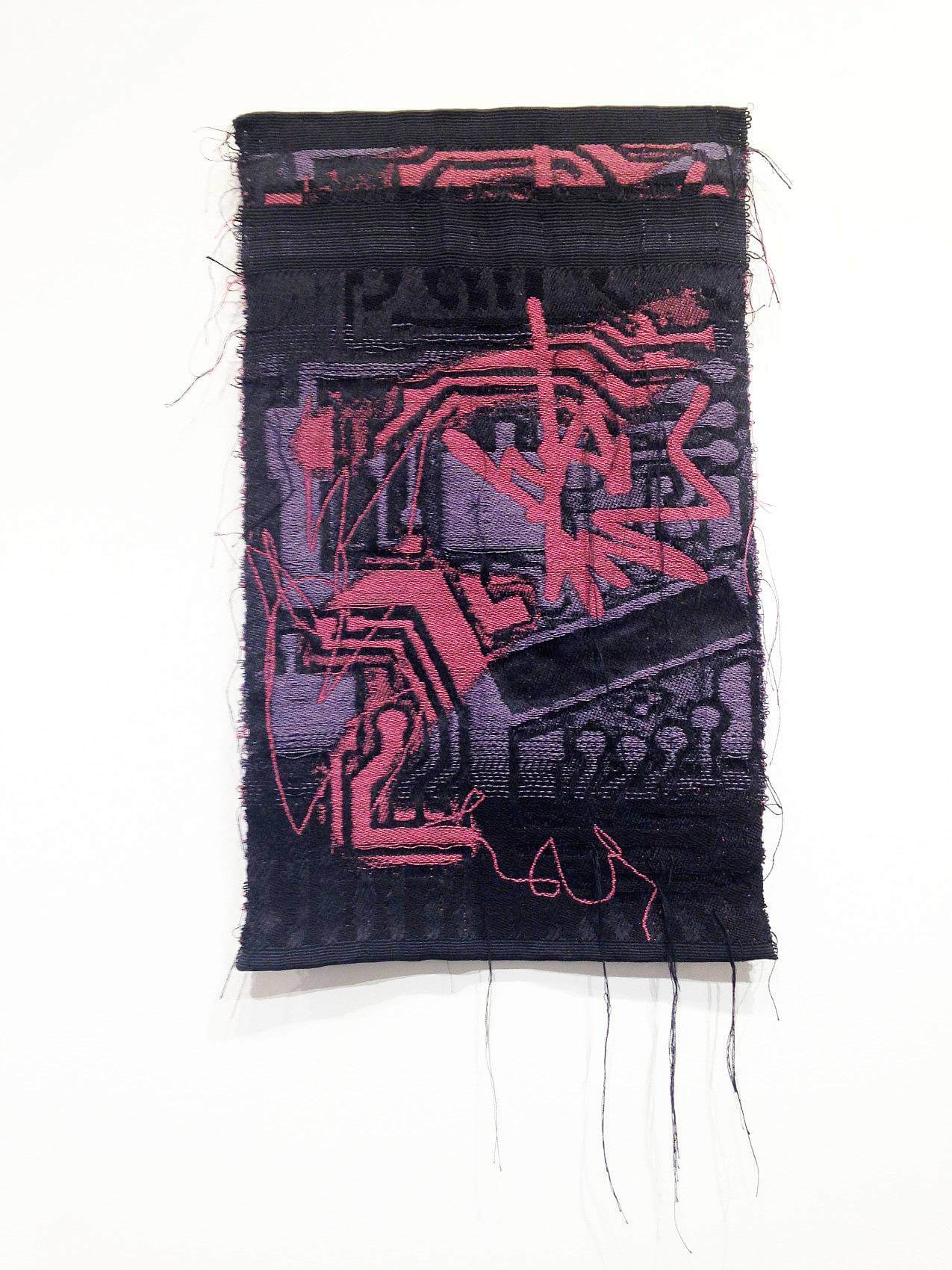 What were you like in high school? My high school experience in a small Texas town was very similar to the show Friday Night Lights.  Friday's were all about the football games and on Saturdays in the summer there was a small rodeo followed by a two-stepping at the local dance hall.  I was a member of the cheerleading team and really enjoyed choreographing our routines, something that eventually lead to a college scholarship and a winning a cheerleading national championship on ESPN with my Texas Tech University squad.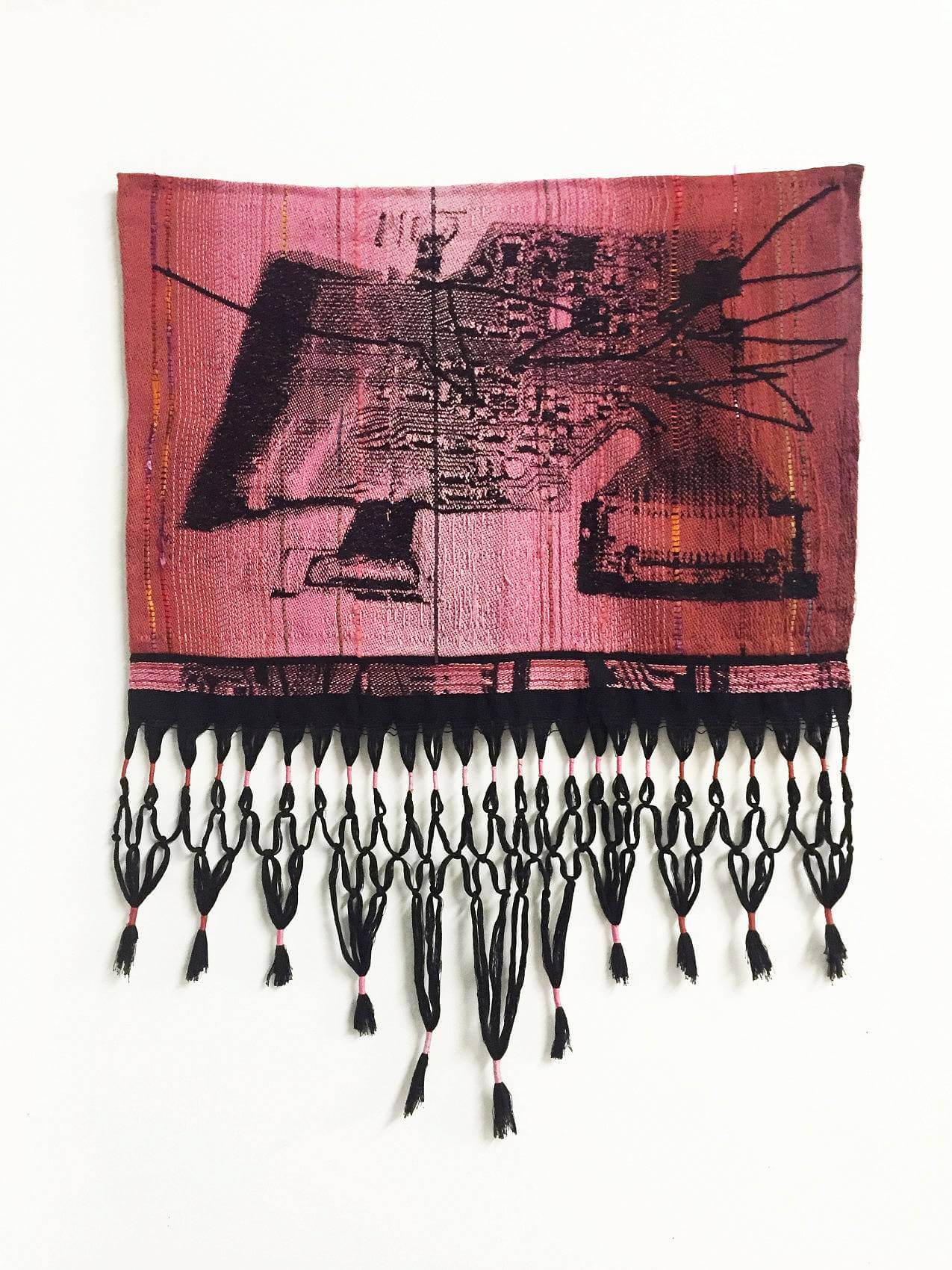 Can you share one of the best or worst reactions you have gotten as a result of your work? Perhaps two of the most memorable reactions happened back to back recently at the opening of VOLTA, when I had an enthusiastic conversation with Michael Stipe, who really liked my work, followed by a strange request from a woman who asked me if I had ever woven anything wearable….because she wanted to buy a custom Snuggy.
What are you reading right now? Women Who Run With the Wolves by Clarissa Pinkola Estes, How Your Unconscious Mind Rules Your Behavior by Leonard Mlodinow, and Carpets of the Art Deco Era by Susan Day.