Mark Whalen is an Australian born artist working and living in Los Angeles since 2008. Whalen expresses satirical social narratives in seemingly universal situations. The most recent series of sculptural works continues his study into the complexities of displacement and positioning that we, as both individuals and a species, experience through our evolutionary trajectory. Construction netting captures, cordons and compartmentalizes our distinctive characteristics as they shift under the weight of societal pressure through this ever-changing global economy.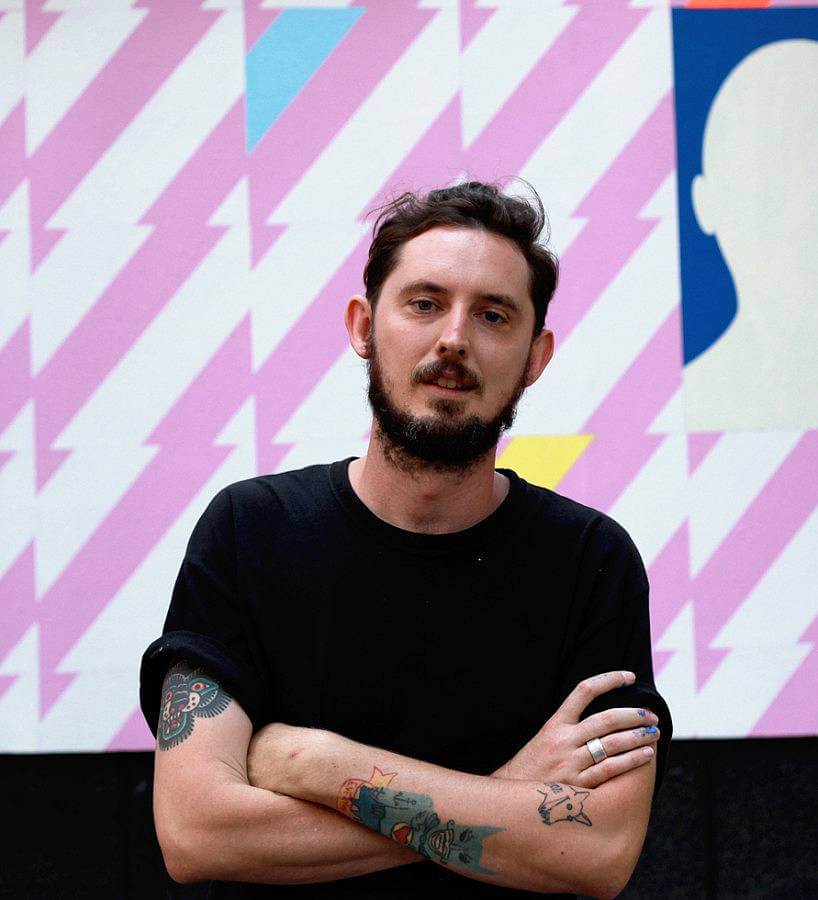 Tell us a little bit about yourself and what you do. I was born in Sydney but have been living and working in Los Angeles for about 8 years now. I began my career in the arts by studying design and working as a graphic designer. I slowly started exhibiting my own artwork at that time. I have been fortunate enough to have garnered a supportive following, allowing me to practice full time.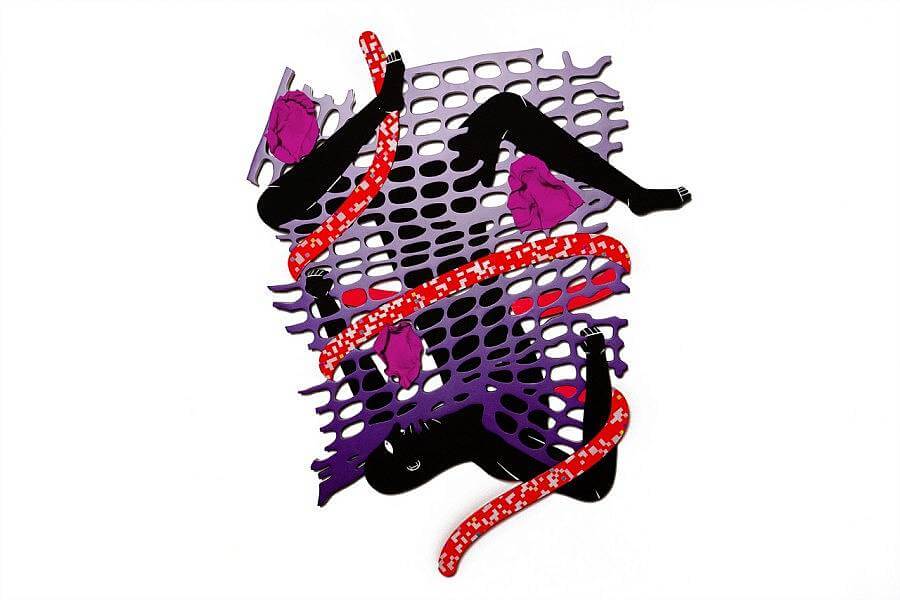 Top 3 favorite or most visited websites and why? Nba.com – I've been a fan of the NBA since I was a kid. I watch as many games as I can. I guess I am somewhat religious about it. I'll watch (or listen to) any team on any day while working in the studio. It is definitely the most visited site on my laptop.
thecreatorsproject.vice.com – They cover a really broad variety of creative avenues. It's always interesting to watch what they are covering. It's an easy way to get lost in something for s short while.
ignant.com – I love architecture. Like the Creators Project, Ignant post content on really interesting artistic projects, including the work of some amazing architects across the globe.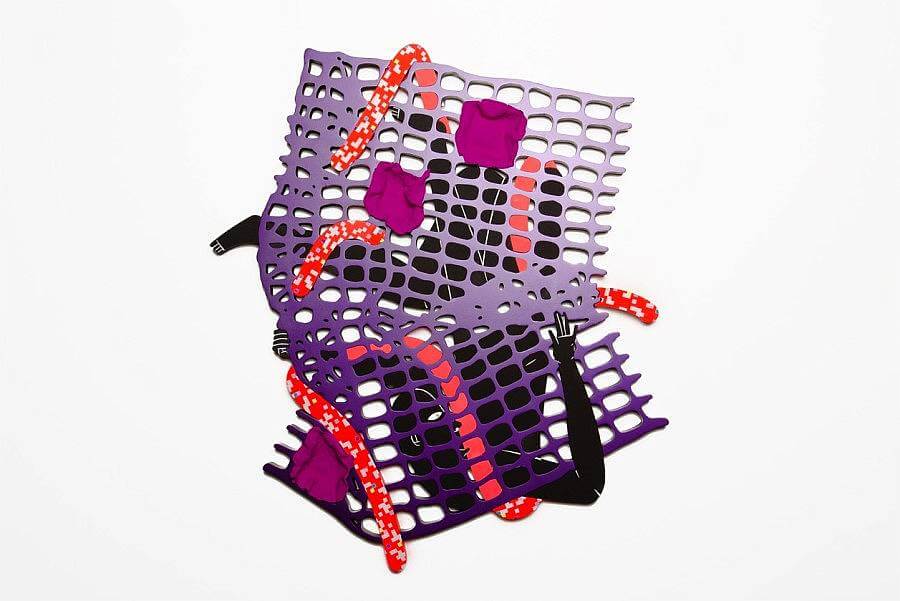 What is it like living and working in LA? It's amazing. I really love living and working here. It has a really nice energy to it and is an exciting city to be making art in. LA has just about all my favorite things – the food, the art, the weather. There is always something on offer.
What is influencing your work right now? I'm really interested in the everyday object and the way they take on different forms when positioned out of context. Recently I took some photos of construction nets typically seen a building site. When they are rolled, bent, sagging or torn they take on interesting shapes so I set about trying to work them into the pieces I have been making in the studio. The latest sculptures use these nets as a foundation into which figures and ceramic elements are woven. I enjoy manipulating things from different worlds into the one composition.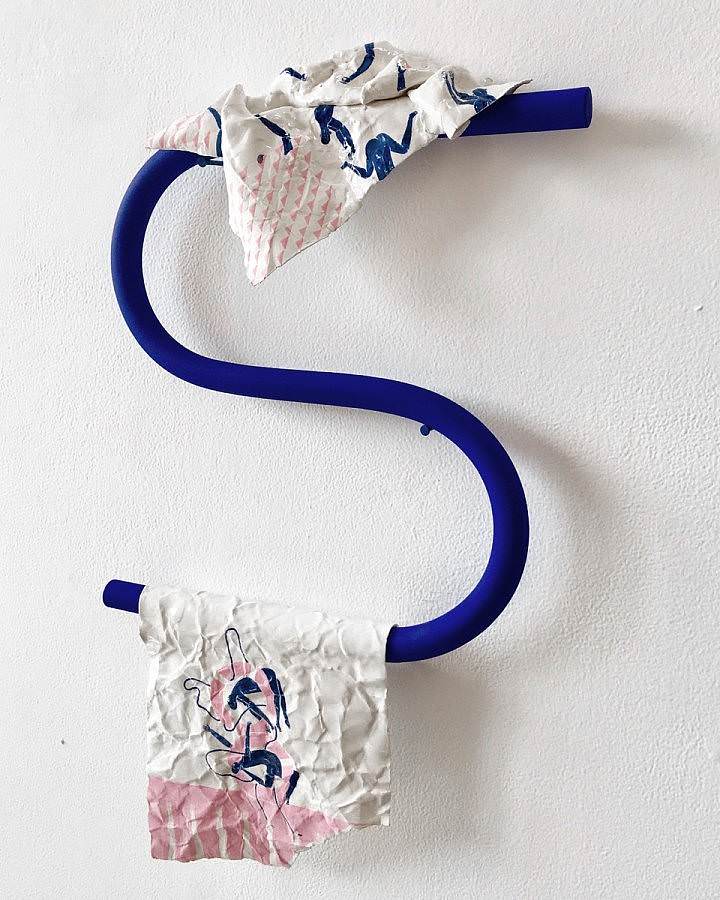 What are you reading right now? I'm not reading anything to be honest. I am staring at the work in front of me for so many hours a day that I find it hard to concentrate on a book in my downtime. It isn't relaxing. So, I usually play a lot of documentaries (and basketball games) while I work. Something that I can listen to.
What are some recent, upcoming or current projects you are working on? I currently have some work in the group exhibition 'Konstructs' with Richard Heller Gallery in Los Angeles. I am working on a sketchbook that will be launched in 2017 through Blackartprojects as well as a few solo presentations in USA and Australia next year.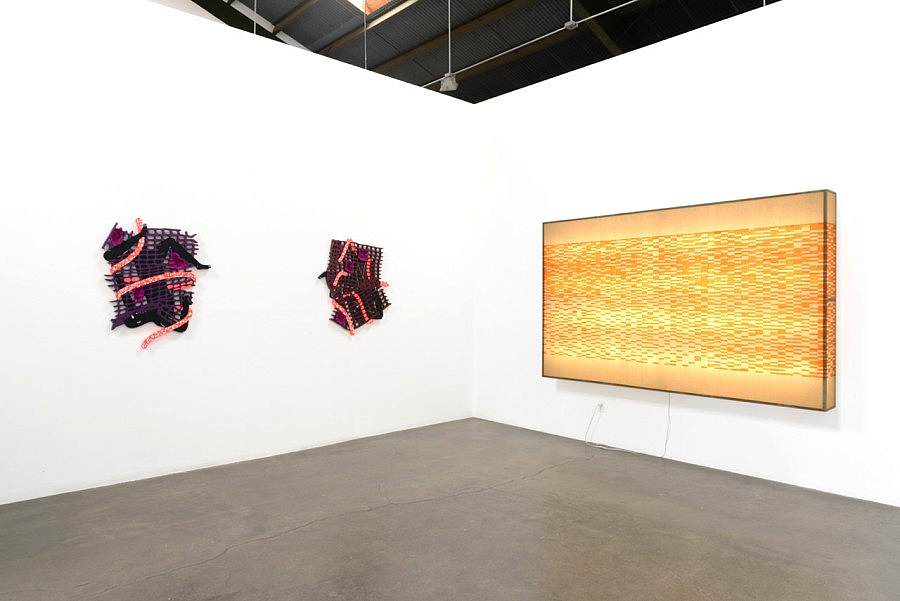 If you were a drink what drink would you be? A pellegrino – obsessed forever.
Who are some of your favorite artists? I've been really enjoying the work of Katherine Bernhardt, Jason Revok, Tanya Batura, Reko Rennie and Andre Hemer lately.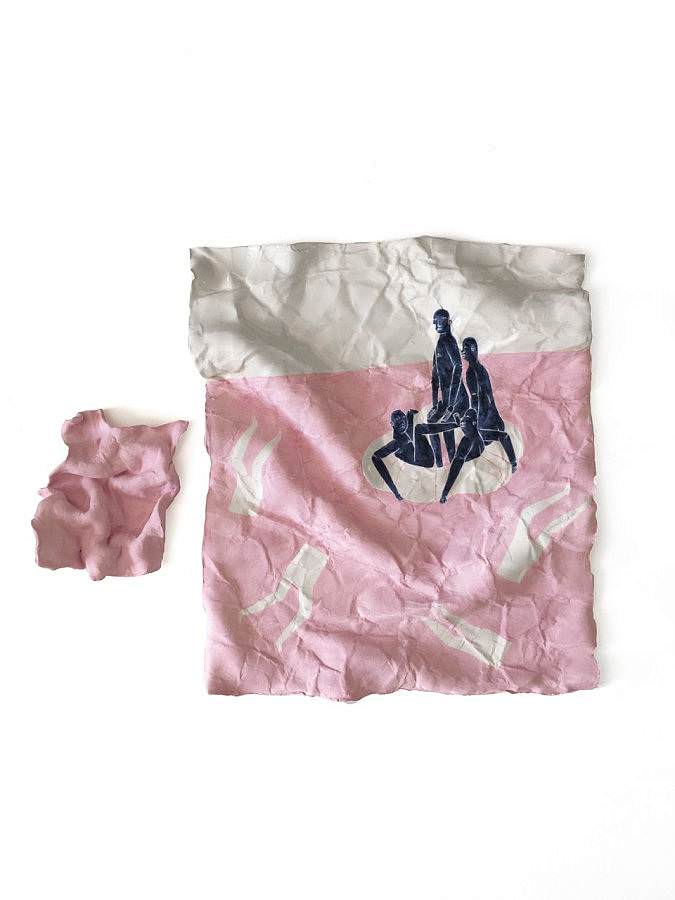 What is your process like? The process of making my wall relief works is intricate and time consuming. There are a lot of different parts, all cut separately, that are painted in a spray booth and assembled back together like a puzzle of some sort. These relief also have hand painted sections and ceramic inlays. My ceramic works are all hand built by slip cast. I make my moulds from plaster that I can use a low fire casting slip with. After the slip is poured I have about a 10 minute window to manipulate the clay into the shape and position that I want before it sets. Unlike the other works which take so much planning and precision detailing, the ceramic works force me to act quickly by being responsive to the medium, which I really like.
Favorite LA hangouts? I like to hang out at Paramount Coffee project on Fairfax. It's the only place in LA that makes breakfast like back home in Australia. Oh, and Hotel Covell is fun for wine.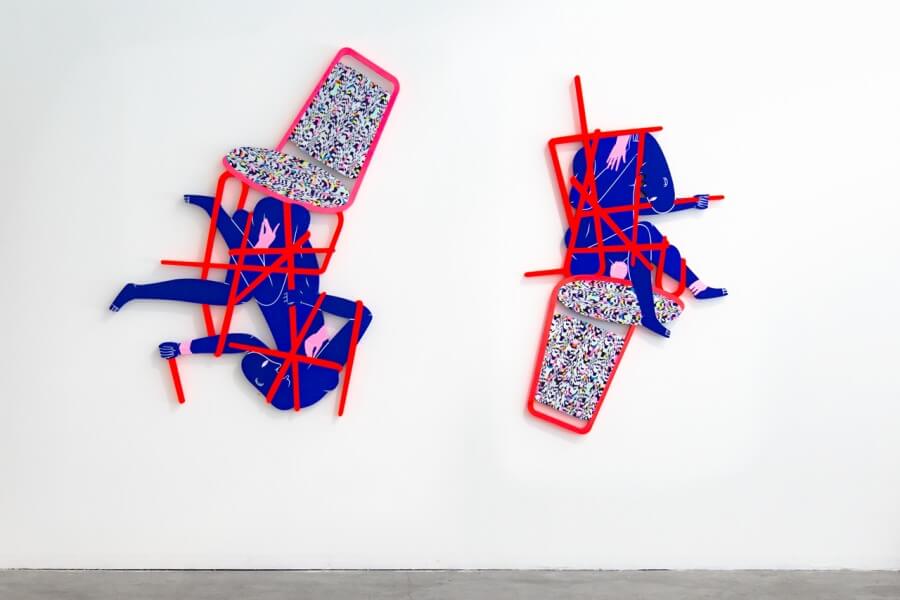 What do you want a viewer to walk away with after seeing your work? I think making narrative based works leave the viewer walking away with a variety of scenarios but under the one aesthetic – much like photography can do. Whatever that depiction may be I'd like to think they all have a sense of light humored playfulness. That being said, I don't think it is imperative to direct peoples into what they should be taking from any one piece.
What's your absolute favorite place in the city/the world to be? in LA? I actually really love going to Palm Springs. It's not too far from LA so it is nice to get out of the studio and relax for a weekend. I go up there with my fiance to get away from the grind.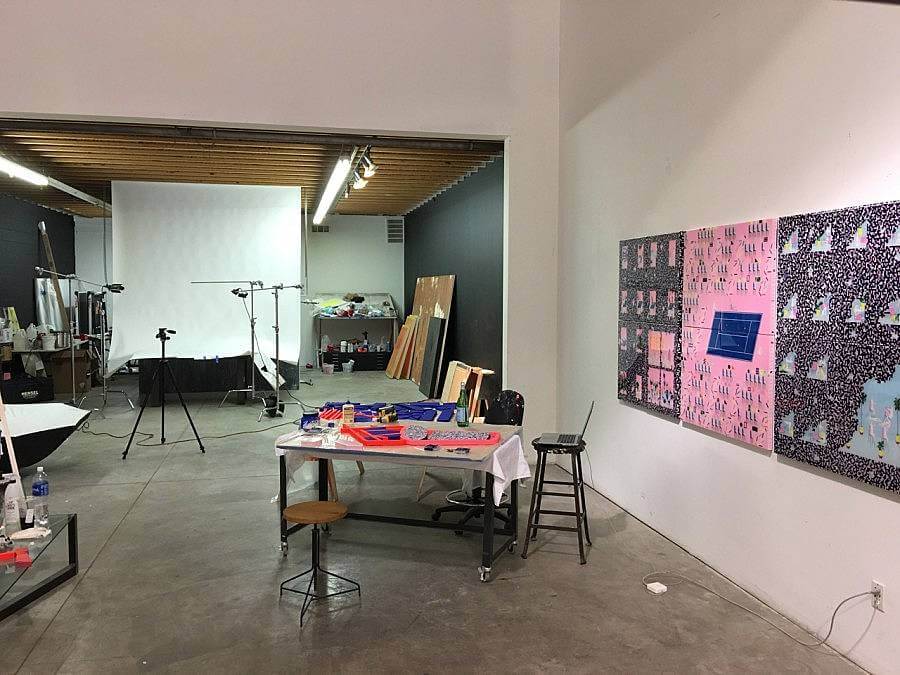 Describe your current studio or workspace. I'm lucky to have a pretty spacious, clean white, centrally located studio. I have a drafting table that I work on for small paintings, but usually make my sculptures around the space on numerous mobile tables.
What were you like in high school? I skated a lot with my friends so High School was a secondary thought; as in I didn't really attend much of it.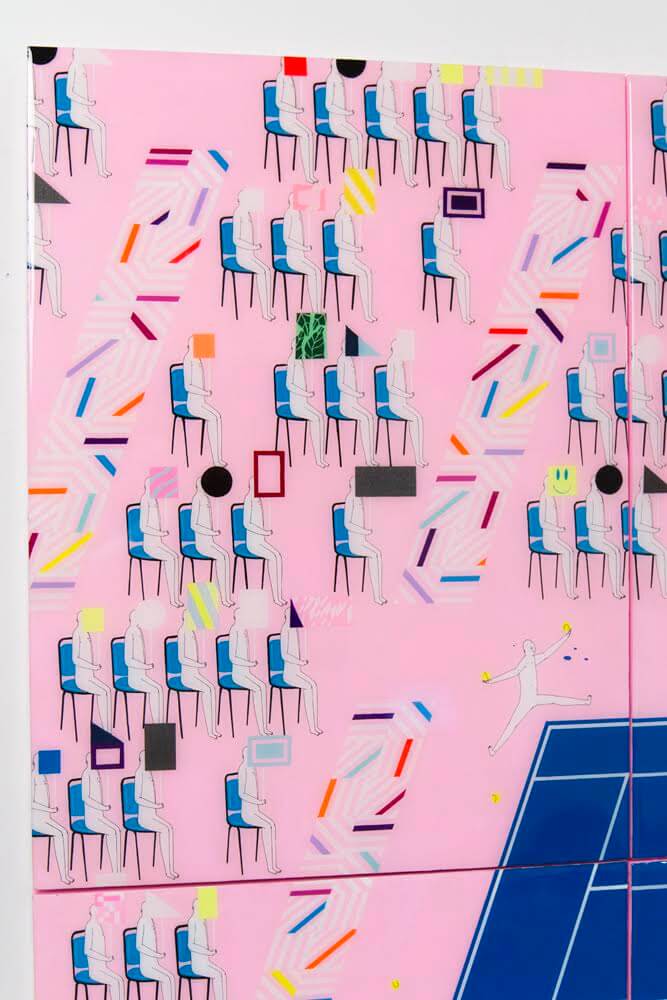 What are some of the best or worst reactions you have gotten as a result of your work? All reactions are good. By that I mean that if the work thrills, shocks or disgusts it is evoking an emotional response. I don't really mind how it moves someone as long as it is having an effect.