Katie Halton (Ann Arbor, MI) has lived many lives during her 36 years on this earth. Beyond her training as a visual artist she has experience as a ballerina, classical pianist, punk singer, construction worker, reggae keyboardist, assistant chef, and haunted house actress. Halton received her BFA from the University of Michigan (2004) and MFA from the School of the Art Institute of Chicago (2016). She has earned numerous honors in visual art including fellowships to Ox-Bow and Vermont Studio Center residencies, a large mural commission from the City of Ann Arbor, a 14-piece commission series from Huron Hills Church, and an exhibition at the MI State Capital Building. She is establishing herself as an artist in Chicago and recently was included in the SAIC booth at EXPO, curated by Edra Soto.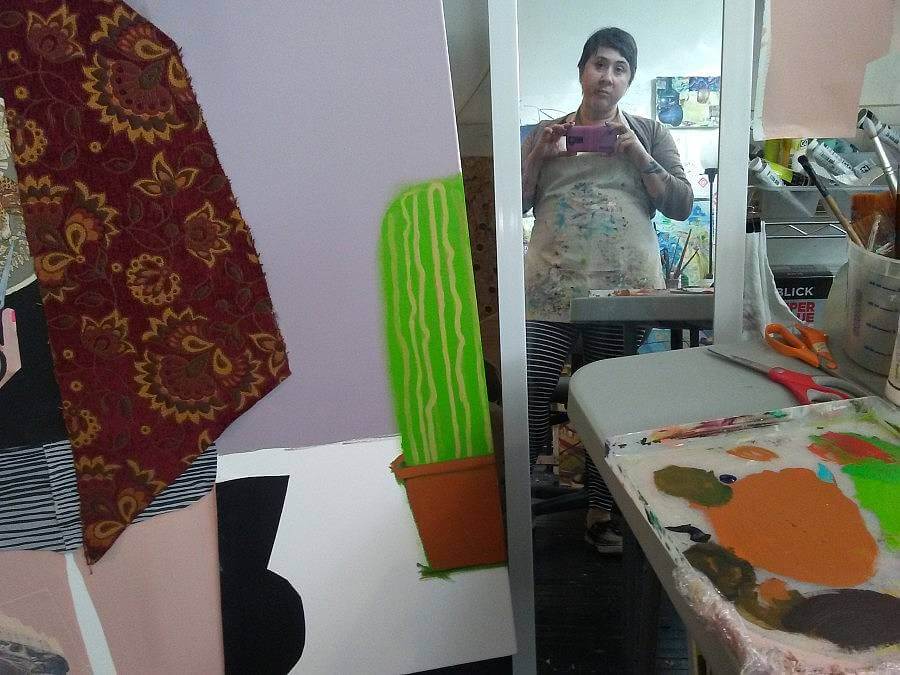 Tell us a little bit about yourself and what you do. My name is Katie Halton and I make mostly paintings and sculptures. I'm originally from Ann Arbor, Michigan and moved to Chicago in 2014 to get my MFA from SAIC (but I've been wanting an excuse to move to Chicago for many years). I graduated in May from the Painting and Drawing department. For my thesis show, I made paintings on different colors of velvet, with subject matters ranging from Medieval Bestiary to Ol' Dirty Bastard. I am continuing to use velvet, as well as other fabrics. My sculptures are made from "low-fi" materials such as wire, cardboard and paper pulp. My work is representational, personal and often auto-biographical. I also like animals a whole lot.
What are some recent, upcoming or current projects you are working on? Actually I have a solo show opening this Saturday, November 19 in Humboldt Park!!! Everyone is invited from 7-10pm at Uncle Art Gallery, 1359 N Maplewood. My former SAIC advisor DJ John "Mr. Wiggles" Phillips will be DJing. For most people I know this has been a traumatic week, so I'm hoping we can get together, look at some art and have fun. I'm trying to arrange a projection video of Bob Ross or a slowly burning fireplace for soothing purposes.
I have made much new work for the show. Highlights include a life size self portrait with velvet and upholstery fabric and a cactus sculpture covered in nails and glitter. I'm also including previously un-shown work from grad school (a mural-size painting of dreams and nightmares and a fawn made of paper pulp) as well as some woodcut prints of Jesus and my dog Carmen.
What is one of the bigger challenges you and/or other artists are struggling with these days and how do you see it developing?
$$$
???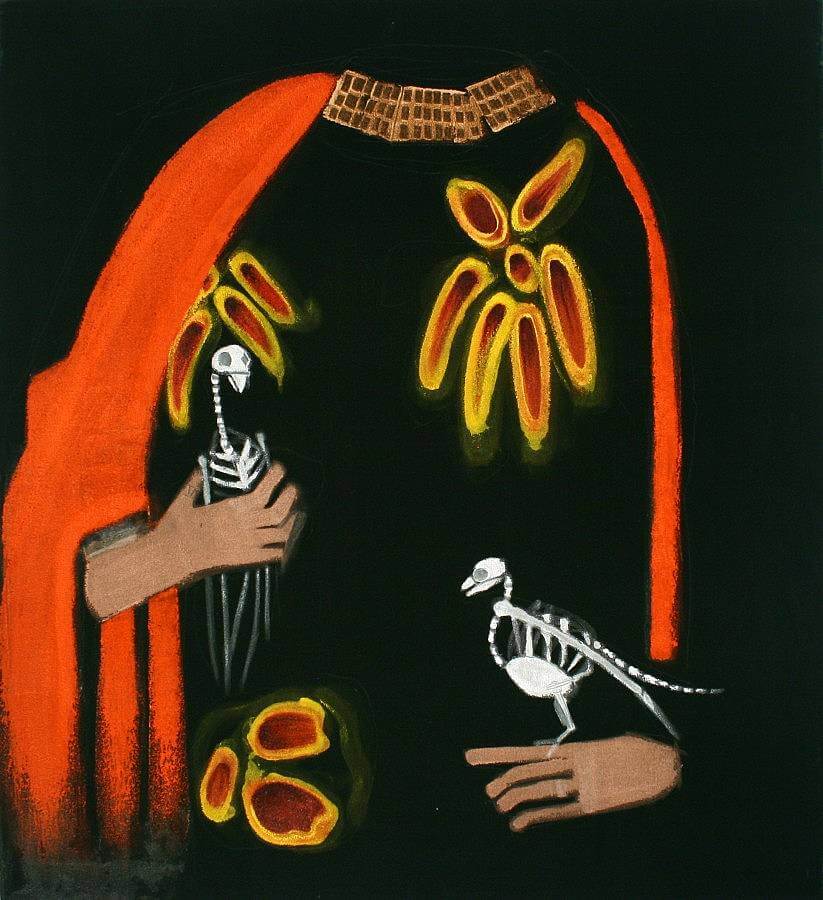 How did your interest in art begin? I have loved Picasso and Matisse since the beginning. Then darker stuff: Hieronymus Bosch, Francis Bacon, animal bits suspended in formaldehyde by Damien Hirst, body part still lives by Joel-Peter Witkin. And urban stuff like Basquiat, Banksy, the Mission School.
I lived in Florence for a month in 2001 and fell in love with the David and the Duomo. It was also my first exposure to Byzantine art, which was transformative. I traveled to the Vatican and saw the Pieta and the Sistine Chapel. I was captured by the drama and the emotion. It is magical to make something so powerful. At that point, I decided it was important for art to affect people on an emotional level.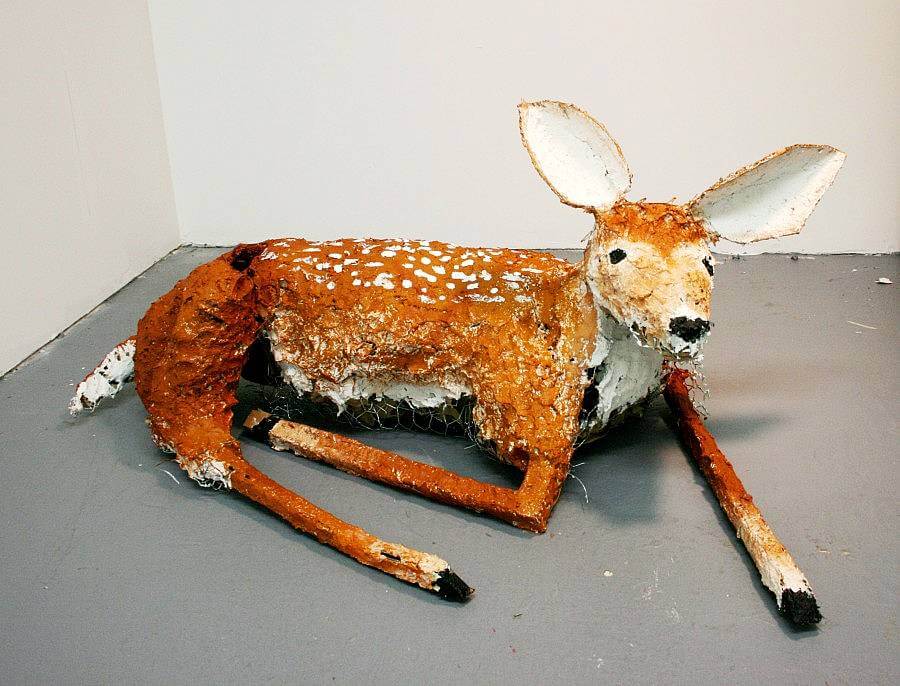 If you had to explain your work to a stranger, what would you say? I work on my elevator pitch a lot, LOL. I make paintings with acrylic on canvas and velvet and sculptures out of simple hardware store materials. My subject matter is usually people and animals, and I make a lot of self portraits. My work is said to be playful and funny but sad. I love using bright colors and bold materials. Sometimes I reference art history or pop culture.
Guilty pleasures? Crappy reality TV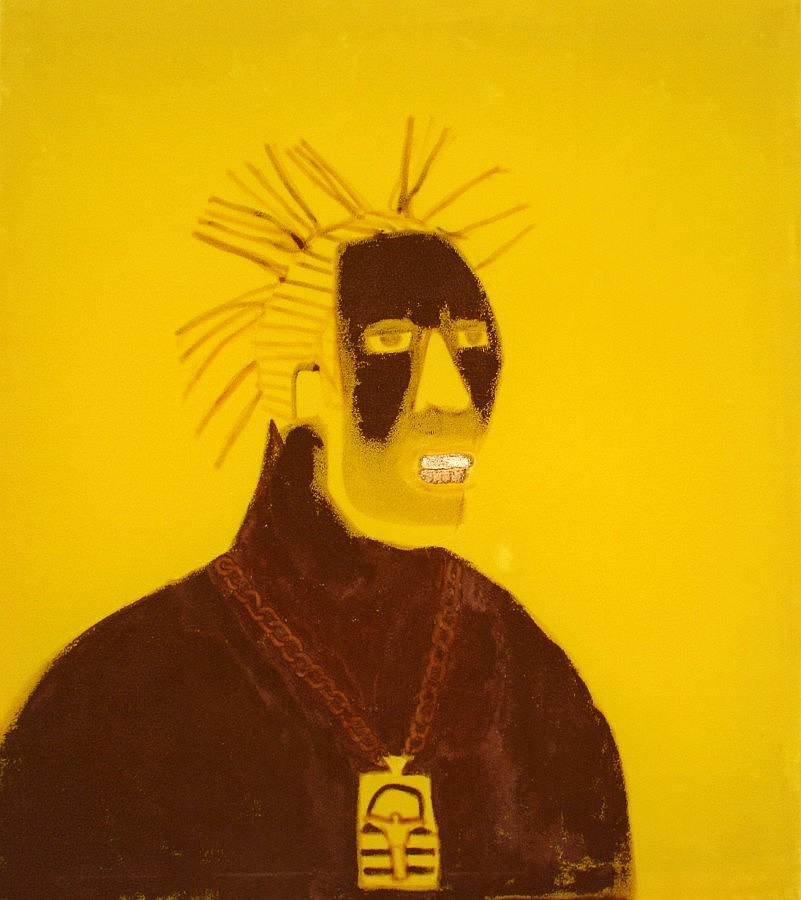 What are you listening to right now? My Recent Pandora Stations:
Muse Radio
Bob Marley Radio
Nina Simone Radio
Oasis Radio
Salt-N-Pepa Radio
Skinhead Moonstomp Radio
Coldplay Radio
Punk Radio
The Clash Radio
Weezer Radio
Dancehall Radio
Missy Elliot Radio
Stevie Ray Vaughan Radio
Eminem Radio
Dead Kennedys Radio
Cats or dogs? I love all animals but my best friend is my 9 year old Boston Terrier/Pomeranian named Carmen. She often pops up in my work. You'll see her (two-dimensionally) if you come to the opening Saturday.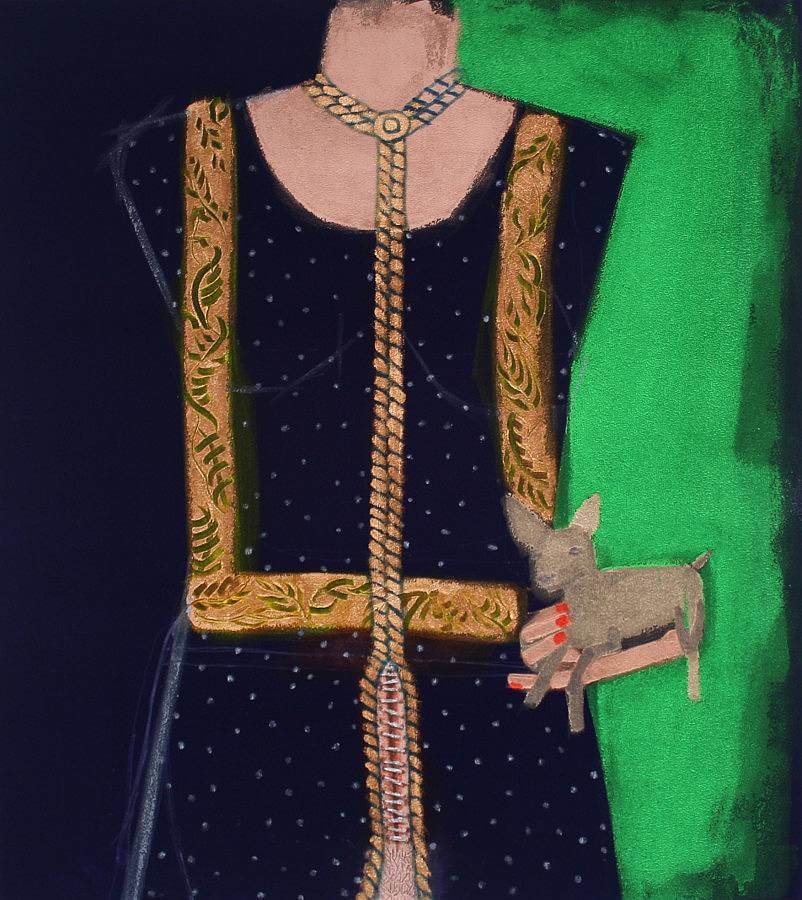 What was the last exhibition you saw that stuck out to you? Kerry James Marshall at the MCA! I was super excited for this exhibition and I went to it a bunch of times. I have been a fan for over ten years and he is one of my painting heroes. I've watched his Art 21 segment over and over because I love how he talks about his work. I saw one of his paintings at the DIA a long time ago and it really touched me. I look up to him because I also work exclusively in acrylic. I met him after his lecture at EXPO Chicago – so exciting.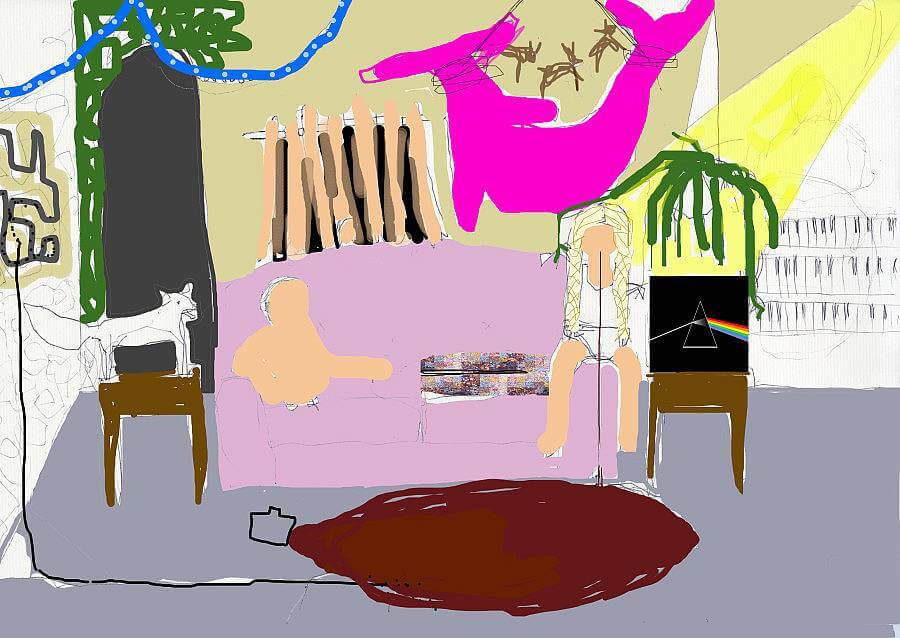 What artists are you interested in right now? Off the cuff… Fave portraits: Marsden Hartley, Alice Neel. Just saw !!! Tal R!!! lecture at SAIC. I've loved Jonas Wood since seeing his giant paintings in person in LA. New juice: Danny Fox, Alejandra Hernandez. Chris Ware's honest eloquent segment on the new Art 21.
Half my heart belongs to Frida Kahlo forever. I've been disabled by severe chronic pain for the past 9 years and then, during grad school, I had completely unrelated emergency surgery on my intestines. Catch references to her in half my work.
What do you collect? Absolutely nothing at this point. I am proud to say my entire life fits in a ten foot U-Haul, which was not always the case. I used to have so much STUFF but, as you get older, things begin to weigh more.
I have unloaded a lot in the past few years… a 13 year relationship with my husband ended in divorce. We sold our house. I cut off more than two feet of hair.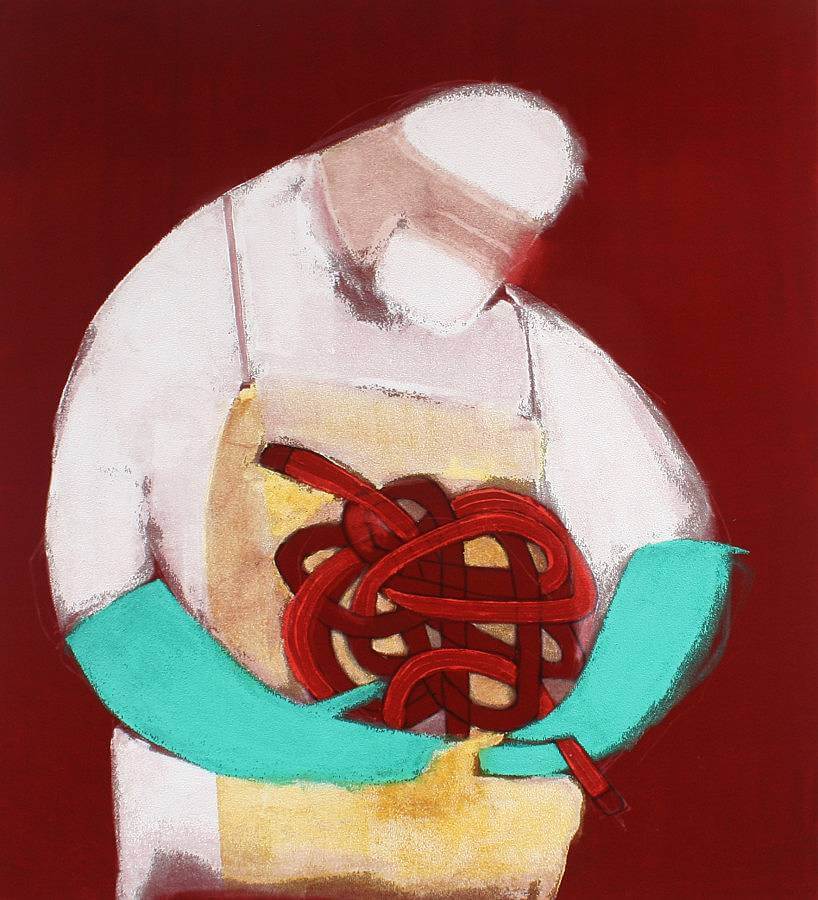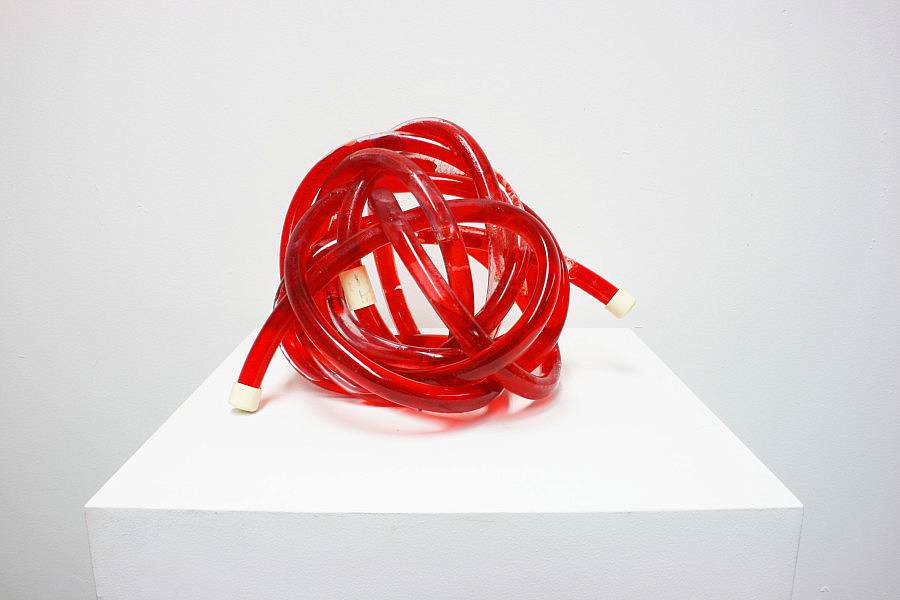 Favorite Chicago hangouts? I don't hang out. Truthfully my favorite thing to do is brown-bag downtown on a summer night.
What's your favorite thing about Chicago? Downtown! The lake! The skyscrapers, the energy, the excitement, the beautiful architecture, the history. All the tourist shit: the museums, Millenium Park, boat tours and bus tours, going up in the Hancock, sitting outside the Water Tower. Riding bikes on the lakefront trail, going to the beach, sitting at Buckingham Fountain at night and watching the lights change.
What is your snack/beverage of choice when working in your studio? Tea, coffee, boring.
What do you do when you're not working on your art? Exploring/experiencing Chicago.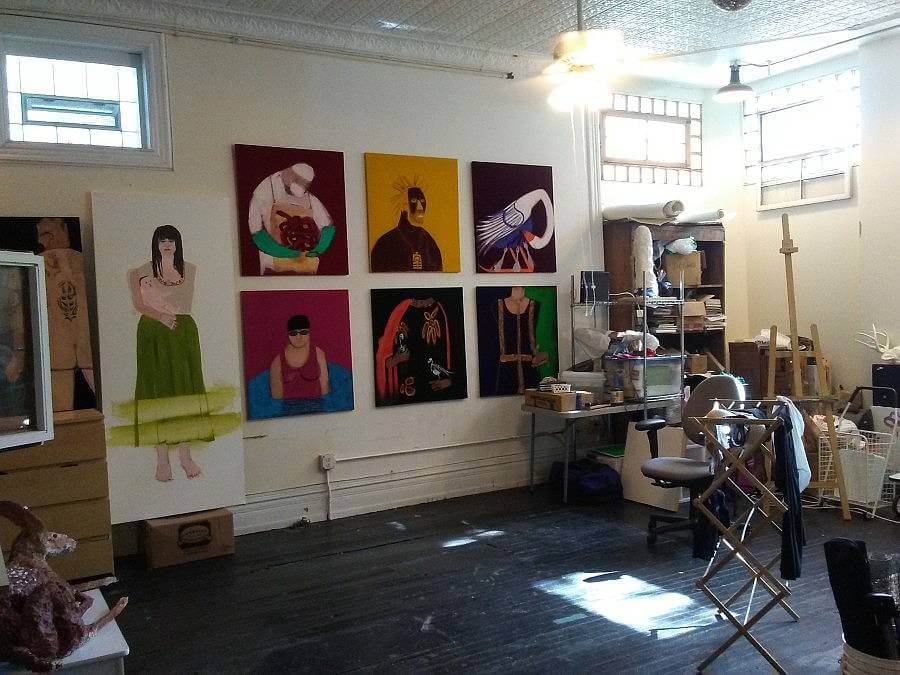 Can you share one of the best or worst reactions you have gotten as a result of your work? Best: I used to have a booth at the Ann Arbor Art Fair and I loved seeing peoples' reactions when they walked into my booth. My favorite thing was to watch their faces as they looked at a painting: smiles, laughter, talking to one another. That is the most important thing for me as an artist is to connect with people, all types of people, on an emotional human level through my work.
Worst: During my interview at Cranbrook for the MFA program, Beverly Fishman asked me if I wanted to learn how to paint.