Jordan Eagles is a New York based artist who preserves blood primarily sourced from a slaughterhouse. Through his invented process, he encases, layers and suspends the blood. This preservation technique permanently retains the organic material's natural colors, patterns, and textures. When lit, the works often become translucent, cast shadows, and project a glow. The materials and luminosity in these bodies of work relate to themes of corporeality, mortality, spirituality, and science. Jordan is in an upcoming exhibition at The 8th Floor of The Shelley & Donald Rubin Foundation titled In the Power of Your Care, opening April 19 through August 12, 2016.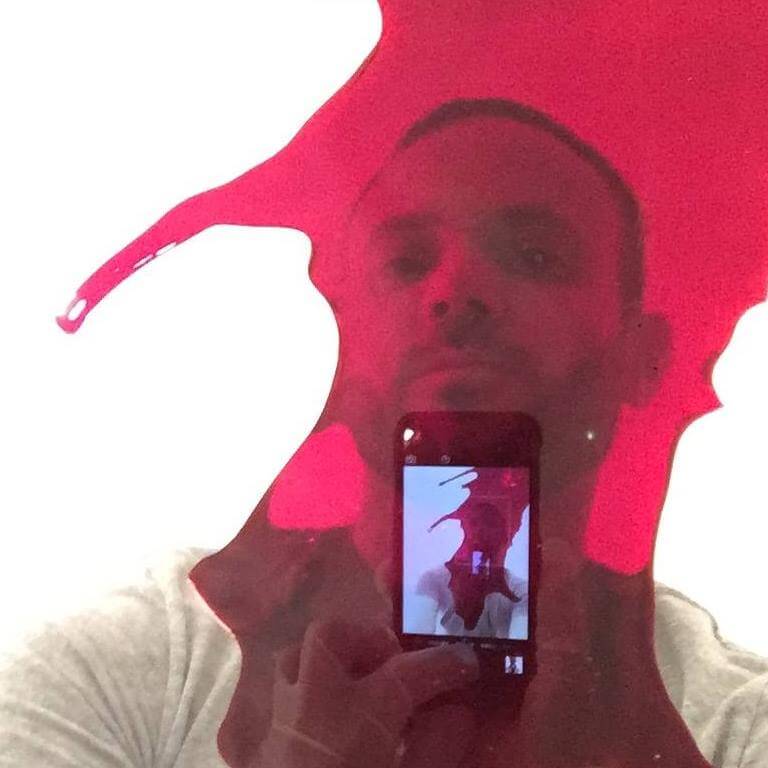 Tell us a little bit about yourself and what you do. I am a native New Yorker and have spent most of my life in the Tri-State area. I currently live in the Lower East Side and my studio is in Ridgewood, NY. For most of my artistic life I have been working with and preserving blood.
The blood is primarily sourced from a slaughterhouse — although my most recent project is with human blood. Through many years of trial/error and experimentation, I developed a process to encases, layer, suspend and preserve the organic material within UV resin and acrylic substrates. This preservation technique permanently retains the blood's natural colors, patterns, and textures. There are various mark-making methods involved in my process, including layering the blood at different densities as well as heating, burning, and aging the material. In some instances, blood that I decompose (for years) forms dense masses — almost like blood rocks — that are then ground into a dust and incorporated into the works as another way of recycling the material.
I also work with blood-soaked gauze that is stretched over the substrate to creates textural layers that references ancient wrapping rituals and medicine.  Copper is sometimes mixed with the blood to impart a fiery energy. The final works themselves are wall mounted painting/sculpture hybrids, free standing sculptures, photography and immersive installations involving blood and analog projections. When the works are lit, they often become translucent, cast shadows, and project an intense glow. The materials and luminosity in these bodies of work relate to themes of corporeality, mortality, spirituality, equality and science.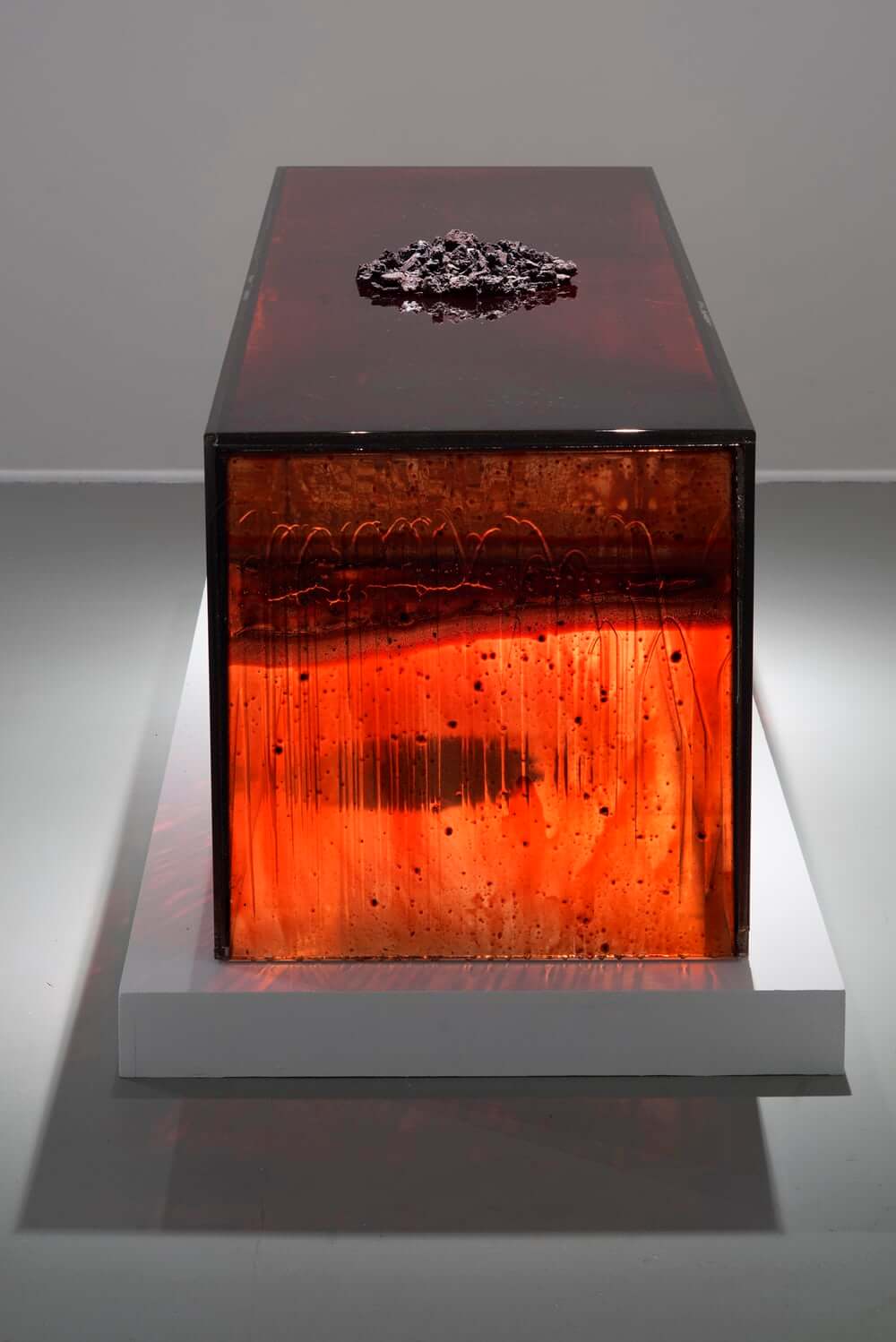 What are some recent, upcoming or current projects you are working on? My most recent project is called Blood Mirror and is my first project with human blood. This project addresses the FDA's discriminatory policy on blood donations from gay and bisexual men. In 1983, in an early response to the AIDS crisis, the U.S. Food and Drug Administration implemented a lifetime ban on blood donations from gay and bisexual men. More than 30 years later, in December 2015, the FDA updated their policy to allow gay and bisexual men to donate blood, but only if they are celibate for a full year. There is no celibacy requirement for heterosexuals, regardless of their risk for contracting HIV. A UCLA Williams Institute study found that lifting the ban completely could save up to a million lives annually. Starting in 2014, I enlisted a creative team and a group of nine extraordinary gay, polysexual, and transgender men, each with a unique life perspective to donate their blood in protest of the FDA's ban for the project.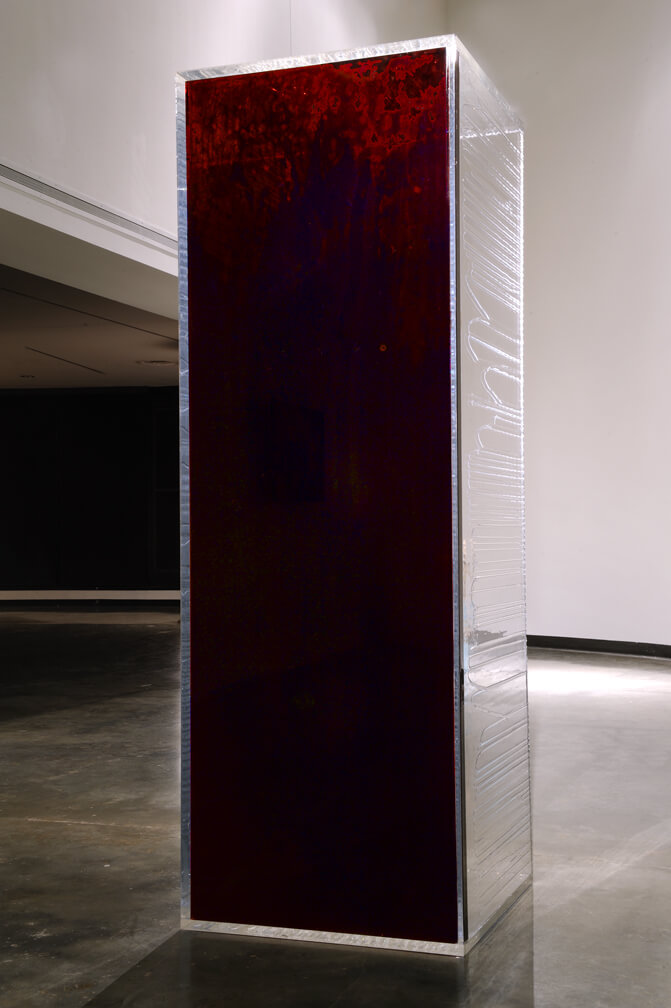 Viewers can enter Blood Mirror and see themselves reflected through the blood of the nine donors. Blood Mirror is an archive of the donors' blood that confronts the FDA's ban and current discriminatory policy and is an evolving work — in that the way the sculpture was constructed, I am able to add more blood to it as needed, over time.  I am still currently working on Blood Mirror, another related LGBT blood project, collaborating with FCB Health on a #BloodEquality campaign, developing public programing in relation to this issue and also creating on a new series of slaughterhouse blood works.
Currently works from the Blood Mirror project are on view at the ONE Archive at USC in Los Angeles and other elements of the project will be on view at the The Shelly & Donald Rubin Foundation's gallery, The 8th Floor, in NYC in April through the summer. I am also organizing a public program with major experts for World Blood Donor's Day, June 14, 2016 (more info to be released soon on that) and site specific installation at an outdoor space this summer — that will be my largest "Blood Illumination" to date.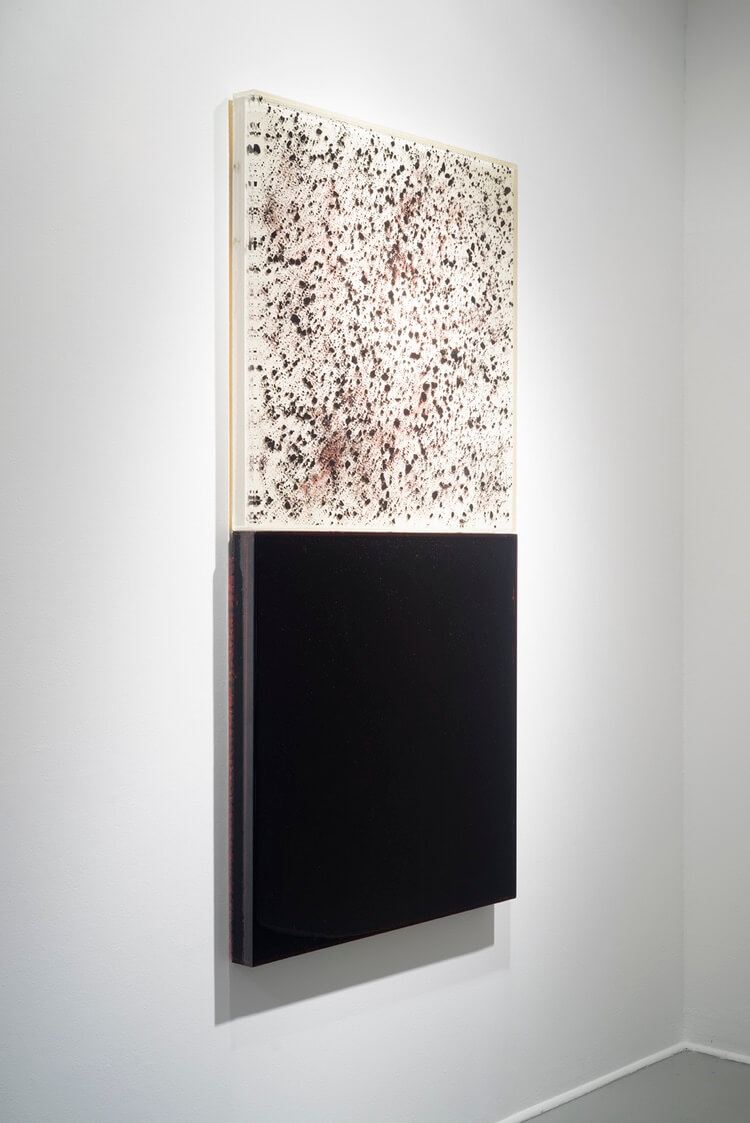 How did your interest in art begin? My interests were actually much more philosophical than art. I was interested in the connection between body, spirit, life, death, mortality, immortality and began exploring these questions visually–simply because that's my nature. I hadn't thought about art as a "career" as I didn't even understand at the time what that meant. These questions about life/death lead to experiments with blood. Once I started learning how to work with blood and preserve it, it all grew from there. It all evolved naturally.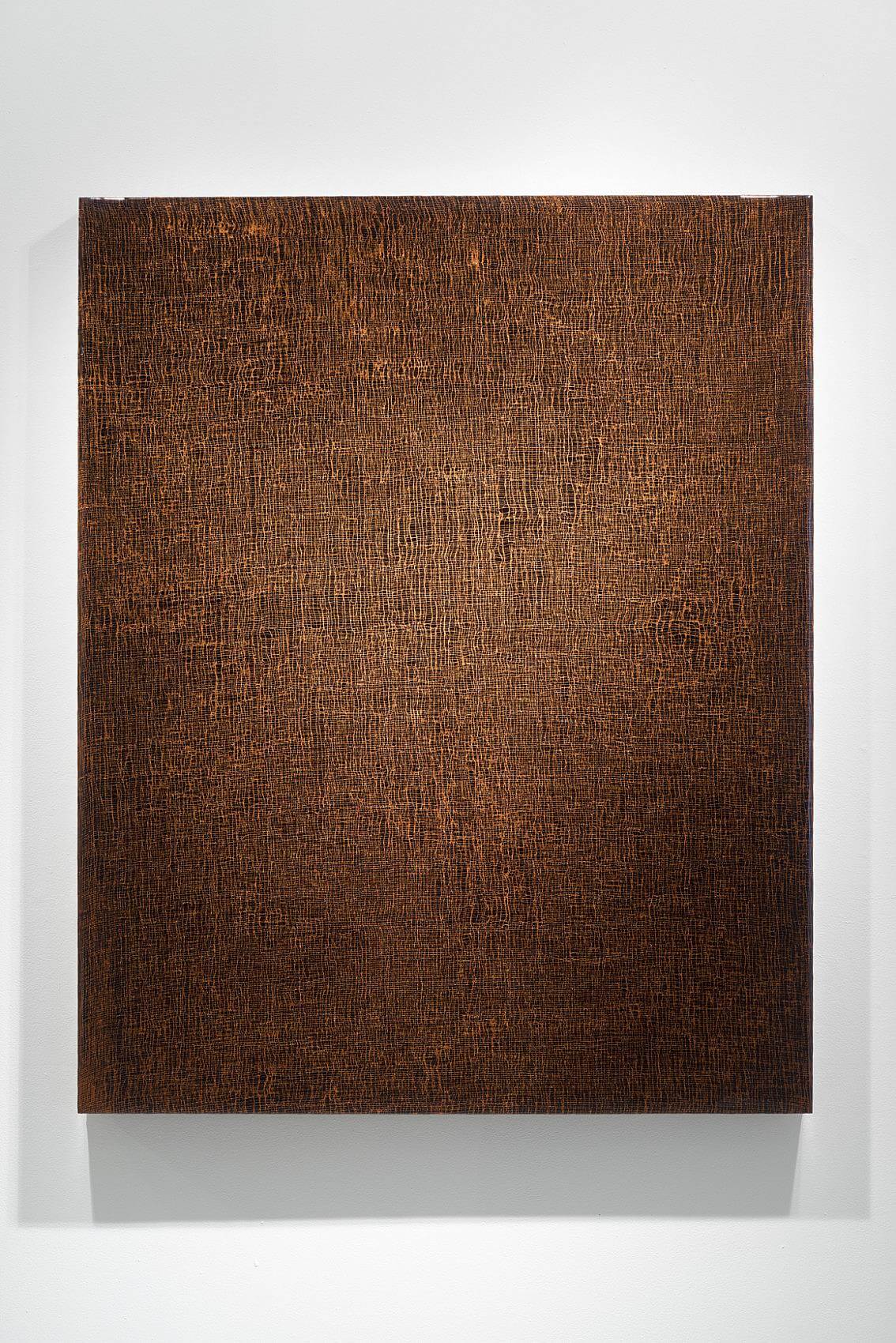 If you had to explain your work to a stranger, what would you say? I would always recommend that individuals view the works in person. There is a certain energy that comes from the blood that can only be experienced in person — and that is because everyone has a very unique and individual relationship with to blood — it runs through all our veins — so everyones response is different than seeing a 2D image — there is something visceral about the material. Visually, I guess you could describe it similar to stained glass with blood as the pigment, but that doesn't really describe the intricacies and textures either. The works are very dimensional, luminous, reflective and have a pristine glass-like surface. The works take a material that often has a macabre association and often becomes something beautiful.
Do you have any guilty pleasures? Tell us about one. Sweets… and the current political news entertainment fiasco.
What are you listening to right now? Nothing. I prefer to work in silence. When I go out I like house music — especially The Carry Nation.
What was the last exhibition you saw that stuck out to you? Laura Poitras at the Whitney is wonderful… and terrifying.
What do you collect? I am not a collector. I live a very minimal lifestyle, free of clutter and only a few basic objects.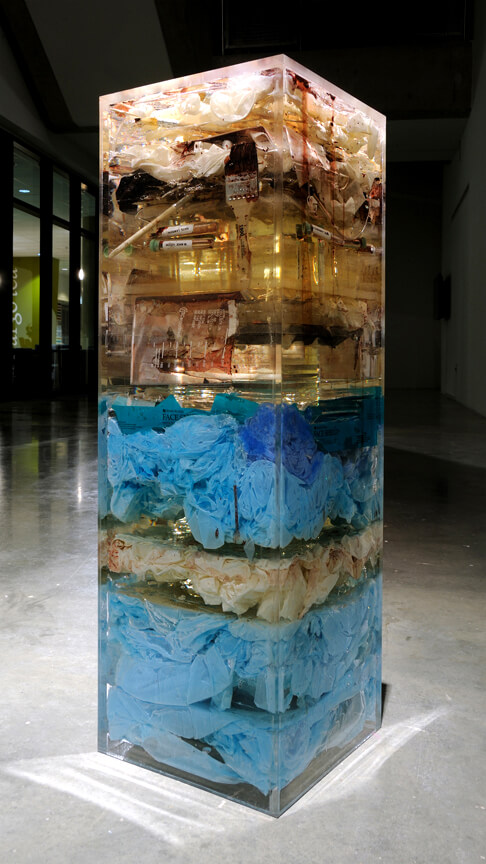 What's your favorite thing about your city? I was born in NYC so its in my blood. But I still love that this city always feels new to me in some way. I can walk out my door and always see something new. I love that you can just start walking around aimlessly and end up on an adventure.