Tell us a bit about yourself and what you do.
My name is Arno Beck and I'm from Bonn, Germany and I make paintings, drawings and prints on the intersection of the digital and the analog. My work evolves around the materialization of screen based imagery, contrasting digital depiction with the aura of the handmade. I use a painterly language that doesn't necessarily manifest in painting, as I include a whole range of atypical devices in my artistic practice, such as typewriters and most recently a CNC milling machine. Devices like that I misappropriate to make drawings, instead of what they are actually meant for.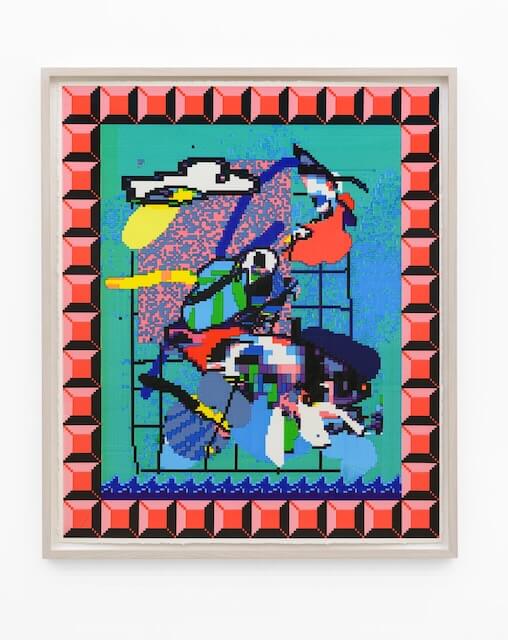 Can you talk about your series of typewriter drawings shown at Nino Mier? How do you even begin to go about creating those?

This series of drawings was achieved by typing line by line with an analog typewriter. With approximately 30,000 key strokes per piece – I depict landscapes in which elements from early, low resolution computer games are embedded – like the cloud from the Super Mario game. I want to synchronize and bring together two different perceptual realities and fuse them into a seamless unity. I've been using the typewriter for a while now in my artistic practice and after going through different stages I realized that I can achieve almost photographic depictions with it. As a starting point I work from a photography. Based on that, I type myself through several versions, trying to adjust the contrasts, getting closer to a final version. The way this works is that I am overlaying letters and signs on top of each other, to achieve a variety of differing grey values. Overwriting letters on the same spot increases the density and therefore the darkness. Typos are unavoidable and I don't force them but mistakes are welcome, as the error is part of the beauty. I love that these little irregularities give you an idea that the pieces are actually handmade. Due to the extremely time consuming and lengthy manufacturing process, the deceleration itself becomes a key aspect in my work as a counter-pole to today's daily flood of images.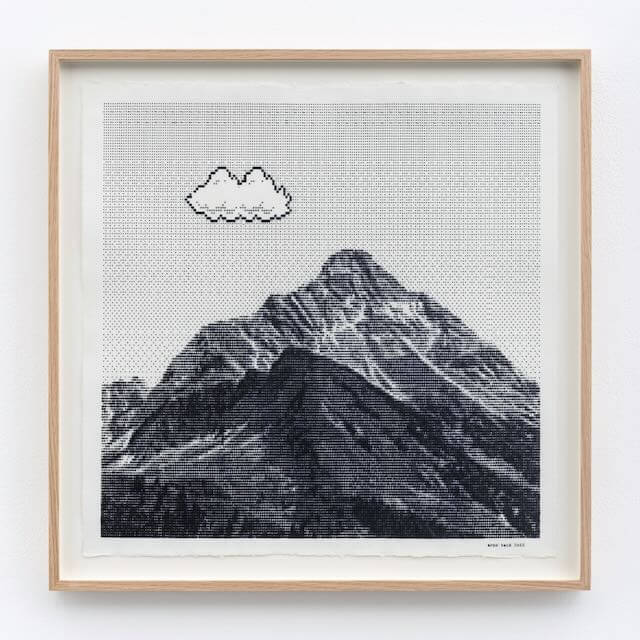 You often pull imagery from older video games – what draws you to these images? Is Nostalgia a factor for you?

Above all, my works evolve around digital aesthetics and computer based imagery. Games are just a small part of that and I'm not a gamer at all. I understand the pixel as the grain of the digital and using early, low resolution graphics is more about referring to a digital origin in general, rather than being nostalgic about it. In my eyes, pixelated graphics hint directly to the digital sphere while contemporary computer graphics could much rather be taken for actual photography.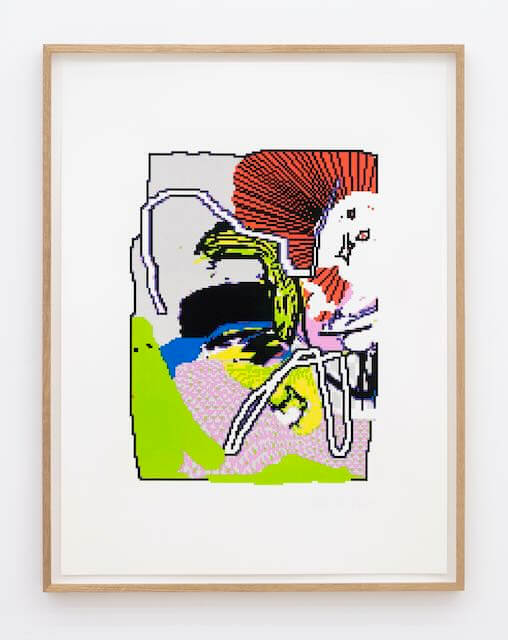 What excites you about rendering digital imagery in a painterly / analog way?

My works are driven by the painter's urge to react to what surrounds him and to the time he was thrown in. I am engaging with the vernacular culture of the computer and the internet, processing that through fine art.
Growing up with the computer as being an integral part of my life – 'digital' is default mode for me and almost all my works are drafted on the computer in the first place. Even though I make paintings and drawings with the computer, I'm not interested in showing digital images on screen or to just print them out. The fact that digital images are based on information instead of material, makes the translation process into physical existence of central significance for me as a painter. The aim is to make digital imagery tangible and
physically experienceable while subverting the slickness of technology.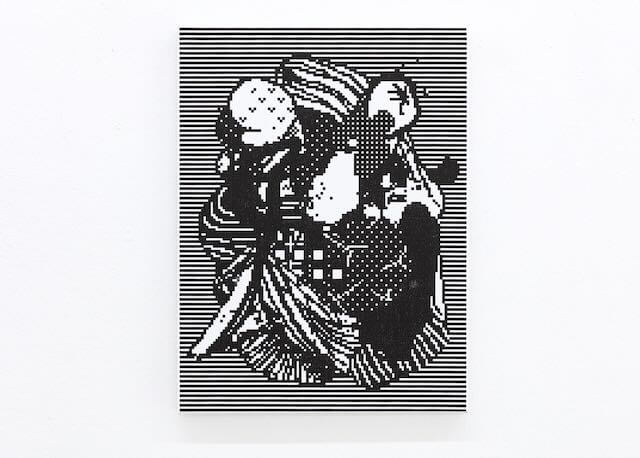 How has living in Germany impacted the type of work you make, if at all?

Maybe having studied Fine Art at Kunstakademie Düsseldorf – a place with such a long tradition in painting – had a great impact on my self-perception as seeing myself as a painter in the first place. I don't see myself as a digital artist, even though thats my subject matter. Above all, the type of work I make is probably more affected by the time I was thrown in than the actual location.
How do you go about rendering such crisp pixels through acrylic paint & watercolor? Do you have a giant ball of painters tape in your studio?

I pursue different approaches depending on which series we're talking about. For some I use adhesive foil and then start accurately cutting out pixel by pixel, before applying the acrylic or oil colors. For other series I work with a pen plotter or in case of the watercolor drawings I use a CNC router which applies the colors automatically over a course of several days to the paper. In that case I am programming every movement of the machine beforehand.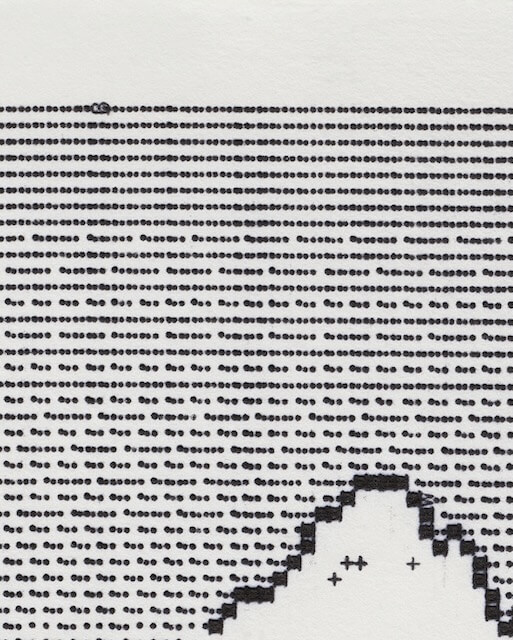 What is your favorite retro-video game?

Sounds like a fever dream but I remember a Nintendo game called Boogerman. One could dive into toilets squash pimples to collect points and pick boogers to toss them at villains…
What pieces of art or artists would you say have had the biggest influence on you?

Albert Oehlen – computer paintings
Laura Owens – paintings referencing digital visual phenomena
Jeff Elrod – paintings on the intersection of the digital and the analog
Wade Guyton – glitches of the handmade, manually manipulated printouts
Thomas Bayrle – computer generated images
Warhol's digital paintings he made with his Amiga 1000 computer
How do you begin creating your compositions? More instinctually or planned out?

All of my works have their origin on the computer. The digital compositions are created instinctually – dragging former painting experiences into the usage of graphic programs. There I imitate the painting process and simulate painterly gestures in the digital realm. This is a very playful process of action and reaction until I think it's a balanced, harmonic or exciting composition. The one biiiig advantage is that you have an undo-button.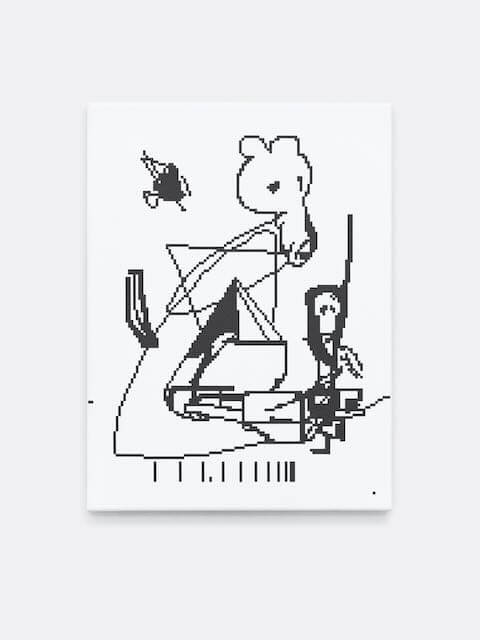 Can you talk about your ''Digital Diary'' series and how you created those pieces?

For this series of black ink drawings on canvas I used an online emulator of the first MacPaint program on my phone. This I used to make daily drawings while commuting to my studio with the train. The program works with one color only but you can load your digital brush with a variety of different patterns. The aim was to make one drawing per train ride and a selection of those I turned into physical versions with the pen plotter applying black ink on canvas.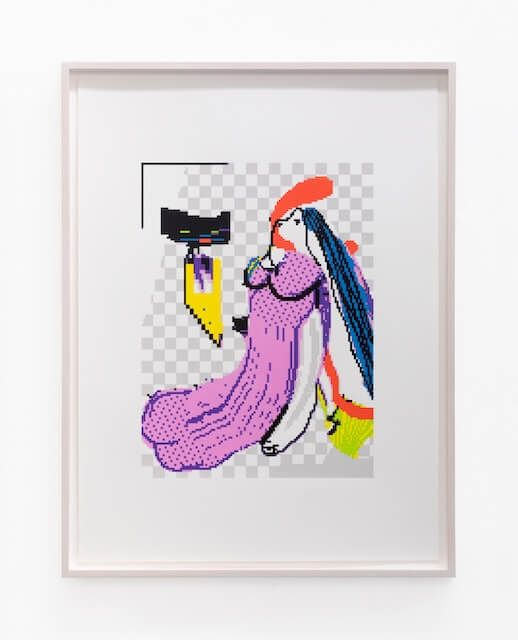 Do you feel like tech is progressing in an hopeful or dystopian direction?

No doubt that technology is being increasingly integrated in our lives and to a high degree probably without us even realizing. In my eyes it's part of human nature to invent, make and use tools. That's just the natural course of things and I don't want to judge this or try to determine a winner or a loser in this. In my paintings and drawings I interweave the digital with the analog on every level of the process. This includes, exploring and incorporating technological possibilities in the process of painting. I am complicating the legibility of the artist's hand as you can't always tell what was made by machine and what was made by hand, as I like to interfere where the machine claims it's field of competence. I think that with increasing digitalization the human desire for haptic grows and that's what drives me to materialize computer generated images.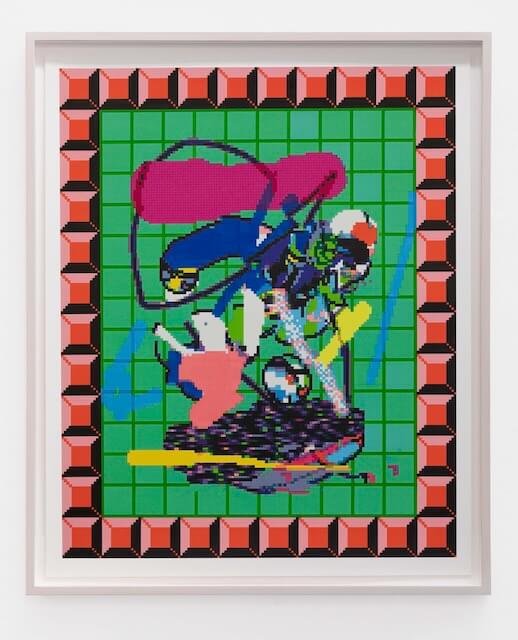 Any upcoming projects you are excited about?
I am currently planning a new body of work. Up until now I have mainly worked in smaller formats and a lot on paper. I want to upscale my works and bring them onto large scale canvases. Also I love printmaking and I recently gifted myself a Riso printer that I am currently testing out – so I'm planning to put out lots of new prints in the near future…watch this space!
Interview conducted and edited by Ben Herbert.
Portrait Images by Julia Sellman.