Tell us a little bit about yourself and what you do.  I'm a DC born artist/educator living and working in Chicago. I grew up an aspiring dancer and/or hopeful scientist, but repeatedly made small adjustments until I realized that where I needed to be was here. My love of science fiction fuels my practice, and my first celebrity crush was David Bowie in Labyrinth.
What are some recent, upcoming or current projects you are working on?  I just received the High Concept Labs Artist Sponsorship for my collaborative project The Morphotransverse Method with fellow artist Joshua Patterson. We are thrilled to have the time and space we need to expand this work beyond the brief "Trial Experiences" we have held in the past. In October, we performed one of these trials for the In-Progress programming at the MCA, and took away a lot of excellent feedback for how to evolve the project beyond the two of us as co-creators.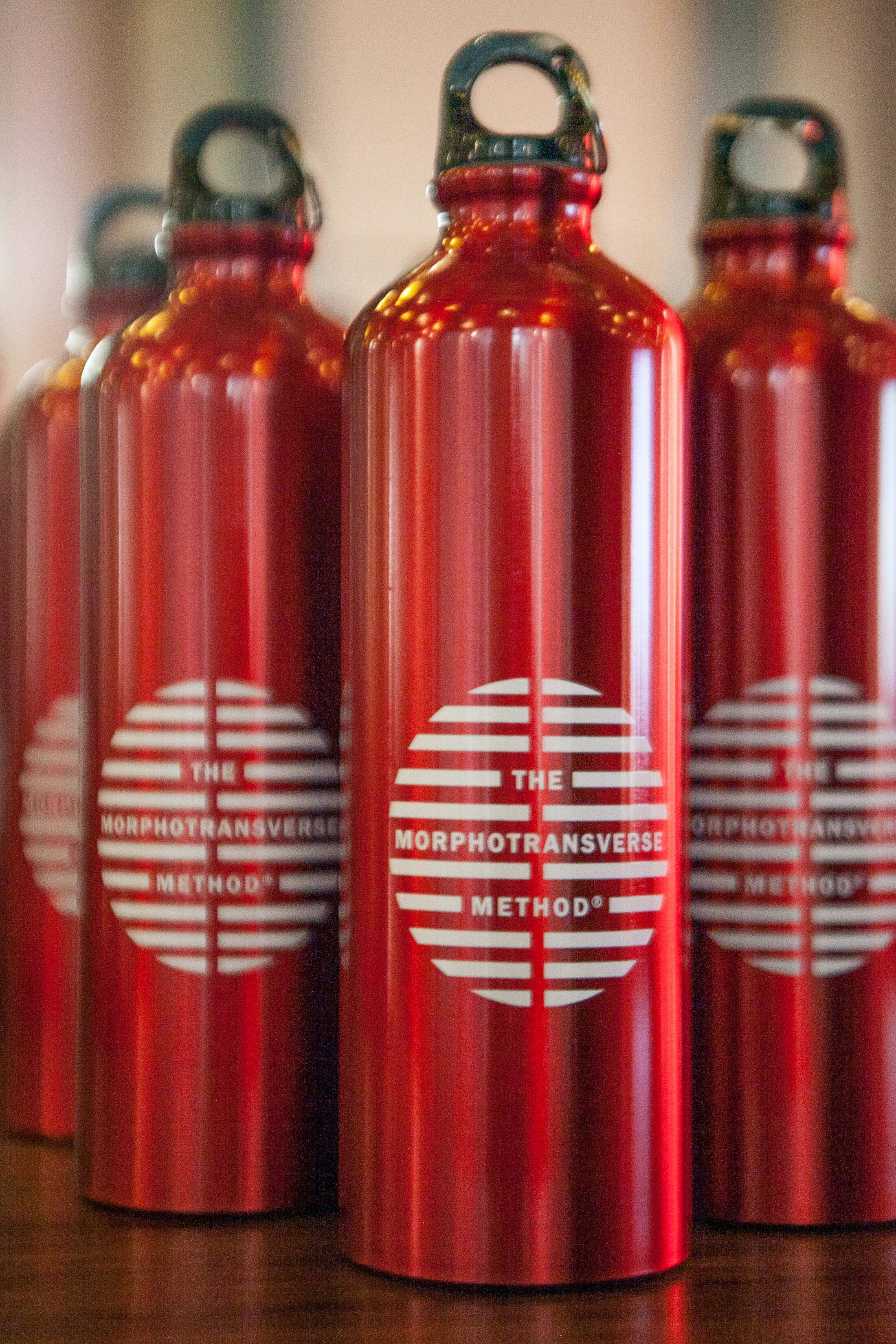 What materials do you use in your work and what is your process like?  I have an intense desire to misuse or hack everything, and I am attracted to materials that possess a certain level of "tastelessness." My most recent obsession has been sparkle upholstery vinyl. I love the idea of a material produced to look PRIMO-snazzy while also being durable enough to withstand the recurring barrage of sweaty legs tugging it away from the cushion as they try to stand up. The next step, obviously, was to figure out how to get that thick vinyl through an inkjet printer, and I spent upwards of 8 months perfecting how to coat the material and get an Epson to receive it. Spoiler Alert: it requires a lot of prayer.
How did your interest in printmaking begin?  It was your classic "girl meets process, girl falls for process, process makes girl change her major" story. I entered undergrad with the expectation of becoming a researcher in developmental psychology, and although art making had always been a part of my life, at the time I wasn't certain if academia was a place for those pursuits. I took a screen printing course on a whim and fell madly for that atmosphere—print shops have a certain cult-like allure that I have no intention of ever distancing myself from. The process lit the same part of my heart that loved methodology, and to learn the rules in order to learn how to break them. Printmaking requires constant adjustment and the testing of variables impacted by factors as nuanced as temperature or humidity.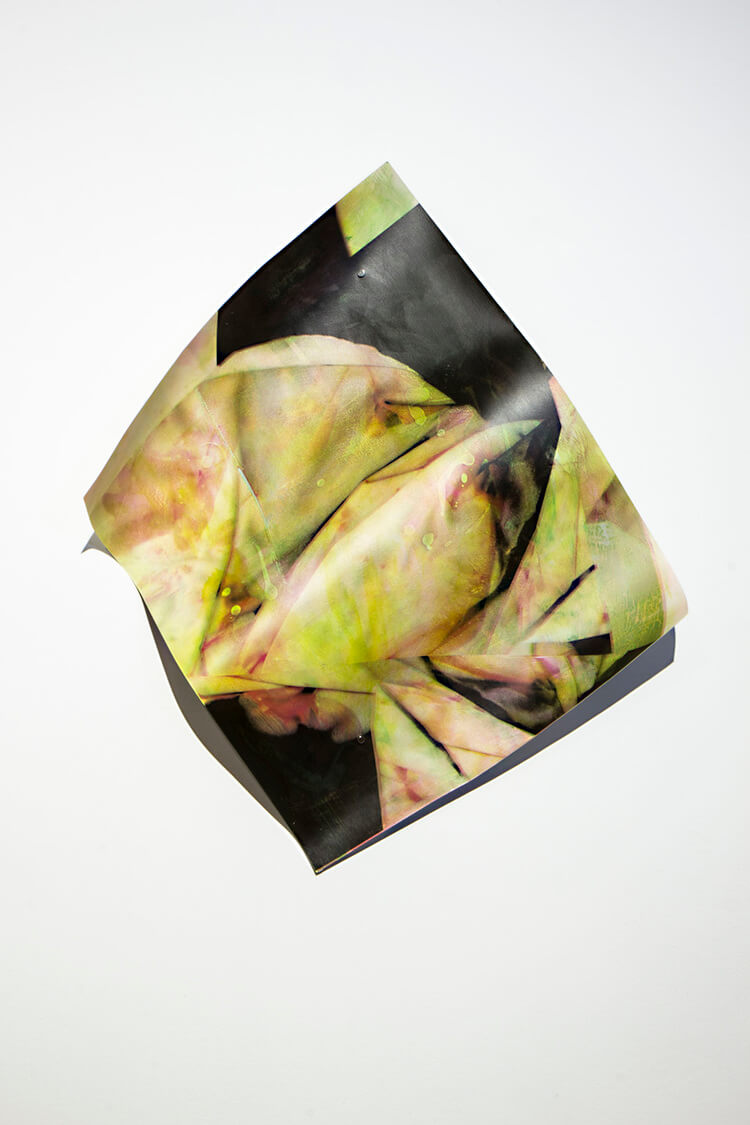 If you had to explain your work to a stranger, what would you say?  I tend to play "telephone" with myself. This manifests as sometimes poetic and sometimes awkward translations between materials, mediums, and real vs digital spaces. We are uncomfortable with ambiguity, but our need for categorization is crippling.
What is influencing your work right now?  I spend a great deal of time thinking about our relationship to our own bodies, particularly in the United States. A huge part of my work is choreography, whether it be literal in performance, or a part of my process with materials. I am concerned with how we unintentionally discourage a mind/body connectedness by pushing for faster results, immediate identity assignments, and digital interfaces. I do not consider myself to be an overtly spiritual person, but I am distraught by the tendency for us to consider our bodies as simply vessels for our minds. We approach change from the outside-in, rather than a simultaneous search for the betterment of both. Yet, both impact how you move, feel, process, and engage.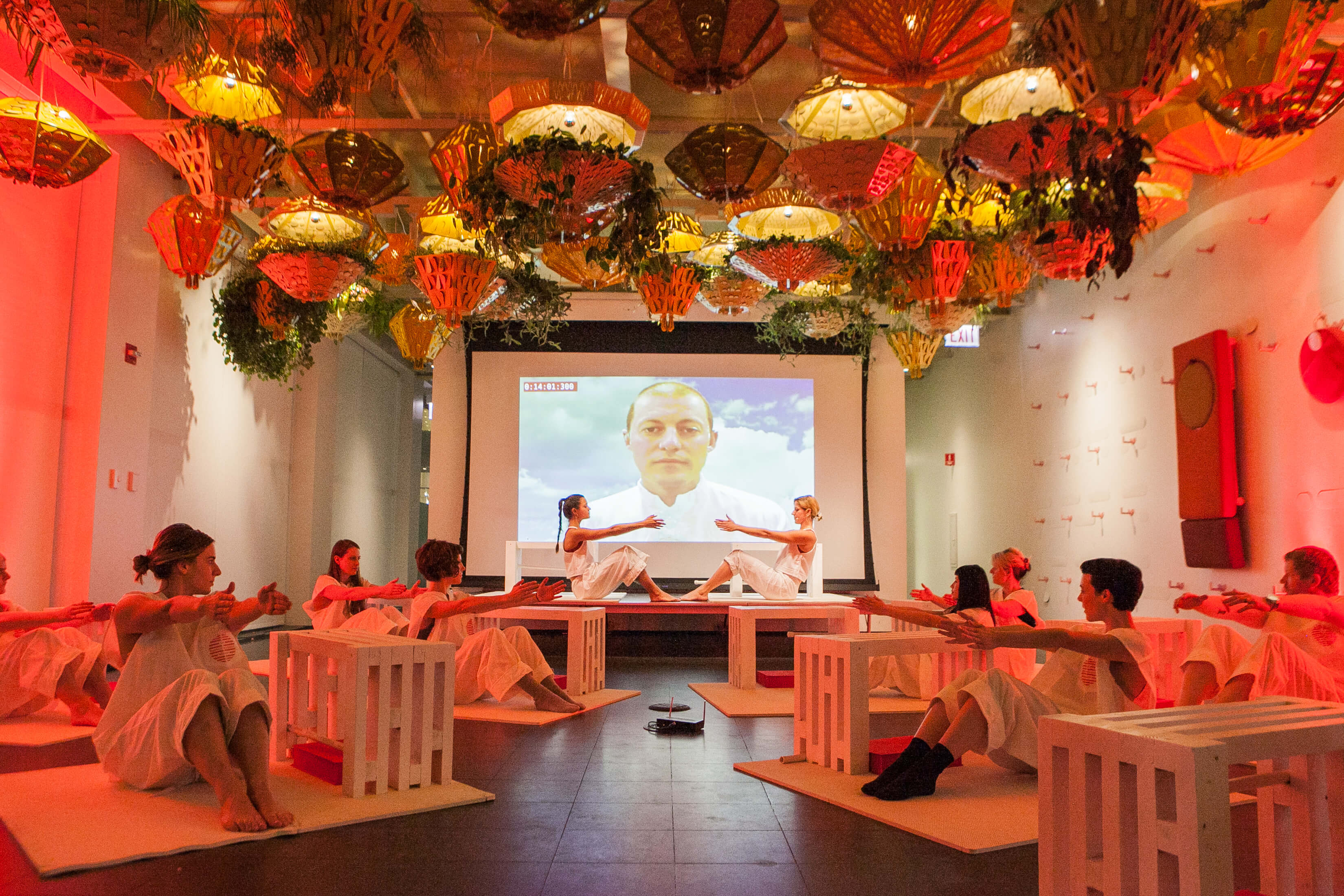 What was the last exhibition you saw that stuck out to you?  Lee Kit's exhibition "Hold your breath, dance slowly" at the Walker blew me away. It reminded me of the power in softness and quiet in artworks, and how to activate the open spaces between objects. I have seen multiple versions of the ATOM-r performances from Mark Jeffrey and they enrapture me every time. They are incredibly dense, but temper that complexity with humor, sensuality, and beautiful movement. "Hoof" from Allison Schulnik at ZieherSmith absolutely killed, and most recently, the "Godbottom" group show at The Condo Association (run by Stevie Hanley here in Chicago) got me hot and bothered in all the right ways.
Can you share one of the best or worst reactions you have gotten as a result of your work?  In my first graduate advising meeting at SAIC it was suggested to me that I not only might be colorblind, but could make a good life for myself selling work outside of Bonnaroo. To this day, I fluctuate with whether I find this to be the worst or best reaction.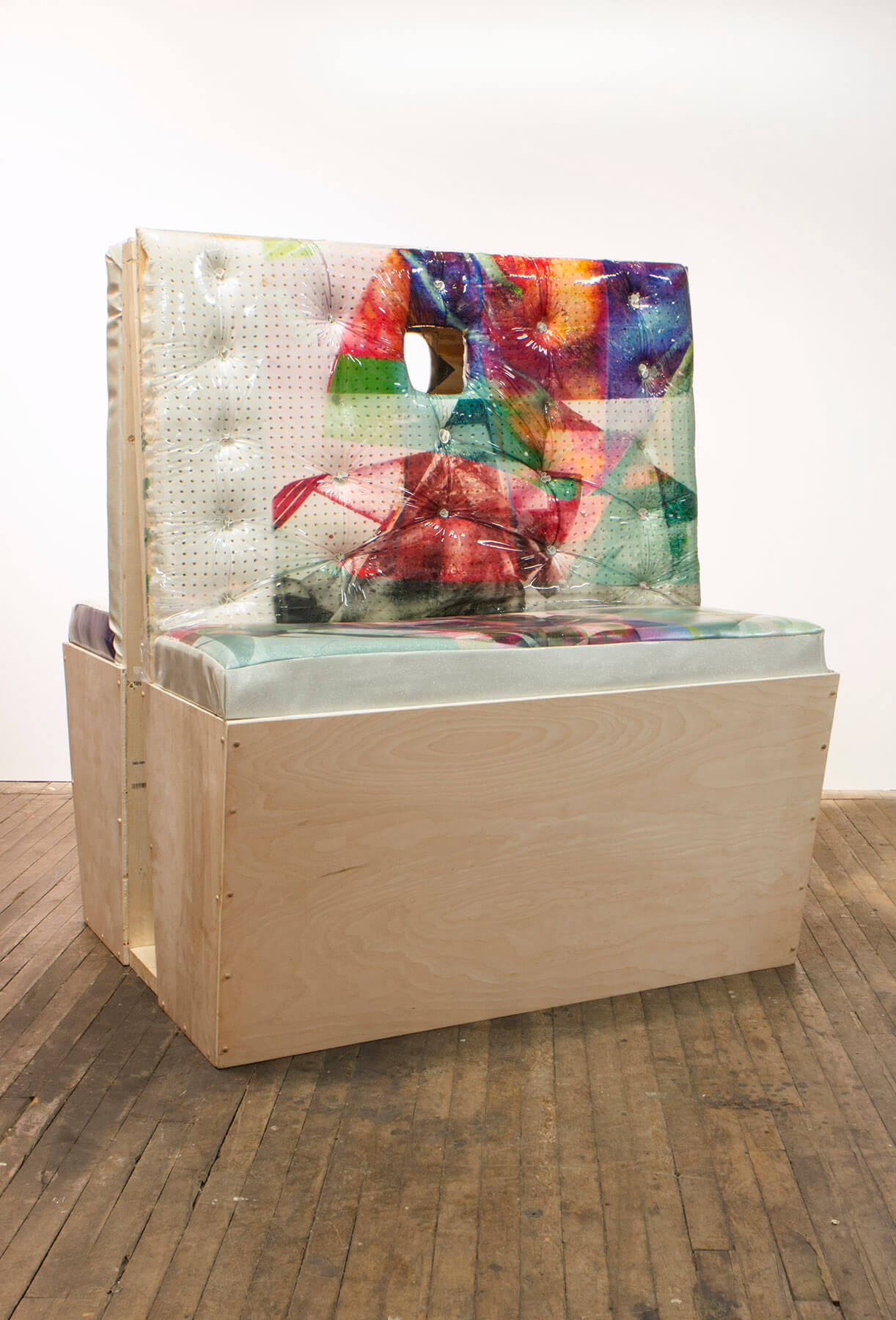 What's your favorite thing about living and working in Chicago?  I can bike every day and everywhere (with the exception of the frostbitten finger threat days in winter). And cheap hot dogs in front of the field museum.
What is your favorite part about being an educator?  It denies you any sense of comfort. You are constantly adapting and reevaluating every aspect of a classroom dynamic—syllabi, demonstrations, projects, individual relationships, etc. For me, it is a remarkable flow of feeling both challenged and nourished. I feel grateful for the opportunity to belong to a profession that I find so deeply inspirational for my own practice.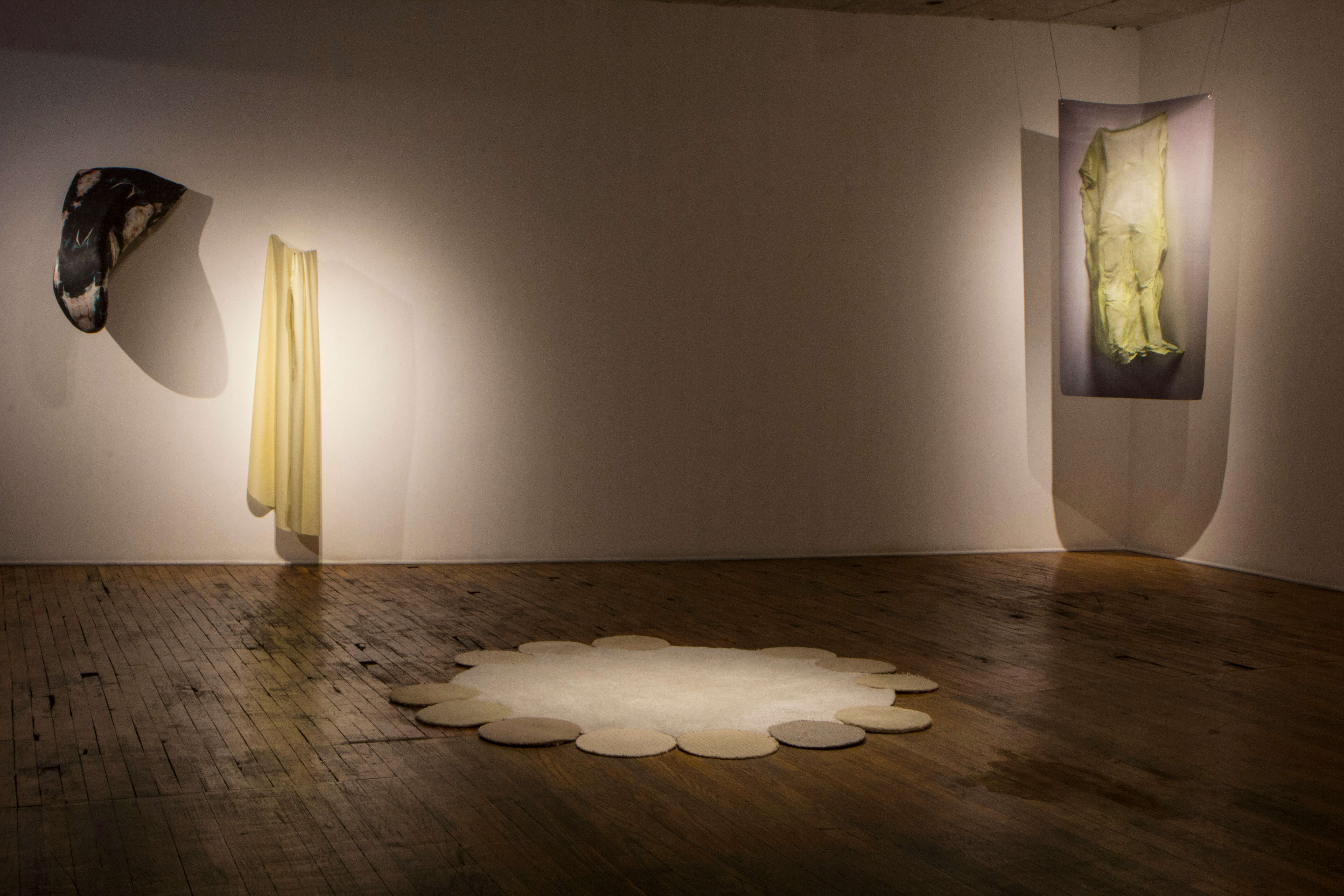 Describe your current studio or workspace.  I share a studio in Lawndale that we built from a raw dry storage warehouse. It's taken a few years to get it feeling fully functional, but we've combined our tools/equipment and added over time to have a pretty expansive woodshop and printshop. More than anything, I live for our rooftop. Most days in summer, I carry out a desk to work on whatever I can in the sunshine with the skyline behind me.
What do you do when you're not working on your art? Currently, academia takes up the largest part of my non-art practice existence. The residual, however, is occupied with theoretical apocalypse planning, and dancing in my living room with the music turned up loud enough to drown out the sounds of my own panting.