Jason Deary is an emerging Toronto-based artist who works primarily in painting. His most recent work explores personal history and considers how to preserve, reveal, and record memory. His compositions, comprising heavy layers of paint and collaged acrylic sheets, balance presence against absence and experiment with marks that exist in the negative. Deary completed his BFA at The University of Windsor in 2010, participated in The Banff Centre Work Study program from 2011-2012, and completed his MFA at OCAD University in 2014. Deary has recently been exhibited in Calgary, Vancouver and Toronto. His work is held in private and corporate collections in Canada, the United States, and Europe. He was the recipient of an Emerging Artist grant from the Toronto Arts Council (2014)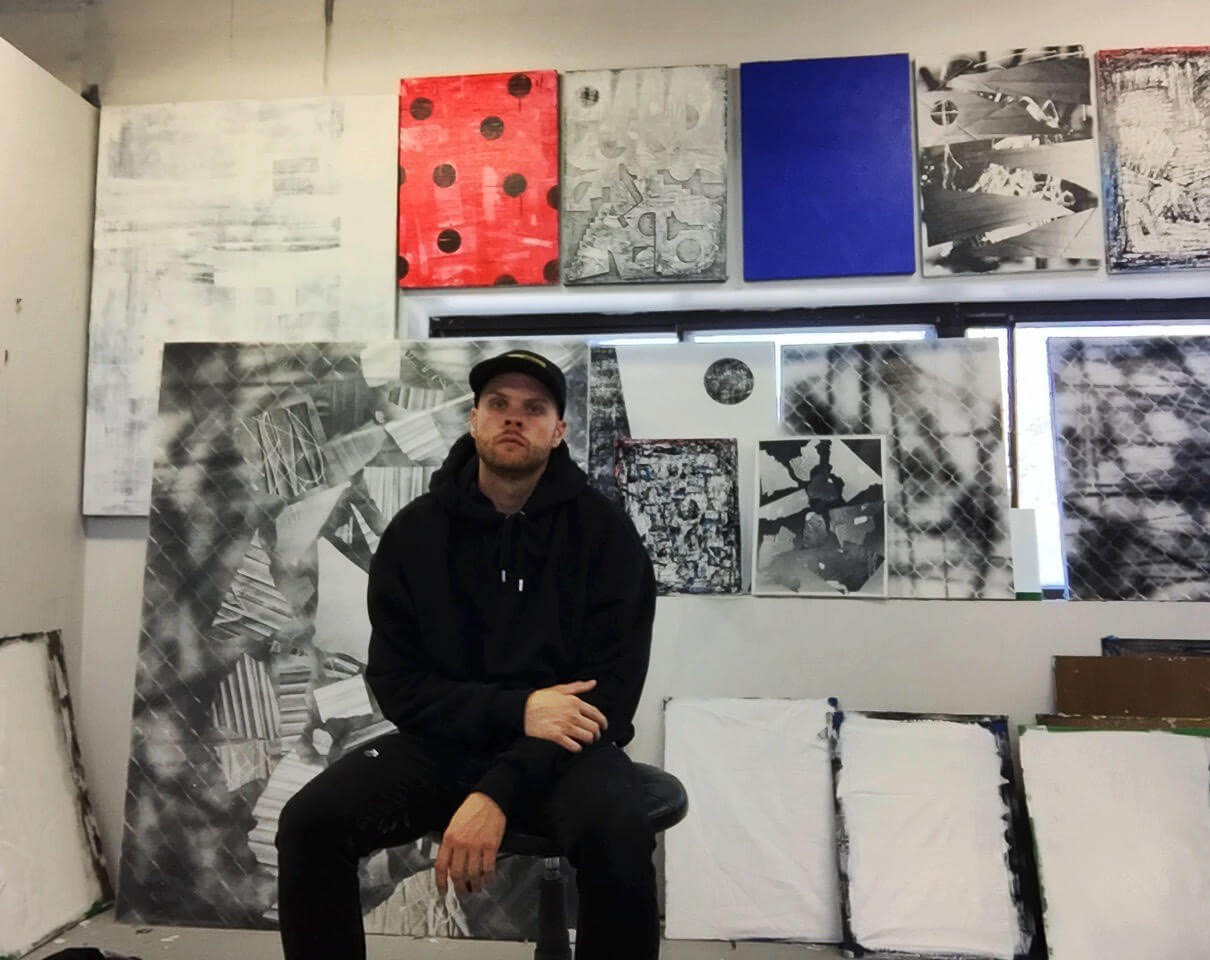 Tell us a little bit about yourself and what you do. I grew up and went to University in a small city called Windsor, about 2 miles south of Detroit. I majored in fine art at a non-arts school in a blue collar city. After that I spent a year and change in Banff, working at the Banff Centre at the Walter Phillips Gallery. It's a really amazing artist residency and gallery up there. I met a ton of people and learned more there than I think I did in any school. I came back to Ontario to be a bit closer to home and to do my MFA at OCADU. I have been living and working here ever since. I teach and work as an art handler for day jobs. I primarily make abstract paintings but I'm always reluctant to call myself a painter. I've dabbled in sculpture, collage and some digital work. My work has most recently been concerned with memory and making things a bit more personal.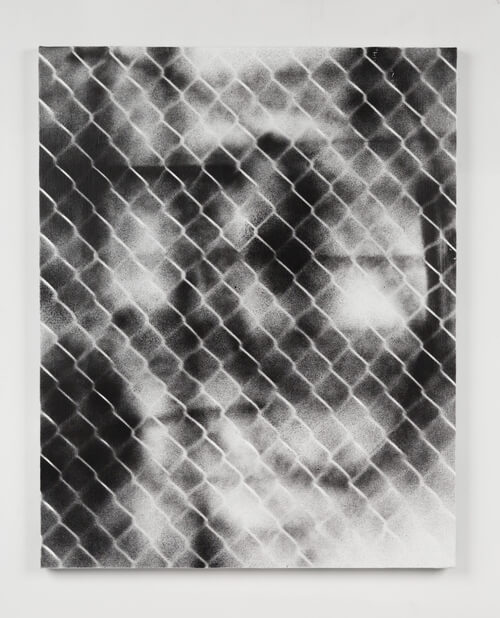 What are some recent, upcoming or current projects you are working on? I have the first show at a project space my friend (and talented painter) Omar Lalani is starting. The show is called "Dusting for Prints" and will be a small handful of new paintings and an installation piece. I have a show with Claire Schlezinger at Forest City Gallery next year. I have a few other irons in the fire that I will hopefully be able to talk about soon as well. I'm always trying to make new work, figure things out, experiment with materials. I'm really into crazy production and then editing- I will try a hundred different things to just find the one that sticks.
What is one of the bigger challenges you and/or other artists are struggling with these days and how do you see it developing? Right now I'm just trying to keep my head down and make the best work I can. I think there's a struggle in just trying to figure out your own practice and work in the beginning. Rent seems to also be the biggest challenge in this city. It's shameful how some artists are being pushed out. I've been lucky but this city is rough.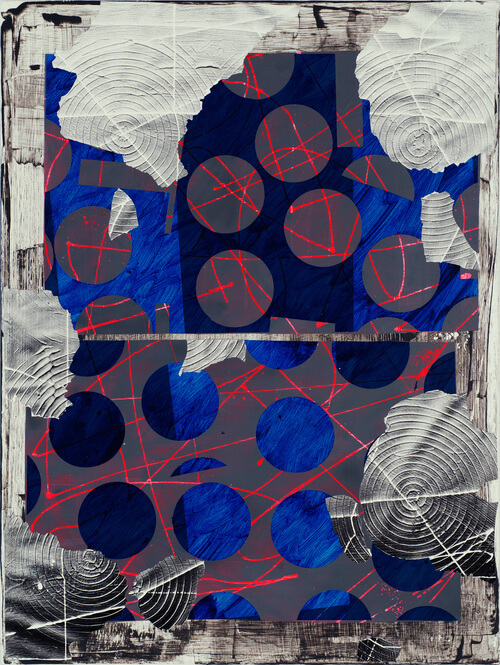 How did your interest in art begin? I grew up on comic books and for years thought I would get into that. At 15 or so I got way into graffiti and started writing my name on everything I could find. I knew how to paint with a can for years before learning about a brush. I still am probably not so great at painting fundamentals to be honest, I'm sure that's why I paint the way I do. My high school art teacher saw something there and tried to push me beyond the characters and letter forms I was doing. He introduced me to Haring, then Basquiat, then Rauschenberg, then Johns and I was hooked. Rauschenberg especially blew the whole thing wide open for me. After that I felt like I could do anything I wanted.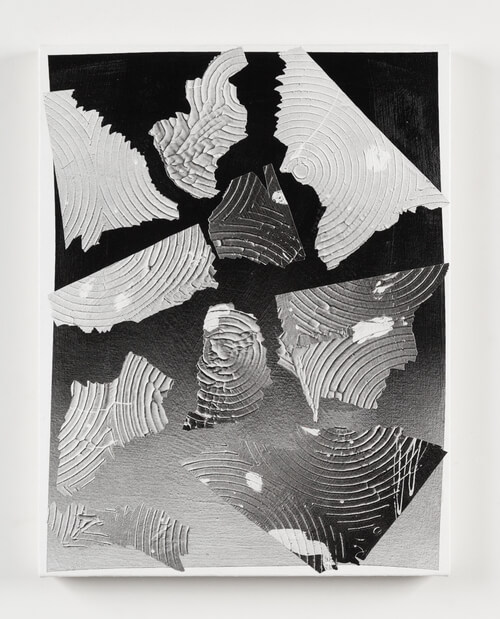 If you had to explain your work to a stranger, what would you say? I'd tell them that I primarily paint. That I see painting as a thinking space- 'in my own mind, the physical space of the studio and spatial constraints of a painting support- they're all arenas for contemplation., It's a way to reflect and work through something I don't understand. I'd tell them that lately I've been reflecting on memory, on personal history. That I'm interested in balances and contrasts between things like presence and absence, confusion and clarity, spontaneity and calculation. I see painting as a way of recording and revealing. Those things I am attempting to record or reveal are coming from a very personal thought process lately but I'm not sure that it matters. I don't want to prescribe too much meaning, to tell someone what they're supposed to be seeing or taking away. That's not to say they don't have meaning-they certainly do. I know some artists are hyper specific about what a piece means and want the viewer to know exactly that. To me that takes away from the experience. I enjoy some looseness, I want the viewer to be able to draw their own conclusions or ideas, to jump in and look around. I'd try to not explain too much but maybe have a conversation.
Do you have any guilty pleasures? Tell us about one. Bad action movies.
What are you listening to right now? Mostly podcasts. I enjoy long form interview shows like WTF or Fresh Air. I like hearing people tell stories and get really deep into a conversation. As far as music goes, I'm almost exclusively hip hop. Black Milk, Boldy James, Chance the Rapper, Danny Brown, Pusha T look like the most recently played on my iPhone. I've been having nostalgic moments lately too, listening to things my father got me into- Tom Waits, Violent Femmes, Body Count.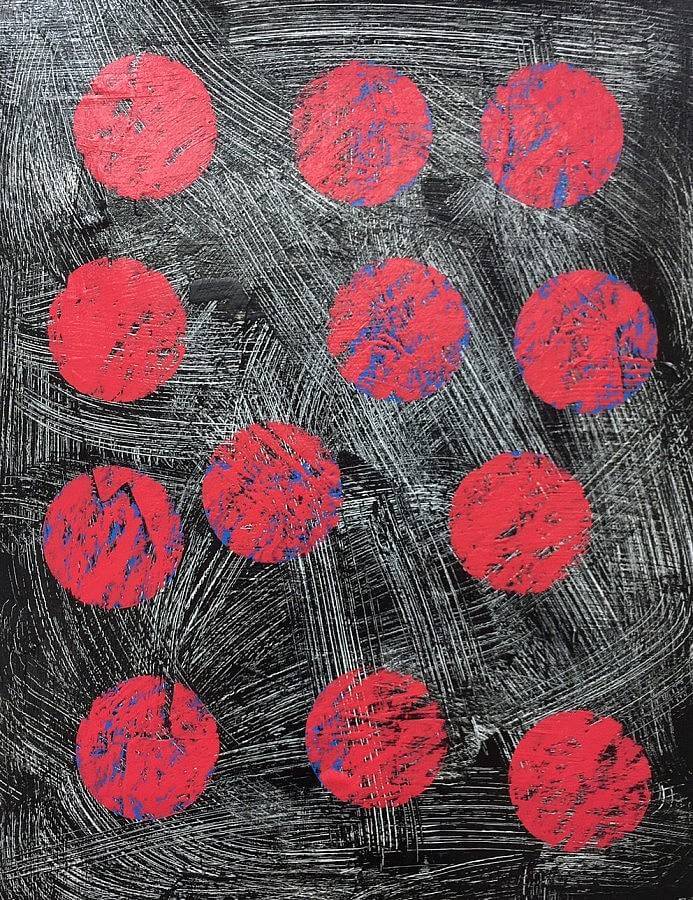 What was the last exhibition you saw that stuck out to you? Elizabeth McIntosh at Diaz Contemporary. Kristine Moran at Daniel Faria too. Both are such strong, smart painters that ride this line between playful and precise. They make it all seem so effortless. I'm envious of their mastery of colour. I just last night saw the Theaster Gates exhibition at the AGO. It was a really quick run through and I need to go back but, wow, fantastic work. The scale and the scope of the exhibition was so powerful. Looking forward to going again and spending time in the space.
What artists are you interested in right now? Katie Lyle, Beth Stuart, Laura Findlay, Sean Stewart, Vanessa Brown, Geoffrey Farmer, Stephen Andrews, Scott Everingham, Zeke Moores, Jenine Marsh, Jack Bush.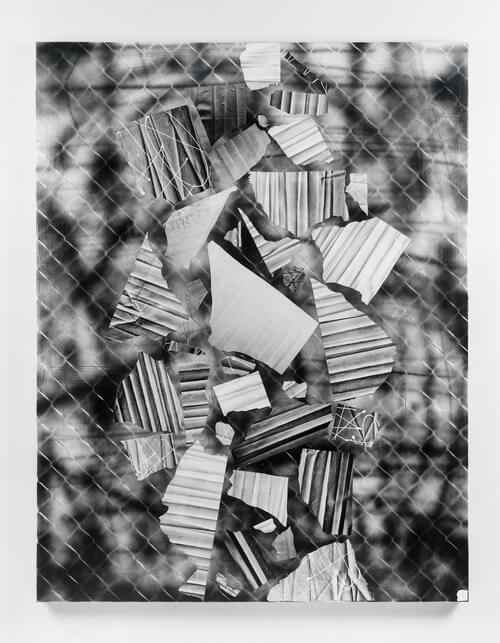 Do you collect anything? Art I suppose. I trade work with friends and artists I like. It's pretty amazing to be able to acquire work that way. I have a couple pieces I have been gifted by artists I have installed for too. My partner and I have recently begun to buy small things when we can. We just got a piece from Jeff Bierk we are very excited to get home and hang.
What do you love about your city? As far as Canada goes, I think this is the place to be for what I do. There is a strong scene and a lot happening. I think is important to be immersed in it all at this stage in my career. There are so many galleries, both public and commercial. Really exciting smaller spaces (AC Repair Co., Roberta Pelan, The Loon, Warner Gallery and Mi-Yu-where I'll be showing next) are popping up all over and probably showing some of the best work around. Having said all of that I do often fantasize about leaving Toronto, buying a house in the country with a huge plot of land, a barn studio and getting many more dogs.
What is your snack/beverage of choice when working in your studio? Cold brew coffee. Apples.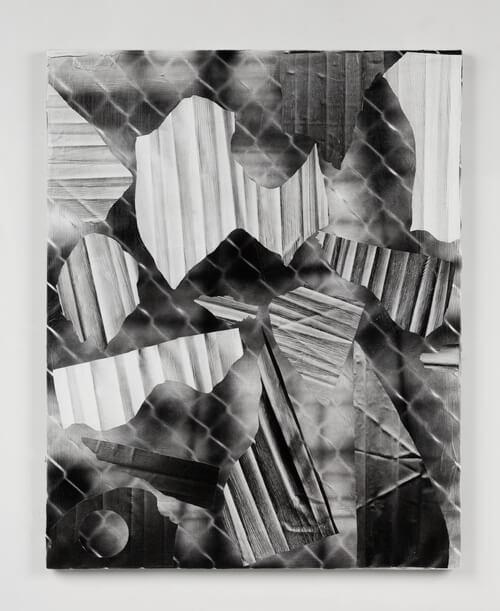 What do you do when you're not working on your art? Working on someone else's art, mostly. I work as an art handler and coordinator for Superframe, installing for private and corporate collectors, galleries and institutions. Through part my day job we've been working on a signage and publishing project under the brand of Portrait & Landscape. We will be releasing a new set of editions at Art Toronto this year. I also teach teenagers painting and drawing at the Art Gallery of Ontario. I really enjoy what I do and am happy to facilitate art making and display anyway I can. When I need a break from all that I'll be at home spending time with my partner Lindsey and our two giant dogs. It's not a bad life.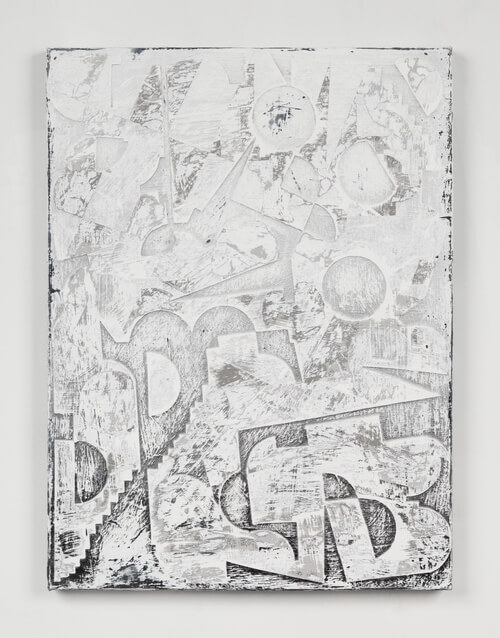 Can you share one of the best or worst reactions you have gotten as a result of your work? Sometimes people won't believe that certain parts of the paintings aren't prints. The black and white bits often have this look of a photo, print, or photocopy. It's an aesthetic I am interested in and actively pursue for sure, but it's all 100% acrylic paint. The shadows or gradients seem to throw some viewers off. I had this group in for a studio visit and one woman wouldn't let up, insistent that it was printed. I suppose that the trompe l'oiel effect is successful but her assertion was bizarre, as if I was printing components of these painting out and trying to fool everyone.
I also had another artist get frustrated with my dealer because she wouldn't explain to him how I did this more complicated masking technique. He told her he would figure it out, make his own and show them. So look out for that I guess.