Ian Swanson is an artist living and working in Brooklyn, NY.  He received his BFA from Wayne State University in Detroit, MI and is currently pursuing his MFA at Pratt Institute.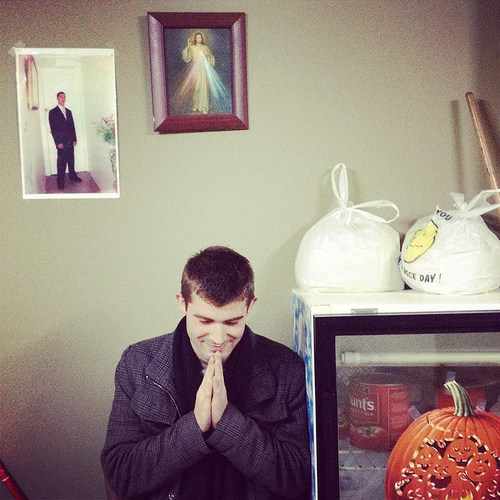 Tell us a little bit about yourself and what you do. I'm 29 years old. I was born in Detroit and grew up in the suburbs east of the city.  I moved into the city when I was getting my BFA from Wayne State University. I hung around that scene for awhile, and helped found and run a couple of project spaces, ORG and the Northend Studios.  I'm represented regionally in the Detroit Metro area by Re:View gallery in Midtown.  Last year I moved to Brooklyn to work on my MFA at Pratt Institute.  I primarily make abstract paintings, I suppose you could say in the provisional model, or post-provisional.  I prefer the term post-authentic.  I also do net-based digital projects and compose ready-made based sculptures I've been calling aggregates.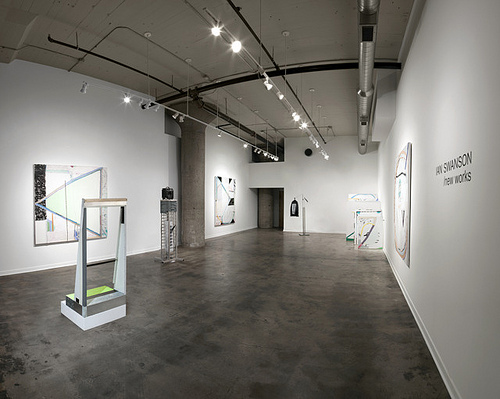 How has living in Brooklyn affected your art practice? I feel like any time you change environments or studios the work tends to shift.  I've found myself concentrating a bit more specifically on painting in the last year, maybe as a result of smaller studio space.  The paintings have also become increasingly economical due to practical reasons concerning the cost of living in NY as opposed to Detroit.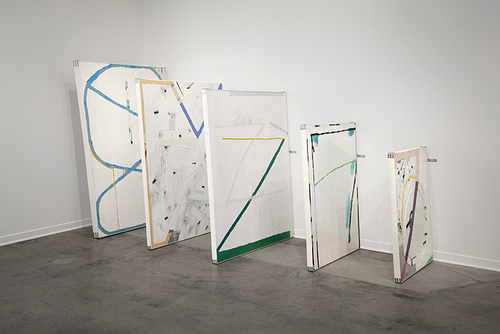 What are some recent, upcoming or current projects you are working on? I just opened my first solo show with Re:View in Detroit last month, called /recent works.  It's still up until October 27th.  I was also recently in the group show Aggro Crag, curated by Jason Stopa, at Bosi Contemporary in the LES with a crew of great painters.  I also put together a site specific installation of work for the Peekskill Project V in upstate NY with my friend Jonathan Stanish.  That was put together by the Hudson Valley Center for Contemporary Art.  The work will be up through December, and there are bi-weekly special events and talks.  I'll be doing an audio performance November 11th with my friend Stefan Frederick Walz from the band Thickly Painted Walls too.  Should be rad.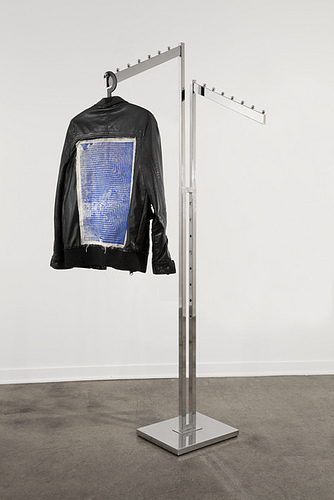 What is one of the bigger challenges you and/or other artists are struggling with these days and how do you see it developing? I think the main challenges are financial.  The issues surrounding artist fees for projects have been of interest to me lately.  Artists deserve to be paid for our labor, as charitable as we can often be.  I also feel like I've recently learned a lesson concerning the traditional reliance on large format work that doesn't seem to make much sense anymore in a national or global art economy for emerging artists.  The ends never satisfy the means and underrepresented markets can be unsupportive, or downright unappreciative, of the efforts put forth on the artist and gallery end.  The traditional commercial gallery model seems to me to be failing at an unprecedented rate in most U.S markets that aren't NYC whom chose to work with non-local artists.  I could be wrong but it's been a cumulative observation.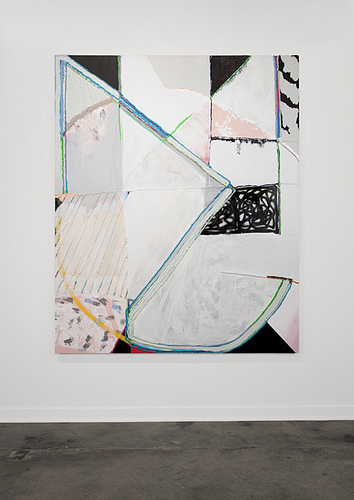 If you had to explain your work to a stranger, what would you say? I'd probably just say I'm a painter.  An abstract one.  Practically classical.  haha.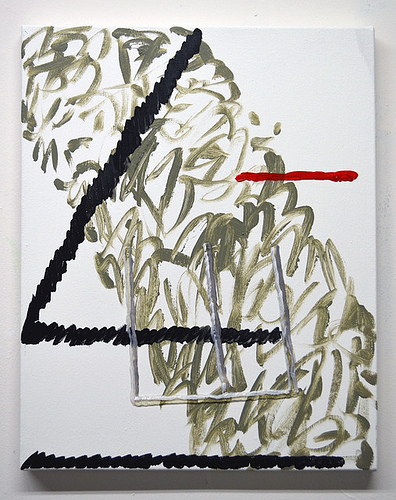 What kinds of things are influencing your work right now? Internet culture, photoshop, sigils, systems and mechanisms of display, buffed graffiti, marketing, advertising and design, the dominant mythologies and gender associations of paintings history from to the renaissance to ab ex to minimalism to whatever till now.  It varies.
What materials do you use in your work and what is your process like? The paintings are almost always acrylic on canvas or linen.  I title them according to abritrary word associations I make when I name the files after documentation.  Usually a string of characters.  I sort of see it as a way of subverting their authority by making them less conveniently google-able.  Lately I've been incorporating a little collage and digital printing.  I've also been working on banner paintings on digitally printed vinyl and nylon.  The sculptures emerge more organically and are usually a result of the particular energy and history of a specific object, process, or fabrication technique.
What artists are you interested in right now? David Ostrowski, Jon Rafman, Keller/Kosmos (aids-3d), Brad Troemel, Amy Feldman, Richard Aldrich, Michael Krebber, Jonathon Meese, etc…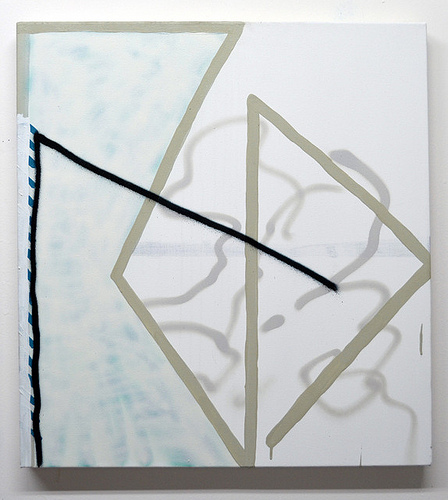 What are you really excited about right now?I'm pretty excited about this new loop pedal I bought.  Also the banner paintings and some new sculptures.  I've also been working on putting together a sort of journal or zine called Neuse.  I plan on putting together bi-monthy downloadable PDFs or E-Books and a small xeroxed edition every 4 months.  I'm accepting all types of content from folks right now.  It's on the internet through tumblr.  Art wise I've mostly been excited by web-based artists lately.  I don't look at that much painting.
Top 3 favorite or most visited websites and why? Rhizome and e-flux for reading and looking and facebook for banality/networking.