Can you tell us a little bit about who you are and what you do?
My name is Yesenia Bello though some know me as Yesi. I like both names equally. I am an artist and arts administrator living and working in Chicago.
What role does movement play in your work?
I've been ruminating on the verbal as active and how that manifests in the many different ways that I make my art, especially my suspended installation works. I've been thinking of those works as kinetic soft sculptures, which is a new way of describing these pieces. Gravity and the space between the fabric/rubber/vinyl/shadow/clay lines in my work accumulate evidence of weighing down, of a heaviness that pushes the hoops out of form and causes sagging or drooping from the fabrics. The suspended works exuberantly fill a space but the lines go without use, laying dormant and in waiting. All of these threads and strings form a swaying visual lexicon. As the works are being pulled up they are equally being pushed down. It's these invisible forces pushing against one another that, for me, make for a really thrilling imagined tension. The hoops tend to bobble a bit once there are many people in the room, responding to the movement of air as we walk around a space, the fabric strips shiver in connecting response — I like to think of this as empathic mimicry, though really okay it's simple mechanics. These responsive qualities make for a really fruitful playground for performance. In the past, I've collaborated with movers and dancers to respond to these spaces, as it all relates back to sensations in the body. Within my ceramic work, I've been making these hand-held 'speaking vessels' which consider the pathway of the vocal. These pieces are activated by a group of roaming participants. I haven't shown them yet but do plan to soon. This is something that I started back when I was at SAIC and then revisited during my time in the Center Program at HPAC. Since my work is always pulled back to my experience as a first-generation mexican american, the loss and gain of language, and the bilingual experience, thoughts of migration as connected to time, place, and feeling is no doubt ever present in the underbelly of the work. The consideration of movement within it all then becomes a connecting thread between a hybridized practice.
What was Walla Fest? How did it start? 
Walla Fest was an all ages volunteer run music and arts festival that I co-directed and ran for five years with two friends Makeba Robinson and Anthony Bui. The fest started in Norristown, PA on the outskirts of Philly. We co-founded the fest out of a desire to platform the creative works of our peers, through a DIY mentality and likely some teenage boredom. It is the spirit of Walla that follows my arts admin approach and interests today.
What is your studio or workspace like?
I work out of a converted warehouse space in West Fulton Market here in Chicago. Walking up to my studio it always smells like slightly burnt bagels OR chocolate, I prefer the latter but the bagel smell is also okay. Inside the space, there's a bunch of blocked out studio spaces with some more private and others shared. The ceilings are super tall so none of the rooms are fully enclosed and sound travels pretty well. Luckily, I have some very large windows for sunlight with freakishly fast growing aloe plants against the windows. If I go during the day someone in the space is often playing classical music. I tend to blast my astrology podcasts while I whir away on my sewing machine. This space is used for making and storing my three dimensional work and holding studio visits. Additionally, I have a dry workspace in my apartment where I make all of my drawings and keep some ceramic works.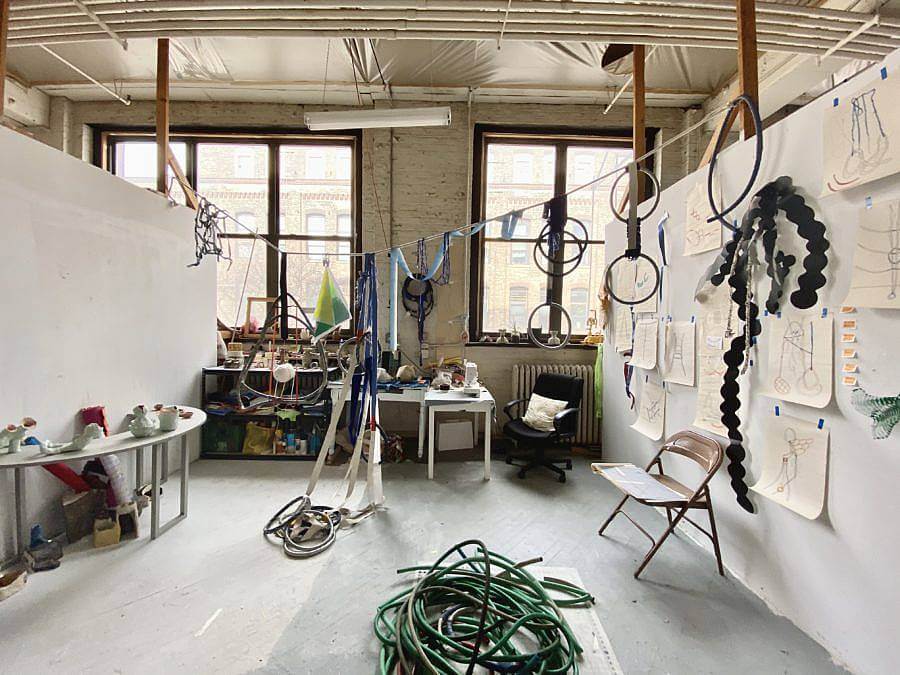 What are you currently working on?
Right now I'm putting the finishing touches on a reworked piece that heads to the Chicago Cultural Center for a Valentine's Day opening! The piece previously hung in the backyard of 6018 North for the Living Architecture show. A paired down iteration of the show with the title In Flux will be on view from February 15th through May 10th. I'm also excited to be working on some really fun projects for the spring, such as a collaboration with Connor Frew of Flatpack Publications on a publication that will center my rope-making workshops. This is a part of my practice that I'm still very much experimenting with, so it feels good to get to explore it with Connor, who I met while on residency in Carrizozo, NM. The publication will be out and available sometime around March. I'm in the beginning stages of a project for North Pole Exhibitions which will open in April. North Pole is a flag-pole-as-art-space project run by Kate Anderson and Aidan Hercules up in Rogers Park. I'll be making a long and thin flag which will be tied to a clay speaking vessel dug into the ground. I'm planning on having a dip party with many dips and things to dip with as part of the event sooo look out for that. Lastly BUT HAPPENING RIGHT NOW I have my solo show up at Ignition Projects in Humboldt Park as part of ACRE Projects. Tender as the Language runs through February 22nd, with regular open hours on Saturdays from noon to 4pm and by appointment. There will be a closing reception on Sunday, February 23rd from 2pm to 4pm.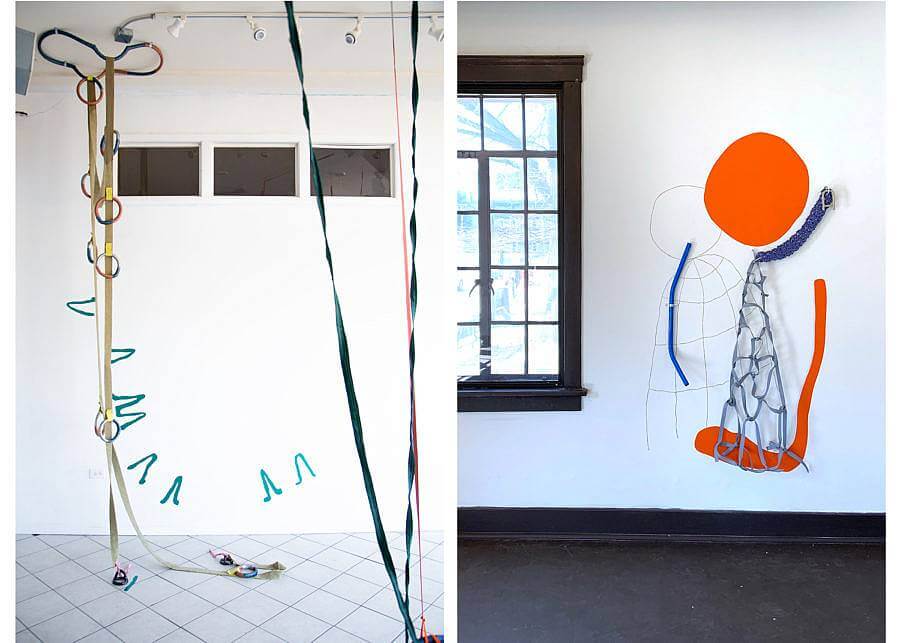 A few of your exhibitions have involved working with other artists, can you talk about the importance of collaboration in your work?
Totally, I'd say my collaborations with other artists come out of built friendships and an equal admiration for my collaborator's way of working. Since so much of it is about sharing in the process, it also requires that we find a way to work well together even if we work differently. In fact the best part about a collaboration for me is finding those differences and celebrating them in a way that makes the work stronger. Having to defend an idea out loud while it is still being made can also be a way of exercising intentionality. It always brings me back to my own work with a new perspective.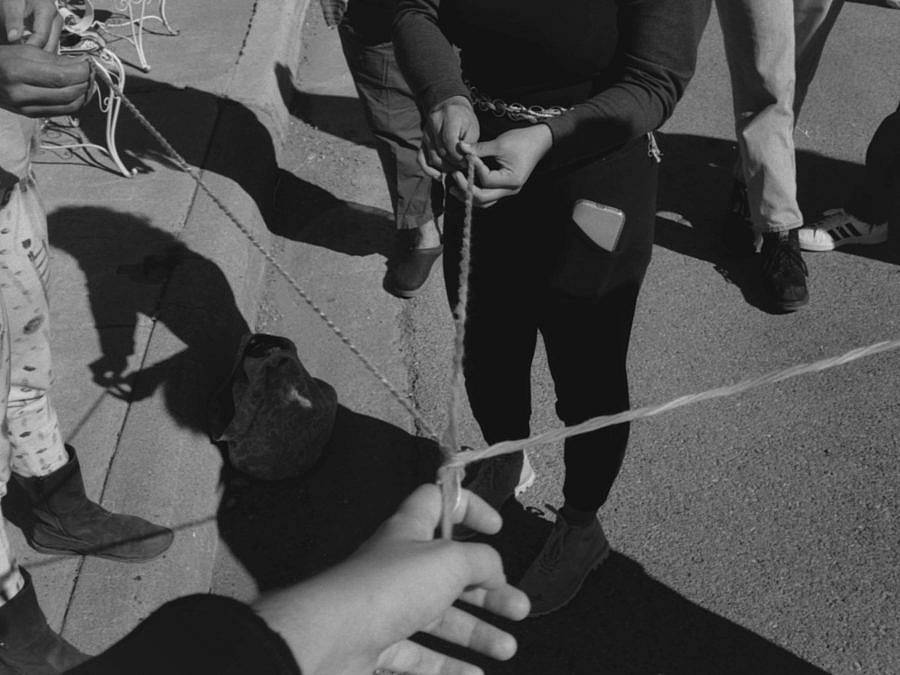 Do you have specific strategies when installing your work? How do you begin to fill a space?
Lots of measuring, looking at the structural bones that are already there in the space, lots of staring into the blank space, needing to visit the space a few times, choreographing tensions and relationships between materials, considering how texture and color pairings will settle together, playing with light both natural and artificial
How do you view your drawings in comparison to your sculptural and ceramic works?
My drawings are small and make for an immediate, easily expansive, and mobile way of making. They are a way of pulling things out of myself, seeking surprise. The installations take so much careful planning and are quite labor + time intensive so I have a lot of empty space to think between each step. The ceramic works too happen in slower steps and require a response with each new firing. For both there are a lot of things to plan for in advance. Drawings exist in a land of little restriction. I can make anything come to life and really build out a visual vocabulary that feels liberating. In comparison to the three dimensional work, it gives me a freedom to work through ideas and learn through improvisation.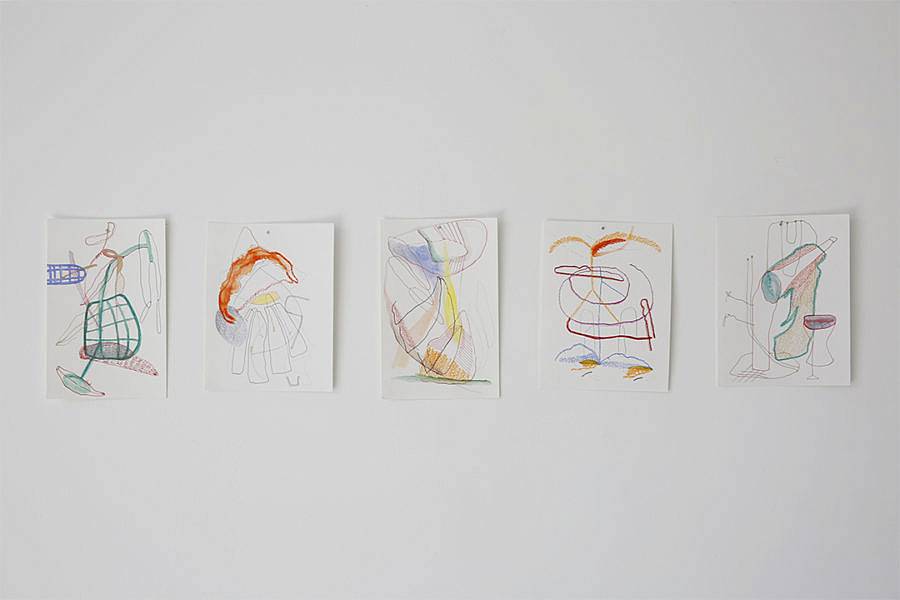 What is your process when considering scale?
I present my work with an installation logic, and by this I mean that I consider the viewer a lot, especially how a viewer will navigate a space and approach a work. It is always my hope that the work will spark imagination and get someone to lean in and do some investigating. With this in mind and with the body as a way of measuring, I make sculptures that are often handheld in size, installations that can feel immersive, and small drawings that should be experienced in multiples. Aside from my Speaking Vessels, the handheld scale is not to say that they are meant to be held but rather that they are to give you the sensation of a thing that might at some point, in some realm, be held or moved by a body. It could be shifted to a new environment, it could be created in the space between the hands. Ceramic sculptures are also usually placed on a table that I design to be at around knee's height to promote circumnavigation and a collective hovering. For my installations, I always want them to have spaces for a viewer to walk in and around them. More attention is given to vertical space and how a hoop might confront a viewer or cause eyes to wander down, across, up, and over.
Have you seen any shows or exhibitions that have stood out to you recently?
YESS!! I can't stop thinking about the Silke Otto-Knapp show over at the Renaissance Society and how the paintings are placed to segment the room. I tend to be less drawn to painting but I'm really drawn to the way these works inhabit the role of the stage. It was pretty surprising to find that they were watercolor too. Definitely works that uncover a whole new world of detail in person. While I was back in Philly over winter break, I was able to catch the third and last section of the Colored People Time exhibit at the ICA and the Michelle Lopez work also at the ICA. I gathered all the gallery notes and printed matter that I could for CPT: Banal Presents and only wish I could have paid a visit to the two previous sections. The Michelle Lopez show came at a perfect time and definitely influenced lighting and shadow in my current solo show. Seeing works by folks in the Chicago art community is always inspiring: recently saw a striking performance by Izah Ransohoff, thoughtfully installed works by Cathy Hsiao at Mana, large fabric works by Marie Baldwin, and coiled baskets by José Santiago Pérez. Many of these shows are still up for you to check out (: