Can you tell us a little bit about who you are and what you do?
I would classify myself as a painter but do like to dabble in other mediums including some crafting on the side. In the past couple of years, I have mostly been interested in painting shipwrecks, sea creatures, and the clusterfuck of plastic waste floating around in our oceans.
How do you approach a new work?
It definitely depends at times. Some works are meticulously planned out and have taken literally years to finish, while others are completed within a day. Lately I've really been trying to allow the work to develop more intuitively and for better or worse, am attempting to utilize some surrealist methods like automatic painting and drawing. In the past, I felt like I was wasting a lot of paint at the end of every painting session so instead of throwing this extra paint away, started scraping it onto smaller blank canvases to alleviate the excess waste. This act of cleaning my palette, transforming and recycling paint often felt more liberating than the actual painting session. Being able to watch colors erratically mixing into each other and taking on the blobby texture of dried out paint was mesmerizing. After the initial application of this excess paint à la Gerhard Richter, I usually allow these surfaces to dry and sit around my studio for a while until I can decide what to add in. On occasion I will go directly back into a painting wet into wet to carve out an image all in one session. These more experimental works are smaller at the moment, but I am looking forward to trying this process on a larger scale.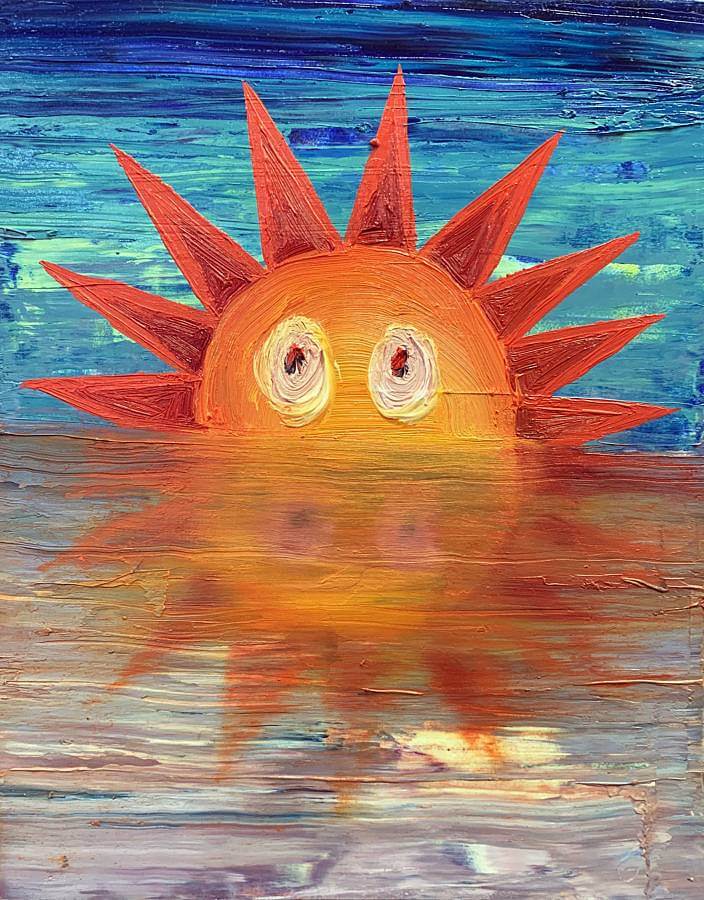 What is your relationship to the ocean?
I grew up between Pennsylvania and Florida but spent most of my childhood on the Gulf coast of FL. It's the side where everyone complains that the beaches feel like a lukewarm bath and supposedly flesh-eating bacteria now lurk in its brackish waters. As a child growing up there, I had a strange fascination with sharks and would sit around my room reading about them for hours at a time, learning all of the scientific names for each sub-species, etc. I was also an only child so had a lot of time on my hands.
Floating around in this vast ocean could be an ethereal, magical moment, yet simultaneously, the thought of a terrifying super predator lurking beneath would fill me with anxiety and fear. I now see this psychological aspect of both awe and dread of open water showing up in my work over and over again. The ecological crisis is yet another layer of that tension between awe and anxiety, the magical quality of nature being tragically and increasingly corrupted beyond repair. The symbol of the ocean in my work also reveals a lifelong struggle with depression, often representing the feeling of drowning in a sea of infinite sadness.
Some of your work references canonical maritime paintings (William Turner, etc), but are very tongue-in-cheek. What is your intention by referencing these works?
I deeply respect Turner and many other painters who fall within the maritime tradition. I just took a brief pilgrimage on my way up to Maine last summer and stopped by the MFA in Boston to see their version of Watson and the Shark by John Singleton Copley. It was incredible to see this awkward, yet beautifully painted rendition of a shark attack. The painting is laughable in that the shark almost looks like some rabid sea dog, but the way the flesh and water are painted is pure magic. The transparent glow of the drowning man is really quite something and definitely worth the trip.
When I first started painting the Turner studies, they were initially meant simply as an exercise in how "the masters" painted seascapes. Although I learned a lot about subtlety of color especially in the tones of water, I think I got a little bored along the way and felt the urge to add some of my own characters into the mix. The sad clouds seem to have inserted themselves subconsciously, likely as some attempt at kinship with the historical tradition. I don't mean for them to be irreverent in any way but more playfully "tongue in cheek" by incorporating opposing ideas of high and low art.
Your Sad Cloud series ranges in style, but feels like an investigation of texture. Can you talk about your process for this series?
The first sad cloud painting was really my first attempt at abstraction. I graduated from an MFA program that was very heavily bent towards traditional figure painting and anatomy (the New York Academy of Art). And although this experience was helpful in my development as a painter, at the time I also felt very stagnant and reliant solely on photo reference. Leaving grad school, as I'm sure many post MFA students feel, was a bit traumatic. It's that moment when you really have to honestly figure out what your work is about, and I had no idea what that was. Obviously that first cloud painting out of grad school did not turn out to be pure abstraction, but some kind of hybrid abstract cartoon instead.
This series for me has really morphed into a time and space to play. Whether that be with paint, color, emotional impact or and as you mentioned, texture. The work has taken a much darker turn than I originally thought it would, but I do like the direction that it's headed. One of the more recent, darker cloud paintings, Rainbow Road was inspired by a love of the original Super Mario Kart Nintendo game. This painting was layered over another failed attempt, so quite a bit of the former painting has shown through as a ghostly texture underneath. I believe it's referred to as a pentimento in Italian if we're getting technical here.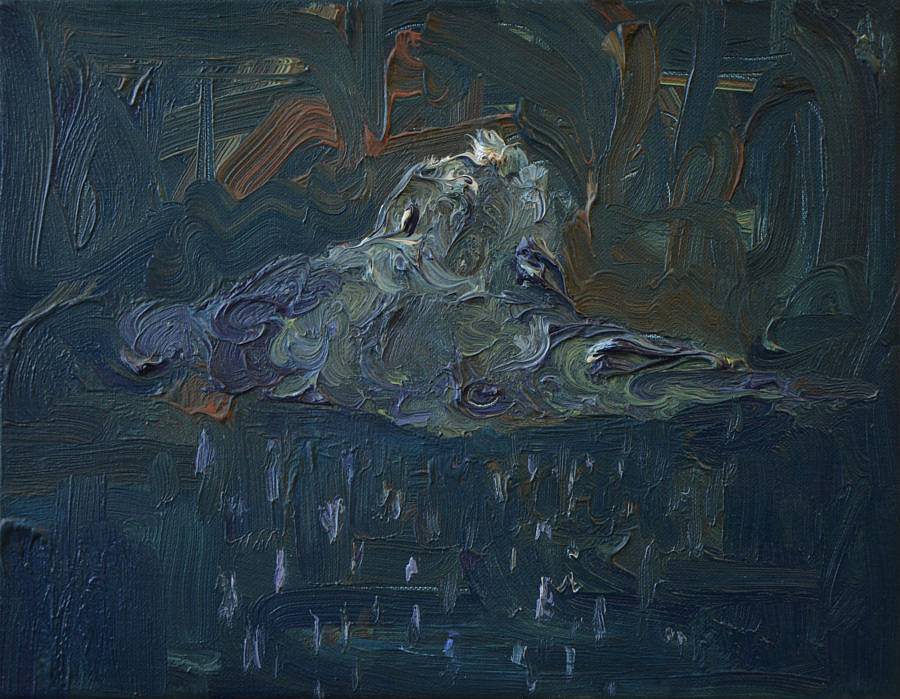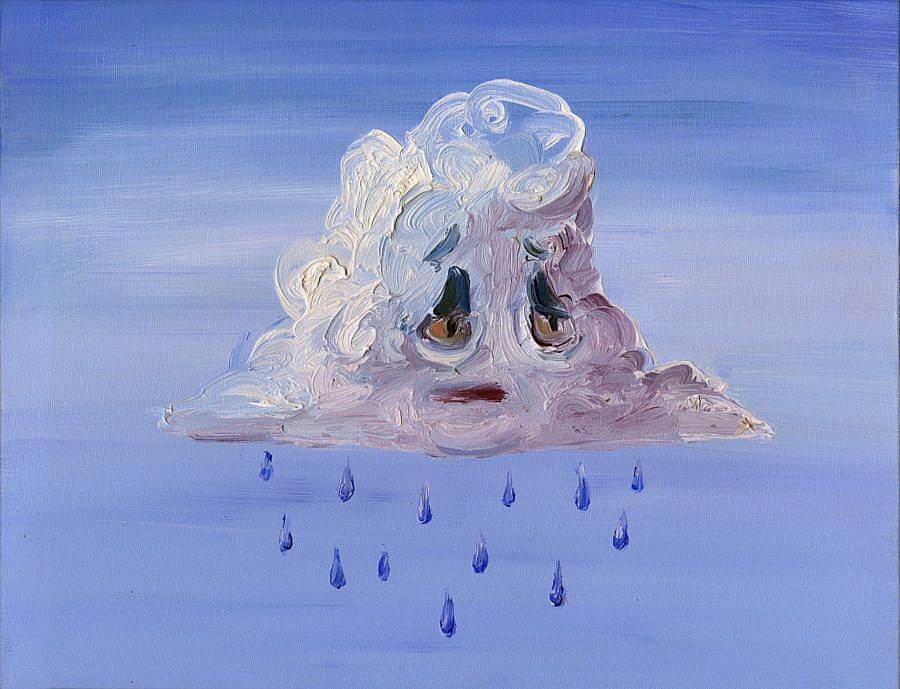 What are some things influencing your work right now?
Aside from the obvious references to Turner, I am always obsessively looking for inspiration from other painters who have included the ocean into their oeuvre; Gericault, Delacroix, Homer, Copley, Goya, Rubens and even Manet (definitely a favorite).
Most recently I have also been watching a lot of cartoon/live action films from the 80s and 90s like Who Framed Roger Rabbit and Space Jam. The strange juxtaposition of cartoon and real is so jarring to me that it has caused a sort of attraction repulsion impulse that I'm really interested in exploring further.
Themes of destruction, panic, and sadness through brightly colored imagery – Can you talk about some of your recurring themes and imagery?
Maybe it was again growing up in Florida amidst circus and carnie towns and of course Disney World that led to these tragic comedy inspired paintings, I'm not quite sure? I do think I have a pretty healthy love/hate relationship with Disney at this point though.
The tragic part of these cartoon-esque paintings, comes from an increasing anxiety about the state of the environment at the moment. Depicting the ocean and nature with a childlike reverence in the form of cartoon and juxtaposing that with the fatal seriousness of ecological decay via humanity, is meant to be striking. The mermaid, looking beyond the plastic cesspool and ogling eyes, can also symbolize the balance of human and animal, human and nature, while still residing in that mythical, magical childlike state of mind. Many of the characters included in these paintings, whether they be clouds, mermaids, sunsets, sunrises, crabs, fish or giant squids, are different manifestations of my own horror at seeing the destruction of our oceans and the natural world around us. In this fantasy world of painting, at times I want to portray nature as ultimately taking over and triumphing over civilization once more. This is what most of the shipwreck and shark attack paintings are alluding to.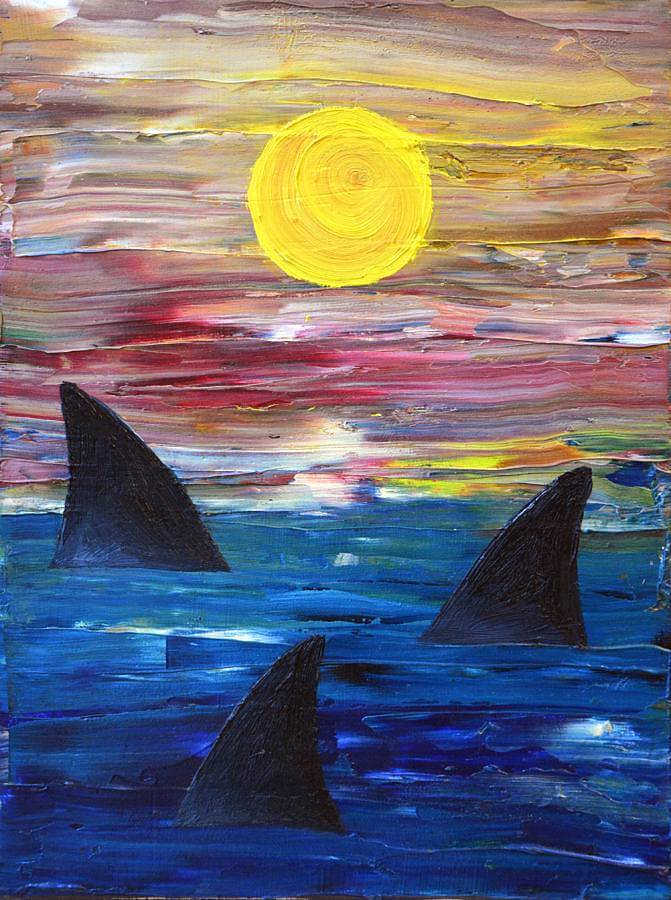 What are you reading right now?
Oddly enough, I am reading the Turner biography by James Hamilton that a friend lent me recently. I had no idea before reading it that his mother suffered from severe mental illness and that he and his family disowned her while she lived out her days in an insane asylum.
Fun facts. It did make a lot of sense though in hindsight to think that maybe the struggle of growing up in poverty and amidst mental illness would have led to such emotionally charged seascape paintings.
One thing I also picked up from reading the biography was his tendency towards making quick plein air watercolor sketches while out in the field and then taking them back to the studio to complete entire paintings. This was very evident to see when painting the studies.
Describe your current studio or workspace.
My studio is in a shared space in Sunset Park, Brooklyn with three other artists. It's all ladies in there currently so feels like a really good vibe. You can definitely hear and feel the sounds and vibrations coming from the BQE which is very nearby, but sometimes I like to pretend the sounds are coming from a rushing river instead of rush hour traffic.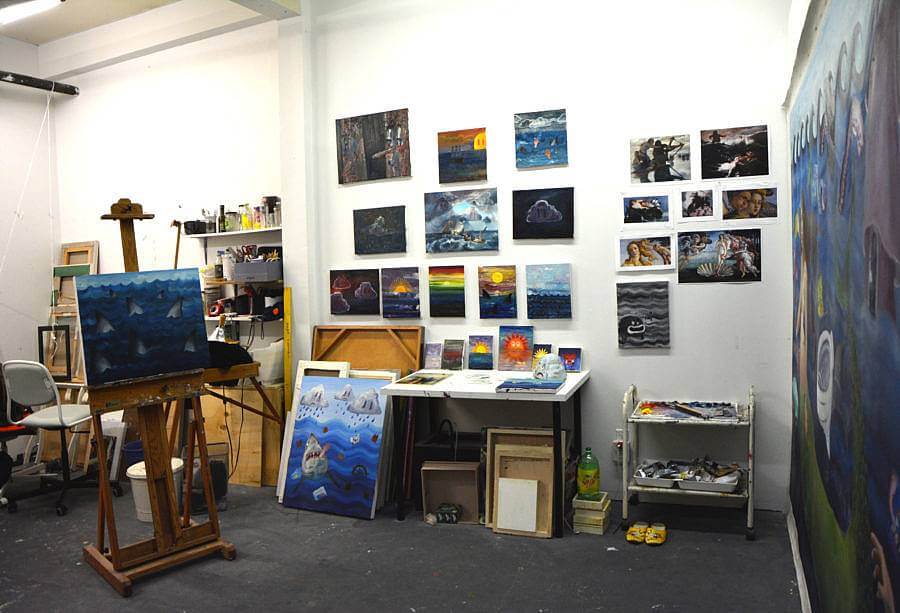 What are you most looking forward to in 2020?
I just got engaged! So that's taking up a lot of my energy and efforts at the moment. Obviously excited about the whole thing and looking forward to it but will also be glad to get back in the studio soon. I do feel very lucky to have a partner though who is so supportive of my work.