Rozliubit is a collaborative project between Sasha Pharaoh and Sua Yoo. The self-proclaimed maids of heaven and guardians of virtue create handcrafted weaponry and delicate armor in Chicago, IL. Sasha Pharaoh (b. 1991) is a brand strategist/developer and graphic artist. Sua Yoo (b. 1990) is an artist and software engineer. Yoo's body of work emerges from playfully misattributing metaphysical tropes to her immediate landscape. By acting the role of a misinformed technocrat, she produces incoherent objects, media and performances that are at once informal and over-engineered.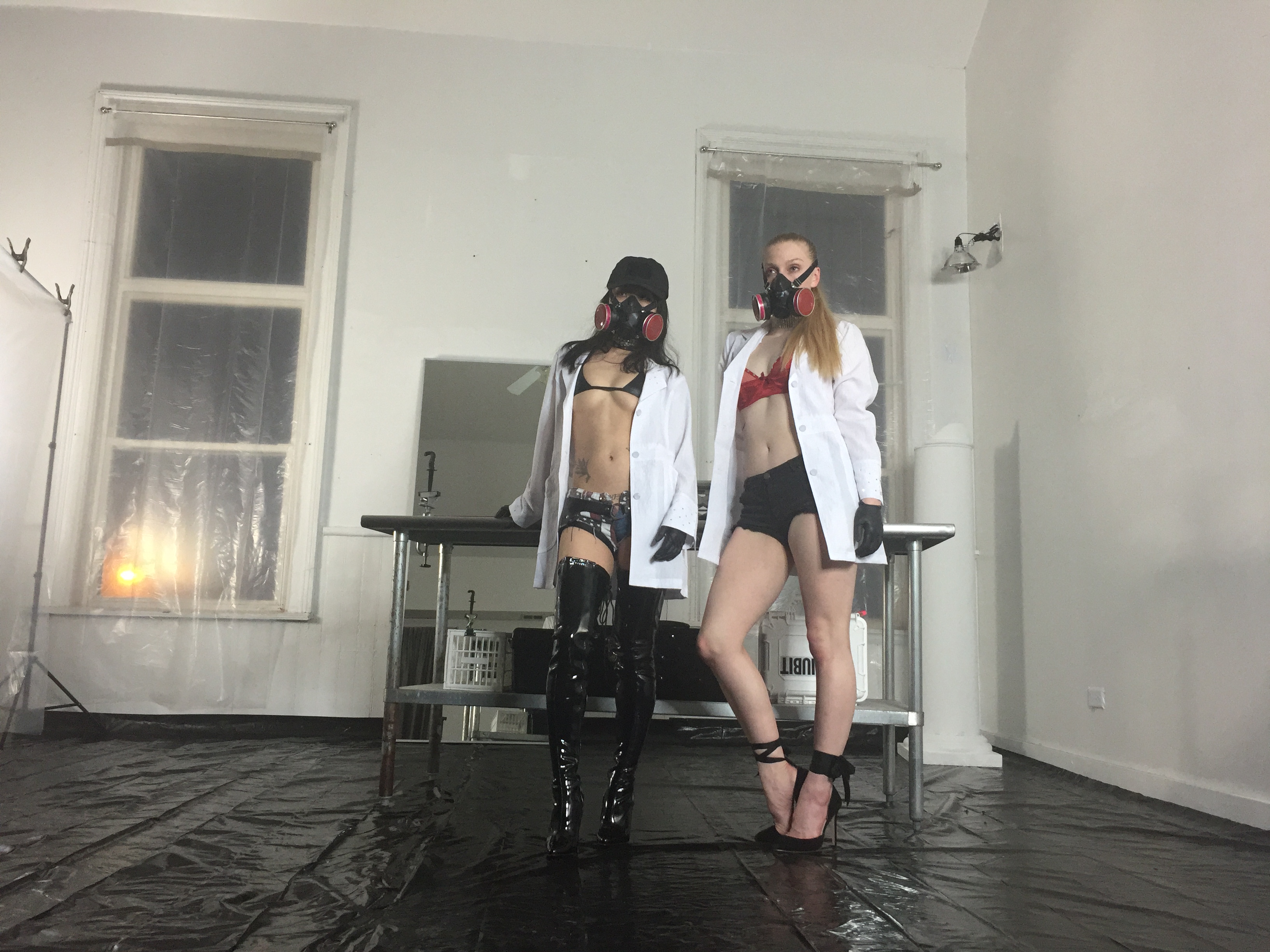 Tell us a little bit about yourself and what you do.  We are weapons dealers under the concept brand Rozliubit. We founded Rozliubit in 2015 and oversee all aspects of the brand. From day-to-day operations to shooting product shots in empty Chicago lots to donning cut-proof gloves and assembling knives.
What are some recent, upcoming or current projects you are working on?  We're working on expanding the armor section. We plan on acquiring a fat businessman to chain to a radiator to model some of the crystal-studded BDSM gear in the pipeline.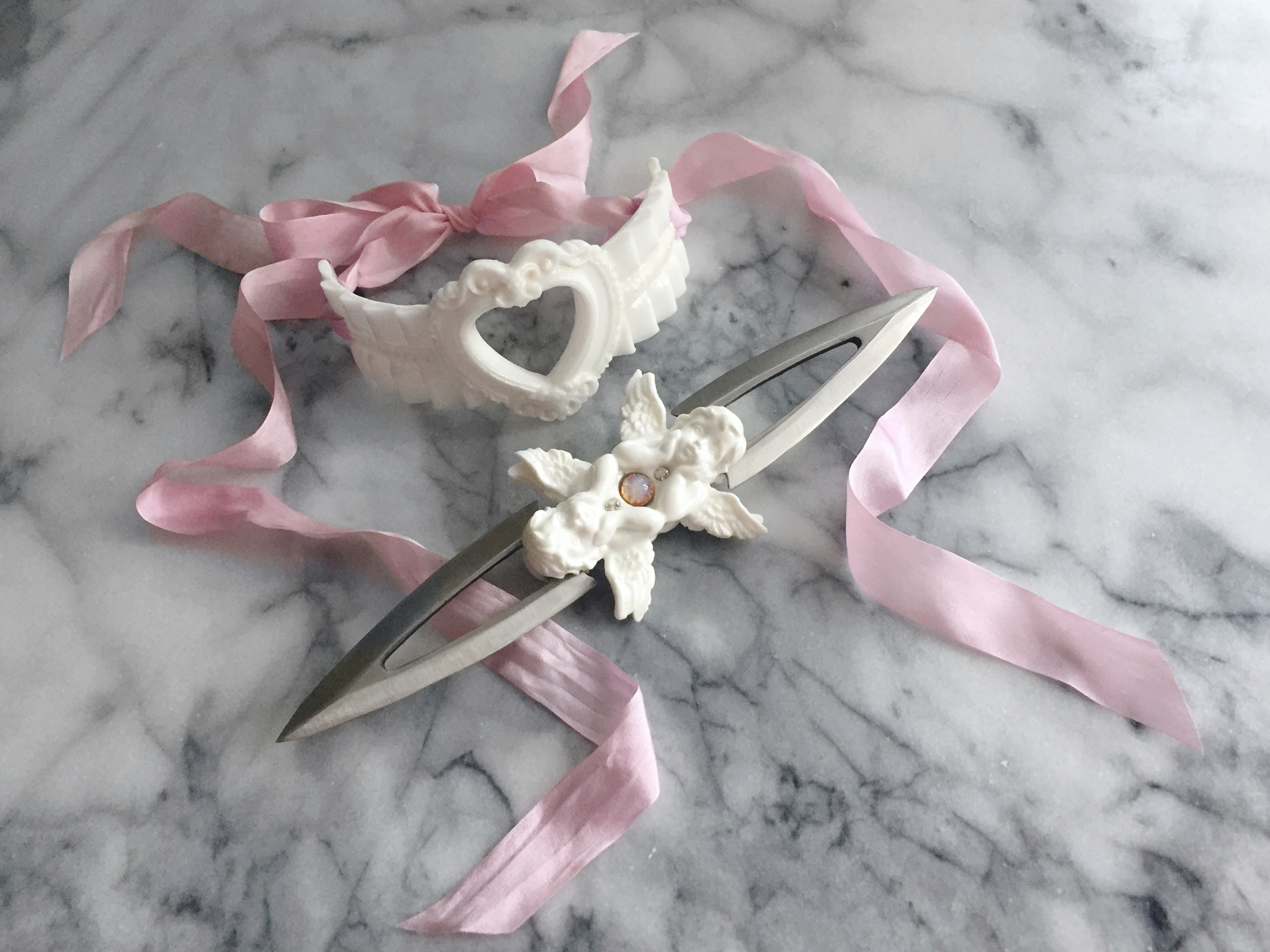 What is one of the bigger challenges you and/or other designers are struggling with these days and how do you see it developing?  SP: People attempting to categorize our designs into something familiar or to pigeonhole them. People asking "yeah, but who really does all the work?" because we are two females working cohesively together in a true 50/50 dynamic.  SY: People really do get baffled when we say we literally control the means of production, and are able to distribute tasks between ourselves without a third party. I think sometimes people are more comfortable digesting a collaborative body of work, at least one that produces goods, in terms of corporate role-playing: "who's getting paid to do what?"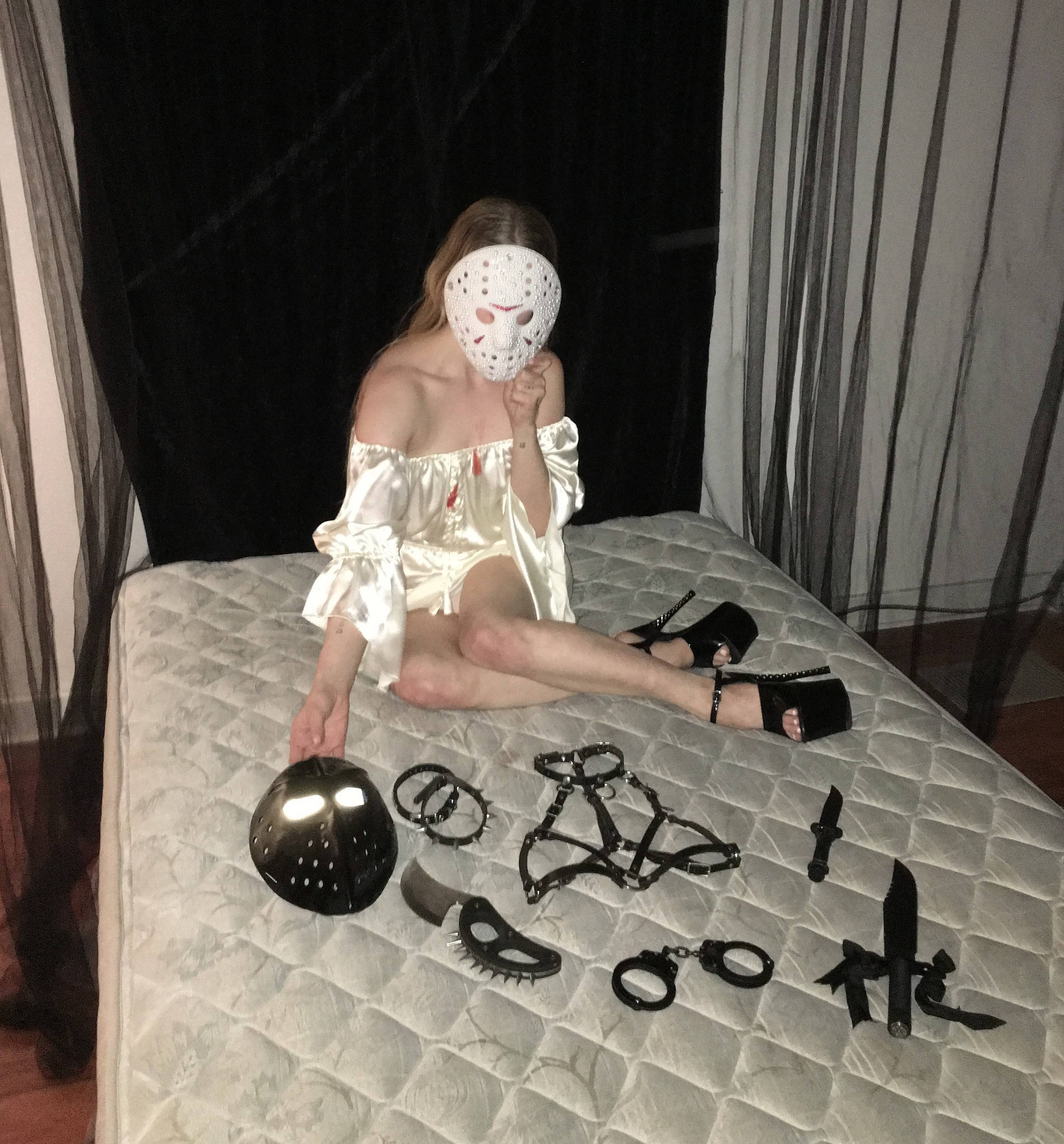 How has living in Chicago affected your studio practice?  SP: Having 24 hr access to spooky downtown architecture opens up the possibility to do guerrilla shoots at beautiful hotels at 2 in the morning.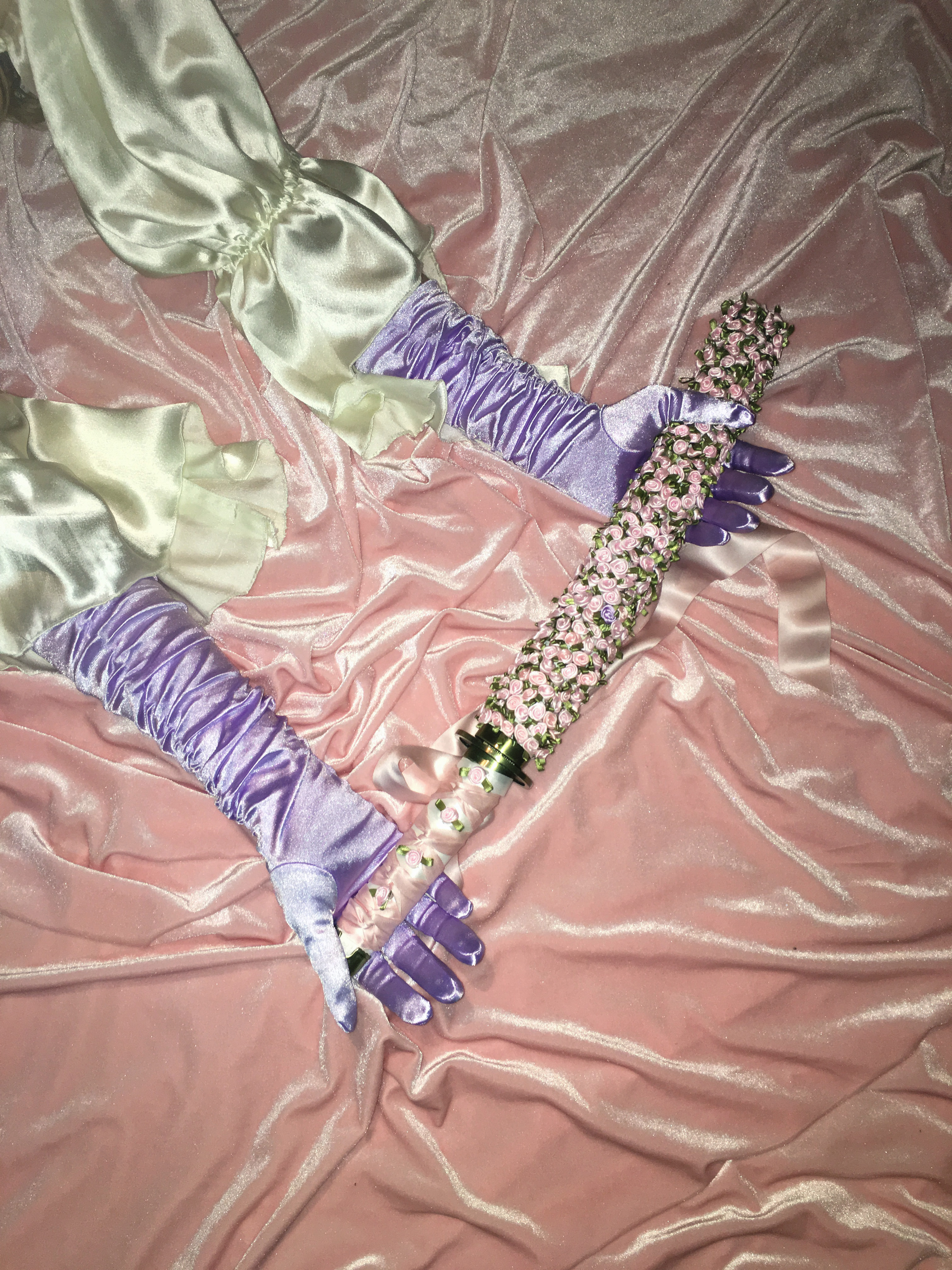 What materials do you use in your work and what is your process like?  SY: We use a combination of prefabricated and fabrication-ready materials, such as Swarovski gemstones from auctions, vintage crucifix parts and wholesale blades, vs. oven-bake clay, casting resin, etc. For our knives, we receive prefabricated knife blades from our suppliers and prototype handles based on the size, shape and purpose of the blade.
Prototyping usually happens in our separate studios, so that we can work quickly and independently. Once we're satisfied with the results personally, we'll share the prototype for review and discuss where the prototype could be improved, both aesthetically and in preparation for creating multiples. A knife may go through a couple iterations before we reach that perfect balance of reproducibility and uniqueness. Depending on how complex the design is, we'll use a combination of mold-making, casting and sculpting to assemble a final piece.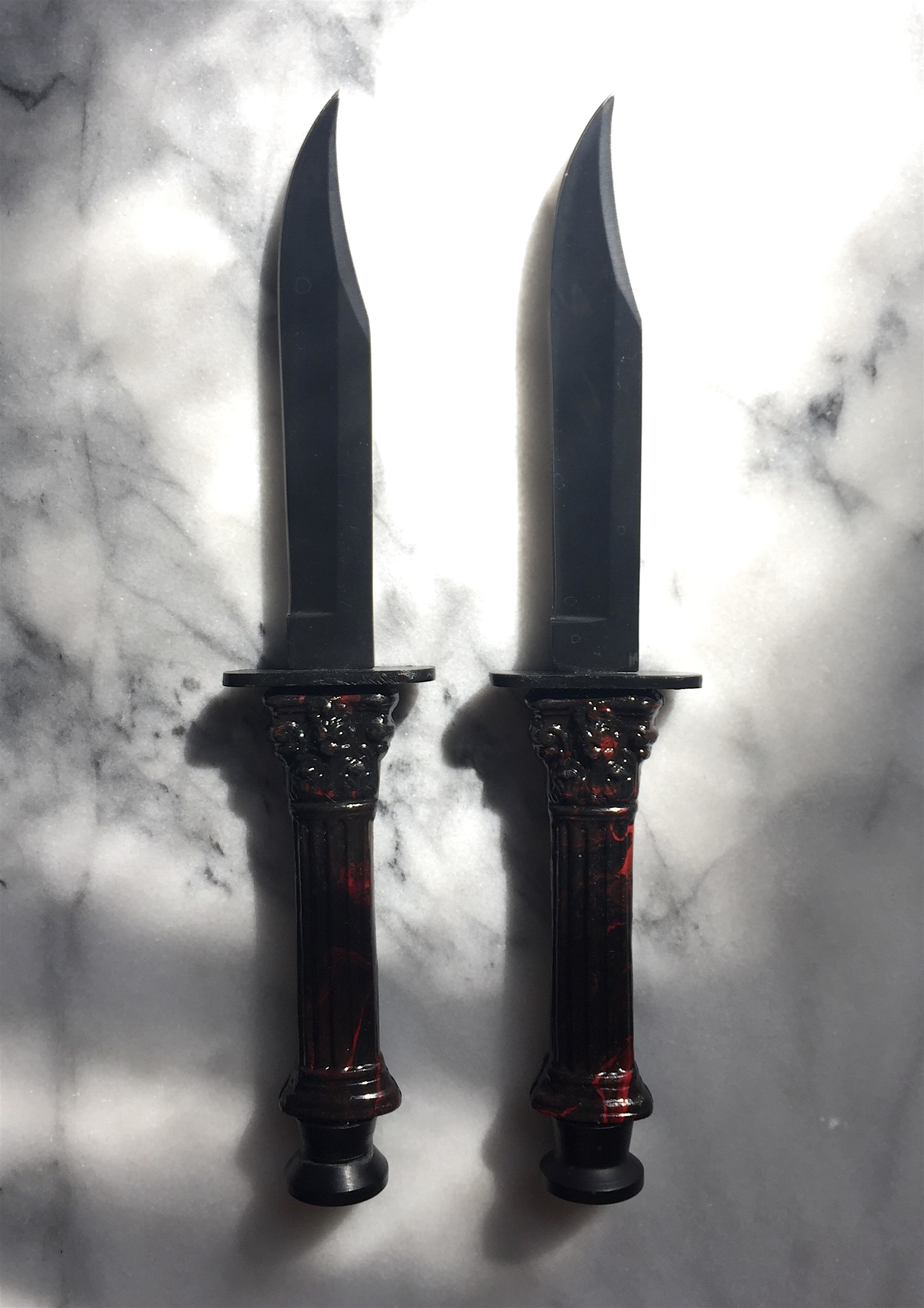 Favorite films?  SP: Cape Fear.  SY: Zootopia.
What artists or designers are you interested in right now?  SP: Teenagers showing off their Ghostface Mask collections on YouTube. SY: Teenagers are the best designers. They roll the most beautiful lopsided spliffs and create fucked up symmetrical patterns from woven shoelaces that I can barely appropriate. There's something really real about designing for the purpose of impressing your peers.
What is your snack/beverage of choice when working in your studio? 
Top 3 favorite or most visited websites?  SP: World Star, S.A., Reddit.
Can you share one of the best or worst reactions you have gotten as a result of your work?SP: Tumblr messages in broken English trying to threateningly call us little girls and tell us we're sick in the head. Insta comments asking somebody to shove the knives up their asshole. SY:  The knife-up-asshole comment seemed to have been with left good intentions, though.  SP: Yeah, I meant all those as good reactions.