Cold Picnic was formed in 2010 by partners Phoebe Sung and Peter Buer. The pair met in Boston in 2006 while in school and have been living and working together ever since. Cold Picnic's work explores imagined and misremembered landscapes, and the effects of time and the elements upon their surfaces. Cold Picnic has been featured in publications such as the New York Times, Style.com, Refinery 29, Harper's Bazaar, Lucky Magazine, Elle, Vogue Mexico, Brooklyn Magazine, Nylon, Golly, and Foam Magazine. Their studio has been photographed for Elle Sweden and Racked New York, and the line is widely available across the United States, as well as in select international locations.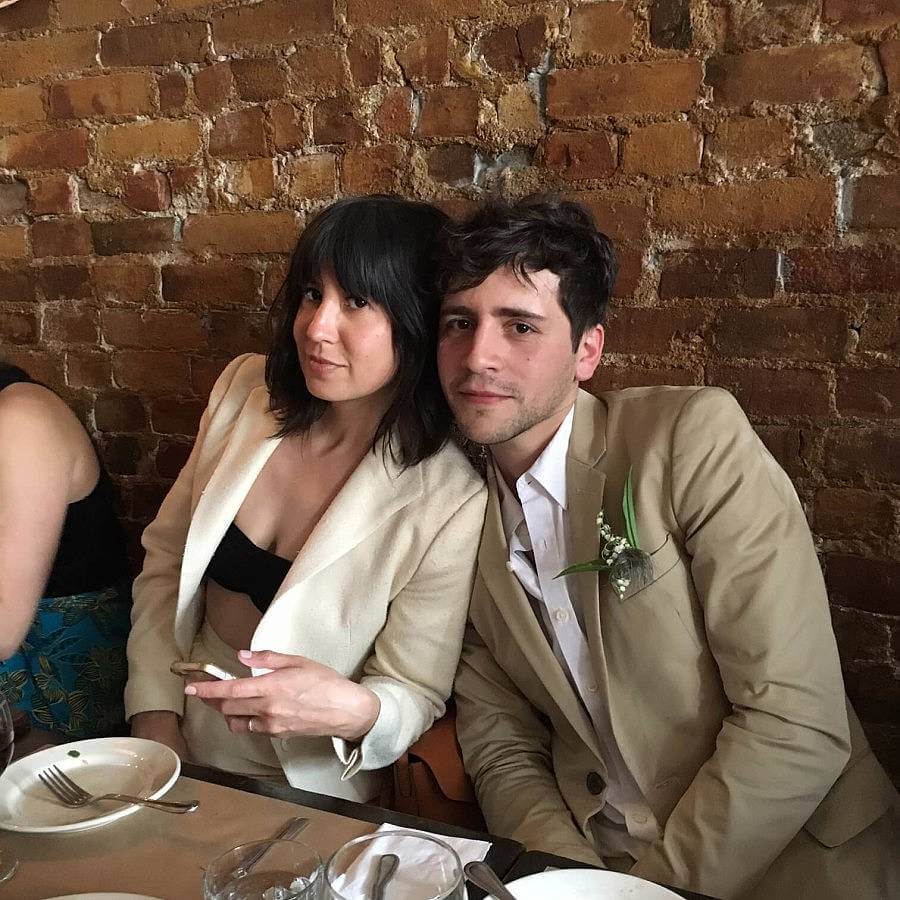 How did your interest in your work begin? PS: When I was a kid, my parents always took us to National Parks, and I've always loved old movies. When I was little I always wanted a white shag rug. My aesthetic and what I think is beautiful hasn't changed much, and I think I can say the same for Peter, but what we've chosen to apply it to has. Both of us have always been interested in designing. I got my first degree in sculpture, and went back to school for apparel design. Peter wanted to be an architect, and studied fine arts and apparel before working as a print designer.
We started Cold Picnic because we were working a corporate fashion job and got disillusioned by the cycle of buying clothes / printing out designer images and then sending everything off to China to be copied. We wanted to make things by hand, we almost didn't care what. We just learned everything from books, we have a wall of books and a great many of them are old craft manuals, text books. We've also learned an enormous amount from our suppliers, factories and friends.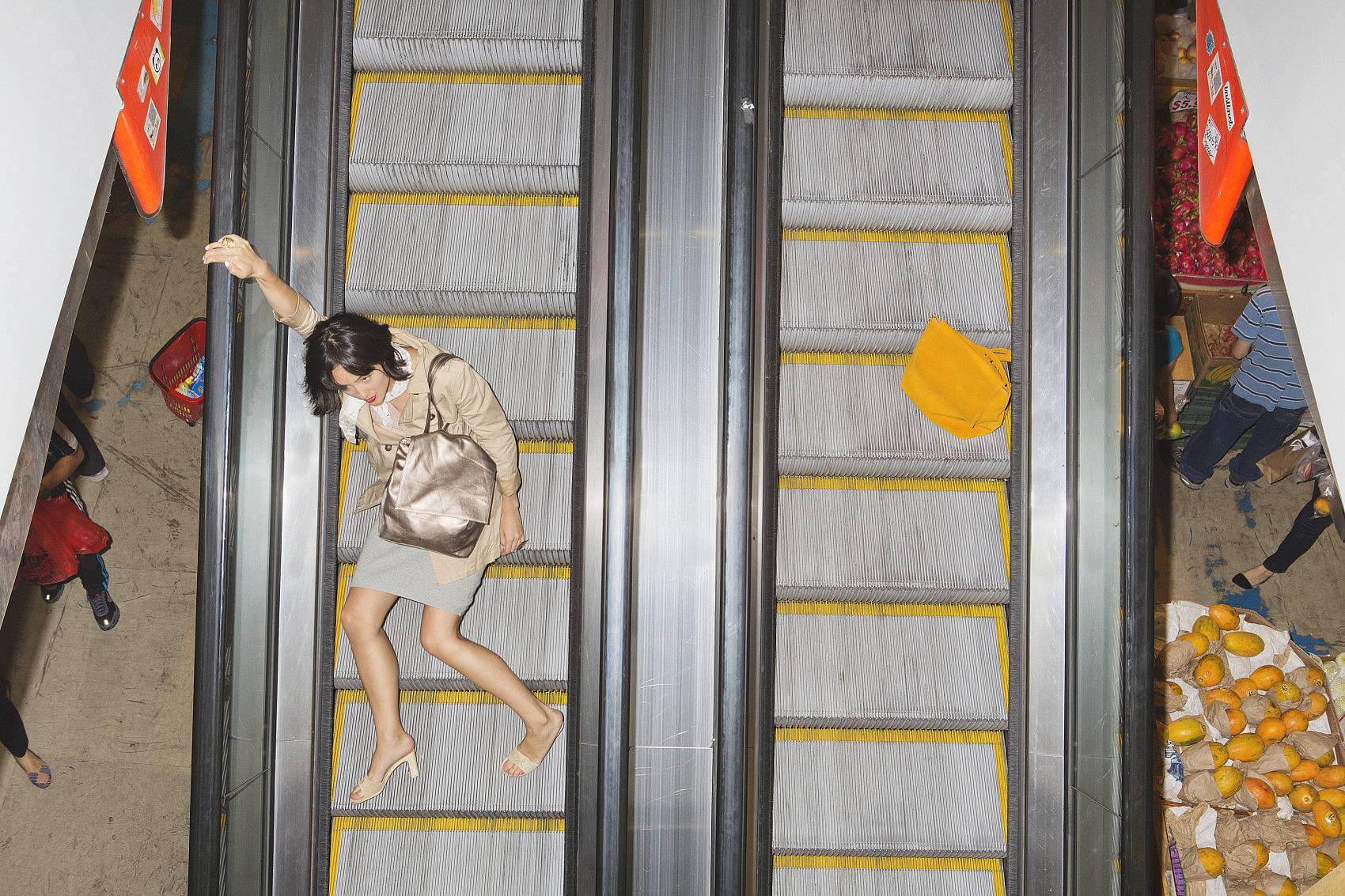 What is it like working as a couple? PB: We've always worked together, even in school. We used to hand off tasks to each other that the other was stronger at. After school we had three jobs together before forming Cold Picnic. Part of it was there weren't very many jobs in apparel or print design in Boston, so we kept getting hired at the same places. Now both of us design each collection together, and that comes pretty easily because we've been experiencing all the same things in between designing. So it's two perspectives/aesthetics with the same influences. We know couples who run a business together where one handles creative and the other handles business, and that seems like a strong mix. With us, because we have similar interests, it's almost like 1 1/2 designers.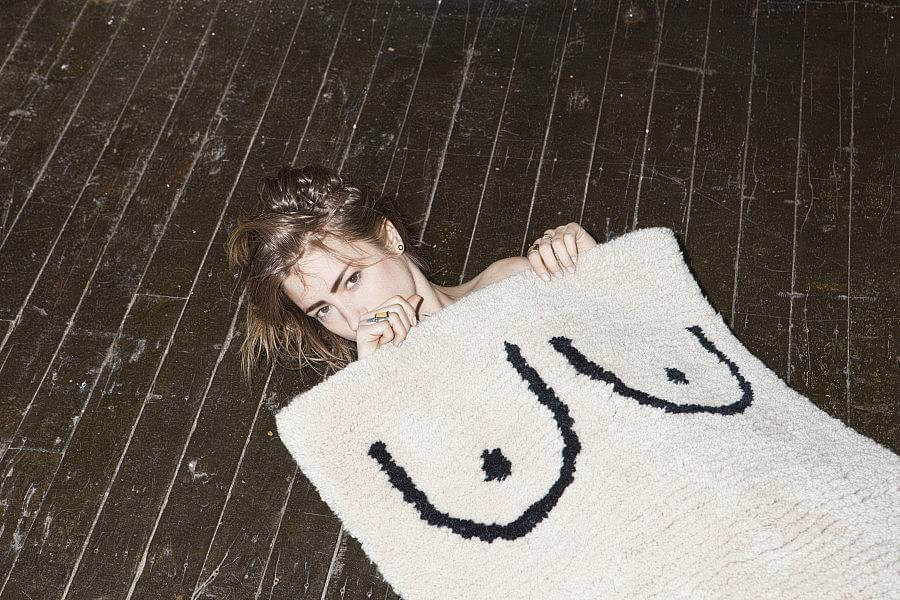 What kinds of things are influencing your work right now? PS: Landscapes, real and imagined, are always a huge inspiration. National parks, secret places to swim, always horizons. To be completely honest we don't travel much – we have unpredictable work schedules and a dog we're excessively attached to – so we do a lot of it vicariously, through travel books / shows / documentaries. And we watch a lot of films. In the greatest ones, the landscape resonates with us. The Passenger, McCabe and Mrs Miller, L'Aventura, and Three Women are a few that come to mind. We also pore over loads of books, usually a bit older and mostly art, textiles old interiors / crafts, and animal books.
Top 3 favorite or most visited websites and why? PS: ebay – we get at least 50% of everything we own on eBay. You have to be really dedicated. Sometimes I don't have it in me to look at the site for months, and other times it's just one deal after another. Pinterest – It's not very cool to say, but I love how easy Pinterest is, and how you can find more of what you love so quickly, and then organize it all to look at later. When I was younger, I'd email myself links or print out pictures and it was a mess.  I save everything on it – travel links, recipes, as well as of course inspiration. We recently purchased and renovated a new home and went from knowing nothing about owning a house to having to do nearly everything ourselves. Pinterest came in really handy. Big Fluffy Dog Rescue – For months I'd read sad stories about mistreated dogs on Dodo and on the Big Fluffy Dog Rescue and get teary every night. Eventually, it seemed like there were more useful ways to spend my time! As a wedding gift, Peter said we could start fostering. It's so hard taking in a great dog that becomes your best friend, and giving it up. But so worth it.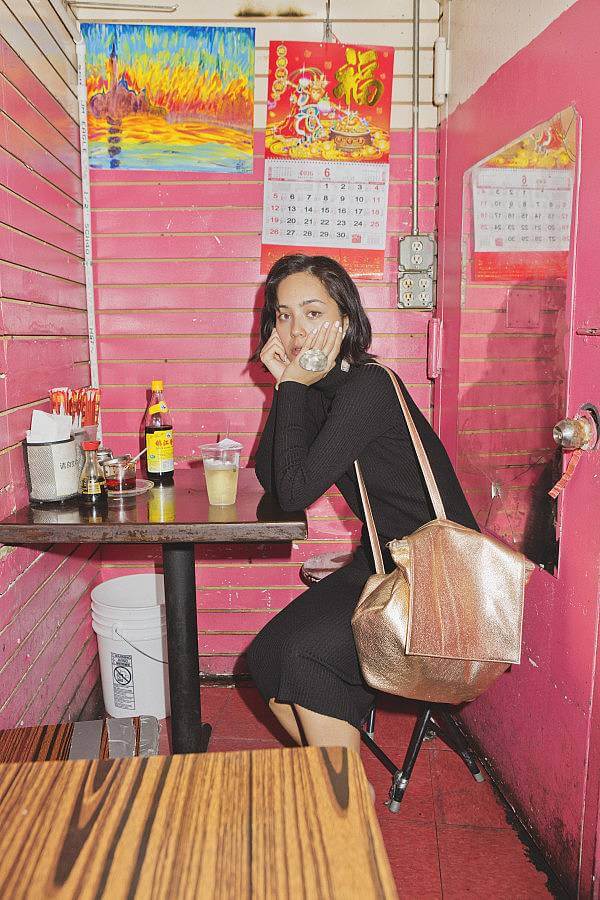 How has living in Brooklyn affected your work? PB: We moved to Brooklyn about 5 years ago and it was a great time for designing here. There are so many manufacturers and access to materials – that changed everything at the beginning. We had a cheap, rent controlled apartment and there were loads of little markets and popups, great shops, and most importantly, so many amazing designers. Designing can be lonely, especially when you're starting out and feel like you don't know anything and having a lot of things to do and a supportive community makes a huge difference.
What's your favorite place in the city/the world to be? PS: A few years ago we went to this fishing village in Mexico called "Puerto Moreles." It's less than an hour's drive from Cancun but you'd never know – it's very sleepy. The Great Mayan Reef is located there, and though there's loads of beach, there aren't any waves, which was actually perfect for us. We'd go out in the morning and float around in the water for a few hours, then walk into town and get fruit juices, maybe drive to a cenote, then return to the town, sit on the beach and order fried fish for dinner.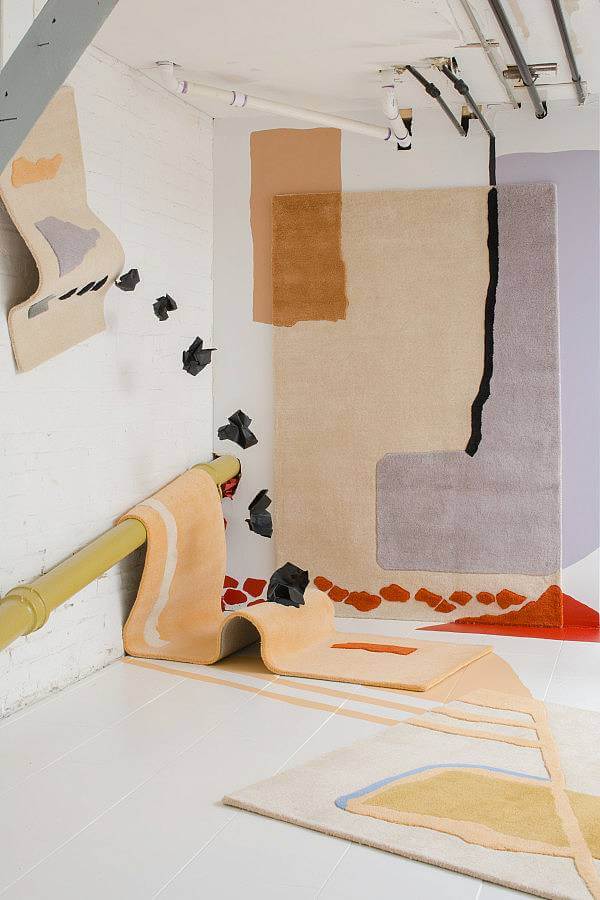 What are some recent, upcoming or current projects you are working on? PB: We're coming out with a line of kantha quilts, which will release this fall. They're going to have a different design on each side – we used the designs from our newest rug collection, also releasing this fall. I'm so excited about them. We'd meant to expand the home line for a while now and quilts just seemed like the next natural step. When we released our previous rug line, we were dropping off a few custom rugs for our favorite customer. Her house was beautiful. It was like that Kinks song, "all of my friends were there" – everywhere we looked there was an object designed by someone we loved. She showed us where the rugs would be placed, and when we left, we were joking with each other about how that was the last we'd see of her, as there was no more room on the floor. But that made us sad. One can only have so many rugs, and some people only want 1 rug, but what does that mean for your regular customers? We realized that expanding the customer base was great, but we also wanted to continue to design for the customers we already have.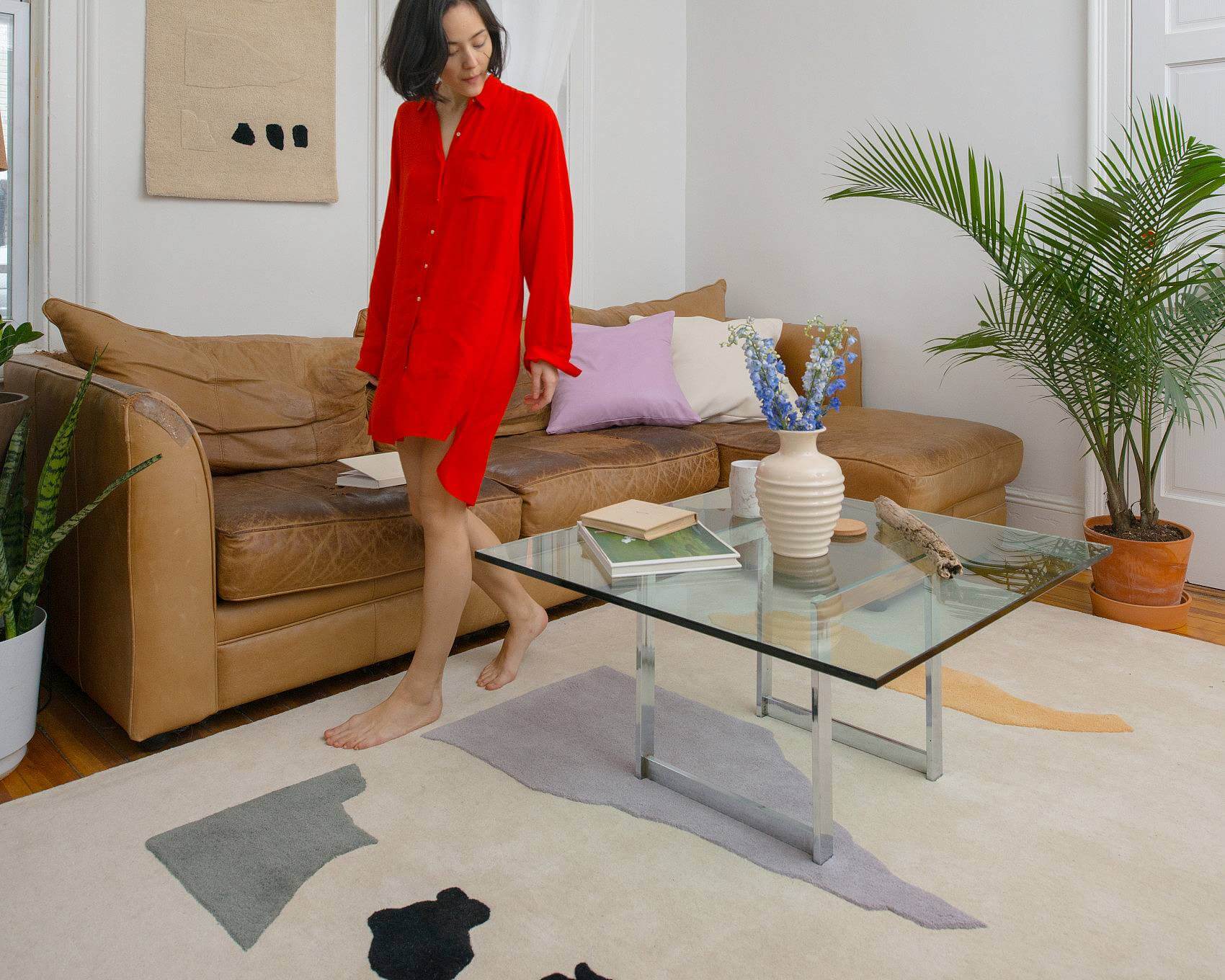 How would you describe your customer? PB: Well we make a lot of different things, and I'm not sure they're all the same customer. We aim for minimalist statement pieces. But we don't think of ourselves as minimalist designers. We try to design pieces that might be striking for their use of color or humor, but which are hopefully subtle enough to blend in with however the owner chooses to use or wear them.
What were you like in high school? PS: Absolutely horrible, and in a different way each year! Bit of a princess at first, then a tortured "intellectual", then I guess a bit of a weirdo. My mom didn't like any of it and encouraged me to leave high school early. I was in a magnet program and we had one extra class everyday, which meant I had enough credits to graduate in three years and go straight to college. So although I was horrible, I was only horrible for 3 years!